Summer is knocking on the door, the days are gradually getting longer and here in the Midwest it is finally warmer than freezing (most days)! That means a few things… it is time to reacquaint yourself with the great outdoors, get your base tan on and enjoy the some UV rays. While enjoying the mother nature this summer it is important to look good, protect yourself and have a good time. Luckily for us, SPY came knocking on our door recently with a new pair of sunglasses designed for just that.
When looking for a new pair of shades, three things matter to me – comfort, optics & style. The SPY Haight checks each one of those boxes.
I pretty much knew these were the sunglasses for me when I read SPY's description on their site:
"With its street-smart look with a hint of radicalness…"
Such an apt description for the SPY Haight.
Key Features:

SPY Haight Review Breakdown
Comfort:
Don't get me wrong, I like the feel of the Haight on my head. They are a bit heavier than other sunglasses, but are sturdy and really well constructed. However they aren't going to win any awards in the 'lightness' category. I personally like the heftier feel to the shades but this can cause a few issues in hotter situations…
The Haight features an acetate frame which keeps the look streamlined, but has some downfalls. The acetate is on the wider side and can be somewhat overbearing on a hot summer day. The thickness squished up on your face skin, mixed with the weight and the sun is a moisture maker. Be prepared to wipe off some condensation with the Haight.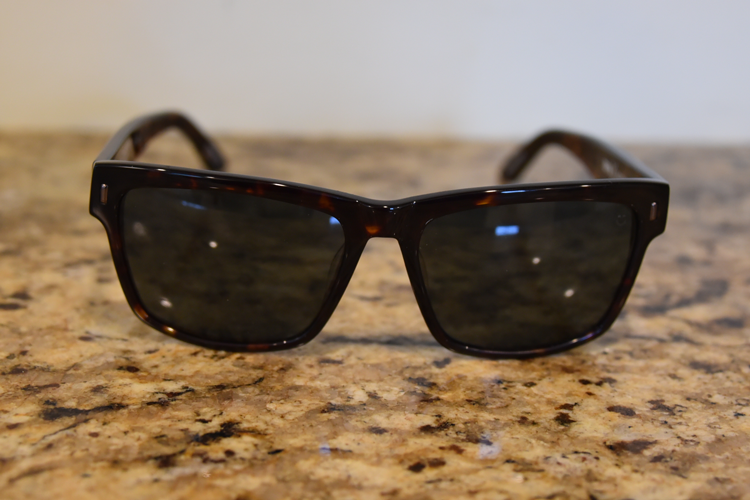 Design:
We now have a sea of hipsters rocking rectangle glasses, and quite frankly it's hard to stand out from the crowd in this category. Somehow the Haight breaks through this mold. The glasses are classic, yet catchy and have a dusting of a vintage vibe to them. The pair I chose to review comes in the fantastic shade of "Dark Tort" that is a beautiful take on the traditional Tortoise shell coloring. The coloring is noticeable, but not distracting.
SPY labels these glasses as Medium/Large, but I'd place this firmly in the Medium range. If your head is standard in width, these will be a perfect fit.
Optics:
For this review we opted for the Happy Grey Green Polar lens and are quite satisfied with the decision. The shading looks medium gray (didn't catch the 'happy' flavor) and significantly reduces eye fatigue. I've seen sharper tinting & glass, but these are definitely above average. The lenses don't amplify the surroundings, but rather dull the light in a very satisfying fashion.
One issue with the lenses is that at certain angles a violet blue reflection can be bounced back. If you find direct sunlight creeping in behind your lenses, an annoying blue light can crop up. This isn't too common, but it is distracting as it is such a contract to the dark grey.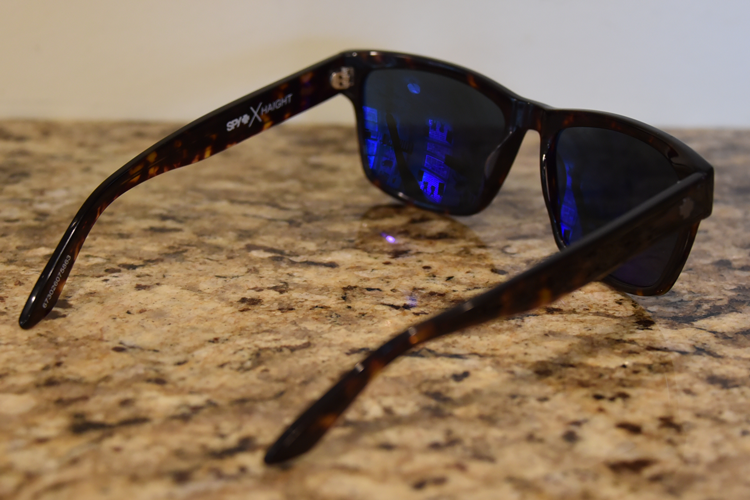 Quality:
I've tested out handfuls of mid-level sunglasses and the SPY Haight's build in impressive. Everything about the set is impressive. The frames are thick, the lenses exude the sense of safety similar to safety glasses and the case is abnormally strong and feels like you are opening a treasure chest each time you use it.
Another fantastic feature of the Haight are the 5-barrel hinges. Even though the shades are hefty, the operation of them is oh-so smooth. I get the feel of a quality soft-close drawer when opening them for some reason, and I mean that as a compliment.
Value:
They are very nice sunglasses that exude sturdiness. With good optics, a unique (but pleasing) design and a sound fit, you'll be happy you made this purchase. If I were to guess, I'd say these feel like a $200 product, so the $180 price point is fitting.
The quality of these sunglasses beats expectations and if you take care of them, they should last a long, long time.
Buy Now: $140 – $180 or to learn more, go to: SpyOptic.com
SPY Haight Sunglasses - Style Review
These are quality engineered sunglasses that will last for years and years. They' have a distinct rectangular look that you'll love. As with many plastic/acetate glasses, they can become a bit moist on hot days.
The Good:
The look
Coloring of the acetate
Built quality
The Not So Good:
Creates moisture on hot days
Occasional blue light when sun gets behind shade
Good fit for normal heads, Large or XL not apply