I'll admit, I'm more comfortable on a snowboard than a surfboard, but when our review team acquired a pair of SPY FOLD Sunglasses to test and review, I jumped at the chance. Having called a pair of SPY snowboard goggles my own for several years, I knew these sunglasses would bring something interesting to the table. I was not disappointed.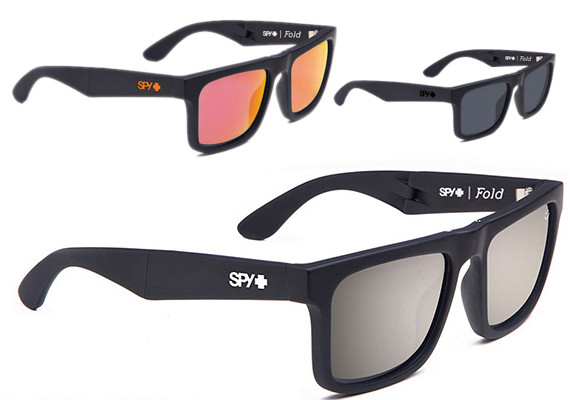 (The SPY Fold Sunglasses comes in 3 varieties of lens color: Spectra, Gray, and Black Mirror.)   True, these glasses look stylish. But like the transformers they resemble, there is more to them than meets the eye. It's not enough that they are loaded with technology like Happy Lens, built from nearly indestructible materials, and branded by John John Florence  – these glasses also FOLD up into the size of a deck of cards!


Key Features:
Foldable frame fits neatly in custom case or any small pocket
Custom-built from virtually indestructible Grilamid and sturdy 5-barrel and pin hinges
6-base curve polycarbonate lenses block 100% of UVA, B, and C rays
Custom pouch doubles as wallet
– SPY FOLD Sunglasses Review – 
COMFORT: 
(10 out of 10) SPY really hit the mark on comfort with these babies. I'm accustomed to a heavy pair of Pablo Escobar-esque aviators and in comparison the SPY FOLD Sunglasses are weightless. They fit on your face in a way which makes them unnoticeable, a difficult task for any frame. I've spent extended periods wearing these glasses both actively (yard games, volleyball, chasing the kid) and passively (driving, walking, etc.) without any discomfort.   
DESIGN: 
(9 out of 10) Style, it's a tough topic to discuss. What's right for some is ridiculous for others. To me these glasses look cooler than I can pretend to be, if not slightly hipster. I've sported them regardless and I've been told things: I) who cares. II) They look good. I can't claim to be as handsome as John John Florence, the man whose name emblazons the shades, but maybe I can harness of bit of his cool. The only negative point is that they are decidedly plastic looking, albeit a composite of the highest quality and strength.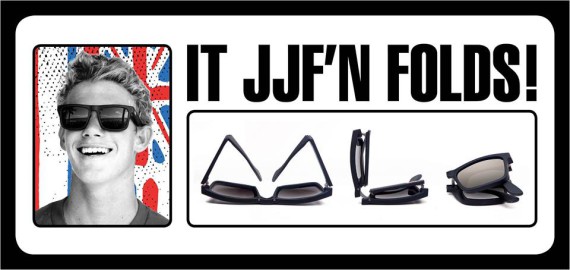 Optics: 
(10 out of 10)  What is an optics company without top notch optics? SPY Optics has been in the game longer than many of you whipper snappers have been walking. They know how to make a lens. What's unique about these lenses is that they employ a new technology known as Happy Lens. They're polarized, yes, but they're more than that. They claim to let in "good" light and block "bad" light. Perhaps it's best to let the video do the talking: Does it work? Damned if I know. I can say that when I'm wearing them, my mood does seem slightly better so who knows. Science!  
DURABILITY: 
(10 out of 10) One word: Grilamid. Three words: Bomb proof Grilamid. This nylon/plastic freak of nature material is virtually indestructible. In fact it's so durable it's used in police equipment. Combine this with 5-barrel pin and hinges and you've got a set of frames you can really abuse.  This gives you ultimate peace of mind with the glasses, especially given their folding ability. You don't want to gingerly fold up the glasses and store them in a secure location, you want them to collapse, go into your pocket, and be good as new when you step back outside, amiright?  
ACCESSORIES: 
(10 out of 10) As if the main show wasn't enough, you also get a couple bonus goodies with your purchase. The most notable of which is a leather glasses case which also doubles as a wallet. This comes in handy for storing your classes or for storing a few cards, some cash, and your keys when you head to the slopes or the beach.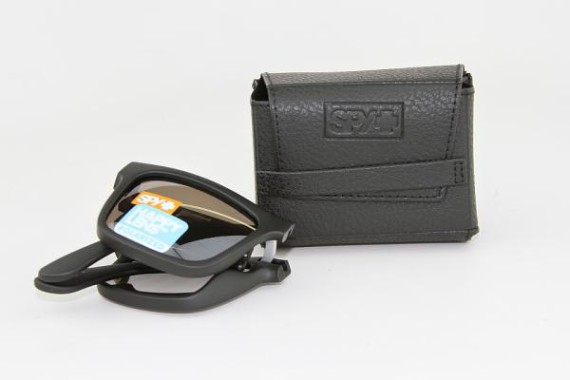 Additionally, SPY also includes a micro-fibre glasses bag that doubles as a safe lens cleaner and polisher.   
VALUE: 
(9 out of 10) The retail asking price ranges from $119 – $179 depending on the lens you choose. There's a lot to like about these shades, and they include some nice extras for your money. At the upper end of the sunglasses spectrum, you need to buy in to one of the main features of the glasses to justify the purchase. Luckily SPY offers several options to persuade you: The Happy Lens technology, the unique foldability, the bomb proof durability, and, perhaps most importantly, the style.   
THE BOTTOM LINE:
They're durable, they fold up, they look great, and they may even improve your mood. Visibility through the Trident Polarized lenses is superb. They block 100% of UV rays and they are lightweight and comfortable enough to wear all day. They stay firmly in place for even the most vigorous activities, like surfing. And now, they come with a Busted Wallet recommendation.   Buy Now: $119 – $150 or go to: SPYOptic.com