Summer… it's a season to spend by the water working on your tan, sipping your favorite drink and spending time with friends. Now there's a few ways you can achieve this goal… head straight to the beach with some towels, gas up the boat, or even launch the kayaks and canoes. All of these options are acceptable practices, but they've been played out. If you're looking to relax on the water you're going to need a tube. Inflatable tubes come in many sizes and shapes, but none with the size and specs of the Fiesta Island from SportsStuff. This thing is a mega-tube.
Designed to seat 8 people, the Fiesta Island is the ultimate party tube – and recently we got an opportunity to go hands-on with this behemoth in our backyard (Lake Michigan). For an up-close look at the Fiesta Island in-action check out the video we've embedded below, which shows the lounge in its elements, on the water, fully loaded with eight laid-back VIPS…
Key Features:
Heavy-Duty PVC Comfort Mesh Seating
16 Quart Floating Inflatable Cooler Included
Patented Speed Safety Valve for Fast Inflation and Deflation
Contoured Back and Arm Rests
8 Built-in Molded Cup Holders
PVC Anchor Bag
Molded PVC Boarding Handles
Center Inflatable Foot Ottoman
Dimensions: 11.5 ft x 11.5 ft
Fiesta Island Review Breakdown
Design:
Crafted from heavy-duty PVC rubber through and through, SportsStuff built the Fiesta Island to take some serious summer abuse. This raft is by no means your average dollar store pool tube… no, no, no – this lounge (at 11.5 ft x 11.5 ft)  is an absolute beast on the water! As you already know it's built to seat 8 people and accommodate 8 drinks, making it the ultimate party spot for weekends on the lake.
During our time spent testing the Fiesta Island over the past month and a half we've spent some good quality time lounging, relaxing and sipping on summer time cocktails (you've gotta stay hydrated!) and this behemoth was the envy of everyone who saw it. Compared to average tubes the Fiesta Island dwarfs the competition.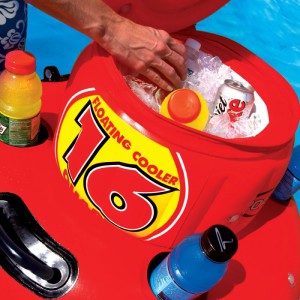 Some of the standout features we absolutely love about the Fiesta Island were the PVC mesh bottom. The mesh bottom allows water to circulate through the seating area and is the perfect cool-down solution for a super hot day on the lake. If you're not looking to wade in the water there's enough room on top of the tube to lay out high and dry. Another feature that is very nice (and didn't exist on earlier Fiesta Island models) is the inflatable ottoman in the middle of the mesh area. This ottoman is great for kicking your feet up and it also keeps the middle of the mesh above water – adding stability and some much needed buoyancy to the mesh.
Another feature we can't forget to mention is the 16 quart floating cooler. Fill it with ice an your favorite drinks and you'll never have to go far for a refill. Not sure you'll need a floating cooler? That's because you've never had one… this thing is awesome!
Setup/Inflation:
Weighing-in at 35 lbs, this isn't the easiest tube to transport, in fact, keeping it on your boat or in a dock box is probably the only way you'll want to store this mega-tube. Even when deflated and folded up it's just to bulky in our opinion to transport back an forth from the garage or car each and every trip, unless of course you've got two people available for the trip or some sort of cart or wheelbarrow.
As far as inflation and setup goes, we were very impressed. With an electric pump the whole process went pretty quickly. There are three key areas to inflate – starting with the middle ottoman, then the main chamber and then the outer tube. We highly recommend you inflate the middle ottoman first, because once the other two chambers are inflated this area becomes hard to reach and is almost impossible to inflate on the water (something we learned through a little trial and error.)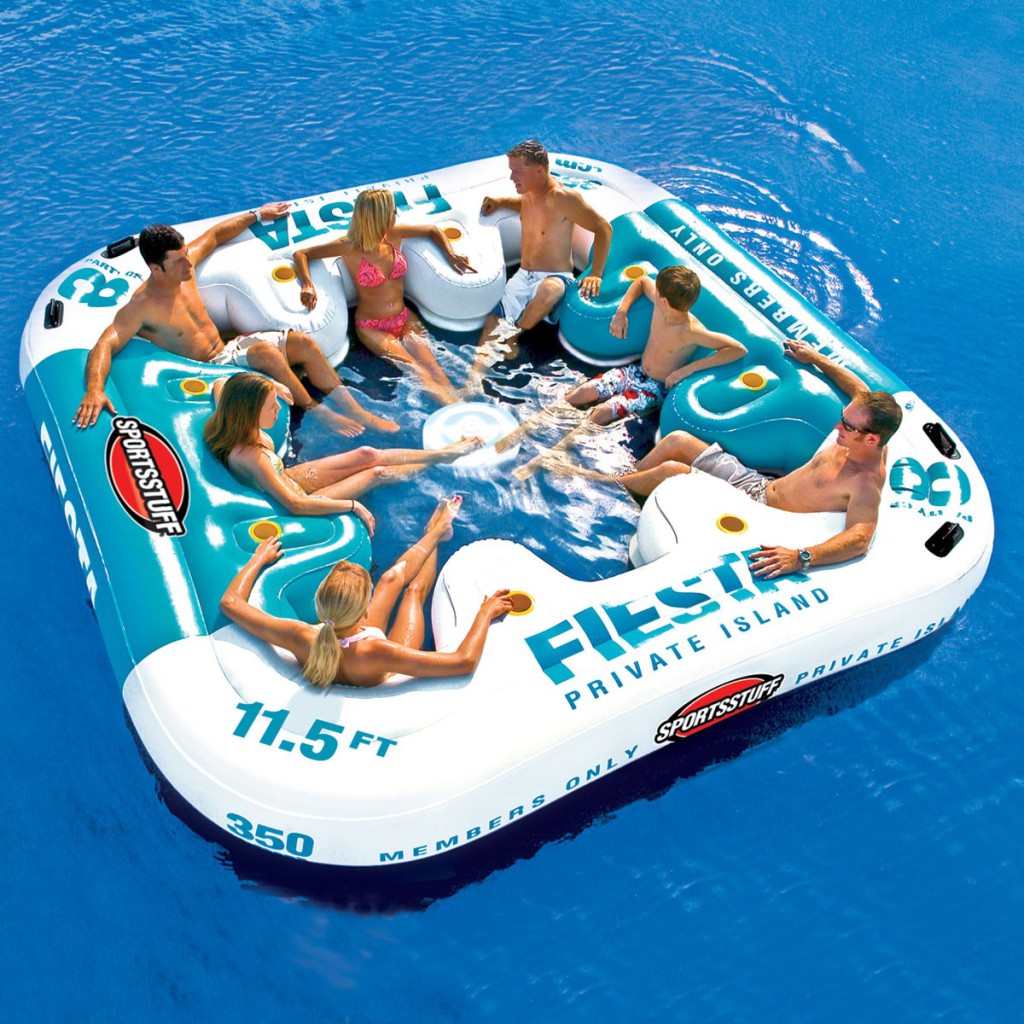 When it comes time to take the tube off the water simply use your electric pump's air intake to draw every ounce of air out of the island. Then you can saftley fold it up for storage. PRO TIP: If and when possible allow the tube to dry on land before storing it. This will keep mold and bacteria from growing.
Functionality:
When it comes to spending time relaxing on the water with eight of your friends – the Fiesta Island is the perfect tube. Add some tunes and drinks and life only gets better!
With a PVC anchor bag you can fill with weight, the island stays secure even on windy days. The only thing this tube is missing is some type of ladder. While I wouldn't say it's extremely hard to climb in and out of the tube life would be a lot easier with an add-on rope ladder or something similar.
Durability:
Like we mentioned earlier this tube is made with heavy-duty PVC rubber. The rubber feels soft, but you can tell it's thick, which is great protection.
During testing we did however encounter a puncture to the tube that was probably avoidable. When deflating the tube and hoisting it back on to our boat we accidentally snagged it on the deck and without knowing put a pencil sized hole in the bottom. Luckily the Fiesta Island comes equipped with two adhesive patches for repairing such holes, and we were able to rehab the small hole and on our next lake trip the tube help air like a champ.
Value:
Not the most affordable tube on the market, the Fiesta Island is for serious water-warriors, who like to play! Retailing at $499.00 and found on-sale for nearly $368.00, the Fiesta Island is a big-boy toy that is in our opinion worth the price of admission for boaters who love to anchor up and relax the day away, as well as water-front homeowners who are looking for the perfect addition to their swim area. While yes, you'll have to pony-up the cash on this one, once you're out on the water enjoying the sun and fun the cost will quickly become an afterthought.
SportsStuff Fiesta Island
If you're in the market for a king-sized tube that will blow your neighbor's dollar store floaties out of the water (quite literally) you've got to check out the Fiesta Island from SportsStuff yourself. Whether you're looking to relax or throw a party, this lounge is one of the biggest and best options available. It's built tough, to last for years of use and abuse.
The Good:
CUP HOLDERS!!!!
It's massive and delivers an amazing experience
Gotta love that floating cooler
The Not so Good:
Bulky to store
While durable, it's still susceptible to punctures
Missing a ladder, which would be helpful