I f you live in a place where you're LUCKY enough to see fresh snowfall throughout the winter, you know that nothing is a more sound investment then good, reliable boots. Trying to stay warm with cold, damp feet? Forget about it.
Sorel has been in the business of making boots since 1962 when they got their start in Canada, and Canadians know a thing or two about snow and cold. Since then Sorel has been committed to using quality materials to craft premium, reliable (and socially responsible) boots. They build boots for people that see snow and can't wait to be out in it. We are those people, and we couldn't wait to get out there in our new Sorel Conquest Carly II Boots.
Key Features
Waterproof full-grain leather, suede, and canvasupper
Seam-sealed waterproof construction
Jersey lining with 100g insulation
Molded EVA footbed with arch support, microfleece topcover
Vulcanized rubber midsole
Insulated waterproof vulcanized rubber shell with herringbone outsole and leather wrapped heel.
Vulcanized rubber compound is improved for wet traction.
Imported
Sorel Conquest Carly II Boots Review Breakdown
Style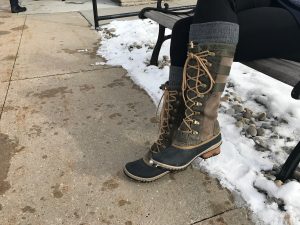 Sorel may have built their empire on functional snow boots, but lately they've really upped their style game. We have several pairs of Sorel's and people are always coming up asking what brand they are – it's like they can't believe that Sorel makes such chic boots! The Conquest Carly II Boots are no exception. We loved the look of the full length gusset construction with bungee and lace closure, not to mention it helped to keep the boots laced up and snug. The Carly's also have a 1.5 inch heel which gives them a little extra swagger and dresses them up just enough. The Carly's come in three different color combo's; we opted for the Peatmoss/Glare and loved the contrast of the tan suede laces against the army green and brown backdrop. The side buckle accents and standard rubber "duck boot" footbed round them out with a slightly utilitarian look. Style, meet function. I get more compliments on these boots than any other shoes I own. No joke.
Design
The Carly's ideal conditions are damp and snowy, but not excessively cold. Although they boast an insulated waterproof vulcanized rubber shell and 100gof jersey lining insulation, we did find that the rubber soles didn't keep our feet warm for long periods of time. We wore the Carly's to a Winter Festival in Michigan in January and while at first the Carly's seemed perfect for the occasion, after an hour or so of standing on the cold pavement, a lot of heat had been lost through the rubber soles and our feet were starting to notice.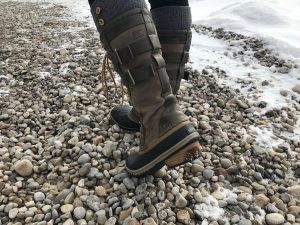 Of course this is a problem easily fixed by layering in some warm wool socks. A word of caution though, the Carly's run a quite small, even compared to other Sorel's we own. We ordered a half size larger than normal and the fit is great, but there's still not much room to spare for things like warm socks! We would recommend ordering a half to a full size larger, depending on your preferred sock conditions.
Functionality
The Carly's are a great mid-range winter boot. They easily transition from outdoor "Winter Festival" type activities, to indoor drinks and merriment without making you feel like you're overheating. These boots would not be my first choice for a long winter hike, but are perfect for tooling around town in freezing temps, snow, sleet or rain! If the temps are dipping much below 30, or you're going to be outside for an extended period of time, we'd probably opt for a more insulated boot.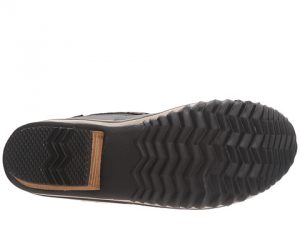 While we did mention we loved the look of the suede laces, they lose marks in terms of functionality. Suede isn't exactly known for being weather resistant and we don't feel very confident that the laces will stand the test of time. The suede is already "shedding" so we often end up with suede shavings all over the boots (and our clothes). However, new laces are a cheap and easy fix.
On the plus side, the vulcanized rubber compound sole offers superior wet traction, allowing us to walk around confidently over snow piles and partially iced over sidewalks. Also the seam-sealed waterproof construction did prove to keep dampness out, making these boots particularly versatile.
Comfort
Overall the boots were comfortable enough to wear all day long, both indoors and out. The shaft and rubber boot offer enough give that you can walk around comfortably. The seam where the rubber sole meets the leather caused a bit of rubbing at first, however it improved after a few wears.
Value
With a price tag of $225, the Sorel Conquest Carly II Boots are on the pricey end for boots. However, they are a great "mid-range" winter boot if your top concern is style. They really knock it out of the park when it comes to quality, chic, boots. The suede shoe laces will almost certainly need to be replaced, which is a bit disappointing for this price point, but not a deal breaker.
Sorel Conquest Carly II Boots - Gear Review
A super stylish, versatile boot ready to take on your everyday adventures.
Cons
Not uber warm
Low quality laces
Pricey