If you live in a part of the world that experiences a true winter – as in lots of snow and sub zero wind chill – there are a few things you better have in your arsenal to fend off Old Man Winter. These items are as follows: snow tires, a windshield scraper, a heavy duty snow shovel, a true winter coat, and warm pair of boots. You can try your hardest to get through winter without a decent pair of boots but you KNOW as soon as the first real snowfall happens you're going to regret not having a legit pair of winter boots. Think about the last time you stepped outside into snow past your ankles in your every day casual or work shoes. By the time you made it to your car or to your office your kicks turned into a sad, cold, and soggy pair shoes.  A wet pair of socks and shoes can really ruin your day.
SOREL was founded in Canada in the 1960s and have been perfecting the craftsmanship of the ultimate winter boots. Their boots are functional, warm, and made from the highest quality of materials. While SOREL's footwear collection is based off their classic design, they continue to keep up with the times to deliver a fashionable line of boots year after year.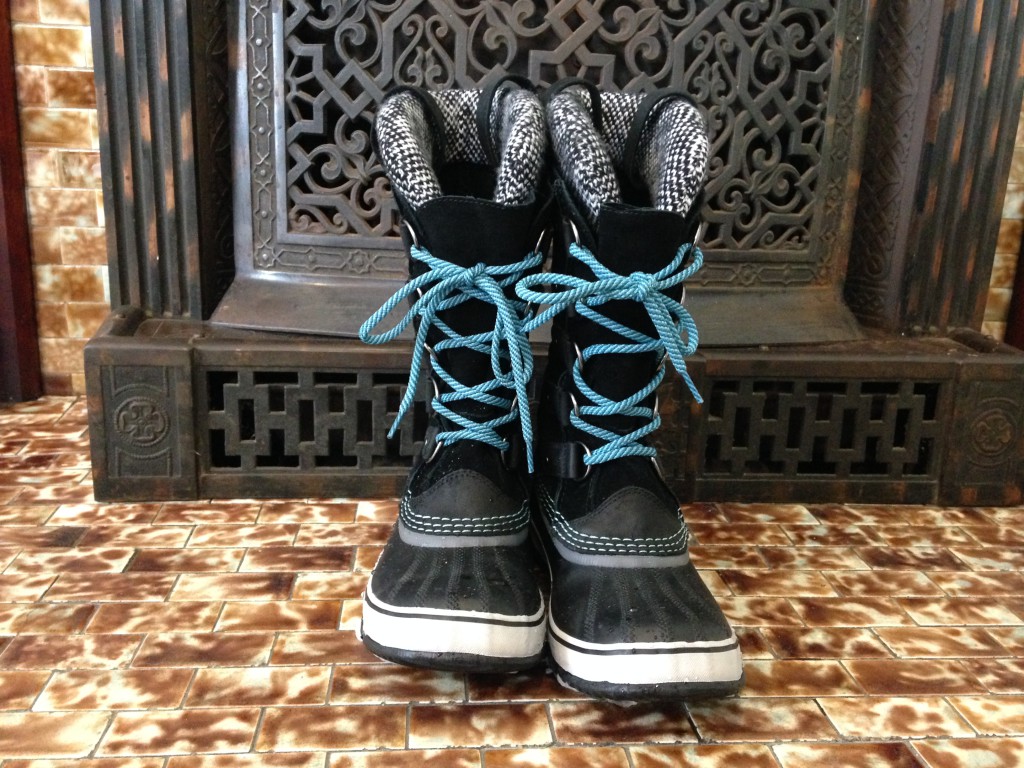 Recently the kind folks at SOREL sent us a pair of their iconic Joan of Arctic Knit Boots to kick around in the snow with this winter. Here's what we found…
Joan of Arctic Knit Boot Review Breakdown
Design/Construction: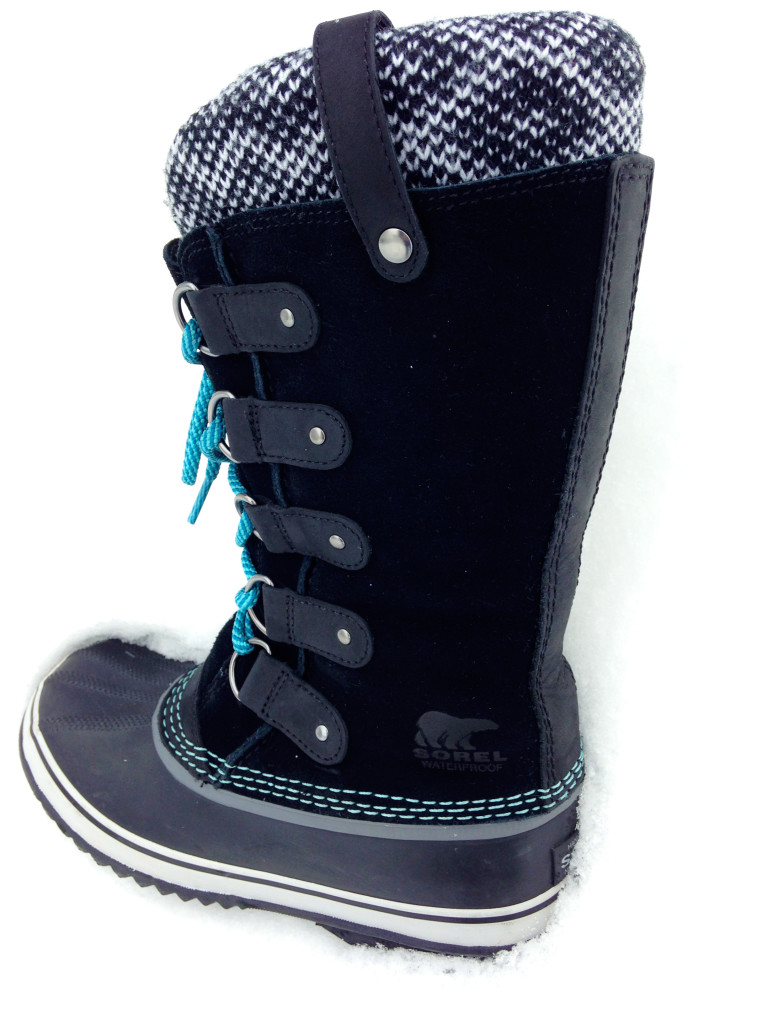 The SOREL Joan of Arctic Knit Boot is a classic design with a modern twist and high quality construction. At first touch, you can tell that these ladies have some meat on their bones. The whole boot is made with warmth and water resistance in mind. The upper part of the boot is made of waterproof suede leather and the inner liner of the Joan of Arctic is made of a removable 6 mm washable recycled felt inner boot. The midsole is a 2.5 mm bonded felt frost plug and the outsole is a waterproof, handcrafted, vulcanized rubber shell with a herringbone tread. The shaft of the boot comes up about 13 inches on your calf and is topped off with a knit cuff. The Joan of Arctic Knit Boots clock in at about 3.5 pounds making them a pretty hefty pair of boots. You do notice the weight at first but soon find the added ounces help you easily kick through the heaviest of snow with the greatest of ease.
Warmth:
Keeping your feet warm is a key factor when it comes to battling the elements on a blustery, snowy, January day. We all know that feeling when it starts to feel like a thousand needles are pecking at our toes and it's hard to concentrate on anything else besides warming up your tootsies. With the SOREL Joan of Arctic, you will not have to worry about this. These beefy boots are made to keep you warm even in the harshest of temps. They are rated at withstanding temps up to -25° fahrenheit (that's -32°Celsius for most of the world) and we believe it.
Though we did not sit in a subzero freezer to test this fact, we did trudge around in the SOREL Joan of Arctic in the coldest and snowiest weather the Midwest has offered up so far this season. The insulated inner boot paired with the plenty of toe room kept our feet nothing but nice and toasty. Since it is a wider boot, there is also plenty of room to add in a pair of thick wool socks for those suffering with chronic cold feet – even in July.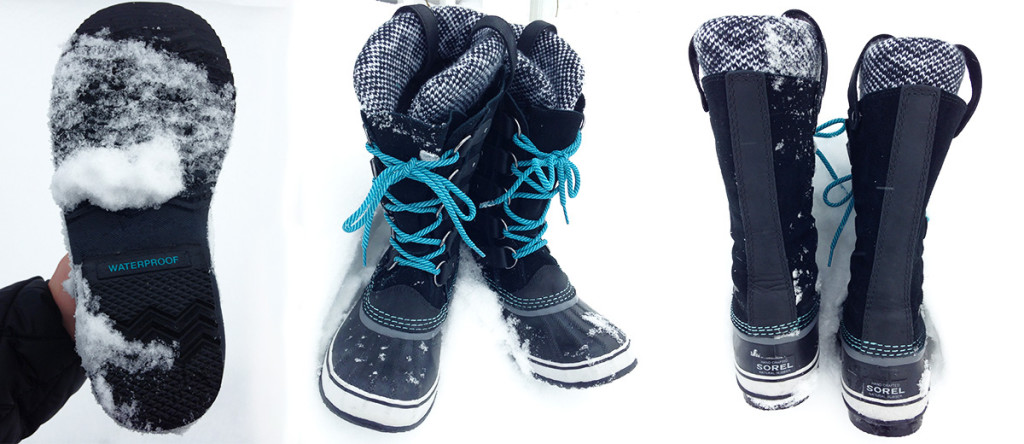 Comfort:
As we mentioned, the SOREL Joan of Arctic Knit Boot is constructed of some pretty heavy duty materials. The first thing that that takes some getting used to is the overall weight of the boots. Next, the boot takes some breaking in to gain some flexibility in the materials.
This reviewer did notice some uncomfortableness in the heel from the bending of the material rubbing against it. Trying to drive a car for the first time in the Joan of Arctic was interesting. Also this boot was made for every day, around town type of use – not for long hikes. However, after a few times out the boot did start to become more flexible and the heel irritation was no longer and issue. I really liked the wider footbed so that my toes could wiggle freely and there was plenty of room for my high arches which tend to be issue with almost all types of footwear.
Water Resistance:
While a warmth is a high priority when looking for a new winter boot, water resistance should be on the same level on the priority list. A wet, 'warm' boot becomes a cold, wet boot pretty darn quickly. The Joan of Arctic's seam sealed weatherproof construction, waterproof suede leather and handcrafted waterproof rubber shelled outsole protects your feet from the ever changing winter weather.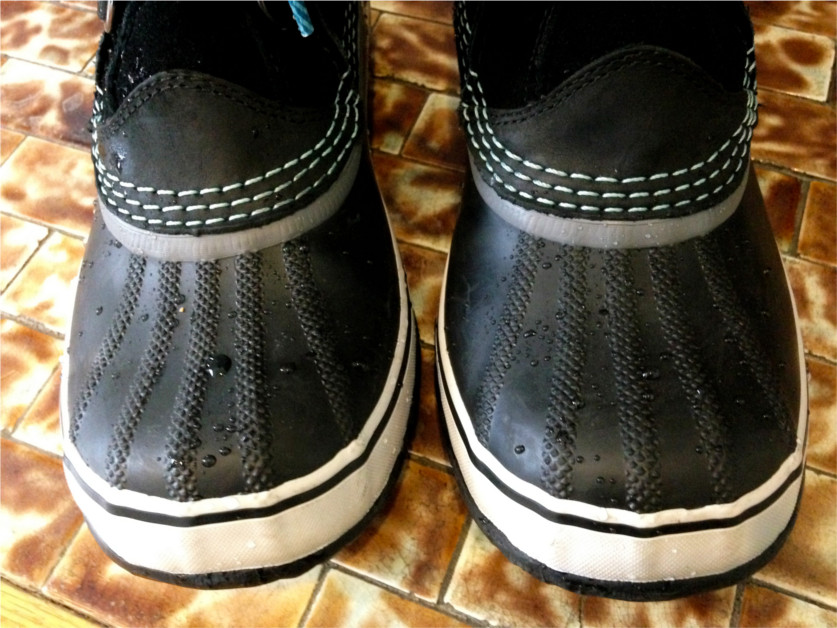 This reviewer wore the Joan of Arctics while trudging to and from the office during Michigan's infamous Lake Effect snow storms, around the ski resort after a long day on the slopes, shopping downtown through the wet slush during a 'warm spell' (above 35°F), and to clean a foot of snow off the car after another Lake Effect snow storm. My feet stayed warm and dry every time. These boots are like tanks for your feet.
Style & Fit:
The Joan of Arctic Knit Boot has it roots in SOREL's classic boot design but they still have a modern flair of their own. It comes in 3 different color combinations each with own pop of color. Throughout testing, I received many compliments while wearing these ladies out and about.
These boots run a little wide and big when it comes to sizing. You may want want to opt for a half size smaller that usual. What's nice about the roominess of the Joan of Arctic is that there is plenty of space to fit a thick pair of winter socks comfortably.
Even though the boots run on the wide and heavy side, they won't look like it when you have them one. Only you and your feet will think you're wearing a pair of NASA moon boots…and not the cute barista at the coffee shop.
Traction:
The Joan or Arctic is made for everyday use in the wintertime and not for hiking through the woods. The treads of the boot fair just fine on flat surfaces and slight inclines. However, they will not get you up that steep, snow covered hill. About half way up, you will start to slowly slide back down if you haven't already lost your balance and rolled down the hill.
I had no trouble with traction in my driveway, sidewalks, and parking lots. I even wore them to go tubing at the ski resort but was very thankful they supplied a Magic Carpet people mover to get me safely back up the hill without having to risk walking up.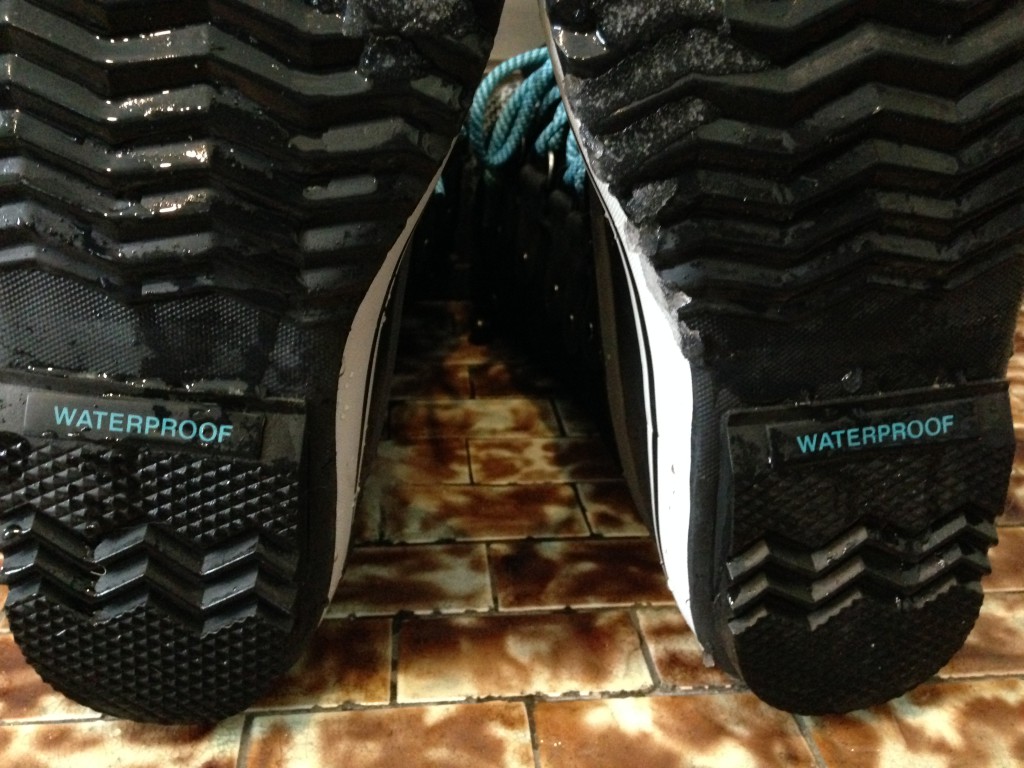 Value:
At $150 we found the SOREL Joan of Arctic Knit Boot a great value. The high quality craftsmanship, materials and classic look will keep these boots in your wintertime gear rotation for years to come. In fact I'm pretty sure my Dad still has his old pair of SORELs from 20 years ago that he still wears to shovel the driveway.
Buy Now: $150.00 or, to learn more, go to: SOREL.com
SOREL Joan of Arctic Knit Boot - Gear Review
Ladies... the SOREL Joan of Arctic Knit boot is the heavy duty winter boot you've been looking for. While they may be a bit heavy and wide, they will kick winter in the face time and time again. Their warmth and water resistance level is amazing so you won't have to worry about your feet succumbing to that chilled to the bone feeling while wearing them. Even though these ladies aren't up for long hikes, they are ready to get you through everything else winter throws at you. And you'll look good doing it.
Warmth/Water Resistance
10
Pros
Warmth
Water Resistance
Style
Cons
Heavy
Bulky Feel
Challenging to Drive in