The Canada Goose Burnett jacket brings style and premium warmth to an otherwise unbearable winter. Founded in a small warehouse in Toronto, Canada, over fifty years ago, Canada Goose has since grown to be recognized internationally as one of the world's leading manufacturers of extreme weather gear. Let's be honest, cold weather is no one's forte. Every January, we bundle and layer to brave freezing temperatures as we walk to work, to class or out on the town. Unfortunately, style takes a back seat as we attempt to insulate any openings that invite in a chill. The Midwest's Polar Vortex of 2014 has been no exception. However, with its 625 fill power white duck down and sophisticated style the Burnett jacket, from the Arctic Collection by Canada Goose, has provided a welcome relief.
Let's explore what exactly makes Canada Goose jackets must-have for the cold:
Burnett Key Features:
Hip-length for mobility  and moderate protection from the cold
Two lower hand warmer pockets with hidden snap closure
Heavy-duty, center-front YKK two-way locking zipper, secured with hidden snaps
Two chest drop-in pockets with Canada Goose logo on snap closure
Interior shoulder straps allow to carry like a backpack when out of the elements
Shoulder epaulettes with snap attachment
Interior security pocket with zipper closure
Interior drop-in pocket with additional stretch media pocket with headphone access opening
Removable black Polartec Powershield O2 soft shell hood for style with protection against unexpected weather conditions
Recessed heavy-duty rib-knit cuffs
Canada Goose Burnett Review Break-Down
Comfort: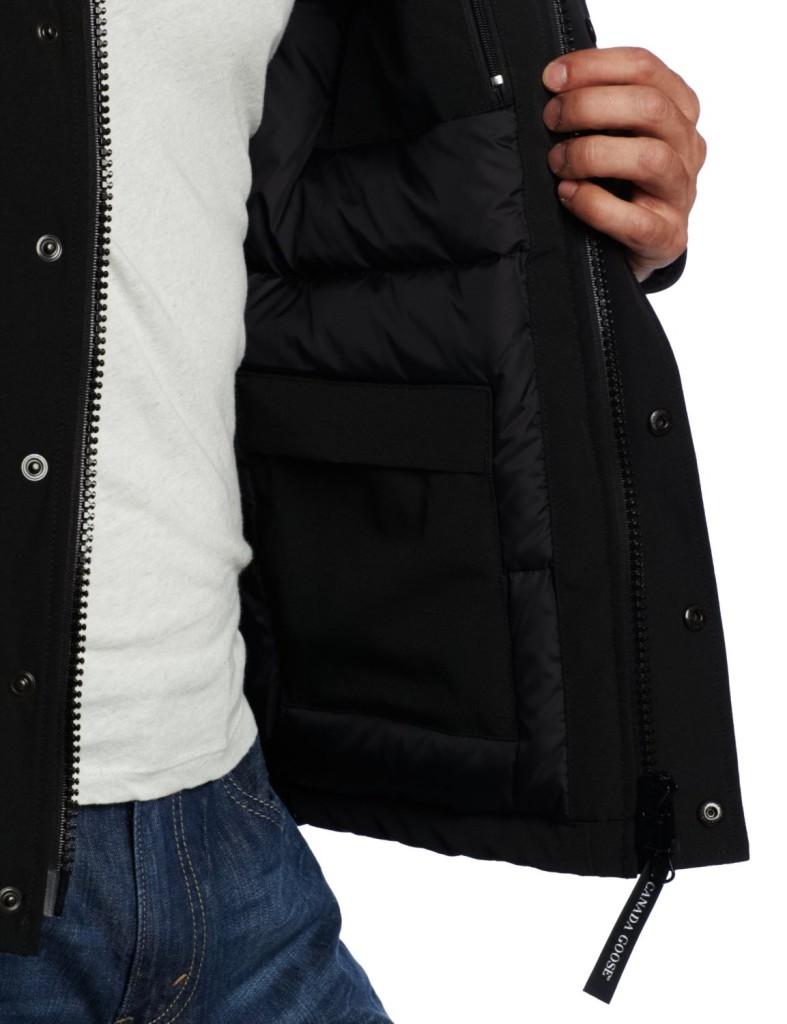 Comfort is one of the Burnett jacket's best features. This down jacket provides maximum warmth without the bulk of comparable down jackets. The hip-length Burnett has a slim fit that allows for maximum mobility. Hand warmer pockets are perfectly located at the hip and are fleece lined for added comfort. The jacket has a durable, water resistant, shell that provides shelter from the elements and its removable, fleece-lined, hood offers cozy protection from wind and snow. Our only comfort complaint is that the removable hood isn't adjustable making it difficult to achieve a nice fit to keep the wind out.
Style/Design:
The military-inspired Burnett offers a sophisticated, modern, look that will earn you style points and differentiate you from the crowd this winter. The jacket's shoulder epaulettes with snap attachments are a nice touch to the military feel of the Burnett. In addition to the hand warmer pockets noted above, the jacket features four front drop-in utility pockets. The placement of these snap-close pockets is perfect for easy access to your phone, keys or wallet. Overall, we were impressed with the attention to detail that went into designing this jacket. One of the many attributes that Canada Goose prides itself on, style certainly sets the Burnett apart from the competition.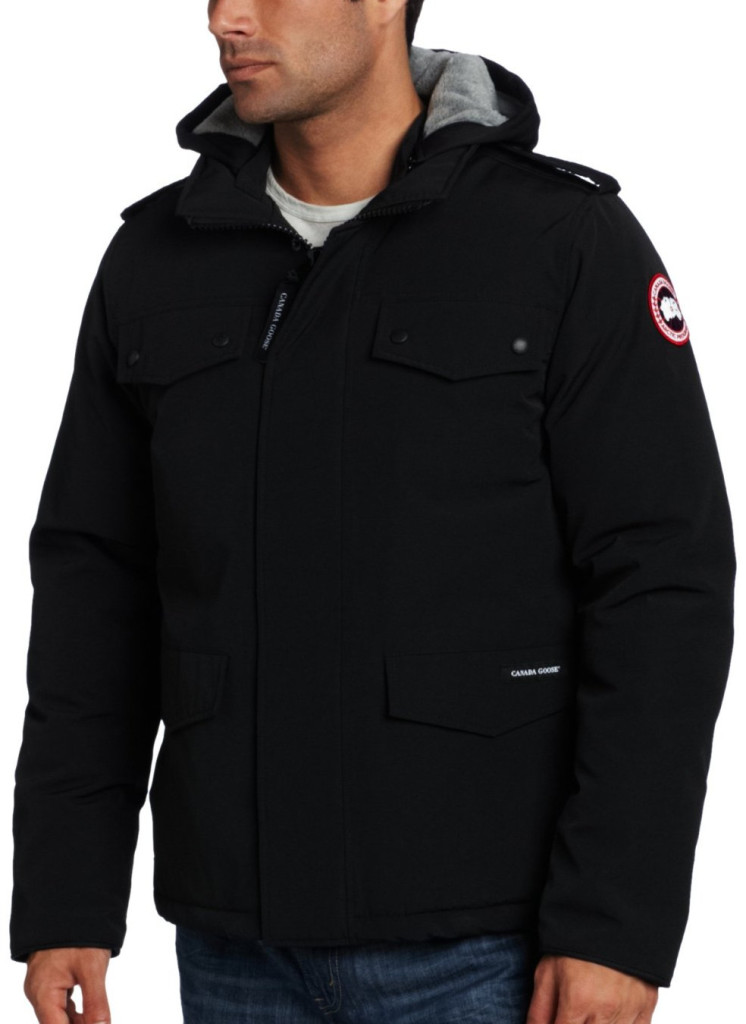 Versatility:
This light down jacket is perfect for hanging out in cold urban environments, however, it might not be the optimal choice for alpine skiing adventures. That said, the Burnett's sophisticated style is refined enough to wear into the office or head out on the town on a Saturday night. In addition, the removable hood offers a different look than many of Canada Goose's other models that feature an iconic attached fur hood.  In short, we like the versatility that this jacket offers.
Warmth:
Canada Goose is known for making some of the warmest jackets on the planet. The Burnett is rated for sub-zero temperatures on the company's Thermal Experience Index and has proved to be an incredibly warm jacket this winter. In addition to the fantastic insulation provided by the white duck down, the recessed heavy-duty rib-knit cuffs work great for keeping snow and wind out of the arms of the jacket and the removable hood is extremely effective in shielding the neck and ears from the cold. A testament to the jacket's warmth, our only qualm is that it can actually be too warm for mild weather conditions. Keep this bad boy handy for the snowstorms, folks.
Value: 
We found the Burnett's $650 price tag to be on the high end for winter jackets. However, this is an incredible product and worth every penny for what it delivers in premium warmth and design. With a more urban style than many of Canada Goose's other models, the Burnett is perfect for looking great around the city during the freezing winter months. We began our review with high expectations and were impressed with the results.
Hands-on View:
Canada Goose Burnett Jacket: Gear Review
Overall, this jacket has been our go-to piece of toasty clothing this winter. From standing out on train platforms in sub-zero wind chills to taking the kids snowshoeing on the weekends, the Burnett has you covered. In addition, the jacket offers a different look from other Canada Goose styles that have gained mainstream popularity over the last few years. We love the attention to detail that went into designing this jacket and we consider the premium white duck down a game changer. After testing this jacket over the last two months, we believe the premium price point is high but warranted so check out Canada Goose and stay warm out there!
The Good:
Exceptionally Warm
Easy access utility pockets
Sophisticated style
The Not so Good:
Lack of draw stings on the hood
Can be too warm for moderate winters
Down is not removable