When on the hunt for a new helmet and glasses kit, I look for compatibility in a few key areas: looks, storage, and comfort. Looks because I love a good colorway match, storage for when skies go gray, and comfort because, well, what's the point if you can't stand wearing the kit? 
I am no stranger to Smith products. Back in the winter of 2018, I had the opportunity to test out Smith's Quantum Snow Helmet paired with my beloved I/O Googles. I was such a fan of the seamless fit and function of the two pieces, I knew I had to give Smith's cycling helmets and sunglasses a try. 
I do a mixture of road and gravel riding, so I didn't want a helmet that is so overly aero it looked out of place on the trail, and so bulky it looked out of place on the road. Smith's Trace bike helmet is the perfect medium, in my opinion. 
On the sunny side of things, I wanted max coverage, so I opted for Smith's Attack Max performance sunglasses. They do sell a regular Attack that essentially deletes the extra protection across the forehead.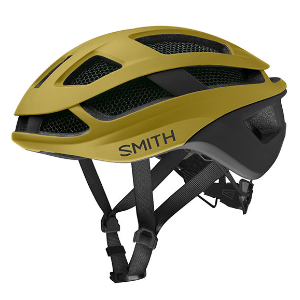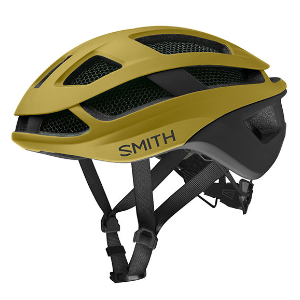 After exclusively riding with this kit for a few weeks, I can certainly tell you that Smith hit on all three of my qualifiers while also providing superior fit and adjustability. 
Let's dive in!  
Smith Trace Road Bike Helmet Key Features:
Lightweight

Aerocore

in-mold construction

Complete ventilated protection featuring

Koroyd

18 position optimized vents

Anti-bacterial lining

Two-position eyewear integration/storage

MIPS

system

Carrying/Storage Bag
Smith Trace Road Bike Helmet Review Breakdown
Design: One of the first things riders will notice about the Smith Trace is ventilation. This helmet is packed with 18 strategically placed vents to deliver great breathability without sacrificing safety. Smith outfitted the Trace with their very own Koroyd protection technology, which is designed to minimize weight, maximize protection, and work in tandem with vents to increase airflow. Koroyd is comprised of a fully-surrounding series of cylinders that crush on impact to absorb kinetic energy and minimize the final outcome.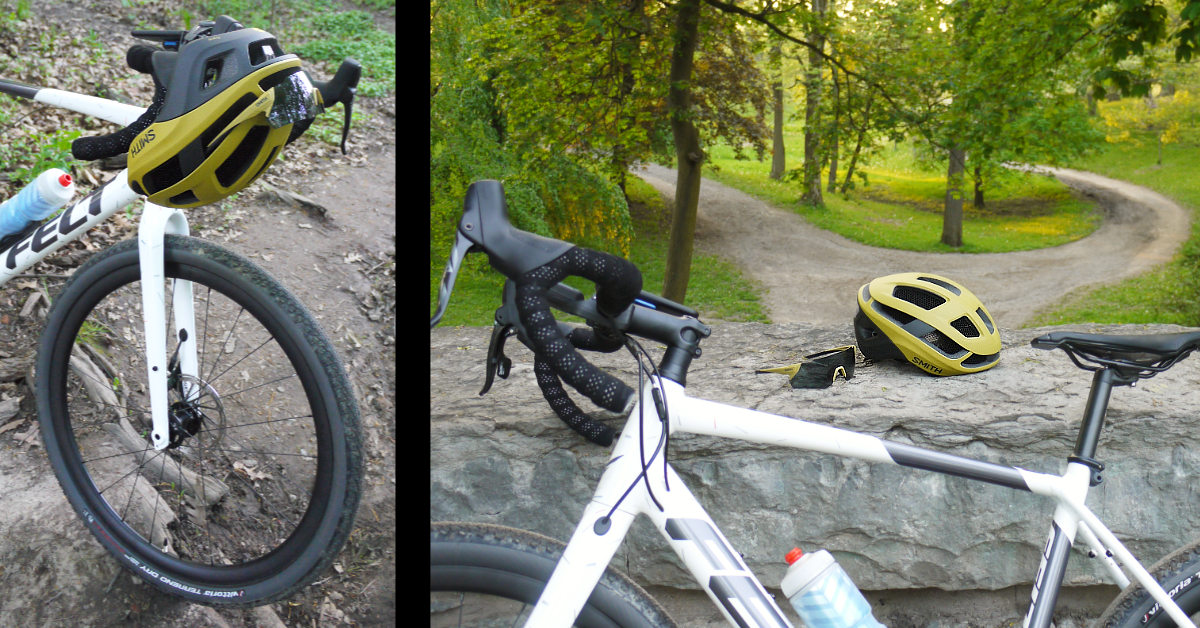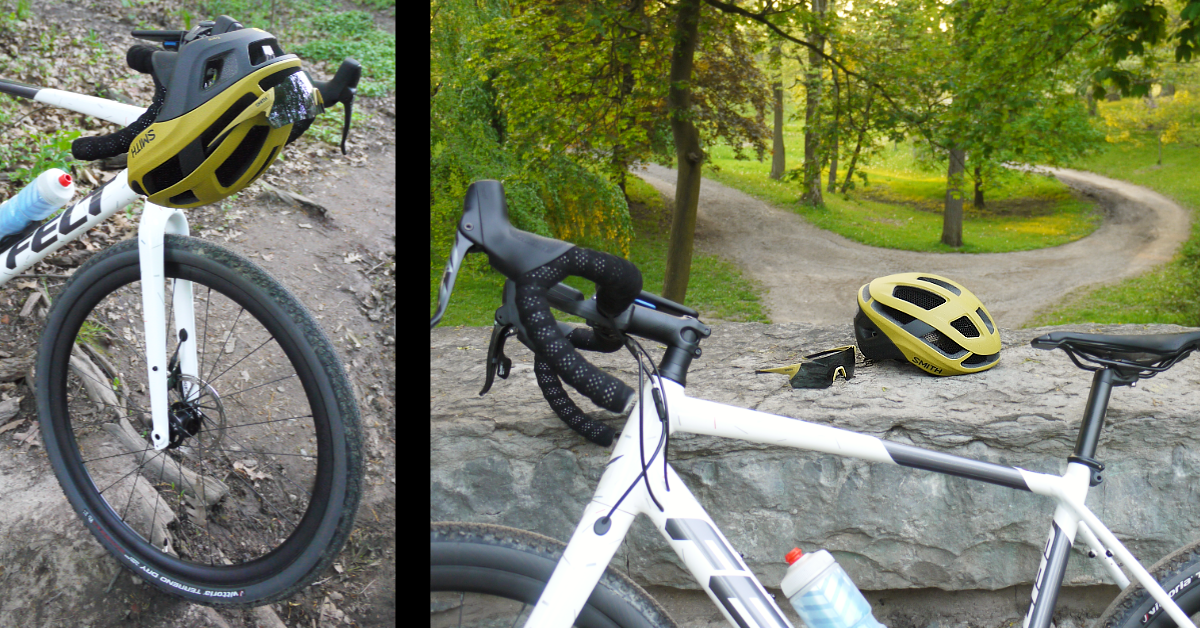 Not only are the vents great for airflow, but they also provide two storage solutions for cycling glasses. I utilize both frequently; the front storage while actively wearing the helmet, and the rear when retiring the Trace on its basement hook until next ride. I will admit that finding the right slots, in lack of a better word, does take some getting used to. But that doesn't take away from the usefulness, just becomes second nature like most things in life. 
Moving onto colorways, Smith has some great options for all genders. I opted for the Matte Mystic Green option to add a pop of color to my kit without overstatement. In person, the green is really more of a muted mustard, but I am a huge fan regardless of the colorway name. 
For some fun, check out Smith's 1980's inspired Get Wild Collection which was recently launched. The Trace was one of the chosen ones to sport hot pink, cyan, and zebra print! 
Fit & Adjustability: Smith's VaporFit system features an adjustable dial at the rear of the helmet to fine-tune circumferential tightness. Smith did a nice job spacing the "stops" in the dial so that the jumps aren't too large. On some helmets, I find that the dial systems are nice touches but poorly executed, leaving the rider with a sense that the helmet is forever too tight or too loose. This is not the case with the Trace.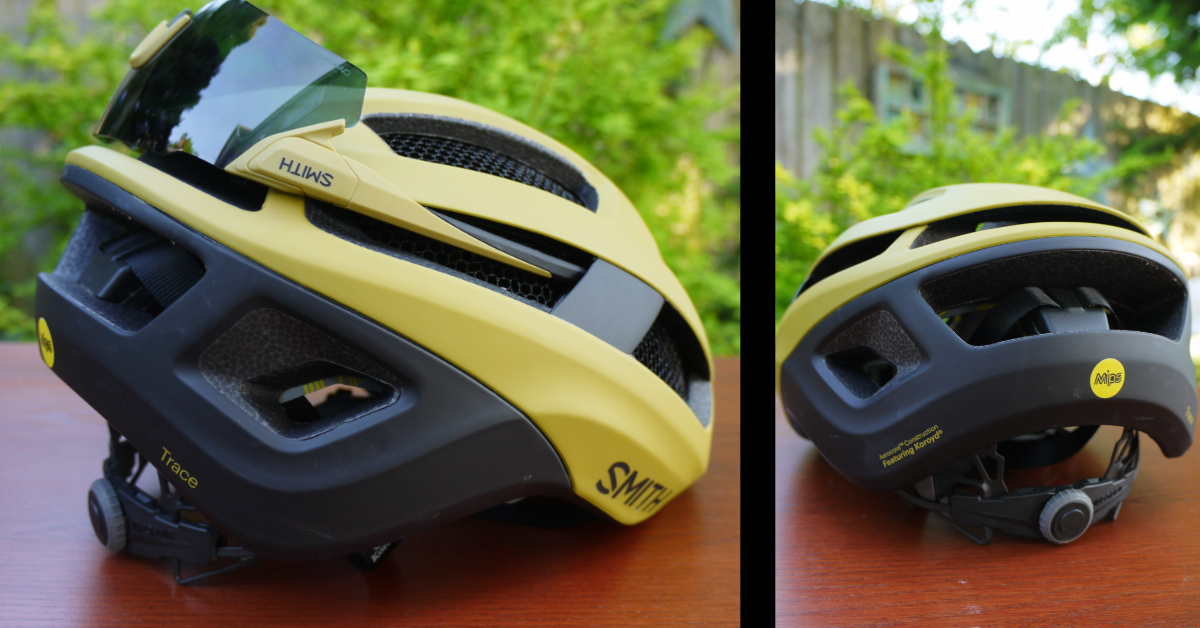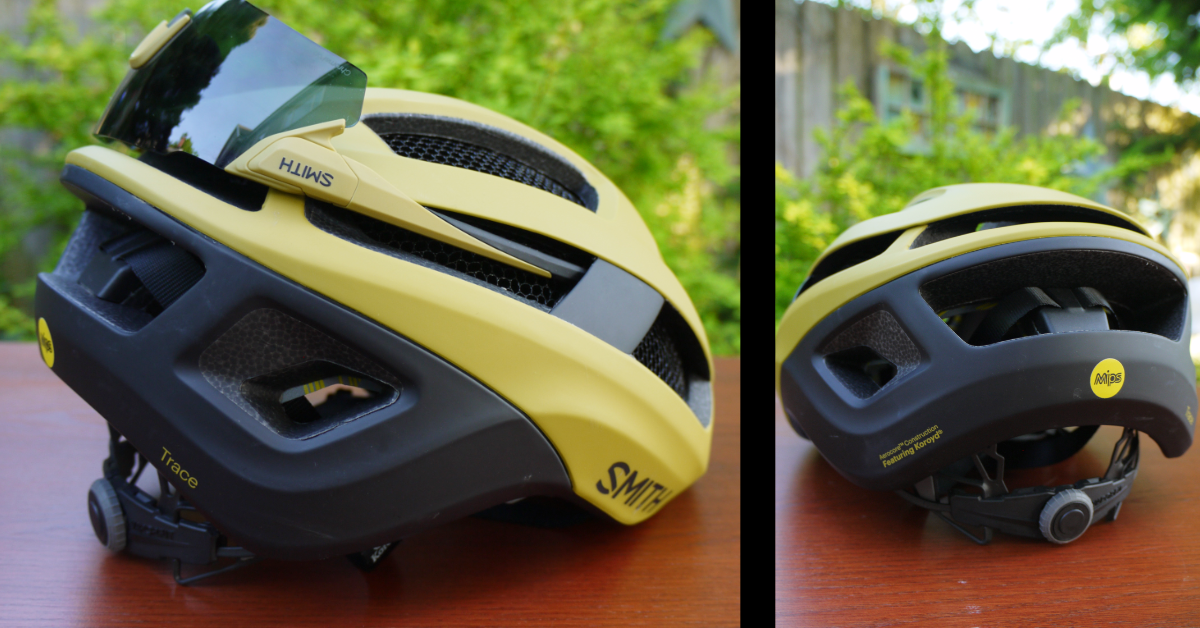 An added benefit to the dial system is easy on and off. A quick turn or two of the dial, and the helmet pops right off without pulling at your hair or skin.  
Comfort: Because of VaporFit's ability to perfect the helmet's fit, the Trace is also incredibly comfortable to wear. After a few 40+ mile weekend rides, I can confidently say that you forget you're even wearing this helmet. It is lightweight, strategically padded for added comfort, and certainly does not overheat. 
If I had one complaint on comfort, it would be the lack of ventilation closures. On my snow helmet, I can close off the ventilation for especially windy or cold days. That said, depending on your climate, this might not matter. Living (and riding) in Western New York, I see all four seasons, and would love to be able to reduce airflow when necessary. Vent closures would also add weight, which definitely matters to some riders. All in all, the fit adjustments make it easy to layer a lightweight base layer hood or hat under the helmet.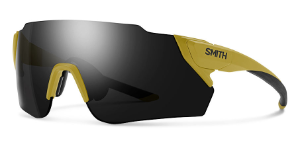 Smith Attack Max Performance Sunglasses Key Features:
ChromaPop Lens

Hydroleophobic Lens Coating

Interchangeable Lenses

Second Rose Colored ChromaPop Lens

Soft-touch quick storage bag

Custom hard case to fit both lenses

Two-Position adjustable nose pads 
Smith Attack Max Performance Sunglasses Review Breakdown
Design: Smith named these performance sunglasses Attack MAX for a reason. The standout feature on these is, of course, the oversized lens. With a taller stance than the sister pair, the Attack, the Max has increased visibility and protection from dust and other debris due to the extra lip along the top ridge of the lens.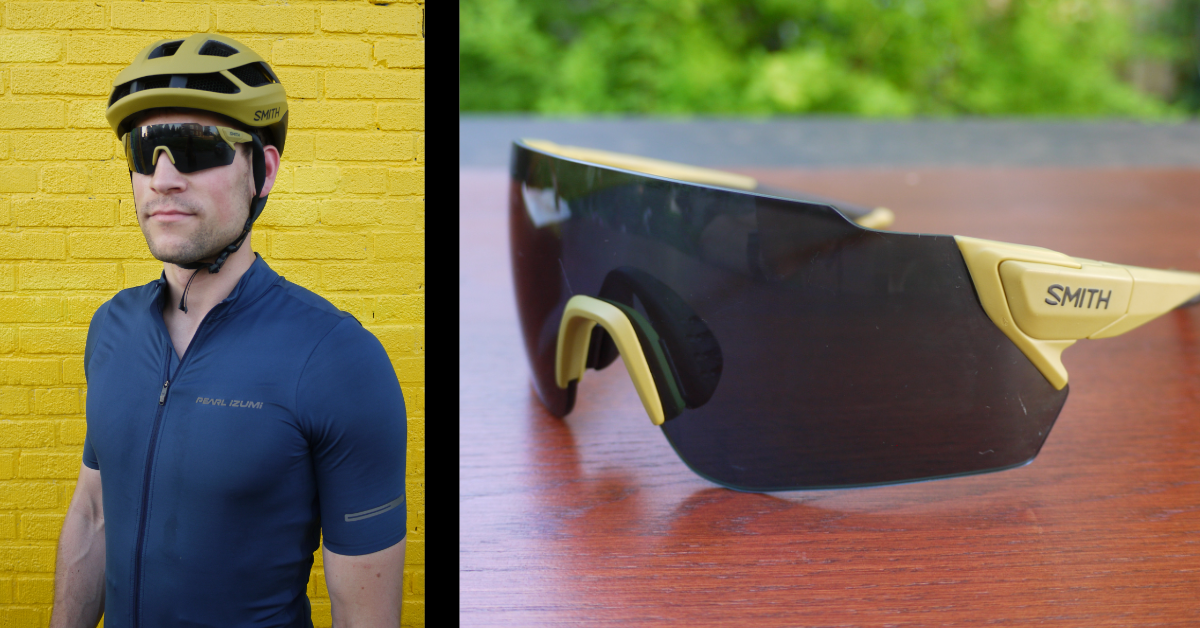 The sides of the lenses wrap around the temple and beyond the corners of the eye. Paired with the upper ridge, the oversized lens does a great job deflecting anything thrown at it: dust, mud, rain, and more. The upper ridge also increases airflow, deflecting more air up over the helmet and around sides. The arms on the Attack Max are quite springy, so there is no fear of breaking them when storing on the Trace. 
In addition to the lens size, these sunglasses also feature Smith's ChromaPop technology, which is their advanced polarized lenses. ChromaPop reduces the crossover between blue, green, and red wavelengths to increase definition and show more natural color. Compared to a few other pairs of polarized sunglasses I had lying around, I can definitely see the difference in vividness. +1 for ChromaPop!
To match the helmet, I opted again for the Matte Mystic Green colorway. It has the same mustard-y hue paired with a sleek dark-black lens. I am not a huge fan of the rainbow/mirror lens look, so these worked for me.
Fit & Lens Changing: Who doesn't love a good magnetic integration in a piece of technical gear? Smith's MAG system is really satisfying to use; integrated into the hinge, users find a clever magnetic clasp system that pops open with little effort. Simply angle the sunglass arms in about 30º, squeeze the Smith logo – with fingers on either side – and pop! The arm is detached from the lens. Learning to get the angle right takes a little practice, but once you got it, you're golden – kinda like the color!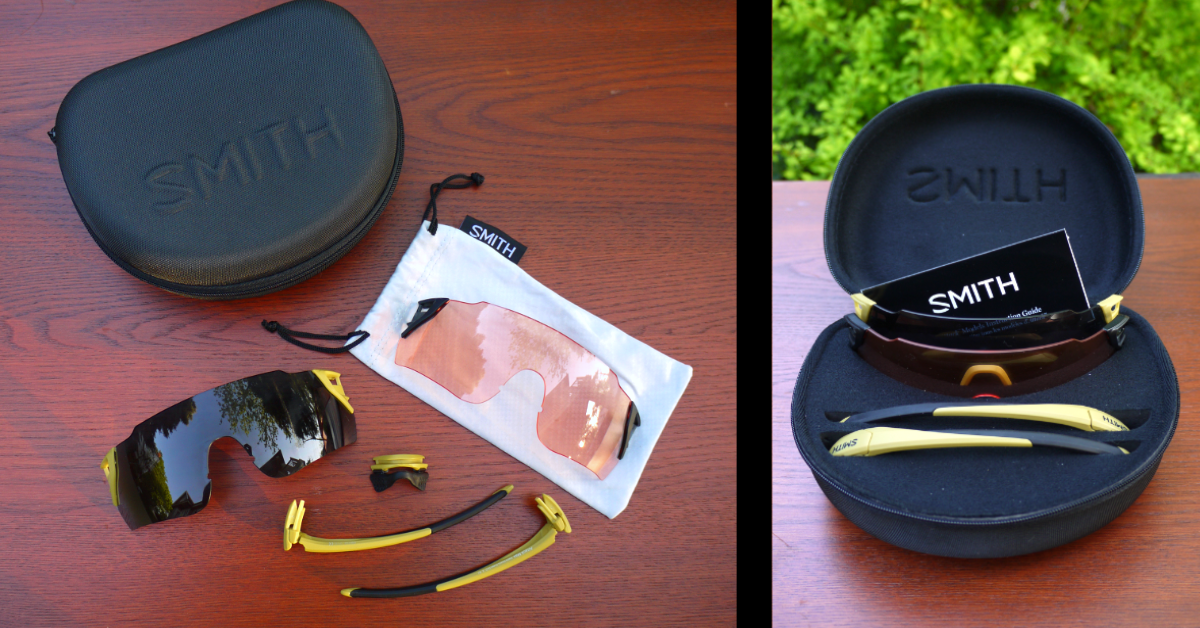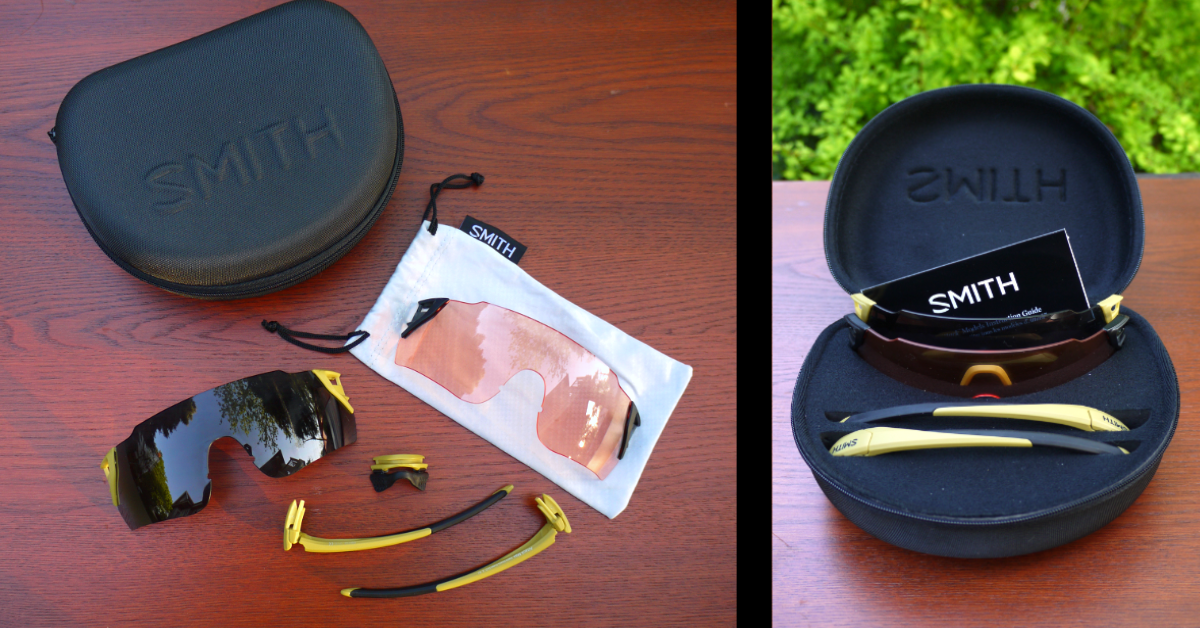 Not only does the MAG system make lens changes a breeze, it seems to reduce the potential of broken glasses arms. I've noticed under excessive load that the magnet clasps will release, instead of reaching their breaking point.
In addition to the fun-to-use hinges, users also need to remove and replace the nosepiece for each glasses change. With a simple squeeze of the nose-pads, the entire nosepiece releases and slides down off the bottom of the lenses. To replace, simply reverse the process until you feel a little click-like feedback. I find the squeeze is a bit less important in the replacement step.  
Comfort: Just like the Trace helmet, these are incredibly lightweight and do not put a lot of pressure on the bridge of your nose like some heavier style sunglasses or metal sunglasses. The nose-piece also has a two-position design allowing you to change how tightly they seat. Combining the springy arms mentioned above with the adjustable nose-piece, these glasses have all-day comfort on and off the bike. 
Smith Trace Helmet & Smith Attack Max Sunglasses - Cycling Gear Review
Whether you're a weekend warrior or a dedicated cyclist, noggin protection is definitely an area you shouldn't cheap out on. With advanced impact absorption, great adjustability, two sunglass storage option and plenty of matching colorways, the Trace Helmet is perfect for the job. Paired with the Attack Max sunglasses, and you'll be ready for the road or gravel ahead.
THE GOOD:
Great integration between helmet and glasses
Great helmet adjustability
Cool sunglass lens change system
THE NOT SO GOOD:
No option to close ventilation
Sunglass lens does seem scratch-able