Despite the company's name, Smith Optics has positioned itself as a premium retailer in the winter sports industry for more than just optic wear. Smith also designs, tests, and manufactures best in class ski and snowboard helmets. Whether you're a first-time alpine skier or a competitive slopestyle snowboarder, Smith helmets provide premium protection at a reasonable price point. Regardless of price, with the speeds achievable on modern skis and snowboards, who wouldn't want to protect their head with the best.
Barely tipping the scales, Smith's Quantum helmet is the lightest offering in the winter protection lineup, but it is a heavy hitter when it comes to protective qualities. Smith's patented Aerocore™honeycomb shock absorption layer is the key construction component delivering weight reduction and unparalleled protection.
Key Features:
Aerocore™ honeycomb shock absorption and hybrid exoskeleton shell

MIPs integration

enabling relative helmet movement on impact side

Dual ventilation control – sliders open and close vents

Wayfinder magnetic strap system for one-handed use

22 vents, 14 of which can be opened and closed

Boa quick fit system for fine tuning helmet fit

Seamless, no gap google integration due to brim

Removable ear cups and optional

Audio Tech™

speaker integration

Lifetime warranty
Specs:
Sizing – Small (51-55cm), Medium (55-59cm), Large (59-63cm)

Weight – 1lb 5oz

Unisex Design
Smith Quantum Snow Helmet Review Breakdown
Style & Design:
Quite frankly, headgear is often tough to make aesthetically pleasing, but Smith transformed functionality into style with the Quantum helmet. From the subtle vented brim to the meticulously placed vents, Smith delivered a clean design with crisp lines. With eight two-tone colorways to choose from, snow sports enthusiasts can choose to add a splash of color to their cold gear lineup or stick with a more traditional, neutral color.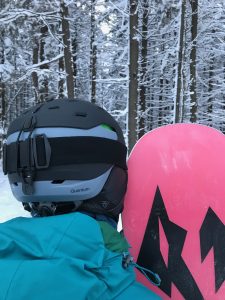 Strap on a pair of Smith's large frame I/O, I/O 7 or I/OX goggles, and you'll be looking the part and rocking one of the best helmet/goggle combinations out there – more on that later.
Fit, Comfort & Adjustability:
Out of the box, the Quantum helmet fit phenomenally. I was able to shake my head in four directions with minimal feedback or shifting from the helmet. It was a true sign of a good fit as I had yet to clip the strap or change the tightness on the Boa system. Due to the fine-tuned fit, there is limited helmet shift during use cutting back on the "head itch" that occurs with some helmets due to movement and friction.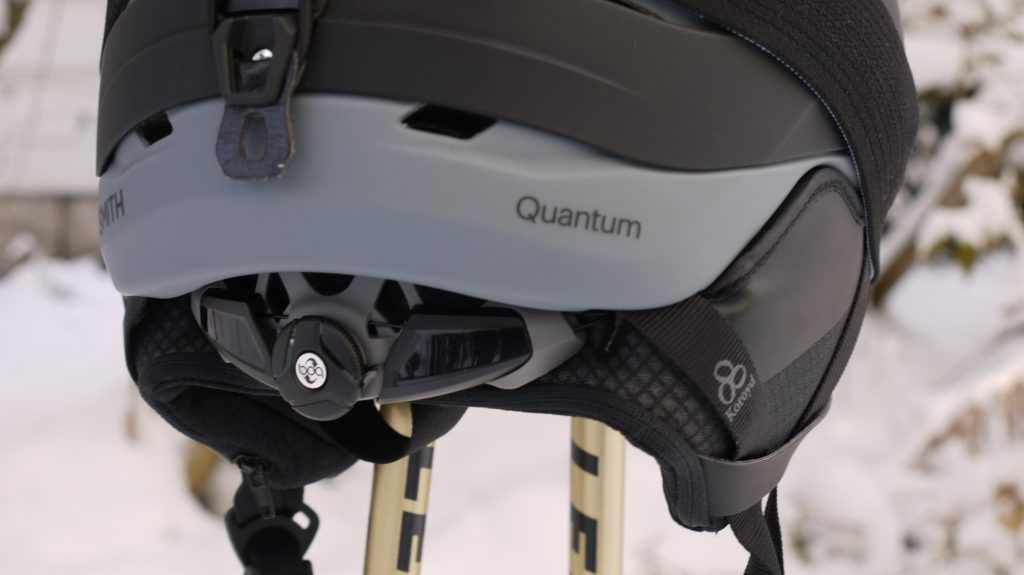 The padding is plush, but not bulky by any means. It contours the shape of the head nicely, and has a soft, synthetic feeling to touch. After a day of riding, it is apparent that the materials used are of high quality and minimize "helmet itch" throughout a day of action. The liner wicks moisture away from the head through the 22 vent AirEvac climate control system.
Smith helmets are built with fine tuning in mind, and the Quantum helmet is no exception. For a closer fit around the back and sides of the head, the Boa system allows for quick, one-handed tightening. Additionally, the chin strap can be easily adjusted with the built-in tension release pulls. The ear pads are also versatile and can be removed if desired or outfitted with speakers for those who like to jam out while they shred.
Additionally, this helmet comes equipped with Smith's new wayfinder clip system. With one hand, the chin strap can easily be clipped or unclipped due to magnetic assisted closure. While it takes some getting used to, it is so much easier than the traditional buckles most helmets have and can more easily be clipped with gloves on.
Ventilation Control:
Smith's higher-end snow helmets have really nice ventilation systems that can be opened and closed depending on the user's preference. If you're ascending that ridge trail to drop down a mountain chute, slide the vents open! If you're riding that bitter chair facing right into the wind, slide those vents closed!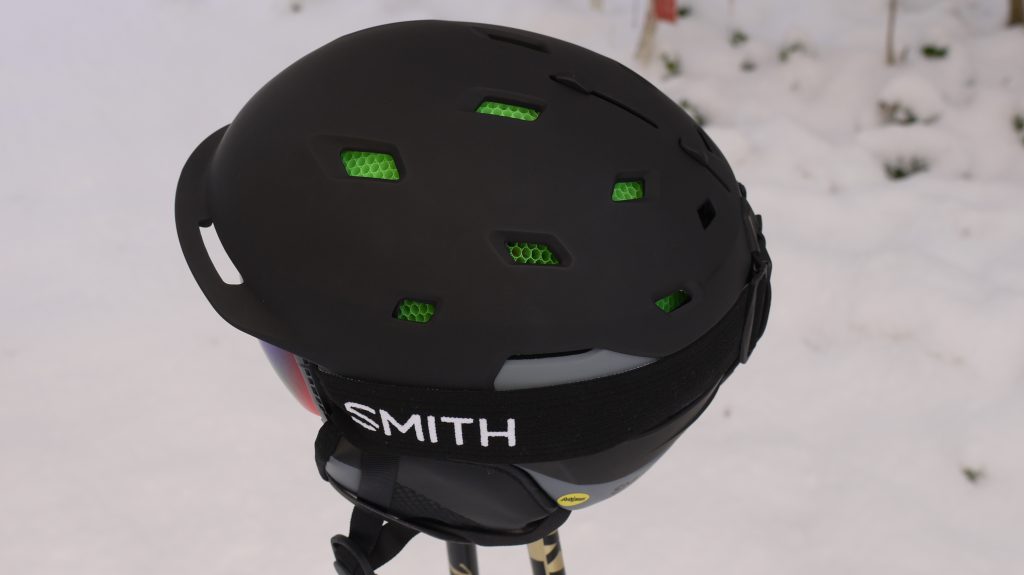 In short, Smith's sliding closure vent system is the best in the business. Most snow helmets require the removal of an inner lining to open the vents. Not only is that a huge hassle but removing the vent blockers is a gamble – sometimes it's warm enough to have removed the vent blockers, most of the time it's not. The ease of use and on the fly adjustment is unmatched.
On the Quantum helmet specifically, there are two zones of operational vents comprised of a total of 22 vents (8 in the frontal zone, 6 in the rear zone, and 8 always open). Testing this helmet, I found that leaving all vents open allowed for really great airflow, but was a tad cold for the average winter day. During a bluebird spring session, the option to open up all vents could definitely come in handy.
The most comfortable combination for me was a closed front and open rear. This allowed extra body heat and moisture to escape the helmet and minimize wetting/itching of the liner all while stopping the chill during lift rides and speed runs.
Warmth:
One round of testing for this helmet was a night session with temps in the single digits. I kept the air flaps closed, the ear flaps on, and goggles tight against the brim. I felt zero air flow through the upper helmet and virtually zero air leak into my goggles. Normally on days of that temp range, I tend to tear up a bit while descending, but the brimmed design really cuts down on wind slipping past goggle padding.
On days in the 30s, there would be no need to wear a skullcap under the helmet. Between the tight fit and oversized ear pads, there is plenty of warmth for a standard day on the mountain.
Goggle Integration:
While testing the Quantum I shredded the slopes behind a pair of Smith I/O goggles I bought in the 2016-2017 season. While it sounds cliche, Smith helmets and Smith goggles were made for each other. Pair the Quantum with a Smith's large frame I/O, I/O 7 or I/OX goggles, and you're in for a treat. Zero gaps, enhanced ventilation and defogging, and perfect visibility. The fit is clean, and they look great together.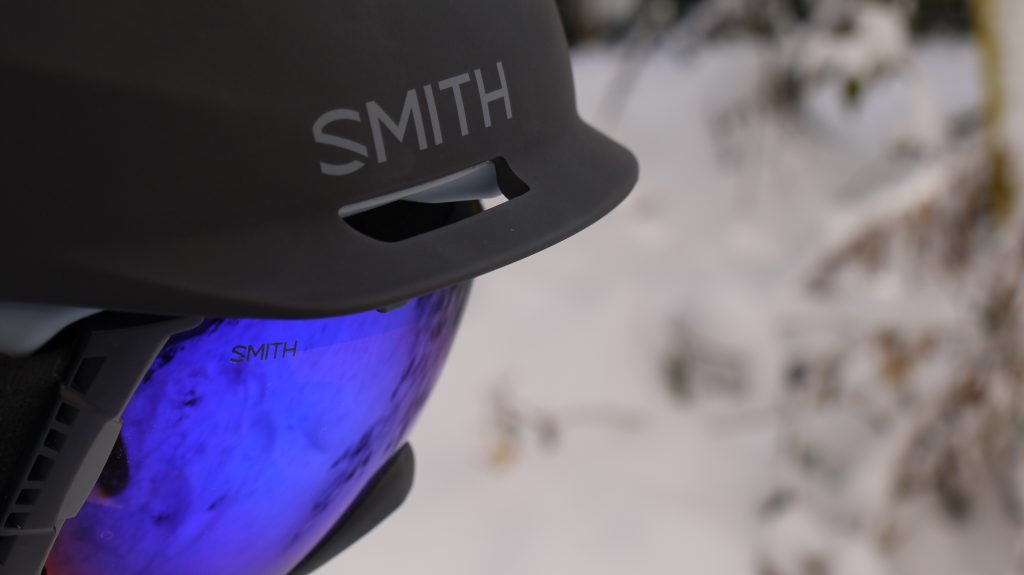 I also had an old pair of Spy goggles on hand that I tested with the Quantum helmet. While the brands differed, the fit was still nearly perfect. The brim blocks wind and creates a nice seal above the googles. So don't fret, your favorite Smith goggle alternative will work flawlessly with this helmet.
Value:
At $300, the Quantum helmet tops out Smith's lineup and lands itself in top tier pricing across competitor brands. With that said, head protection is priceless. At this price point, Smith delivers their best protection technology in an ultralight light package that is well equipped with comfort features. At an average lifespan of 5 years for helmets, I would say the Quantum is easily worth the price. Besides, a good quality helmet will pay for itself in the event of one major fall – ask any pro skier, rider, or ski patroller out there, they won't risk it.
Buy Now: $300 or to learn more, head over to: Smith.com
Smith Quantum Snow Helmet - Gear Review
At $300, this helmet sits on the pricier end of the spectrum, but you get what you pay for: premium protection, tons of ventilation, and a near perfect fit for any head.
Fit, Comfort & Adjustability
9.5
The Good:
Brimmed Design
Ventilation System
Boa Tightening System
The Not So Good:
The Chin Strap
The Goggle Clip in Back