Let's be honest… most of us have struggled with our mid section over the years, especially the older we get.  Having rock hard, six pack abs is no easy feat.  If only there was a magic belt to shred your midsection.  Well, the folks over at Slendertone sent us their latest innovation in ab belt technology, Connect Abs.  I wouldn't  say this is the cure all for your mid section struggle, or the "magic belt", BUT it is a tremendous asset to have incorporated into your workout and healthy diet to aid in a stronger midsection that will ultimately help in getting a six pack you can see.
Key Features:
Control the belt through an iOS app.
Track your progress, choose programs that work for you.
Sleek and discreet design to be worn anytime or anywhere.
1 Set of replacement gel pads.
Bluetooth Smart technology.
Rechargeable controller.
Storage pouch.
Slendertone Connect Abs Review Breakdown
Tech:
Slendertone uses a technology that has been proven to work for years, EMS: Electric Muscle Stimulation.  EMS has been used it therapy and rehabilitation situations by attaching some type of electrode to the muscle to help stimulate and contract to help promote healthier muscle growth. Slendertone has simplified this hardware into a single belt that can easily be used by consumers anywhere or anytime.  The Connect Abs belt is not their first run at this technology.  In fact, they've been doing this for years and have many other versions to chose from, including Arm toning.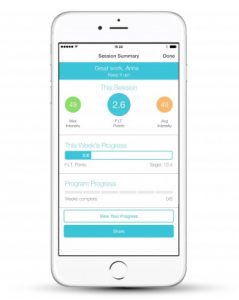 The Connect Abs belt is made to connect with your iOS device for an intuitive interface from which you can choose your program, control the intensity, and track your progress.  Though we didn't get a chance to test it, the app also runs on Android 4.4 and higher on some devices. Here's a list of compatible devices.
Connecting to the iPhone was easy and the interface is easy enough for most people to understand. The only thing I would say to watch out for is how easy it is to go from a low intensity all the way up to a crazy high intensity on your phone.  It took me by surprise when I started to increase the level of intensity.  In fact, as I was working out, my finger slipped and cranked it all the way up, and it's enough to put a little damper in your workout if you're not ready for it.
Design:
I'll admit that I've tried two previous versions of the Slendertone Abdominal Muscle Toners and I've had some great success with each one.  So when Slendertone wanted to send us their latest innovation, Connect Abs, I was happy to put it to the test and see what they have improved on.  The connectivity to your iOS device is a nice feature especially if you want an nice interactive display.  However, as I mostly use the belt as I'm working out, it was a little more cumbersome than i would prefer. Their Slendertone Abs3 was the last model I used, and I liked the ability to see what level of intensity I was at by simply looking down at the display on the belt versus digging for your phone to see what level of intensity you're at with the Slendertone App. Nevertheless, if it's connectivity you're after and logging your workouts or adjusting your program from an intuitive interface then the Connect Abs is a huge improvement on that level.  If you plan to use this belt while you're at your work desk or sitting watching tv, then your phone interface is the way to go.

App: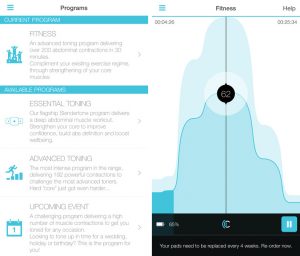 The App is the main display for the Connect Abs belt and your window to more advanced controls and training sessions.  From the App, you can control the intensity level, follow a 6 week program of different level abdominal workouts, track your progress, stay motivated by competing with other Slendertone Connect users, and easily set toning alerts and reminders so you never forget.  The Programs you can choose from aren't too extreme and you can adjust the intensity yourself as the contractions increase or decrease in tempo.  You'll also get a progress window that you can review your F.I.T points as well as your Max, Average, and Target Intensity.  This can be useful to make sure you are always pushing yourself harder each time for better results.
Comfort: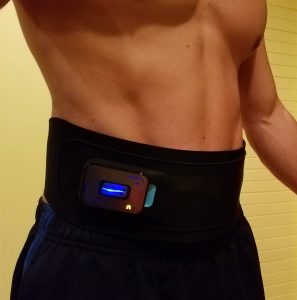 Having used previous models in the past and knowing the comfort level of each one, I would have to say that the Connect Abs belt is the least comfortable belt I've worn.  The design is thin and very lightweight, however, the edges are what seem to make this belt less comfortable than its predecessors. Again, because I normally wear this belt as I'm working out for a more intense focus on my abdominals, I prefer more flexibility and comfort.  Unfortunately, the Connect Abs falls short in comfort.
Value:
In order to truly see any abdominal results, you'll also need to have a healthy diet and a steady regimen of cardio.  You can have a super strong set of abs, but just like wearing a winter coat, you'll never see them unless you take your jacket off (and by jacket I mean that layer of fat covering the abdominals).  The Connect Abs belt is not a shortcut to getting chiseled abs right out of the box, but it most definitely will help as a stepping stone to your overall healthy diet and workout. I wouldn't just give up doing crunches or any other type of abdominal workout, but rather supplement or stack your workouts with an abdominal muscle toner such as the Slendertone Ab belt. For $229.99, it is definitely an investment.  But like any device that will help you achieve a healthier and more active lifestyle, I would have to say it is worth the money.  If you would like a more approachable abdominal muscle toner, then I would also highly recommend their previous models to start with.
Buy Now: $229.99 or to learn more, check out: Slendertone.com
Slendertone Connect Abs - Fitness Review
So does this Abdominal Muscle Toner actually work?  The simple answer is YES!  Will it alone give you six pack abs that you can see?  No, but it will absolutely help tone, firm, and strengthen your midsection so that when you stick with your healthy eating and steady workouts, you'll end up revealing the six pack you've always wanted.
The Good:
Easy to setup and get going
Bluetooth works great
Tracks workouts and motivates
The Not So Good:
Comfort is not ideal
No intensity level display on the belt (only visible through app)
Only connect with some Android devices 4.4 and higher