This post brought to you by Holiday Inn Express. The content and opinions expressed below are that of Busted Wallet.
This post brought to you by Holiday Inn Express. The content and opinions expressed below are that of Busted Wallet.
At home, weekends are for sleeping in and late breakfast right? So why should it be any different when you are staying at a hotel on the weekend? Holiday Inn Express has taken note and from now until December 18th, 2016, their properties nationwide are celebrating Snoozapalooza!
What the what is Snoozapalooza? Besides being fun to say, Holiday Inn Express's Snoozapalooza combines our two favorite weekend activities – sleeping in and eating breakfast late. Traditionally, hotel check-out times are around 11am and those who serve a continental breakfast wrap things up around 10am or earlier. While that makes sense during the week when traveling for business, this is not how we roll when traveling on weekends. We've been burned one too many times by sleeping in at our hotel and then walking down to the lobby to find the free continental breakfast donzo for the day.
[youtube https://www.youtube.com/watch?v=n2UZ_8Vk2uI]
During Holiday Inn Express's Snoozapalooza, check-out AND their famous continental breakfast are extended until noon on Saturdays and Sundays through December 18th. *fist pump*
Since we rarely wake up before continental breakfast closing time when staying at hotels on the weekends, we checked ourselves into a Holiday Inn Express to celebrate Snoozapalooza. Spoiler alert: it was awesome.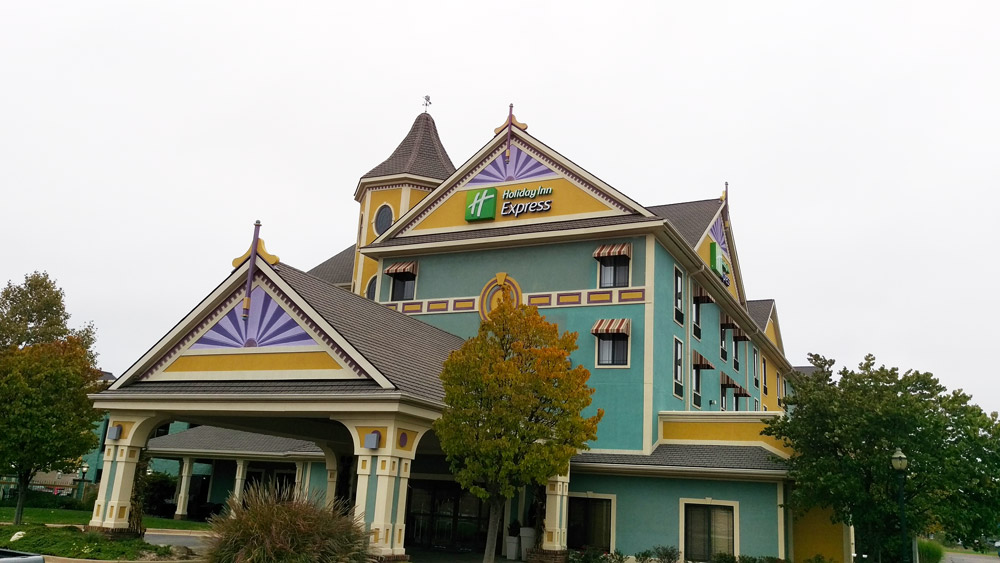 After checking into the hotel, we met up with some friends in the area for some late dinner and drinks at hibachi restaurant walking distance from our hotel. It was a fun night of catching flying shrimp in our mouths and sake bombs, made all the better knowing that we could truly sleep in at the hotel and have a hot breakfast in the morning.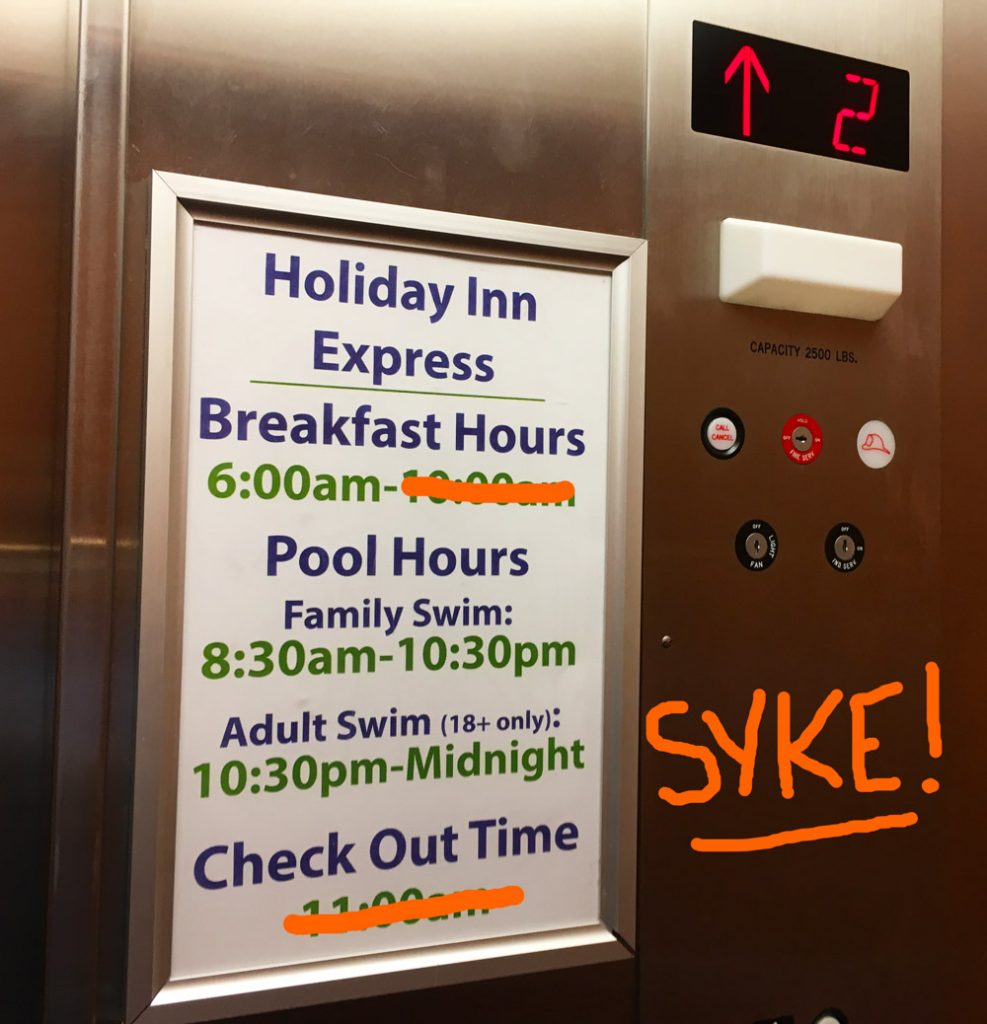 The next morning we rolled out of bed at about 11am and made our way down to the lobby for breakfast. Even though we were told the hotel was sold out for the weekend, we were able to miss the morning crowd who didn't get the Snoozapalooza memo (or they were still snoozing!) and practically had the breakfast room to ourselves. This suited us just fine because we were about to pig out on all of the breakfast options – without feeling like we were being judged.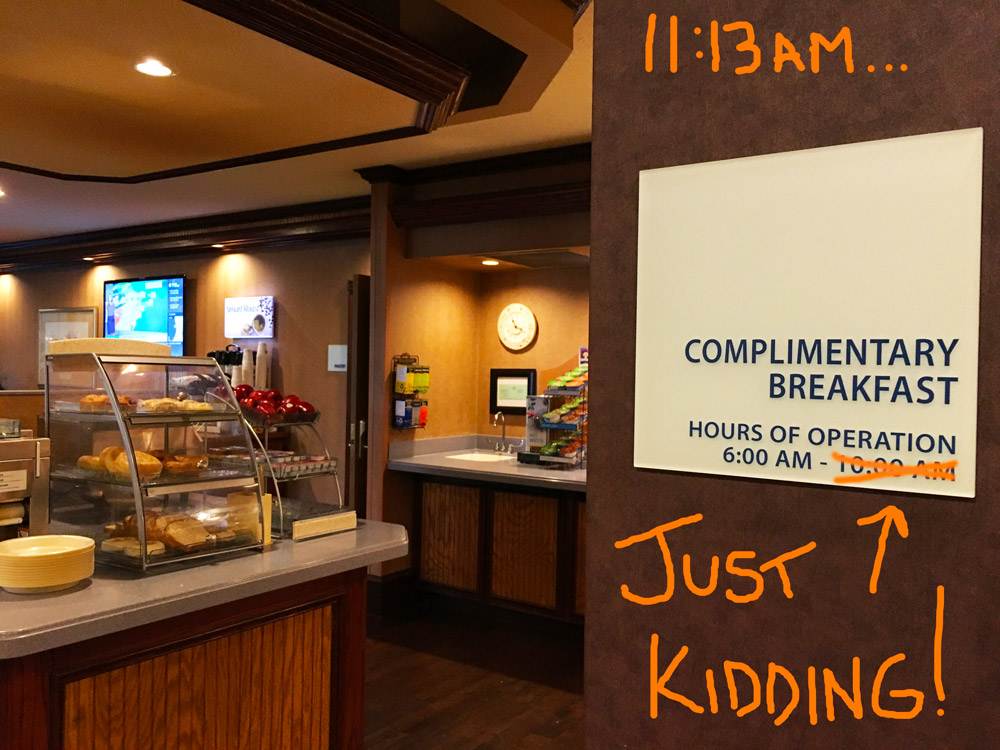 We loaded up on biscuits and gravy, omelets, sausage, and their signature cinnamon rolls. They also offer yogurt, bagels, oatmeal, fruit and cereal. Our favorite part was the pancake machine – all you have to do is press a button and you will have a fresh, hot pancake in a minute flat. Holiday Inn Express for sure has some of the best continental breakfasts around.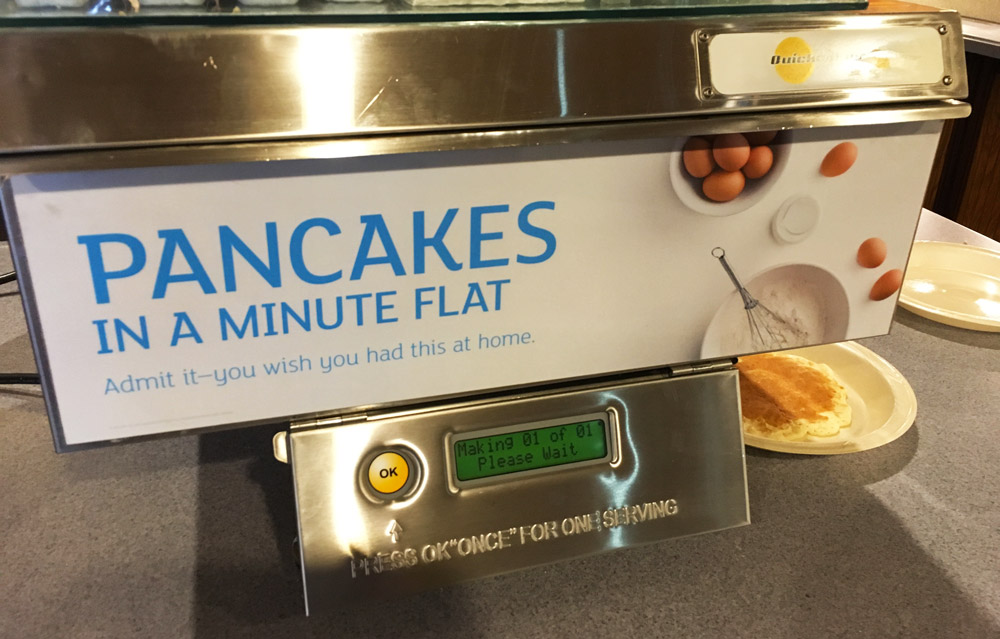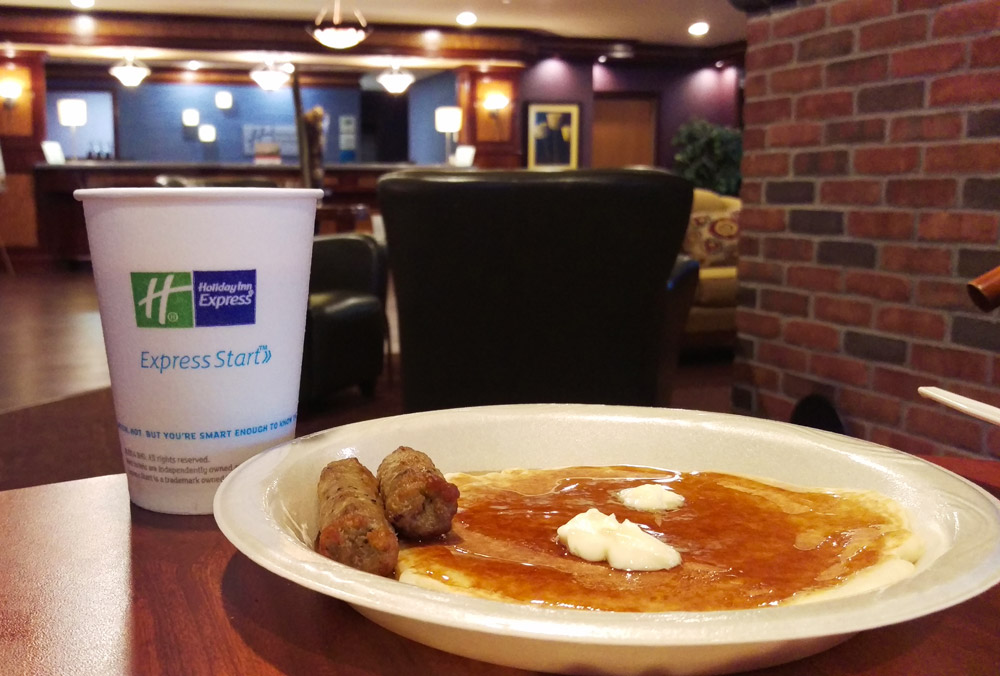 After stuffing ourselves, we went back up to our hotel room to shower and pack before our 12:00pm late checkout. It was so nice to feel rested, have a full belly, and not have to rush to leave in the morning. Hooray for Snoozapalooza!
So if you are traveling on the weekends from now until December 18th, be sure to take up Holiday Inn Express on this offer. It is well worth it!