When my girlfriend and I first floated the idea of van life, we looked through all the regular adventure van websites. Most boasted absurd overlanding modifications and price tags that should belong on townhomes. Suffice it to say, we felt priced out.
Recent college grads, just baby steps into our respective careers, we spent months combing classified ads and used car websites, and we even researched how to do it ourselves. Realizing our budget was significantly lower than the average cost and that we were not nearly capable enough to do it ourselves, we began to lose hope. 
It was early summer, ski season was fast approaching, and we still needed a way to get out West. Enter Mobtown Conversions, a boutique adventure van outfitter located right under our noses in Baltimore City.
Mobtown Conversions is run out of a small, nondescript garage. So you can imagine our surprise when we first set up a meeting with owner/builders Grant Sullens and Mac Davis. We were introduced into their world, witnessing multiple van builds and bespoke craftsmanship that we had only seen in magazines. It was awesome! 
Grant and Mac were very accommodating and, most importantly, they were willing to work within our budget of just over $30,000. So what can that budget get you in terms of amenities and longevity on the road? Well buckle up, and let's get into the conversion breakdown!
2006 Dodge Sprinter (source and complete build)
My girlfriend and I are not what you'd call "car people". So when the folks at Mobtown Conversions suggested that we look for a T1N model Sprinter Van (circa 2002-2006), we took their word for it. As it turns out, this model of Sprinter Van is ultra-reliable and easy to work on, as well as a sturdy and dependable frame to build upon.
Grant and Mac included sourcing the van in our initial budget and found a low mileage (sub 130,00 miles) example from 2006 – it was perfect. And after letting us look it over, it was time to get it serviced. A Mobtown Conversions van service typically includes the following: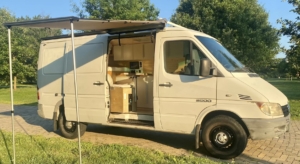 Fuel Filter Replacement
Oil Filter Replacement
Oil Change
Full Transmission Service

Transmission Gasket Replacement
Transmission Filter Replacement
Transmission Fluid Replacement

Air Filter Replacement
Belt Replacement
Having a van that passes inspection and is safe to drive is not only essential to van life but also provides excellent peace of mind. It's a great checklist to keep in mind every time you get your van serviced, especially if your rig is approaching "vintage" in terms of age.
The Interior Van Conversion (complete build)
This is where the skill and expertise in Mobtown Conversions really shine. Grant and Mac are not only skilled builders but also experienced van lifers. They know precisely what you need and will work with you to bring your preferences and vision to life. As two people new to the lifestyle, it was reassuring for us to talk to someone who had already traveled the country in a van.
While every Mobtown Conversions build is unique and can be made to suit, here's what we opted for in our build that we are currently traveling cross-country in –
Interior Features: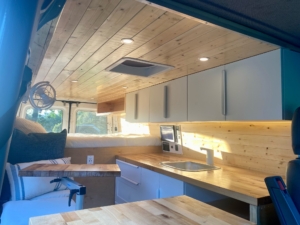 Baltic Birch Plywood
Pine Tongue and Groove Wall Paneling
IKEA ENHET Upper & Lower Cabinetry (color selected: white)
Rockwool Safe & Sound R-13.5 Insulation
80 Mil Sound Deadening Mat
Birch Butcher Block Countertops
Stainless Steel Sink
Faucet with Built-in Water Pump
Custom Black Control Panel Color Customizable
 IKEA MEISTERVIK Memory Foam Mattress – Queen Size, augmented to fit space
Flooring Option: Shaw Expressions – White Oak – Engineered Hardwood
After nearly 5 months on the road, the build is rock solid and conducive to living on the move. It's what's called a fixed bed platform layout, meaning the bed is always in the same place and doesn't require any moving or folding. The surfaces are large, easy to clean, durable, and ergonomic for living in close quarters. Underneath the bed is the "garage", a large-volume space for the storage of bigger items and equipment that has more than enough space for all of our gear.
Since my girlfriend and I are both working remotely, having a reliable power source is paramount. Mobtown Conversions recognizes this and provide multiple power options to suit any user. We opted for the most robust setup to get us through the harsh winters out west and keep our devices charged. Here's what they included in our build –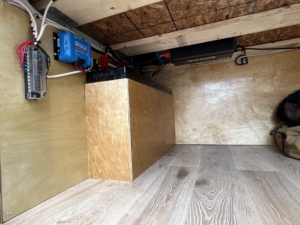 Electrical Components:
Battery Bank: 2 x 12V 200 AH Lithium Phosphate Batteries (5KW+ of Total Capacity)
Solar Panels: 2 x SolarWorld 260W Panels (520W of Total Power)
Solar Charge Controller: Victron Smart Solar 100 | 50 MPPT (Bluetooth)
 Inverter: Renogy 3000W Pure Sine Wave Inverter
DC to DC Charger: Renogy 12V 40A DC to DC On-Board Battery Charger
Blue Sea Systems 12 Circuit Fuse Block
5 Switch – Switch Panel w/ 2 USB ports
2 x AC Outlet with 2 USB Ports (Total: 4 Household Plugs, 4 USB Ports)
Battery Heating Pads
In subzero temperatures, you absolutely need to have battery heating pads for lithium-ion batteries. In fact, this power setup saved us on multiple occasions, allowing us to charge our devices and even our rice cooker!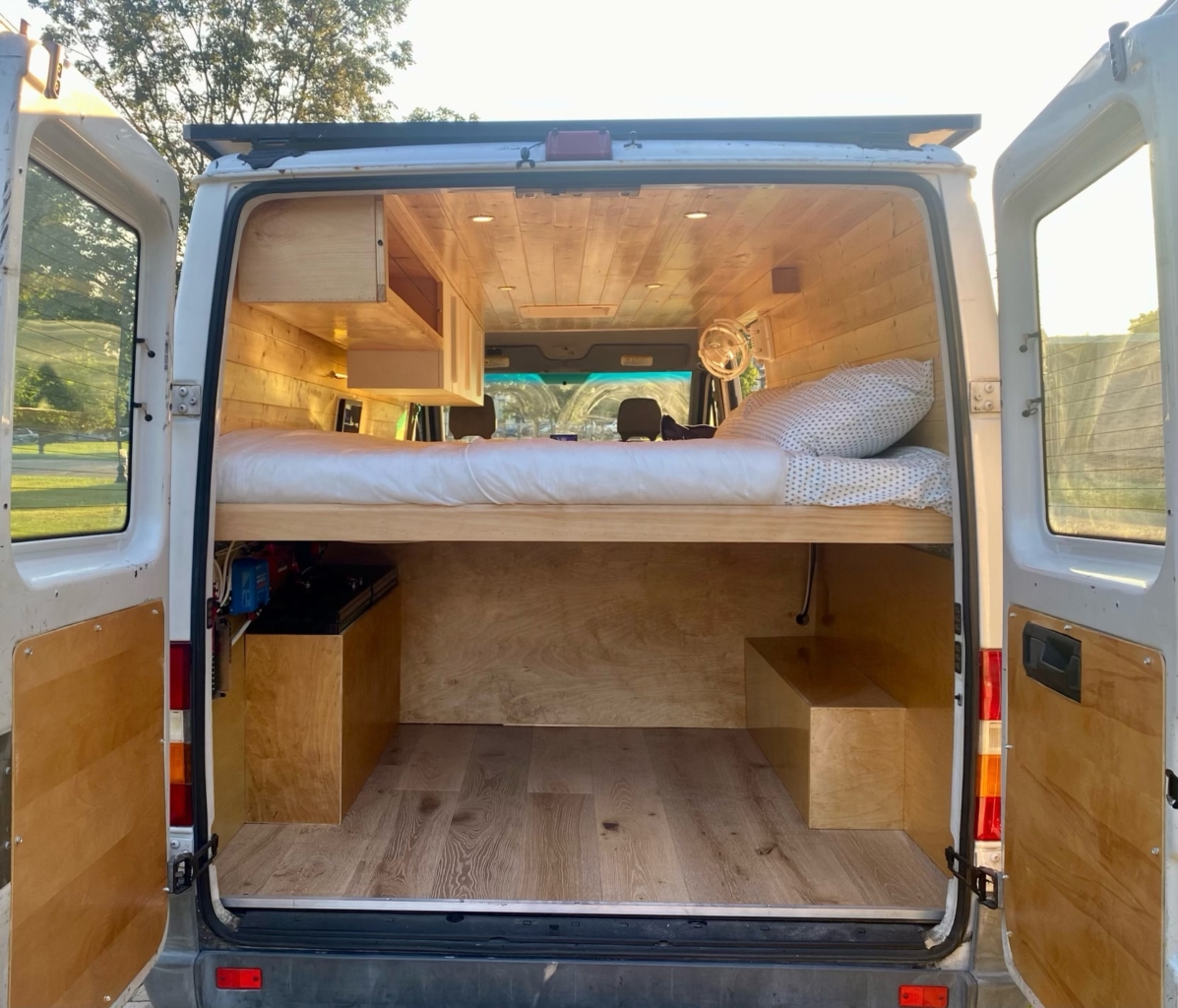 Of course, life on the road would be a lot harder if it wasn't for the creature comforts – and good ventilation. Mobtown Conversions has a standard list of appliances they tend to include in their builds and are open to adding more to best suit a custom build. Here's the list of what we opted for:
Lighting, Fans, Appliances
• 6 x Dimmable LED Puck Lights (location: ceiling) (tone: neutral)
• Under-cabinet LED Lights
• Garage LED Lights
• Maxxair 00-05100K Fan with White Lid
• Sirocco II Cabin Fan Customizable (color: white)
• 12" HD Monitor for Security System (HDMI port accessibility)
• 3 x Wide Angle Security Cameras (Back + Left + Right views)
• Wide Angle Backup Camera w/ 7" Monitor
• 5 KW Diesel Heater
• Whynter FM-45G Refrigerator/Freezer
• Porta Potti Thetford – Portable Flushing Toilet
Thankfully, we've never had to use that toilet!
But in all seriousness, these are the necessary appliances to help make life on the road more enjoyable. Especially that Maxxair fan and Vevor diesel heater. Some online van communities will debate endlessly on which ventilation fans and heaters are best, but we're thrilled with our appliances. The Maxxair fan is a perfect, energy-efficient vent fan that alleviates steam from cooking and also provides a cool breeze at night. While the Vevor diesel heater boasts an independent fuel tank, fuel and energy efficiency, and low operating noise – it's the complete package!
In terms of special requests. We added an ARB 4′ Awning and a WeBoost Drive terminal for that extra boost of service while working from the van in the backcountry.
Mobtown Conversions completed our build in just over five weeks and within our budget. Grant and Mac were very professional, personable, and instrumental in helping us achieve our dream of a van life road trip.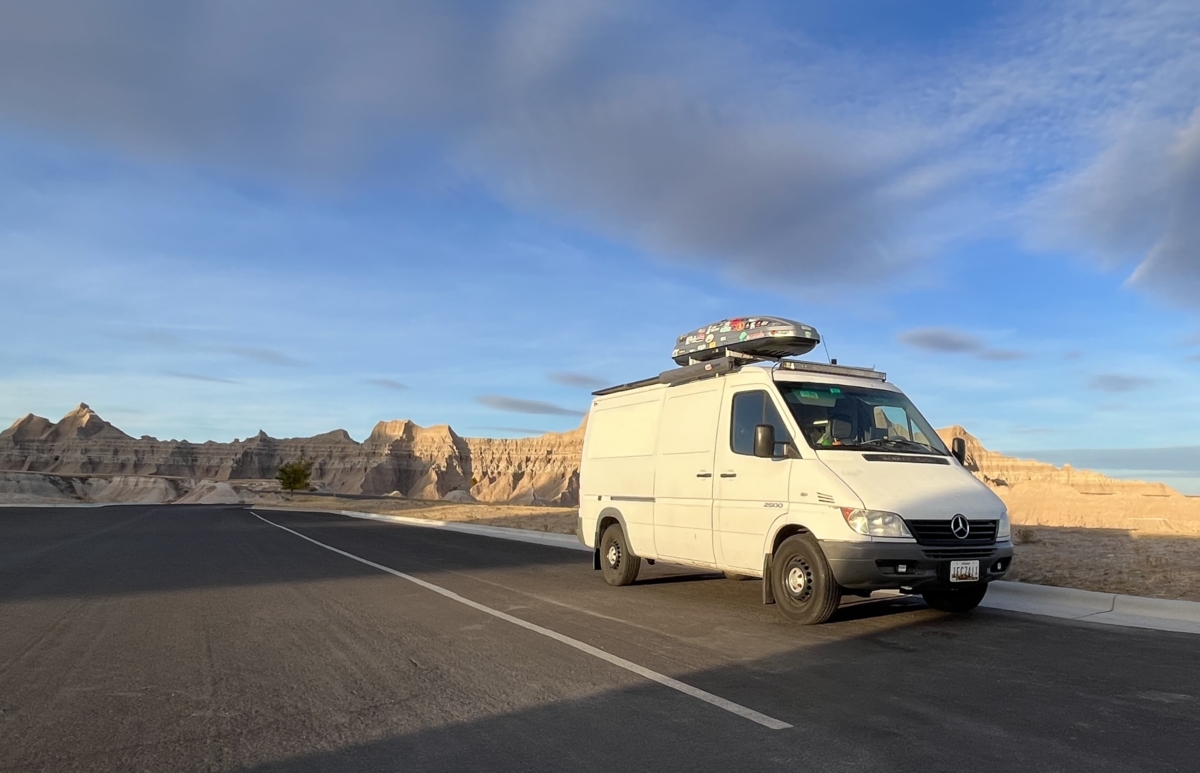 Timing is of the essence for most would-be van lifers, and many need to stick to a schedule. Speaking from experience, we only had a certain amount of time to accomplish this trip, and we were only able to do so because our build was quick and reliable. Working closely with Mobtown Conversions was an incredible experience because it was reassuring and educational, given that we learned so much about how vans come together. Be sure to check their website for the earliest available timeslot to start your build!
Special thank you to Grant and Mac for making our dream a reality and giving us the green light for van life!