We have all had the painstaking experiencing of purchasing workout earbuds and always having to re-insert them every few minutes as they kept falling out.  Luckily our good friends at Skullcandy have heard our complaints and decided to do something about it; The Skullcandy XTFree Wireless Sport Earbuds.  Instead of just coming up with one patented design to brag about, these over-achievers decided to add three proprietary designs (FitFin, StickyGels, Fix) to ensure you get the best fitting earbuds on the market.  Skullcandy invites you to experience the convenience and simplicity of the XTfree wireless sport earbuds, featuring Bluetooth functionality and TripleLock security to keep you motivated when running and working out, all while your earbuds stay put.  How did the XTfree perform? Well, we've been testing the for a couple months now and here's what we discovered…
Key Features:
MicroSport Bluetooth
TripleLock Technology
Sweat resistant technology sonically welded shut, blocking out sweat, rain, or other types of moisture.
PureClean technology blended into their comfortable silicone ear gels to keep your gear fresh.
Onboard Microphone and Volume Control
Skullcandy XTFree Wireless Sport Earbuds
Design:
The Skullcandy XTFREE Sport earbuds are built to be your go-to workout friend.  The idea behind the design is to be simple and easy to use, while providing a secure fit with quality sound that we have grown to expect out of the Skullcandy brand.  The earbuds feature MicroSport Bluetooth technology that is built into the earbud so that it allows for a lower profile and a less intrusive set of earbuds. To provide a safe and secure fit, the XTfree features TripleLock tech that utilizes 3 proprietary technologies (FitFin, StickyGels, Fix) that are built to work together and keep the earbuds locked into place.  The StickyGels are the silicone gels that get inserted in your ear, the sticky gels are designed to whisk away sweat and give you a better grip and to keep the gels from sliding out.  The FitFin tech is the locking bar that features an intricate design that pushes against the curves of the ear which locks the bud into place.  Overall the earbuds are designed for any workout, whether it be a casual run or an extreme weight lifting session, all while allowing you to never lose your focus by having to readjust your earbuds.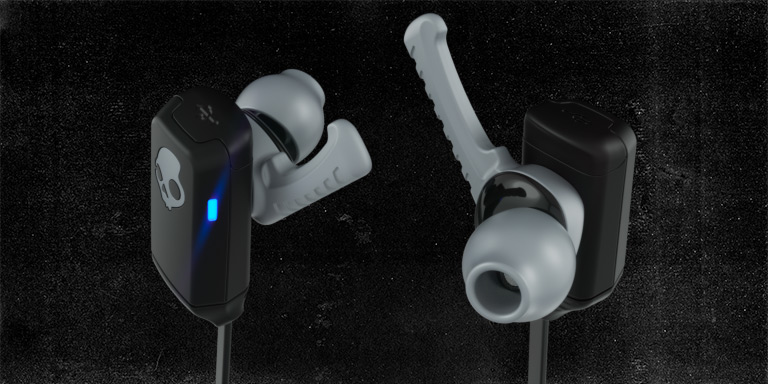 In addition to the host of features designed to give you a safe and secure fit, the XTfree  also comes with an easy-to-access microphone and remote just below the left earbud. Press the middle button once to answer/end calls or play/pause music.  You can navigate your playlists and take calls with a simple push of the button.  Everything is squeezed into the earbuds allowing them to very lightweight and out of your way so you can focus on listening to your music and powering through your workout.
Comfort:
The most appealing part of the XTfree earbuds in terms of comfort comes from its versatility and security.  You get multiple earbud sizes to choose from to ensure you get you the right size gel into your ear.  Between the FitFin, StickyGels, and Fix technology there was no stone unturned in making sure that they earbuds would stay in place.  We found them to be extremely snug and fit.  Very rarely did we have to adjust during our workouts to re-insert the earbuds back in.  We did a variety of workouts in all ranges of intensity and the earbuds really held themselves in place.  On a few occasions we had to re-adjust but these were significantly better that most earbuds on the market.
Sound Quality:
Since these are sport earbuds the main focus is on the fit and security of the earbuds during your workouts.  However, Skullcandy did not forget about adding in some good quality sound.  While these won't be confused for some premium over-the-ear headphones, they still have nice sound with some good bass. To ensure you are staying safe, Skullcandy's ambient ear gels allow you to hear your music without completely blocking out your surroundings, keeping you aware of what's going on around you whether you're training in the gym or outside.  While you may not get completely lost in your music as you can hear the outside world, this was a nice touch, especially on the late night runs in the dark where we needed to be more aware of our surroundings.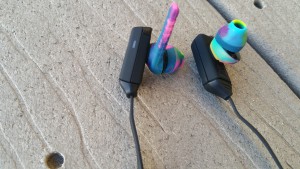 Bluetooth/Battery Life:
While we did not locate an advertised Bluetooth range with the XTfree's to be able to test against, we can reasonably assume that it is within a few feet since these are designed to be on you for a workout and most likely your phone will be nearby.  With that stated, we did experience some struggles with Bluetooth consistency.  We found for best results to make sure your unit was fully charged and to get it as close to the phone as possible.  When we would have our phone in a back pocket on a run we did experience some gaps in Bluetooth connectivity.  When we used an arm band to attach our phone we experienced a lot better results.
The battery life is advertised at 6 hours and in testing we consistently hit that target, with one test even going a bit over 6 hours.  One thing we do recommend is getting into the habit of charging these earbuds because once you hit the low battery mark,  you will get a voice activated alert notifying you and then the unit will quickly die.  We got caught on a few runs where we did not charge the earbuds and by the time we got the voice activated alerts we did not have nearly enough time to make it through the rest of the workout.  A button to check on battery percentage would be helpful but all of this can be avoided by consistently charging and not having to worry about running out of battery life.
Value:
Priced at $99.99, the Skullcandy XTfree are a very reasonable purchase for the active person looking for some nice quality earbuds that will stay in place during any workout.  The value in these earbuds are truly in the fit and comfort.  The peace of mind knowing that you don't have the drop the weights in the middle of a set to re-adjust your earbuds is a nice relief.  If you are an active person who has problem finding the right fitting earbuds, then we highly suggest the XTfree.
Buy Now: $99.99 or to learn more, go to: Skullcandy.com
Skullcandy XTfree Wireless Sport - Tech Review
The Skull candy XTfree offers a great fitting earbud that will stay nice and snug in your ear during the most extreme workouts, without having you to re-adjust.
Bluetooth/Battery Life
7.8
The Good:
Very Comfortable
Excellent fit, don't have to worry about them falling out
Great value
The Not-So-Good:
Bluetooth range was sub-par
Can't check battery life until the very end