Our cellphones have become more than phones. We take photos, connect to the internet, video adventures, play games and so much more. The Seek Thermal device goes even further and turns your smart phone into a thermal imaging camera. What once cost thousands of dollars, can now fit in your pocket and is affordable to practically everyone.
Founded in 2012, Seek Thermal has developed new thermal sensors that fit in a tiny device that attaches to your cell phone. They have their basic camera and the XR (xtra range version) each is available for Android and iPhones. They let us take a basic android version for a test drive and here's what we discovered…
What's in the Box:
Seek Thermal
Waterproof case
Specs I understand:
36 degree field of view (20 degrees on the XR)
206×156 thermal sensor
-40°c to 330°c (-40°f to 626°f) detection range
Fixed Focus (XR is adjustable)
Ability to capture photos & video
Connects via micro usb (android version)
Specs I don't understand:
< 9Hz
Long Wave Infrared 7.2 – 13 Microns
12 µ Pixel Pitch
Vanadium Oxide Microbolometer
Chalcogenide Lens
Magnesium Housing
Let me start with with this first: the "specs I don't understand" The key point here is, you don't have to know what they are to use this device, that's how easy it is to use.
Seek Thermal Review Breakdown
Design:
This device is compact, about 2" wide, and 7/8" tall, weighing in at .49 ounce, or to really put that in perspective, about the weight of 12 business cards. It was smaller than I expected. I thought that it would need to be much bigger to do what it claims. It is all black, and comes in a really tight foam padded case with a snap closure that is waterproof. There is a key ring attachment on the housing you could throw a carabineer on if you wanted. I usually just put it in my bag. It is simple and to the point.
Application:
Any device is only as good as what the app will let you do with it. Well, this app is really well designed. Search the play store and plugging the unit into your phone gets you started. From then on out, when ever you plug in the Seek Thermal device in it launches the app for you. You have to hit 'o.k.' to a prompt and then it runs. Installation is fast and easy.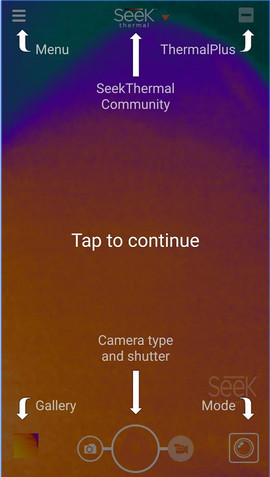 On the main screen there is
A menu, with options for:

Help, Terms, and About.
Temperature units (in Celcius or Fahrenheit)
Color Palette (9 options)
Image preference, including aspect ratio (4:3 or 16:9), watermarks for location, day/time, and seek logo, geo-tagging, and image smoothing

Link to the gallery for photos and videos you've taken
Split screen view
Mode

High/low – Shows the highest and lowest temps on the image
Spot – Average temp around the center of the image
Normal – Thermal view, but no temp showing
Threshold – Select a temp and either above, equal to, or below, and the app will highlight the corresponding area of the image.

Camera or Video selector
The Color palette options are really nice. I usually stuck to 'Amber'. Hot things look red, cold things look blue. It's dynamic though, so the hottest thing will be dark red if that's 626°f or 120°f. This is helpful because it can really show a lot of variation, but it can also be misleading if you forget about it. You'll think something is really hot and it might only be 80°f. There isn't a way to turn that off, and I'm o.k. with that, it does more good than harm in my opinion.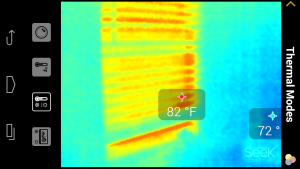 The mode choices give you lots of control. I used spot every now and then to get an exact reading on something, but mostly I left it in the high/low setting and watched the numbers. They are what would alert me to any potential problem and then I could switch to spot if I needed something more specific than what it was giving me. The normal mode would be good if you were using this outside to locate humans or animals as the temp wouldn't really matter as much as just identifying them.
The split screen gets a special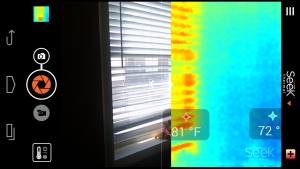 mention for two reasons. One, the closer things are to your phone and the device, the farther away the thermal image is from the camera image. On the Moto X, this device plugs in the bottom of the phone, but the camera is at the top, so there is some wiggle room when split screen is turned on. Two, it allows you to slide the thermal image out of the way and take a normal photo without leaving the app. It maintains the points of temperature if you have them turned on. When you find a problem, you can slide the view over and capture a real time photo quickly and then get back to the thermal view.
The screen icons make sense and are easy to remember, well placed, out of the way yet big enough to hit with my giant fingers.
There is no zoom function, but I didn't really want that, if anything, 36° field of view is small, I could only imagine what the XR would look like. I would imagine the ideal use for the XR would be outdoors, or for long distance operations.
Power/Efficiency:
This is a camera, it's using your battery, it is running your screen too remember, so it takes some power. Thinking we'd challenge the device, we went ghost hunting one night with a local club. We didn't see any ghosts on the screen, but we did find a spot of trouble.
I made sure to have my charger with me and charged it every break we took. I didn't want to miss anything and I wanted to run it a lot. I'd say with constant use between the device and your screen, you could drain your battery in 1.5-2 hours. But with sporadic use, it isn't bad. You can scan a room fairly quickly because the nature of thermal imagine is active and in real time. You turn it on and that's what you get. I would plug it in and then scan the walls of a room and look for hot spots, then investigate further like I did while ghost hunting.
Resolution:
As you can see by the photos, they are pixelated. The resolution is 206×156 and while that seems small it does the job. You don't need to be able to read words with this, you need to be able to identify shapes. The closer the object to the device, the clearer the image. There is a neat little chart that on the back of the box that kinda illustrates this. At long distance it detects, closer and you can recognize something, really close and you can identify what it is exactly you are looking at.
Is it practical? Would I really use it?
Yes and Yes. Go buy one now. I know, we save that for the end, but spoiler alert, I'm going to recommend it. I think at this price point this device should be a part of your home's tool kit. Here is why:
I mentioned we found a spot of trouble while ghost hunting. While inspecting the basement, I noticed a hot line running around one half of the room at the ceiling. Turns out it was a power conduit. I followed it to the electrical boxes and one of the three boxes was glowing hot. It was also putting out a very quiet buzzing sound. I told the property owner about it, they were impressed and they called in an electrician to check it out.

Another club in town got a new stove with a flat top griddle. The club didn't think the top of the stove was even enough for pancakes, hot spots in some areas, cold spots in others, so they called in a service company to check it out. Here is where they had a problem. The service company had a IR spot probe with laser indicator that could show one temp at a time, but not the whole griddle, AND because the griddle was stainless steel and new, the probe wouldn't work, it kept reflecting the probes ability to read. A friend knew I had the Seek Thermal and had me bring it over. It showed the whole griddle and how instantly showed the hot and cold spots along with real time temps. The service guy was excited to say the least, the stove got adjusted, and most importantly, the pancakes breakfast that weekend was a success. The service guy said he was going to recommend that each of the road repair men got one of these as it would save them a lot of time in diagnosing problems.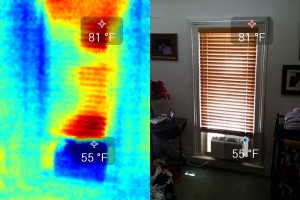 What I'm looking forward to is looking for heat loss. Last winter we had a heating issue and our house was using too much gas relative to it's size. I've insulated every wall and the roof. I've replaced all the windows and doors. We think we know where we are losing the heat, but we can't be sure. I had three choices, Do nothing, guess at it and insulate more, or get a thermal image of our house during a heating cycle. I did get some quotes on a thermal image report and it ball parks between $200-$300. They take images of your house and then any anomalies they highlight and get close ups of. I contemplated this, but then got busy with life. The problem is, if I drop $200 on it, how do I know if I fixed it without ordering another report? With the Seek Thermal, I can get my own feedback in my own time frame, on a day I know it is cold and I know my furnace is on, not when it fits someone else's schedule.
This was actually a similar problem I've had in testing the device this summer. My summer electric is normally very high, we run window air conditioning units, so I suppose that's the first part of the problem. But a question is, are the units inefficient, or are they fighting a lost cause? Is there a void in a wall that is allowing heat to bleed in from the outside? I'm not one to pray for hotter weather, but I needed it to be hot to check. Once if finally did, just last week, I was able to test out the device. Turns out, I'm doing all I can in terms of insulation. I know this because at my shop we aren't. I found one high spot in our employee lounge at work that isn't insulated in the ceiling. A normal camera would show you white drywall. The Seek Thermal shows you the joists.
What was unexpected about the Seek Thermal, was the unexpected things it showed you. Because I was checking the room for heat loss, I noticed that my light bulbs were hot. I have CFL though out my house for the energy savings, but what I didn't realize is they still bleed heat, up to 216°f!  I switched them to the same effective brightness LED lights and they are now down to 174°f. That's a 32°f swing in every room. Per bulb. Replacing those should help keep rooms cool too.

Last, it's about the coolest tech gadget ever. It has wowed everyone I showed it too.
Negatives:
Other than battery life, I can't find a negative. The device is solid, the app is well thought out, and together they are easy to use. And the device itself can't fully be blamed for that, the screen of your phone is on and that takes a lot of power too.
Value:
If you are willing to do your own work, you'll earn the cost of the device back on improving your home. This winter my house is getting a full inspection for heat loss, and I have a list of friends who want in on it. Hunters and campers can use this to find wildlife, or see if a fire is actually out. You can detect people or animals outside your home or office hiding in the shadows. You can see electrical problems, find clogs in pipes, see lack of insulation in walls and ceilings. I can't see my future tool kit without this.
Buy now for $249, or visit Thermal.com for more information.
Seek Thermal - Gadget Review
Bottom line? If you are at all handy, buy this and check out your home and your friends homes. Check the walls, the roof, the outlets, and the electrical panel. Find problems, then either fix them, or hire it done.
The Good
Easy to use and understand
Great for visual problem solving
Solid case for when not in use
The Not So Good
Battery life won't last all day