We have a secret Indian Motorcycles has been forcing us to keep since February and it's been killing us! Now the chains have been removed and we can tell you all about it. Indian Motorcycles recently invited Busted Wallet out to San Diego, CA to ride the new 2017 Chieftain Limited and Chieftain Elite offerings from Indian. They really had to twist our arms to leave the cold Midwest winter to ride these sweet bikes but we did it. Now let's see if it really is all good from Diego to the Bay on these Indians bikes!
The Indian team were very gracious hosts. Between the warm Southern California weather and foot long cream filled Churros they proved California knows how to party. Let me tell you foot long cream filled Churros are life changing, but I digress. Indian pulled out all the stops for us and paired legendary pin striper Skratch of Skratch's Garage up with Bell Helmets to pin stripe helmets for us. I think what Skratch came up with for Busted Wallet is truly something for the mantle. He lived up to his reputation if you ask us!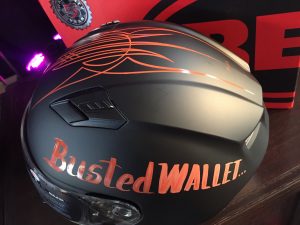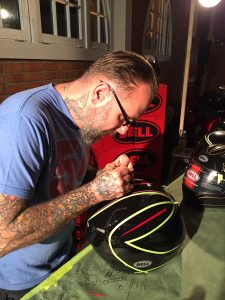 Indian is a historically well-known brand in the cycle world. They are making a big push to infuse more style and a custom look to attract younger cycle buyers. If you ask us they are doing a great job. Introducing the 2017 Indian Chieftain Limited and Chieftain Elite. The new Chieftains are an evolved model from previous years in a big way. From the moment the Indian team pulled the veil off of the new Chieftain models to us it was clear these bikes are trying to make a big statement. Let's get these motors running and see what's so great about the all new Chieftain models.
"Our goal was to evolve the award-winning Chieftain platform with new models that elevated the overall style of this bike significantly, while still staying true to the signature design qualities that Indian Motorcycle is known for. There's no doubt these bikes have a more commanding presence combined perfectly with the flowing lines and signature details that make them 100 percent Indian." – Reid Wilson, Director of Marketing for Indian Motorcycle.
We could not agree with you more Reid!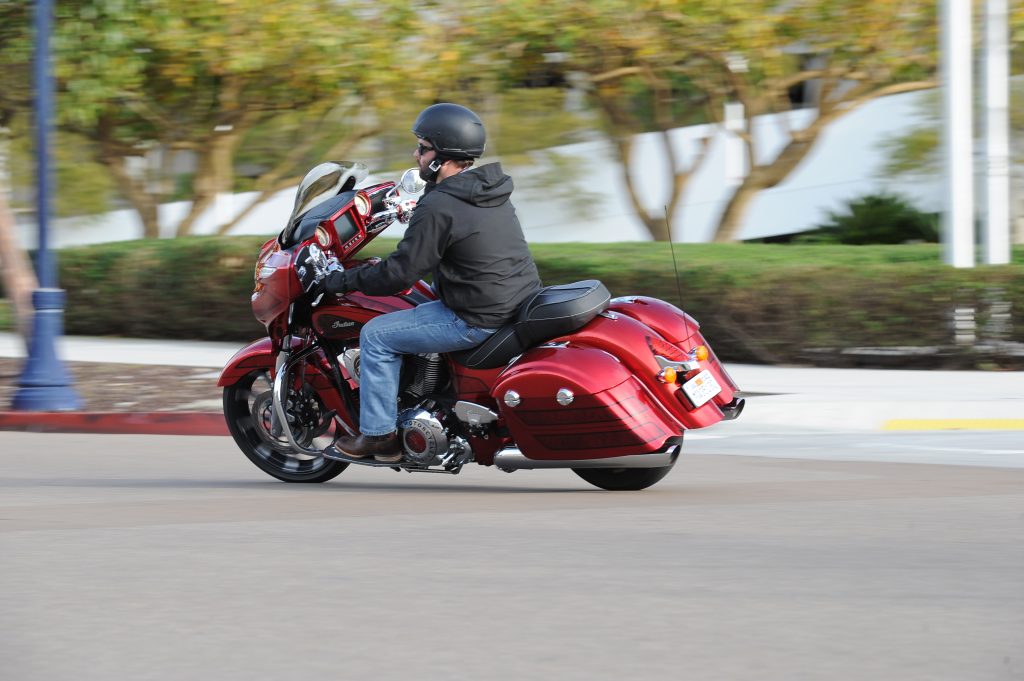 Front Fender
Upon first glance the most striking design difference the new Chieftain Limited and Elite models have is the drastically different front fender and wheel combo from last year. No offense to fans of the old fender and wheel with the iconic Indian front and center but in my opinion the look went from old man to badass! From Indian's press release, "A new lower-profile, sawed-off open front fender showcases Indian Motorcycle's new front wheel – a ten-spoke 19" contrast-cut behemoth, paired with a matching 16" rear wheel that perfectly complements the powerful dual 300mm floating front rotors with 4 piston calibers. The calipers feature the Indian Motorcycle script logo for a unique custom touch. A color matched headlight bezel and streamlined leather saddle complete the more sleek, aggressive look." The front end changes to this bike elevate this bike to a higher level without question. This new look gives the bike a very custom feel which is what Indian is going for. Indian also offers a multitude of mods to customize your Indian just the way you want. If I had one criticism of this new Chieftain I would say I am not a real big fan of the front fairing. It seems very flat or two dimensional. For me, it doesn't seem to quite match the custom look of the rest of the bike. If Indian could work on the design of that fairing I would have no complaints at all about it. 
Keyless Bike?
That's right, no need to fumble around like a fool for your keys. I hate being a fool but I often am. Just put the Indian key fob in your pocket or somewhere safe,
push the power button to turn the bike on, hit the starter button and you're off! I wasn't sure how I would feel about this feature at first but on our day of riding I quickly got used to it and liked it. With the fob in your pocket you can leave the bike running and just walk away! Once the key fob is out of range of the bike the bike stops running and locks. Another cool feature of the fob is that you can lock and unlock your saddle bags with the buttons on the fob. They do provide a key to manually do this also and there are buttons on the gas tank to do this as well. Lots of options to operate your Indian the way you like. That's the way Indian likes to treat you.
Engine
Nothing new here. Indian's powerful air cooled Thunderstroke 111 engine with 119 ft-lbs of torque and true dual exhaust does not disappoint paired with the six speed transmission. For me, the sound of the exhaust is just right. It provides a nice gentle rumble that says, "Hey, you wanna get nuts? Let's get nuts. If not, I'll just prrr." Don't get me wrong, it's no sport bike but it's got enough power to have a good time. A small stretch of the ride myself and the Indian product manager got cut off from the group and had to catch up. I can say this bike easily gets up and over 100 mph. We caught up. The exhaust may not be adequate sounding for those of you that prefer the brain rattling sound and vibration that aftermarket exhausts can provide. Overall, the Thunderstroke 111 engine is a great pairing for this bagger with a good amount of power and decent economy for a long cruise.
Performance Package
Want a little more punch? Indian offers a performance package for a little extra coin. So what do you get? You get a Stage 1 exhaust, a Thunderstroke high flow air cleaner, and Stage 2 performance cams. All blacked out on the limited model of course. This package packs a little extra you can brag about at your local garage. I highly recommend. You can really feel the difference.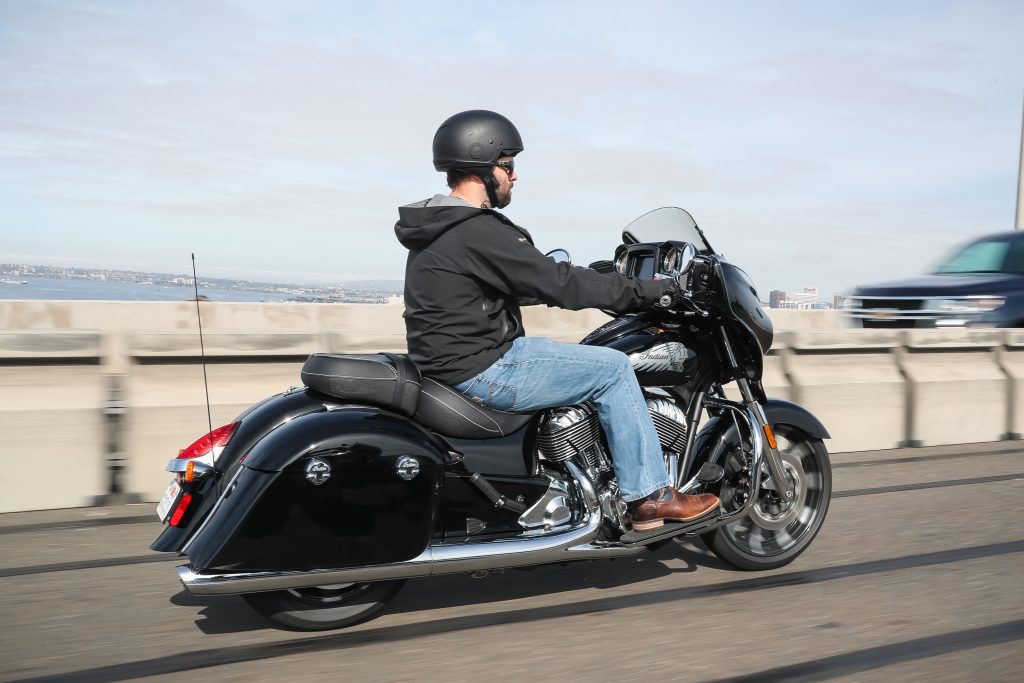 Ride Command System
The Indian Ride Command system is quite something. Ride Command was developed in house by Indian. In these times of bolting on someone else's products that is quite refreshing. Worried about this software not working? Indian has you covered with free software updates for three years. At first look, I thought the class leading 7″ touch screen looked awfully distracting and I wouldn't really look at it during our ride. The multitude of ways you can manipulate the Ride Command system makes it really easy to use. Stopping points or straight runs give you a chance to glance at the screen. Change audio input or a radio station by touching the screen, pushing a center mounted dash button, or thumb buttons on the left hand handle bar. All these options really gives you the option to use it however it works best for you.
Navigation
Ride Command offers GPS navigation on their massive 7″ touch screen which seems crazy to see on a motorcycle. You can create custom rides and program in multiple stops on your route as well. Have a favorite ride? No problem, just save that route for next time! A smart GPS feature is that at a stop light you can pinch to zoom in and out or pan around to view the upcoming turns or features on your route. When you've found out the info you need just hit the home button and the screen returns to your current location so you can proceed on your route.
7″ Touch Screen
The touch screen itself is really great. Pinch, swipe, or tap you can use it with your plain old riding gloves. No need to have any special touch screen compatible gloves like your smartphone. I was skeptical of how well it worked. In speaking with Indian's Product Manager at the press event I voiced my concerns. He informed me that they tested the touch screen with welders gloves to make sure it works. Upon getting into our ride I discovered my leather riding gloves had no issues at all zooming in, out, and changing screens which was cool. Syncing your bluetooth device was easy to do. Ride Command offers a wide array of customizable screen set ups to display GPS routes, radio or bluetooth status, and any type of vehicle information you may want to know. Very sweet. Almost as sweet as a foot long cream filled Churro, mmmm Churros.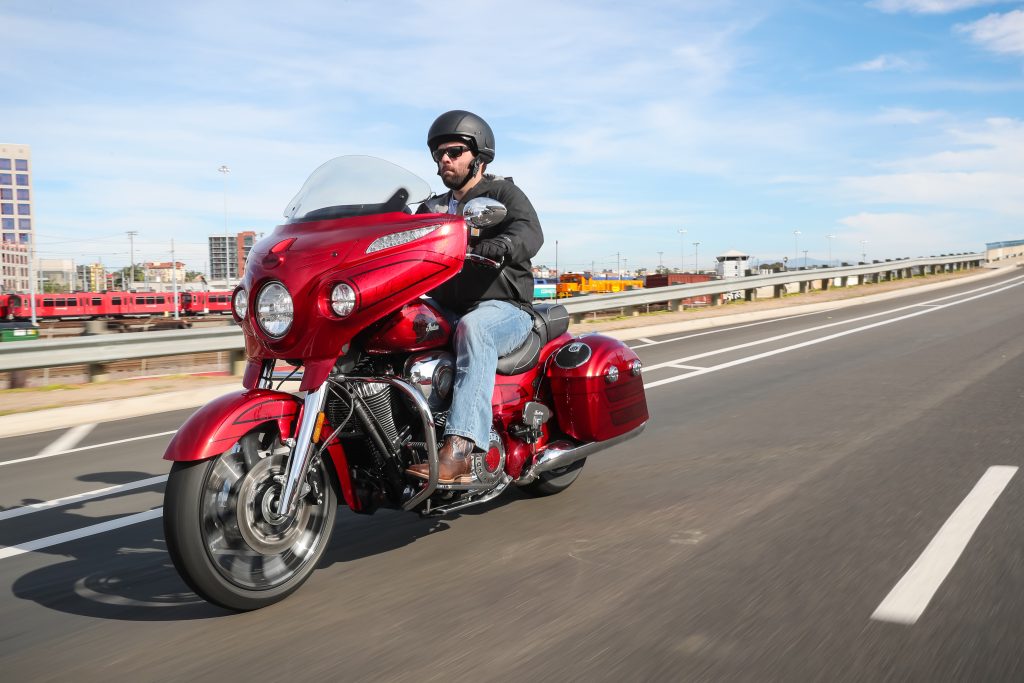 Windscreen
Normally a motorcycle windscreen is not very noteworthy. In the Chieftain's case it is! The windscreen on the Chieftain is electric and has 4″ of up and down travel. Via the left hand control buttons you can raise or lower the windscreen to suit the conditions. Too cold? Raise it up and let that air cooled motor heat you up. Too hot? Lower it down and feel the open air on your grizzled face. Most other models you would have to raise and lower the windscreen while stopped. Nice work Indian! Now if you only have a foot long cream filled Churro holder on  that thing.
Mid-rise Handlebars
The Chieftain has an optional mid-rise handlebar to make for a more comfortable riding position. This option also adds some custom flair if you are into that.
Adjustable Suspension
The Chieftain Limited and Chieftain Elite come with adjustable suspension to suit your riding style. There are three settings from hard to soft to accommodate how you prefer to ride.
Optional Audio Package
Want everyone to hear your favorite jam? No problem. Indian offers a saddle bag mounted speaker package that provides an extra 100 watts on top of the standard speakers for a total of 200 watts of chest thumbing sound! The saddle bag mounted speakers paired with the standard dash mounted speakers give you a really nice amount of sound. For me, I found the standard speaker package gave enough sound for a pleasant experience. If you need to really rock though go for this upgrade!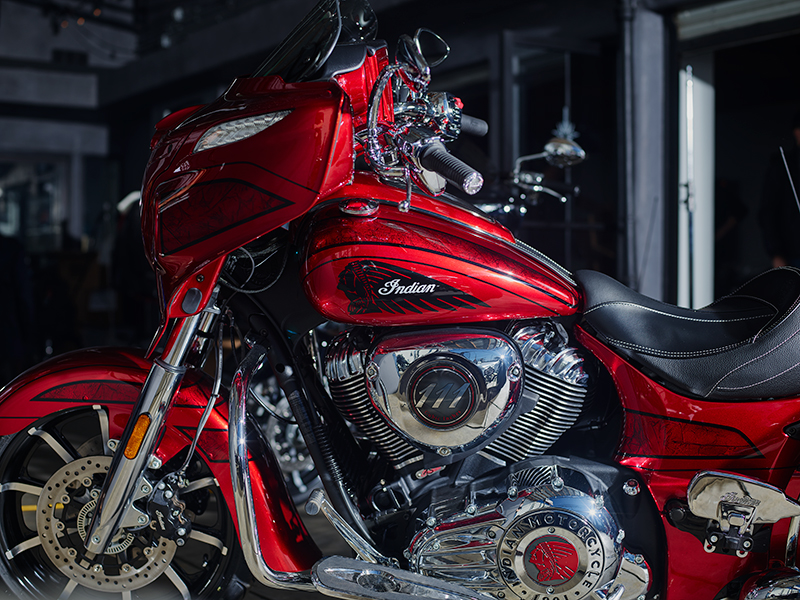 The Elite has some extra's worth noting. First off, they are a little rare. Indian is only making 350 of them for sale this year. Collectors take note. Second, the paint job. These Elites are all hand painted at Indian's South Dakota paint shop so each Elite looks similar but is not exactly the same. Each fiery metallic red bike takes 25 man hours to complete with 12 layers of paint and clear coat. The Elite model also comes with some extra Indian branding on the floor boards and front fairing which is cool as well as LED headlights. I preferred the Limited's black paint job with the blacked out performance package myself but definitely appreciated the time and effort put into the red beauty. Of course the limited production and paint job demand a higher premium than the Limited model.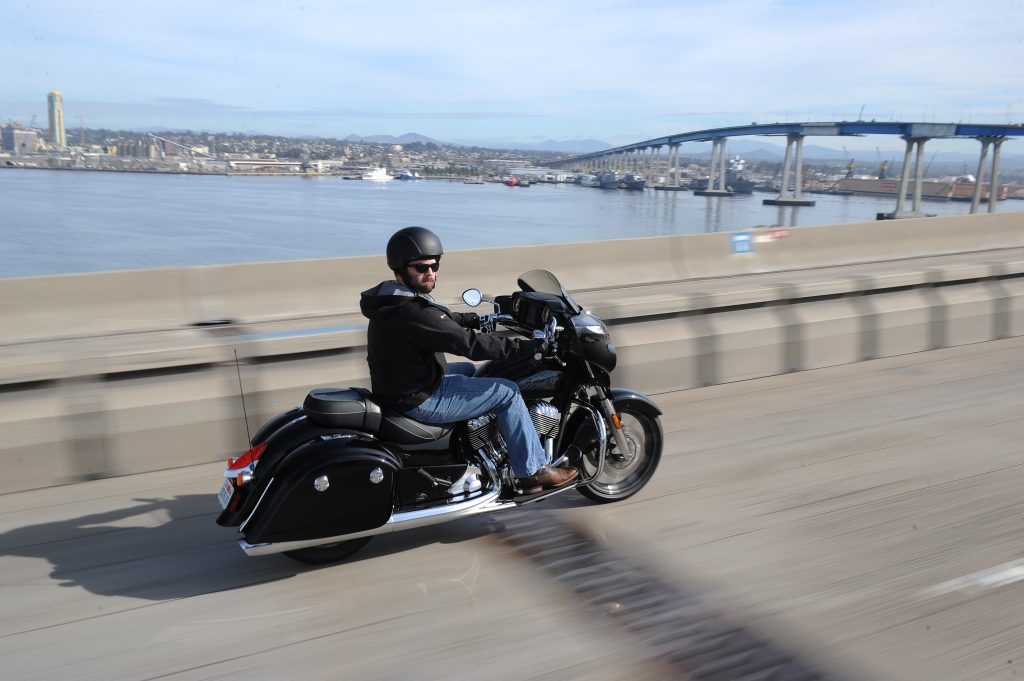 Handling
OK, all this sounds great but how does it ride? The Chieftain is a very capable bagger bike. Indian is marketing this bike as one that can go bar hoping in the city on a Friday night or go for an all day ride. On our ride we put about 130 miles on these Chieftains. The seat was very comfy and the suspension took all the bumps and dips confidently. The 1811 cc Thunderstroke engine with the six speed transmission gets you up and out front of the pack with ease and the powerful 300mm rotors (dual front, single rear) brakes can stop you in a hurry if need be. The exhaust also gives a good amount of growl when you want to lay into it. We rode the wide open mountain roads and highways East of San Diego, down along the beach front towns of Del Mar and Coronado, and all through downtown San Diego without any major complaints. The bike did not feel bulky or big at all. This bike is able to do as Indian promises. Be an all day cruiser or an urban warrior. Whichever model suits your fancy this is a really nice bike!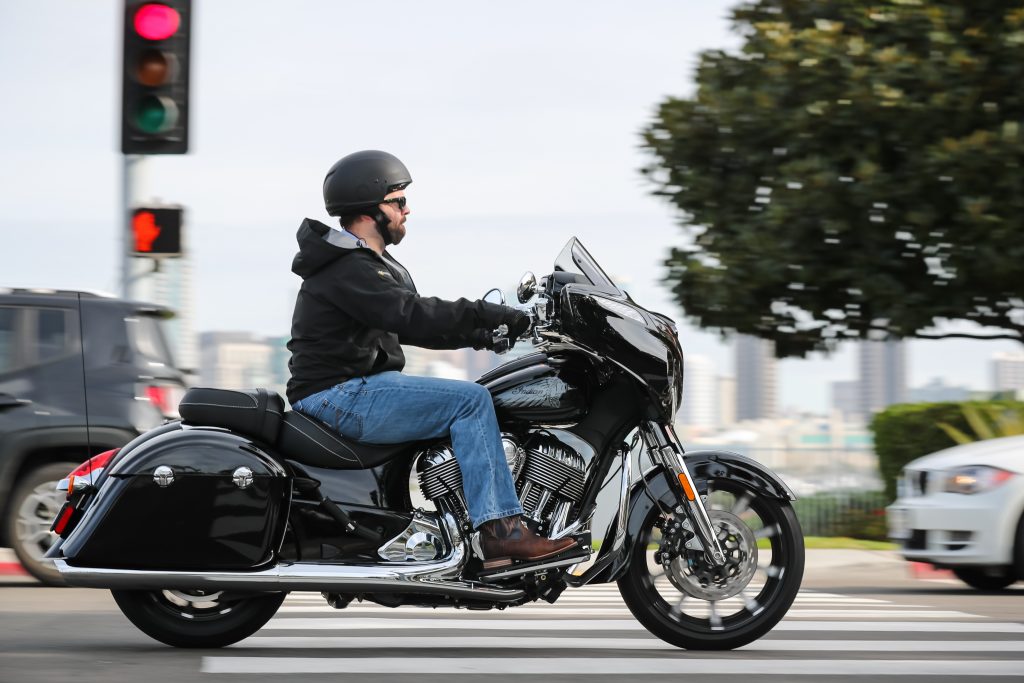 Overall
Overall the 2017 Chieftain Limited and Chieftain Elite are great bagger bikes capable of the all-day open road trip or the urban jungle. These bikes are loaded with features that I didn't even know I wanted. Things like keyless start, keyless bag unlock, a 7″ touch screen, an electric up and down windscreen are amazing. The big eye catcher is the all new cut away front fender and 19″ wheel which elevates this bike to a whole level and bring in a new audience of riders. If you are in the market for a new bagger style motorcycle I would take a good hard look at these new Chieftains! Check 'em out at
Indian Motorcycles
San Diego Road Trip - 2017 Indian Chieftain
If you are looking for a custom looking bagger bike straight out of the box then look no further than the 2017 Indian Chieftain Limited and Indian Elite!
The Good
Awesome new Front Fender Design
Ride Command System
Stock Custom Look