Dark gray clouds. Snow in the forecast. The inevitable is here. Without the right gear, it is hard to be motivated to be anywhere but under a pile of blankets during the long winter months. Rockport's Trailbreaker Waterproof Alpine Boot may be just the motivation you need to hit those winter trails. The Alpine's  Hydro-Shield™ combines its waterproof leather and soft sheepskin lining with a waterproof insole to keep your feet dry when venturing out into a snowstorm. The rubber grips on the sole prepares hikers for rugged hills and ice. Even though the boot is tough enough for a hike, it is also a nice boot to wear out to your favorite brewery when paired with a dark, tapered denim jean. The Busted Wallet crew is happy to add the Alpine boot to its list of reliable winter footwear. Check out and compare to other Busted Wallets favorite boots.  When compared to both style and ruggedness, The Alpine lies perfectly between the Ridgemont Outback Boot and the Bates GX-8 Side Zip Boot.
Key Features:
ADIPRENE® by adidas sport technology helps provide shock absorbing heel cushioning
Hydro-Shield™ construction offers waterproof leather, a seam sealed, waterproof insole, and a gusseted tongue to help keep feet dry
Full grain leather is easy to clean and maintain to extend product life
Lightweight shock absorbing
EVA midsole helps reduce foot and leg fatigue
Rubber outsole helps provide a durable grip on a variety of surfaces
Trailbreaker Waterproof Alpine Boot Breakdown
Design:
My hesitation when buying a product like this in store or online is the weight of most boots. Clomping around loudly in a restaurant or on a downtown sidewalk is not a good look (or sound). Rockport has designed a boot tough enough for vigorous hikes but lightweight enough to be worn to any winter happy hour. Past boot purchases seem to "tire out" my feet quickly. The Alpine's lightweight design lends itself to alleviate my common winter boot foot fatigue troubles.
This boot is comfortable. One of my favorite features of this boot is the heel cushioning design by Addidas. The ADIPRENE® sport technology provides maximum heel cushioning and shock absorption to keep my feet, legs, and hips comfortable throughout long hikes. The soft lining adds to the over all comfort of the boot. 
Among the waterproof leather and insole, the gusseted tongue of the boot keeps moisture totally out. What makes the tongue "gusseted" is the triangular material that attaches the tongue of the boot to the inner lining. This small piece of leather material is the key when keeping moisture totally out…and it certainly did its job with this boot!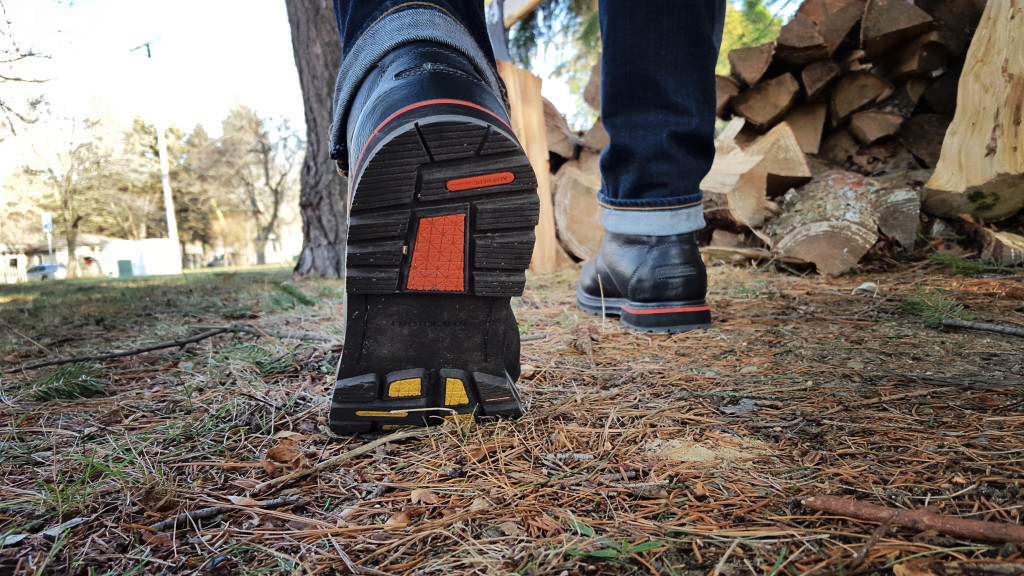 Style:
The boot has minimal "flair" when it comes to style. The boot is very plain, which will work for the average man in the winter. I like the look of the soles and the color around the outside on the heel. If you're looking for a real "eye-catcher," this boot is not for you. However, the plain black design can be worn with almost anything.
Durability:
There are many reasons Rockport's shoes have a strong reputation for comfort and durability. 
This is a tough boot. When tested through rain and snow, it held up very well. My feet stayed warm, dry, and comfortable through snowy walks on pavements and wet hikes through the woods. When examining the seams of the boot, there is no indication that this boot would be falling apart anytime soon or at all.

Value:
At $139.99, this boot held up to the price. At this price, I would expect top comfort, durability, and some style. The simple black design allows for this boot to be paired with many urban and rugged pant options. The minimal red stripe around the heel of the boot adds just the right amount of style to feel like I could wear these out to winter social functions. I am excited to face the harsh weather of 2016 with my Rockport companion. Bring it on winter!
Buy Now: $139.99 or to learn more, head over to: Rockport.com
Rockport Trail Breaker Waterproof Alpine Boot
The Trail Breaker Waterproof Alpine boot provides comfort, durability, and style all winter long. This boot was able to keep my feet dry on long winter hikes or out for errands on a wintery day.
The Good:
Waterproof
Cushioned heel
Good traction