For many of us, life is a scattered combination of work, the occasional social event, and a vast array of unexpected adventures along the way. When you live your life fast, and you're used to playing it by ear rather than succumbing to the ritualistic routine of the mundane, being prepared for whatever experience happens to pop up next can be difficult to be prepared for. Above all, having the proper footwear is of real importance to ensure we get the best out of whatever's next, but it's just not practical leaving the house everyday carrying every pair of shoes that might rise to the occasion. Thankfully, Ridgemont Outfitters has made it their mission to bring the best qualities in boot construction and style together. We wandered the earth wearing the Ridgemont Outback Boot these last few months, and put them through the entire adventure.
Key Features:
100% HI-DENSITY RUBBER LUGGED SOLE
ORTHOLITE REMOVEABLE FOOTBED
VULCANIZED CONSTRUCTION
WATERPROOF OILED FULL GRAIN LEATHER
Ridgemont Outback Review Breakdown
Design:
Built to go just about anywhere under whatever conditions you may find yourself in, the Ridgemont Outback performs as a well constructed boot. From top to bottom, the waxed canvas high-top, waterproof leather, and hi-density rubber lugged sole, the Outback stands out as a well rounded combination of materials made to hold together over time. Because of it's high-quality materials and Ridgmont's Vulcanization process during production, the Outback remains tight of moisture up to the ankle in the event you wander upon an unexpected puddle or it begins to rain during a hike.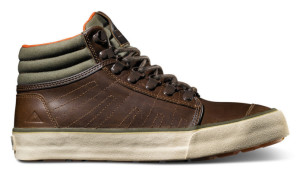 The canvas upper continues through the interior of the shoe to the ortholite footbed with little excess material, so the Outback fits much like a hiking boot without all of the added bulk one would generally expect. The leather exterior provides that little extra bit of support, surrounding the foot, so this boot can remain light, yet reasonably supportive.
Style:
Described by Outdoor Magazine as "stylish as hell", and tailored to Ridgemont's inspiration from the attitude and aesthetic of Southern California, the Ridgemont Outback performs best in terms of style. For those of us that are rarely sure whether the next stop will be the hiking trail or the local dive for a drink among friends, this boot adapts to all environments with remarkable ease. If you want to push the threshold and make a statement at a more formal event, people will remark at the casual coolness these boots lend to a dressed down look.
The color combinations, in this case a waxed brown leather finish with olive canvas and orange highlights, are well proportioned to create accents to your outfit. It has been our experience that this boot will work well with just about any casual outfit.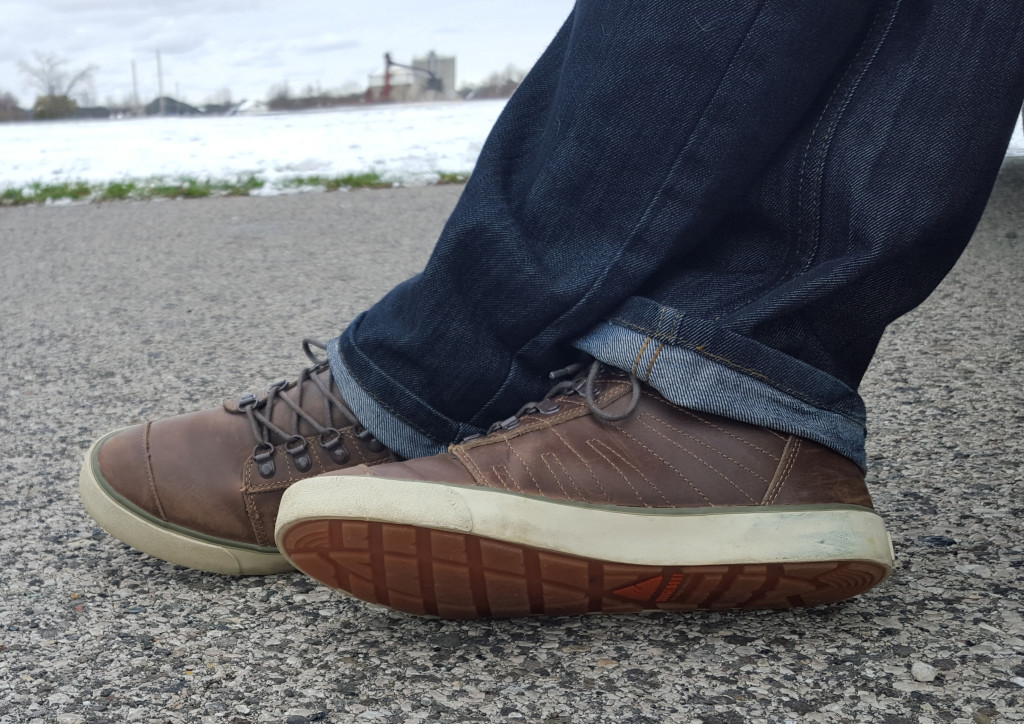 Comfort:
To just be worn for an evening out is no issue for the Ridgemont Outback. A structure that relies on the stiff leather upper and the ortholite footbed, the Outback will stand up to the challenge of a night out. However, in the event you will be over exerting yourself physically, we didn't find this boot particularly enduring when pushed to the limit. With the Ridgemont signature minimalist construction, although lending to lightness in step, the Outback isn't going to take you far on hard terrain. Once the colder months started settling in, we also have discovered that this boot isn't particularly warm, so a thick wool sock wouldn't be a bad idea when worn in the winter months.
Traction:
Very flat in its construction, the bottom sole of the Ridgemont Outback takes on more of the appearance of a skate shoe rather than a hiking boot. The tread is quite shallow and lacks the gripping power that may be required if you find yourself on a lengthy excursion, or treading on mud-soaked earth. This is another case where Ridgemont chose aesthetics over functionality, an understandable choice for a boot such as this though. To throw deep treads and a high under-arch on a shoe of this design would certainly throw the style all out of proportion for this particular boot.
Value:
On the grounds of style and versatility alone, the Ridgemont Outback boot is well worth the asking price. It's one thing to have a "go anywhere" boot available to you, but compare the price of this shoe to the broad marketplace full of other stylish leather shoes, and it's easy to see that you'll be getting your money's worth. Adding water tightness and durability in multiple conditions to the equation, and this is a no-brainer.
Buy Now: $79.00 or to learn more, go to: RidgemontOutfitters.com
Ridgemont Outback Boot - Style Review
A boot engineered mostly to be multi-purposed and versatile, it's the style of the Ridgemont Outback boot that really makes it shine. For any active man who lives his life fast and ready for anything, this is a boot that will be ready to commit, and pick up a few compliments along the way!
The Good
Scores Style Points In Most Settings
Light Construction, Built to Last
Competitive Value
The Not-So-Good
Not Optimal For Heavy Use
Not The Warmest Boot
Shallow Tread