"Life is like riding a bicycle – in order to keep your balance, you must keep moving." – Albert Einstein. This quote is printed on the outside of the huge PUBLIC Bikes box that greeted me on the front porch this afternoon. That's right, a bike, in a box, on my front porch. And I was riding it within 25 minutes. The PUBLIC C9 Aluminum is a super sleek and lightweight step through bike that PUBLIC confidently calls, "the best commuter bike available whether you're going uptown, downtown, or all-around town."
PUBLIC Bikes founder Rob Forbes, was inspired by the abundant use of bicycle transportation on the streets of Amsterdam. Bikes were what mattered, not the fancy gear or footwear. Simple sells and PUBLIC has a great thing going with their 99% assembled bikes being sent out to doorsteps all across the globe. You can learn more about their design philosophy in the video below.
Key Features: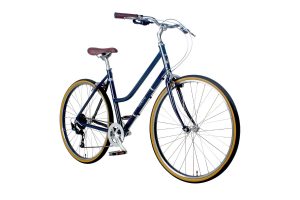 Lightweight, weighing in at only 25lbs
Shimano 9-speed drivetrain
Rapid-fire trigger shifter provides quick, effortless shifting
Low entry step through design
Puncture-resistant commuter bike tires
Smart and sleek seat and handlebar design
PUBLIC C9 Bike Review Breakdown
Assembly
PUBLIC's motto is, "Box to bike lane in 15 minutes" because they send you the box already assembled 99% of the way. 15 minutes sounded a little too good to be true so we decided to set a timer once the bike was out of the box. After a few stops to double check directions and some issues securing the handlebars correctly, we stopped the timer at 23 minutes. Still a pretty great time!
The 8-step assembly instructions were clear and simple to follow. We missed the suggestion of having a rag on hand due to some of the parts having grease on them, definitely do this, especially when installing the handle bars. Included in the box was a small parts box containing an owner's manual, two pedals, one 3-way hex wrench with 4mm, 5mm, and 6mm Allen keys, and a 15mm box wrench. It was helpful to have a second person assisting with assembly due to this model not having a kick stand, however it would be possible to assemble solo, just with a longer time spent from box to bike lane.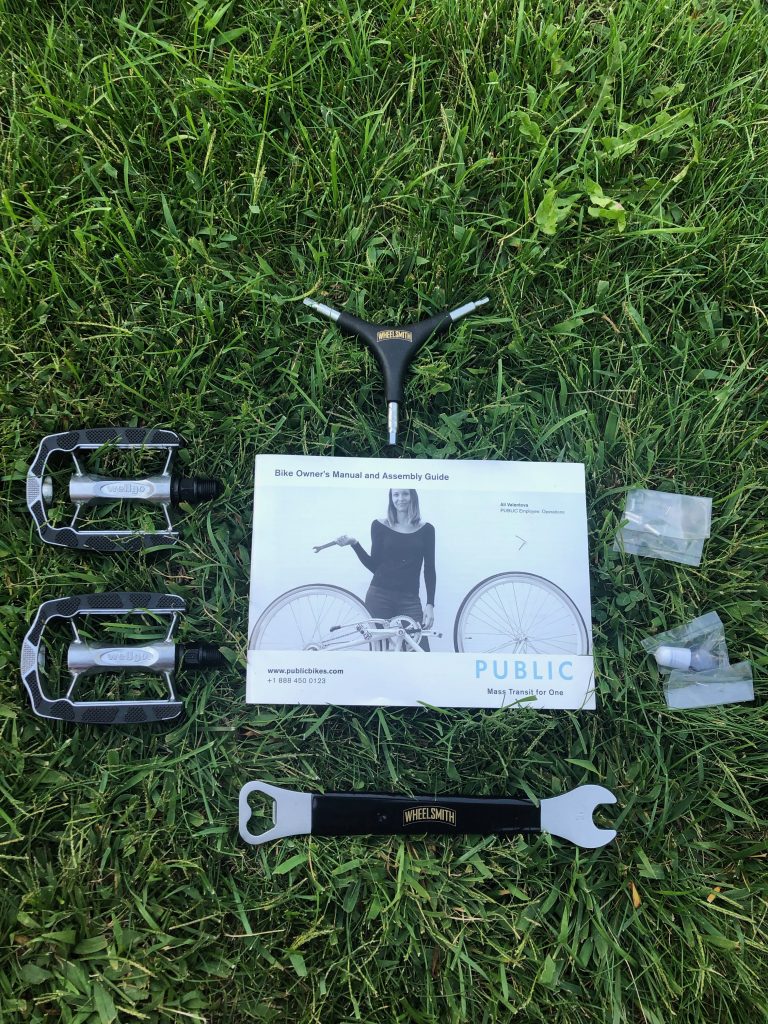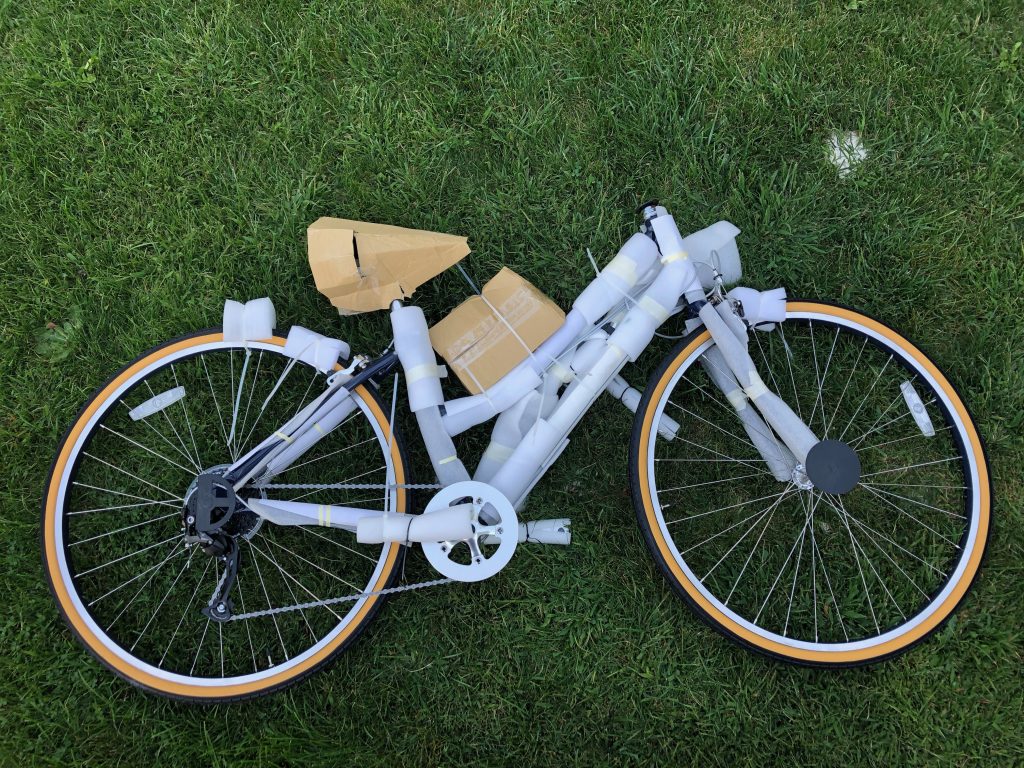 Design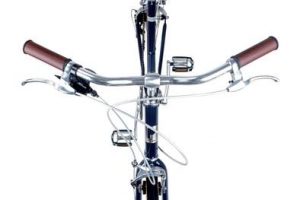 Honestly, what made me fall in love with this bike first is the way it looks. PUBLIC has designed such a rich, retro looking bike. The navy blue paired with the brown leather seat and handle bars looks so crisp and fresh. Then I rode it and the whole package came together. To keep this bike light and under 25 lbs., PUBLIC used a lighter-weight bike seat, ditched the chain guard and the kick stand. I would have preferred the kick stand and find it really inconvenient that is doesn't have one. PUBLIC offers this one, and I have it ordered to ensure my beautiful navy blue baby stays in tip top shape. But if it did ever endure a little scrape, they sent a bottle of paint for touch ups, how thoughtful!
When shopping for a bike, a perfect fit ensures a perfect ride. PUBLIC offers the C9 in two different frame sizes made from premium aluminum tubing. The Small/Medium frame is for heights 4'10"-5'5″ and the Medium/Large frame is for heights 5'6″-5'10." My height fell right in the middle of those measurements so I chose to go with the small frame based on what I would feel comfortable with and it's a great fit. The step-through frame makes getting on and off the bike a total breeze be it running a quick errand around the corner or heading out on a longer ride.
Ride-ability
The Shimano 9-speed drivetrain showcases a wide range of gears to handle steep hills and longer distances. My previous bike was a handle bar twist shifter, so I was curious about what a trigger shifter was all about. I easily down shifted gears by pushing the gear trigger located on the front of the handlebar with my thumb but then was a little clueless about how to shift back up. After 5 seconds of troubleshooting, my index finger found the next trigger, which is behind the handle bar, and I was back to the gear I needed to be in! The C9 can handle hills well but if you need something with more shifting options, you might need to look into PUBLIC's other offerings. This bike it meant for your average bike ride, and it does it really well. The brakes are advertised as, "Cold forged, high polish, alloy dual pivot caliper, with alloy 4 finger levers" on their website. You can translate this to; exceptional stopping power through a very smooth and quiet process. They felt safe and reliable.
Quality
This bike oozes quality construction and finishes. From the Shimano shifter and premium memory foam bike seat, to the painted to match alloy rims. Everywhere you look, you can tell that this bike is constructed with care. I loved that they set out to make a more lightweight and streamlined bike but didn't skimp on the quality of materials used.
Aside from the physical components being top notch, the overall experience from PUBLIC is phenomenal. They take pride in their bikes which shows through the construction and the detailed instruction on assembly. Customer service is available during the work week to answer any questions you might run into. But first watch the video they made because you mind find the answer to your question here! They even link ideas for what to do with the ginormous box the bike gets sent in! Do you own a cat? You must make them this house!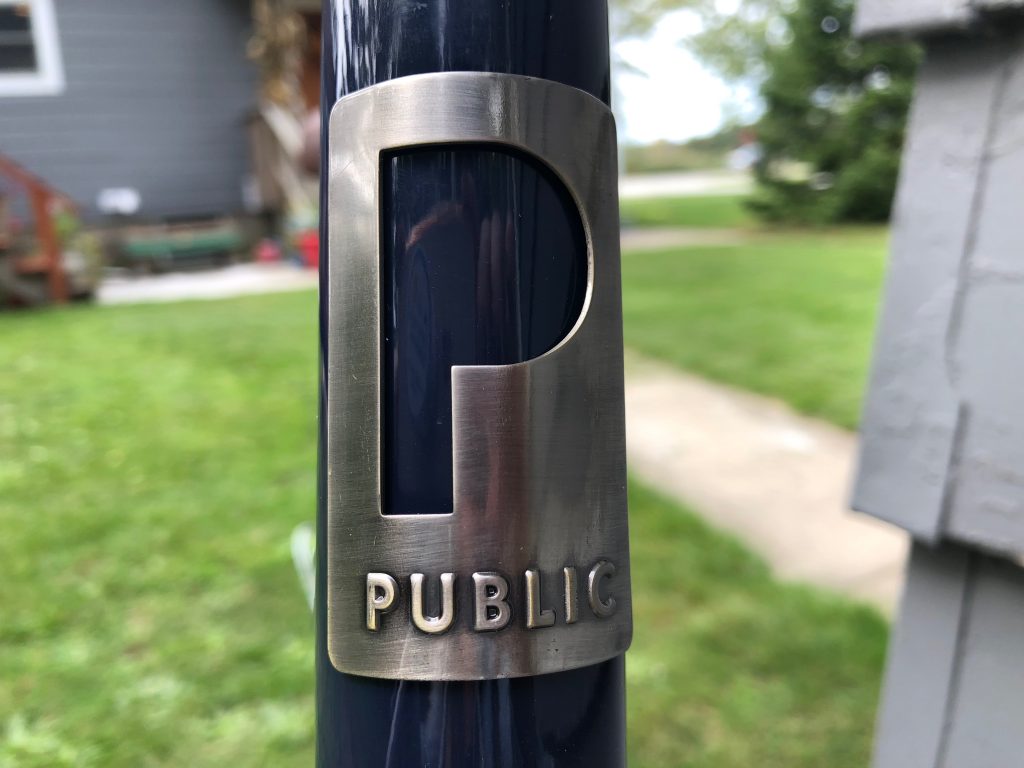 Value
At $549, this bike comes in at the middle of the pack for commuter bike prices. There are bikes out there for a few hundred dollars cheaper but they can't stand up to the quality and performance of the PUBLIC C9. Many bikes this style could also come with a price tag of over $2K. I think this bike looks like it costs a lot more than it does because of its refined style and finishes. If you've been researching bikes that can buzz you around town with ease and style, the PUBLIC C9 is a perfect pick.
Buy Now: $549; or visit PublicBikes.com and add some accessories to that cart!
PUBLIC C9 Aluminum Bike Review
The PUBLIC C9 is not only beautiful and stylish, it performs all the road tasks you need to buzz around town. Expect some whistles with this one!
THE GOOD
Reasonable price point
Sent right to your door 99% assembled
GORGEOUS!
THE NOT SO GOOD
No kickstand
Only two color options