Whether you're a seasoned pool/spa owner or it's your first season owning one, keeping your pool and spa properly balanced can be tricky if you don't stay on top of it. pHin makes it easy for you to remember when and how to treat your water so you don't have to always think about it. After all, the main reason why I decided to get a hot tub was so I could relax. pHin took the guess work out for me and gave me one less think to worry about.
Key Features:
Remote monitoring (pH, chlorine, bromine, and temp)
Automatic App Notifications
Flexible (works with chlorine, salt, and bromine)
Free Replacement (while you're an active subscriber)
1-Year Monitoring app service
pHin – Tech Review Breakdown
Design: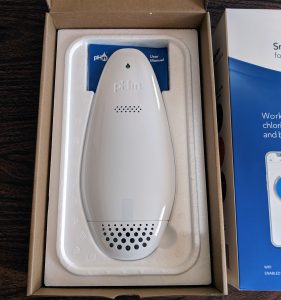 Weighing in at only 9.8 ounces, the pHin may be small, but it's abundantly resourceful. Made out of a hard plastic, the pHin is well protected and buoyant enough to stay afloat in your pool and/or spa. However, it is recommended to install a little tether (included), so it can stay away from the pool filter and towards the middle of the water source. When I first took the pHin out of the box, it reminded me of an upside down EVE from the movie WALL-E. Starting it up seemed like something out of the future as well. After twisting to unscrew the bottom, I just had to take the bottom cap and run it across the top of the unit and it magically turned on and was ready for pairing. No actual buttons or battery to install. There is also a wireless bridge that comes with this package so the pHin monitor can reach your router and alert you through the mobile App.
App & Setup:
Once you've download the pHin App, it'll help guide you through the installation process. You'll start by creating an account, then entering the verification number. Then, it'll guide you through connecting the Bridge. Once the Bridge is set up, you will have then have communication with the pHin monitor to set its location and start getting notifications and readings of your pool/spa levels. The App has a clean and easy to use interface where you can choose from a variety of options. The "Charts" widget allows you to view a 7-90 day readout of your ph levels, Sanitizer, and Temperature. The "Water Report" widget displays readings and an analysis from your Scan Test Strip. This works by dunking a strip and taking a picture through the app so it can upload to their database, analyze it, and display the Total Alkalinity, Cyanuric Acid levels, and Total Hardness.  The "Chemicals" widget gives you the ability to scan a product so the app can recommend the proper amount to use based on the suggested actions. "Subscription" simply gives you details on your current subscription. "Settings" allows you to update your basic info such as the name, volume, and protocol (chlorine/bromine). It also gives you recommendations on how to winterize your spa if you choose to do so. There is also a "Service" widget that allows you to book a variety of options from "Pool cleaning" to "Repair and Maintenance", to "Water Chemistry" and more.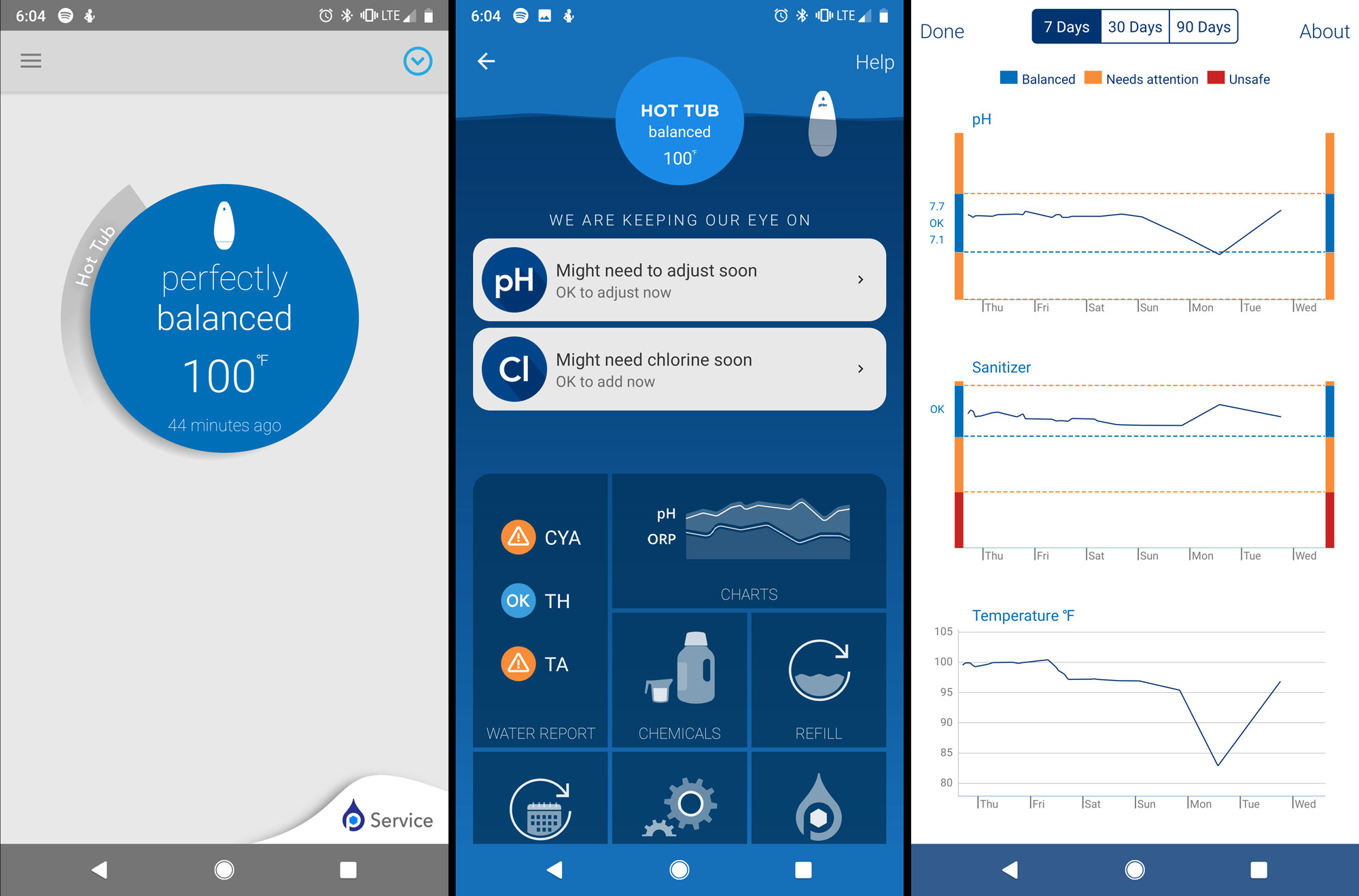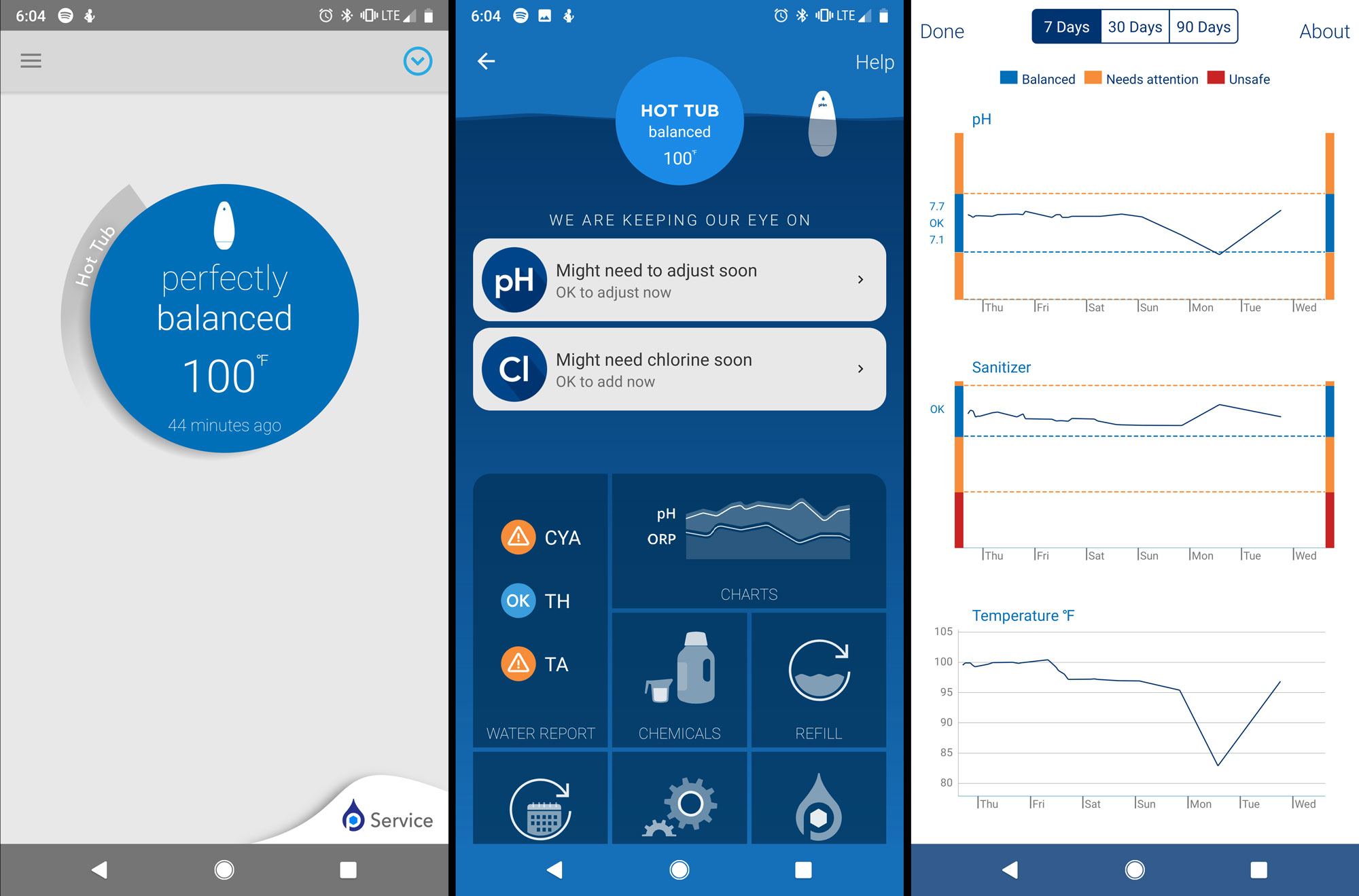 Performance: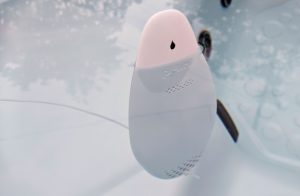 The pHin has been active in my spa for a few weeks now and it's been a relief not having to go do a strip test every other day. Just being able to pull up your spa's stats on your phone is cool enough, but the ability to get alerts if the levels are off is crucial. Plus showing you the exact amount of chemicals needed to get your spa back on track is a huge time saver. I also like how the temperature is easily viewable on the main screen of the app. There are times where I don't use the spa for a few days and I forget where I left the temperature. So being able to take a quick look on the phone without having to run outside and take the cover off to look at the display is great. Since there is no rechargeable battery or need to replace any filters inside, the pHin is essentially "maintenance free". Just set it and forget it, until it alerts you to put more chemicals in. Or if you want to impress your friends and show them your spas stats so they can see what's waiting for you back home. The only feature I think would take this over the top, would be the ability for the pHin to automatically release the chemicals needed so you wouldn't have to do a thing (other than refill the pHin whenever it's reservoir runs low). Maybe in a future model? One could only hope!
Value:
You can grab yourself a pHin today for $349 and that'll come with the pHin Smart Monitor, Wireless Bridge, and Mobile App. It will also include a 1 year Warranty, 1 year Monitoring Subscription for alerts and chemical recommendations. After the first year is up, you'll still have the ability to monitor your temperature and levels in your pool/spa, but if you want the extended use of the alerts and chemical recommendation along with the "free replacement" if the battery or unit fails, you'll need to purchase a yearly subscription for $99/year. So, depending on how you value your time, the pHin may be worth the money. For me, I really value the time savings and the peace of mind I have knowing pHin is constantly monitoring my spa so I know it is ready whenever I want to use it.
Buy Now: $349 or to learn more, check out: phin.co
pHin Smart Pool/Spa Monitor - Tech Review
pHin is the perfect addition to your pool or spa. It really helps alleviate some of the anxiety of constantly having to check the water levels, provides you guidance on what to do and how much chemicals to use - giving you more time to actually enjoy your pool/spa.
The Good
Easy installation
Maintenance free
Remote Connectivity
The Not So Good
Paid Yearly Subscription after the first year
Warranty for unit replacement only valid if you pay for yearly warranty