This is it! It's time to gear up, get out there, and hopefully pluck a few fish out of your favorite waterhole. But the heat can be real this time of year, and if you want the best experience possible out on the water, you'll want to be ready. There will be days when you plan to stroll out into the water, but the 5 layer GORE-TEX bib waders are just way more than you'll need. We took to the river these past few weeks wearing the Patagonia Gunnison Gorge Wading Pants, and we may have found a viable solution in keeping dry and protected while keeping cool during the hot months.
Key Features:
H2No® Performance Standard polyester microfiber shell with a proprietary waterproof/breathable barrier and C6 DWR (durable water repellent) finish
Innovative SSC (single-seam construction) seaming completely eliminates seams from highest wear points on inside of legs
Self-fabric belt loops; full elastic belt; interior center-back hanger loop for easy drying
Side gusset makes it easy to pull on and off and creates a more tailored, clean fit in the waist
Articulated legs
Anatomically fit left and right booties have a lower volume, more sock-like fit; resilient 4mm neoprene resists compaction for greater durability
Flat-panel construction streamlines gravel guards for less abrasion and wear
H2No® Performance Standard shell: 4-layer, 5.6-oz 100% polyester microfiber high-density taffeta with a waterproof/breathable barrier and C6 DWR (durable water repellent) finish. Booties: 4mm neoprene with abrasion-resistant fabric soles
887 g (31.3 oz)
Patagonia Gunnison Gorge Wading Pants Review Breakdown
Design:
First and foremost, compared to the other waders we've worn over the years, the Gunnison Gorge Wading Pants have achieved something great based on their simplicity in design. Yeah, the are built just like any pair of pants, but constructed with materials to make them waterproof while submerged in water over prolonged periods of time. The H2No® Performance Standard shell does the job at keeping water out, but also remains breathable after exiting the water to enhance coolness in the large span of conditions you may find yourself in.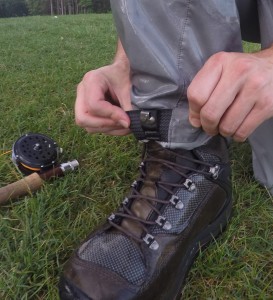 Of course,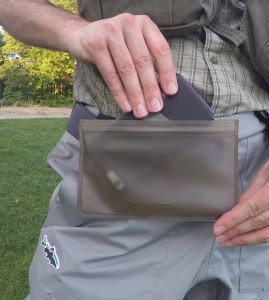 this material does not have much elasticity, and one might think that would make it difficult to pull these waders up past the hips. However, Patagonia has constructed a side gusset with points of internal elasticity in the front and back of both sides, providing plenty of give for easy entry.
There are two standard side pockets with much the same construction as with any typical pants, large enough warm hands or carry a few items like keys or wallet. These pockets though, are rather shallow and are not equipped with any sort of closing mechanism, so carrying objects here is a risky proposition while you're out in the water. In addition, there is an internal zip-lock storage pocket where items you need to keep safe and dry can be stored. If you want to bring your cell phone or a small point-and-shoot camera to document your catch, this is the place to keep it.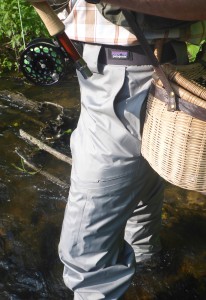 On the front of the bottom seam, Patagonia has provided a metal lace hook, so you have the extra bit of security to prevent the pant from riding up in the water. The material is rather buoyant, so you will want to use this feature, or you may find yourself with a lot of debris in your wading boots. When used properly though, everything stays put well, and you should have nothing to worry about.
Comfort:
The Gunnison Gorge Wading Pants were designed with a articulated pattern, and form rather well throughout. While the side gusset expands easily to get these waders on, the waist band snaps back to the proper size without being overly tight in it's elasticity. For good measure, a thick and sturdy elastic belt is provided for optimal fit in the waist.
The booties are anatomically designed for the right and left food, and fit over the feet well in a sock-like manner. they are built with a 4mm neoprene material, so there is some stretchability for the guys with larger feet.
With regard to temperature regulation, we're thrilled with what these wading pants have provided. The hot summer days can be tough to bear while wearing typical bib waders, but between the waterproofing, breathability, and light material, the Gunnison Gorge Wading Pants have delivered some optimal coolness while remaining dry.
Mobility: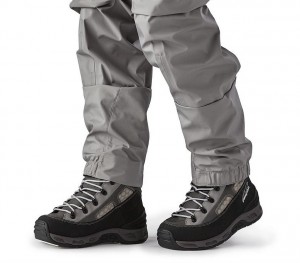 Although we've mentioned that the waterproof material in the Gunnison Gorge Wading Pants construction doesn't offer a great deal of elasticity, it isn't entirely necessary given the loose fit it provides in key areas. We've trudged through some really tricky waters, and walked a few treacherous trails to get to some of our favorite holes while wearing the Gunnison Gorge Wading Pants, and we've found very little hinderance along the way. Everything from high steps, wide stances for solid footing, and low crouching positions are doable in these wading pants, making the experience on the river that much better.
Durability:
Although light and thin, the H2No® Performance shell of the Gunnison Gorge Wading Pants has a single-seam construction positioned strategically away from common wear points. This makes wear over time less of a threat to the overall durability of these waders. We've gone on quite a few journeys with these waders and we don't see any sign of issue so far. In the event that you do catch the material the wrong way and cause damage, Patagonia provides containers of Seam Sealer and UV Cure Sealant, so repairs can be made quickly and easily if necessary.

Value:
We understand that there is a decent chance you won't be purchasing the Gunnison Gorge Wading Pants as your primary go-to waders, but having the option for a light weight, breathable, and easily stored wading pant has made quite a difference in our experience. If this is the case, you'll be glad you have this option as an alternative for the hotter days. When taking cost into account, we've seen full bib waders go for more than twice what these do, so the price point is pretty moderate. Also, when considering the comfort they provide alongside the reliability over time we've described in this article, we have little reason to suspect you won't find these worth the bucks they go for.
Buy Now: $299.00 or to learn more, go to: patagonia.com
Patagonia Gunnison Gorge Wading Pants
The summer heat can be very real, and the Patagonia Gunnison Gorge Wading Pants have proven to be a reliable and comfortable addition to our gear stash. They store easily, fit comfortably, provide optimal mobility on the trail and river, and most importantly, they've kept us dry. We may not need them for every trip, we're comforted to know they'll be available when the time is right.
The Good
Optimal Temperature Regulation
Supremely Mobile
Light Yet Sturdy Construction
The Not So Good
Not for the Majority of Excursions
Side Pockets Not So Useful
Lower Leg Hikes Up Easily If Detached From Boot