Patagonia's extensive pack collection ranges from the highly technical, multi-pitch companion to the weekday warrior's best friend – in other words, they make a lot of bags. But after reviewing their new Dirt Roamer mountain biking kit, it was only fitting that I test out the collection's latest solution to hauling gear on the bike trail.
I recently got back from a backpacking trip that was well over 100 miles in length, and the Dirt Roamer Pack 20L was my companion. Suffice to say, I think I have enough street cred… or is it trail cred?
Anyway, pack a bag, and get ready for this in-depth review of the Dirt Roamer Pack 20L from Patagonia.
Dirt Roamer Pack 20L Breakdown
Trail-Worthy Comfort
Remember that the Dirt Roamer series is an essentialist, minimalist take on mountain biking gear. Smooth lines, muted colors, and flowy designs are all hallmarks of the collection. The Patagonia Dirt Roamer Pack 20L is no exception and comes in two sizes, S/M and L/XL (measurements listed below), making the minimalist aesthetic accessible to everyone. However, this pack goes far beyond minimal comfort, while still being super lightweight. Please note that this review features the pack in size S/M.
Let's get rolling with the Key Features:
Durable Recycled Nylon Fabric

Made with a rugged 100% recycled nylon; built for a lifetime of abuse

Breathable Mesh Back Panel

Raised mono-mesh back panel increases breathability and does not absorb water

Comfortable Shoulder And Hip Straps

Highly breathable Regulator® air mesh through the hip belt and shoulder straps to maximize breathability

Included Hydration Reservoir

2-liter HydraPak® reservoir included in the dedicated side-access sleeve

Key Clip

Top Compression Strap

Top compression manages the load or can carry a helmet

20 Liter Volume

Country of Origin

Weight

Sizes

S/M

676 g (1 lb 8 oz)
20.8″ x 10″ x 5.9″
15L (915 cu in)

L/XL

709 g (1 lb 9 oz)
21.5″ x 10.5″ x 6.5″
17.6L (1074 cu in)
As noted in the features, the back panel comprises entirely of breathable, raised padded mesh that won't soak up sweat. And I can truthfully say that it works, it does not, however, prevent you from sweating! As you would expect, there's an adjustable chest strap with a clip – a  missed opportunity for an integrated whistle – connecting the two shoulder pads. While the padding on the shoulder straps is quite minimal, being made from mesh to allow maximum breathability, the wide, padded waistbelt makes for excellent weight distribution. It even boasts two rather large storage compartments that sit nicely on the hips – even if you're on the smaller side like me with a 29-30in waist – which works towards keeping the shoulder straps from digging into your collarbones on laden rides. 
Hydration + Storage Feature(s)
Hydrate or die-drate! But seriously, proper hydration is ultra important, and the Dirt Roamer Pack 20L comes complete with a dishwasher-safe 2-liter HydraPak® reservoir and locking Hydraflex drink tube. I'm a big fan of these "rolltop" hydration packs, and I really like how Patagonia not only included dedicated side-sleeve access to the storage area but also a clip that attaches to the HydraPak®, keeping it from folding over so you can get every last drop of that delicious, ionized trail water!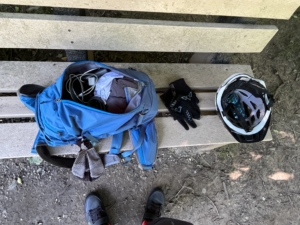 While the volume of this pack is plainly obvious, Patagonia has opted for an "open platform" approach to storage, and keeping with the minimalist theme, there are only four compartments in total (not counting the side-sleeve for the HydraPak®). There are two quick-access, zippered waistbelt compartments, a zippered top compartment that is not padded (probably a good place for a wallet, some Clif bars, maybe a patch kit, etc.), and the main, dual zipper half-domed storage compartment. Shockingly there are no interior pockets, say for the key clip that hangs down, which is exceedingly useful and prevents any sort of misplacement. 
Usability
So what do you put in there? This pack is meant for the long haul and meant to carry all the extra layers, food, and tools that you would need – in short, oversized bulky items that lend themselves to a large open space that you can organize on a case-by-case basis. Having carried nearly a full extra outfit + windbreaker along with enough food for a two-day trip, I can say Patagonia's storage bet has paid off in dividends. It's easy to use and access your essentials. In short, if it starts raining, it's only a matter of seconds to take off the Dirt Roamer Pack, find your waterproof layer, and get back on the saddle. Here's a helpful video from Patagonia, highlighting some of the aforementioned features: 
At first, I was really thrown off by the lack of organizational compartments in the Dirt Roamer Pack, and when comparing it to the likes of the Camelbak Mule. I honestly thought "this thing doesn't even have helmet clips." But of course, it does, they double as the top sinching straps, and make for quite a seamless carry given the pack's domed shape. To reiterate, Patagonia's Dirt Roamer capsule embodies a minimalist, modern take on mountain biking gear, truly emphasizing that less is indeed more and that you can get away with, and be much more efficient with less. Plus, I like the color. 
End of the Trail
Value
At $150, the Dirt Roamer Mountain Biking Pack 20L isn't necessarily your most affordable option. Sure there are other packs out there that may match or even exceed the Dirt Roamer's volume, but I doubt there are many – if at all – that can compete with Patagonia's unique design features, quality, and overall aesthetic.
The pill-shaped pack sports a dual zipper and half-domed opening, which differentiates it from its competitors' topside, half-zippered openings – making it ultra-accessible. As far as quality is concerned, you definitely get what you pay for. The Dirt Roamer Pack 20L features reinforced stitching throughout, rugged weather-resistant nylon, and Patagonia's emphasis on sustainable, durable construction materials is wholly present, referencing the pack's largely eco-friendly and recycled comprisal. However, my favorite part about the Dirt Roamer Mountain Biking Pack 20L has to be the way it looks and feels, whether that be on my back or hanging on my gear rack. It's a handsome hauler and built for the overprepared mountain biker in mind. If you like to be extra assured on the trail, look no further for a pack that can keep up.
Patagonia Dirt Roamer Pack 20L | Gear Review
A trail-worthy pack for those seeking unencumbered adventure.
The Good
Super Comfy
Hydration Station
The Not So Good
No pocket organizers - your money will jiggle jiggle