By now, everyone and their grandparents have heard of and have most likely owned a piece of gear from Patagonia. As the outdoor industry's golden child, Patagonia constantly pushes the envelope in terms of design, adaptability, and sustainability – and I'm happy to say that this year's Dirt Roamer collection is nothing different. Recently, I had the chance to test out and review Patagonia's Dirt Roamer collection, updated for summer 2022. 
Let's roam into this review!
 Men's Long-Sleeved Dirt Craft Jersey Review Breakdown
Men's Long-Sleeved Dirt Craft Jersey
Ever since Patagonia's official launch into mountain biking, say about 2 years ago going off their focused IG account, they've separated themselves from the pack by bringing flowy, jersey-inspired design to their technical apparel. This Dirt Craft Jersey is no exception and features a scalloped front and back, jersey collar, and side vents. 
What really differentiates this jersey from its competitors (the likes of Club Ride, etc.) is the plethora of materials used in its construction. The back panel is made of a more breathable mesh material while the majority of the garment is made from a heavier wicking polyester material. The cuffs, too, are another type of much thicker and elastic nylon, giving the garment a much tighter ribbing effect around the wrist – so good luck rolling your sleeves up.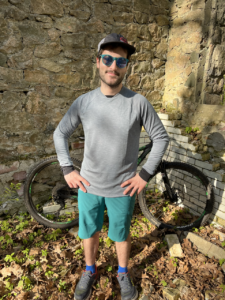 Key Features:
Quick-Dry, Breathable Fabric
Designed for MTB
Hard-Working Cuffs
Supporting the People Who Made This Product (Fair Trade Cert.)
Materials: 
Body: 3.6-oz 100% polyester (68% recycled) double knit

Back panel: 3.7-oz 100% recycled polyester jersey

Cuffs: 5.2-oz 79% recycled nylon/21% spandex power knit

All with miDori™ bioSoft for added wicking and softness, and HeiQ® Pure odor control
All around, it's a great jersey! Being super lightweight, odor-resistant, and loose-fitting means you really don't have to worry about adjusting the fit once you put it on. It's also built like a tank, featuring double and triple stitching throughout. Since it comes with Patagonia's Ironclad ™ Guarantee, you can finally stop worrying about ruining your clothes and just ride your bike! 
Men's Dirt Roamer Bike Shorts Review Breakdown 
Men's Dirt Roamer Bike Shorts – 12½"
So you're finally over your "pockets are everything phase." Good, because these Dirt Roamer Bike shorts don't have any – well sort of. These shorts are meant to work in a system and are certainly a minimalist, purpose-driven approach to the typically overbuilt mountain biking shorts currently on the market. 
The final part of this system (scroll for spoilers) comes in the form of a liner, featuring 2 mesh pockets on either thigh, which you can access through the zippers located on the outside of these Dirt Roamer shorts. Without the liner, you still have access to pockets, albeit pockets that are accessible through both the zipper and a hole at the top, for through-access to those liners. Unfortunately, not as secure as I'd hope for while mountain biking. Check out the design in the video below:
But there are some truly amazing qualities about these shorts. First, I love the color. But secondly and arguably more important, Patagonia hasn't sacrificed any of that renowned durability mentioned for the jersey. The seams around the seat, which get the most action, are welded and offer hefty protection against any sort of chafing. And while the waistband isn't padded, it's fully contoured and features a very unobtrusive tightening system. 
The fit is tapered as well and lends to a much sleeker silhouette when compared to other MTB shorts, fitting the overall design language of the Dirt Roamer collection and offering quite a comfortable fit, especially considering the gusseted crotch.  Besides being a tad long, I'm on the shorter size at 5'6", I really dig these Dirt Roamer Shorts!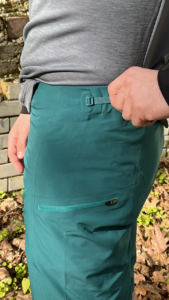 Key Features:
Stretchy, Airy Ultralight Fabric

No-Stitch Welded Seams

Contoured Silhouette

Adjustable, Stay-Put Waistband

Secure Pass-Through Pockets

*Only when paired with thigh pockets on the Dirt Roamer Liner Shorts

Across-The-Line Integration

*With the Dirt Roamer line

Longer, MTB-Specific Inseam
Materials: 
4-oz 90-denier 86% recycled polyester/14% spandex with four-way stretch and a DWR (durable water repellent) finish
Men's Dirt Roamer Bike Liner Shorts Review Breakdown 
Men's Dirt Roamer Bike Liner Shorts
Yes, they're expensive, but I don't care. Love wins. Made entirely from nylon – of which about 80% is recycled – these rugged liners are everything you and your softer parts could ever want. Let's start with the curved waistband that's mega comfortable and doesn't pinch you – regardless of your love handles. Moving onto the cushioning in question which is probably the most MTB-seatlike I've ever seen, really fitting your body where the protection is needed the most. The padding even extends in the front slightly for extra coverage, and the entire panel features triple stitching throughout making it nearly indestructible.
While we touched on the pockets earlier, they are indeed cavernous and expandable, meaning you can fit tons of CO2 canisters and CLIF bars in them – BUT since there's no way to attach the liner to the Dirt Roamer Shorts themselves, your precious goodies are really just sitting in that pouch unsecured, say for some elastic. So unless you don't mind maybe losing some GU, I'd keep the expensive stuff in your pack.
It's important to note that since the side panels are made from a nylon mesh, the pockets are as well – a deviation from the body of the garment made from thicker nylon. To end it on a high note, these liners feature a subtle silicone leg gripper that miraculously doesn't pull on your leg hair and stops any slippage in its tracks.
I haven't had the chance to wear these during a notoriously humid New York summer when the sweat comes in gallons, but as of now, these have my seal of approval as some wickedly comfortable, durable, MTB liners. 
Key Features: 
Supportive, Highly Breathable Recycled Fabric

Premium Low-Bulk Chamois

Across-The-Line Integration

Slip-Free Silicone Leg Grips

Integrated On-Body Storage

Unrestrictive Inseam

Supporting The People Who Made This Product
Materials:
Body: 5.2-oz 79% recycled nylon/21% spandex stretch interlock knit

Panels: 5-oz 77% recycled nylon/23% spandex mesh
Buy it now, $89 – or Browse all Patagonia
Patagonia 2022 Dirt Roamer | Collection Review
A dirt ready, versatile collection for the everyday rider – inspired by the pros.
Men's Long-Sleeved Dirt Craft Jersey
8.5
Men's Dirt Roamer Bike Shorts - 12½"
7.7
Men's Dirt Roamer Bike Liner Shorts
9.2
The Good
Flawless short + liner integration
Great color selection
The Not So Good
Wouldn't wear it to Five Guys