Each summer we all find ourselves naturally gravitating to the outdoors to enjoy the weather and soak in the sun. A ritual we all enjoy is a good ole fashioned barbeque, where we cook copious amounts of delicious food with family and friends. But why do we gravitate to the BBQ Grill? Is it because we haven't had any other options? Well, the folks at Pacific Living have decided to change that and are giving us options with their Outdoor Gas Oven.
The Pacific Living outdoor oven takes grilling and barbecuing to a new level of excitement and opportunity. This oven is designed to be extremely versatile, with the ability to cook pizza, meat and seafood, casseroles, breads, desserts, and anything else you normally cook inside.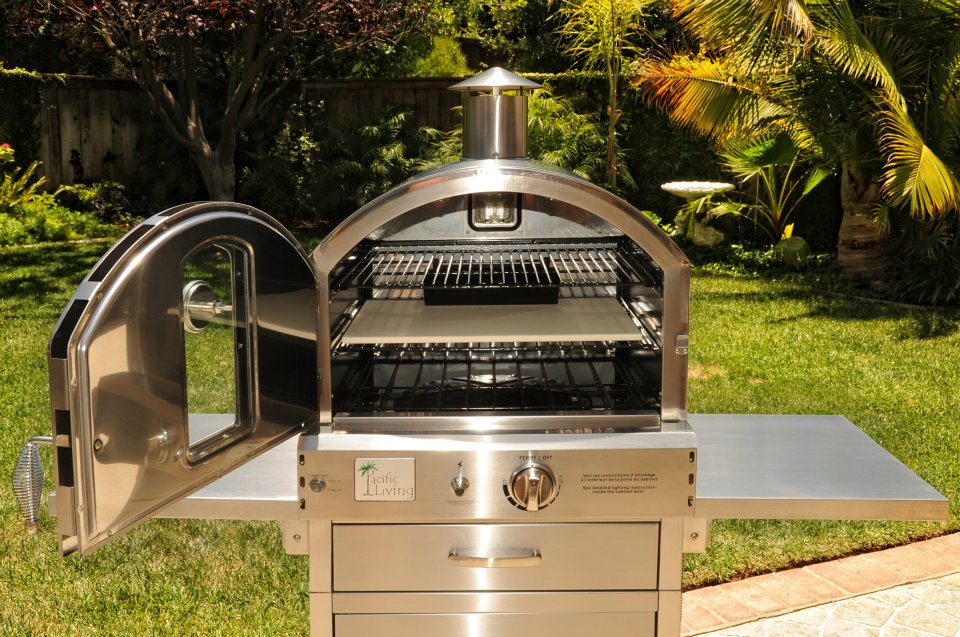 Pacific Living is a family-owned and operated business. They have been in the heating and import business for nearly 30 years and are experts in the outdoor products world. As a close knit family organization they have cherished the times spent as a family, and so they are dedicated to helping make people's home and outdoor living areas a special place to create memories that will last a lifetime.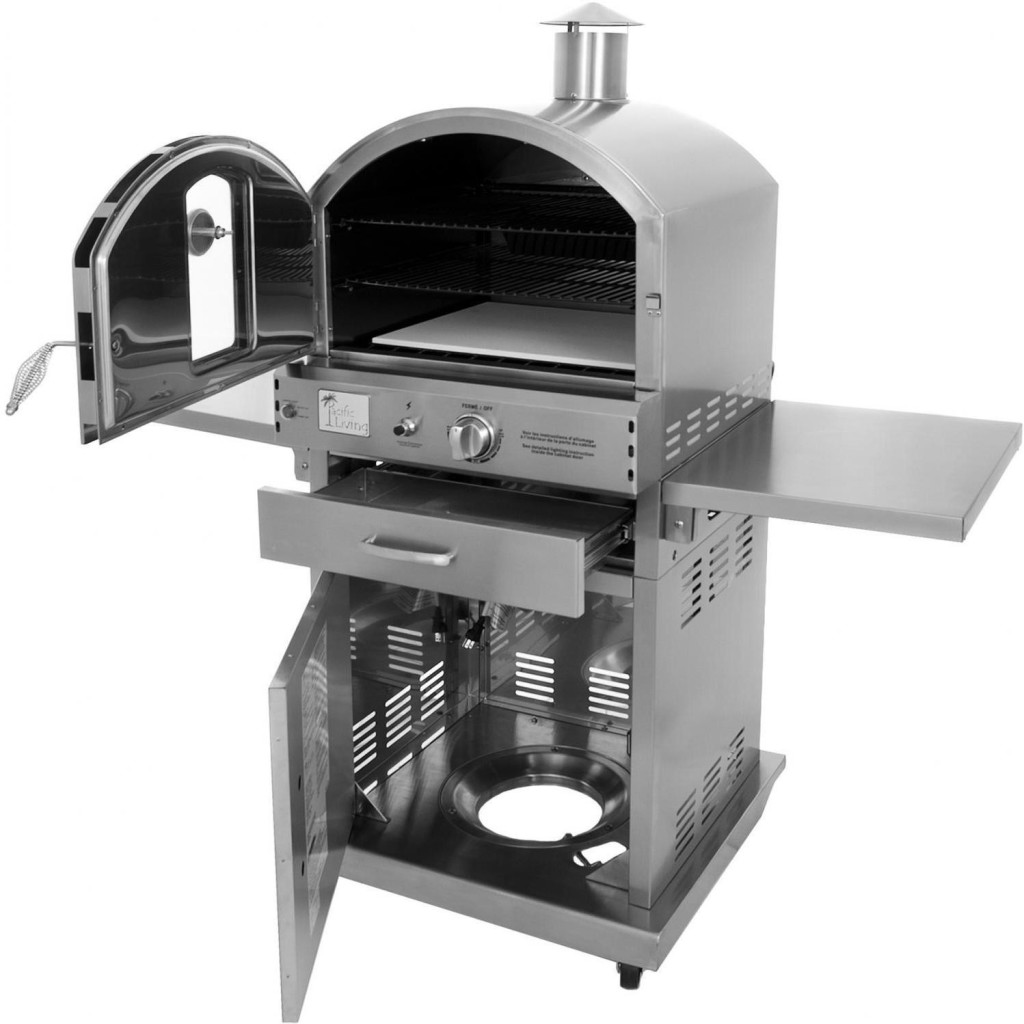 Tech Specs:
• Crafted from high quality 430 stainless steel
• Cart included for increased mobility
• All weather, heavy duty canvas cover (included)
• Main Burner 16,000 BTU/LP or 16,000 BTU/NG
• Built-in halogen cooking lights
• 3 cooking racks
• Large oven capacity; cook up to a 16-inch pizza
• Electronic ignition
• Full view front window with temperature gauge
• Fold down side shelves for easy storage
• Cool Touch heat resistant handle
• Includes pizza stone and wood chip smoker box
• CSA Certified
• Net Weight: 148Lbs
• Gross Weight: 165Lbs
Pacific Living Outdoor Oven Review Breakdown
Setup/Assembly: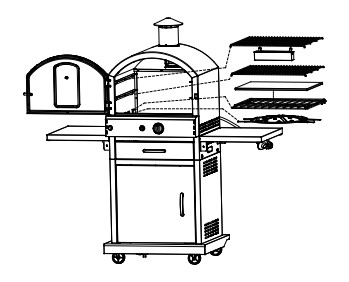 When the Pacific Living Outdoor Oven arrives the first thing you want to do is immediately start cooking. However, to get this oven up and running you have you quite a bit of assembly to do. The folks at Pacific Living have provided a very detailed set of instructions that is easily laid out on a step-by-step basis. There were some tricky steps that the pictures did not provide a clear graphic of what to do, but luckily Pacific Living has videotaped and uploaded videos to YouTube so you can watch exactly what to do on those tougher installation steps. There are a lot of parts, so when un-boxing be sure to keep yourself organized. Pacific Living does provide all the nuts and bolts you need in a handy box that is clearly labeled with sizes to help keep track of the smaller stuff, which was greatly appreciated. Overall, setup for one person took about two and a half hours from box opening to total completion and only requires a phillips-head screw driver.
Design:
The outdoor oven is built with high-quality 430 stainless steel so upon assembly it looks very impressive in your backyard. Pacific Living really did a great job of paying attention to the details and there are some really nice options included. The first one you will notice is the electronic ignition. Throughout testing the oven fired up every time with no issues in about 3 seconds. Upon opening the grill you will find 3 racks with enough space to fit a variety of cooking options. They also included a wood chip smoker box that can be used to add some delicious smokey flavors to your food.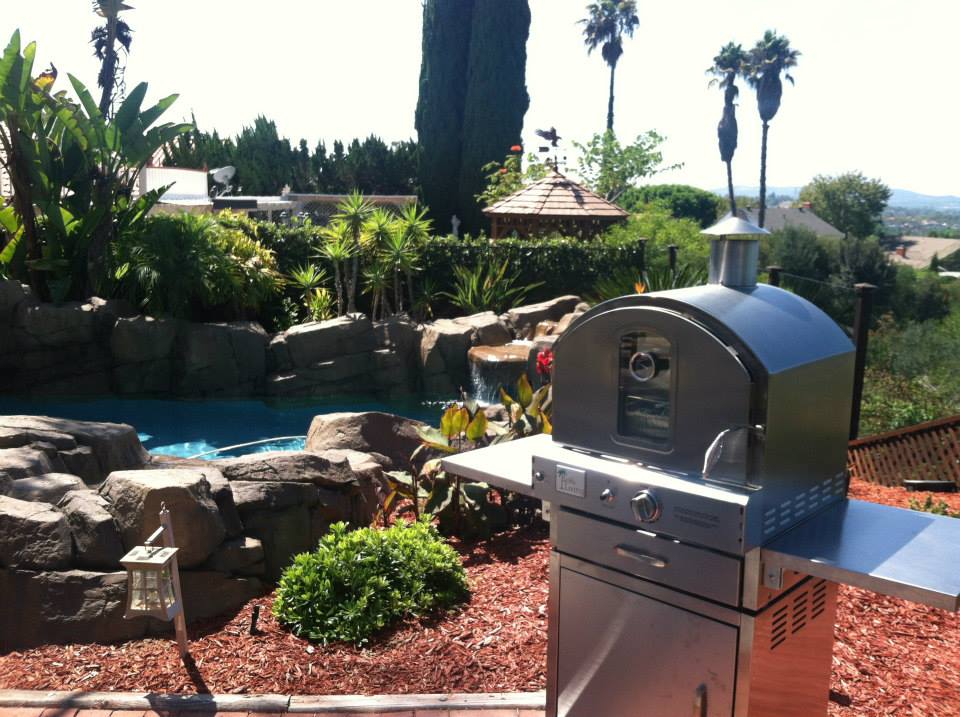 On the outside, the main oven door is built with a heat resistant handle that allows you to safely open the oven. Be careful though, the rest of the door gets extremely hot when cooking. When opening the door make sure to secure it properly as I did not and had it close on me as I was pulling food out and got a small burn on my arm. Lesson learned! The door also is built with double-wall transparent glass that allows you to check on your food without opening the oven. On the sides, the oven features fold-down shelves, which provide a good amount of space to lay food or provide a good sturdy prep area for the food. The sides easily fold down which allows the canvas grill cover to slide over the oven to provide great protection from the weather.
Temperature Control: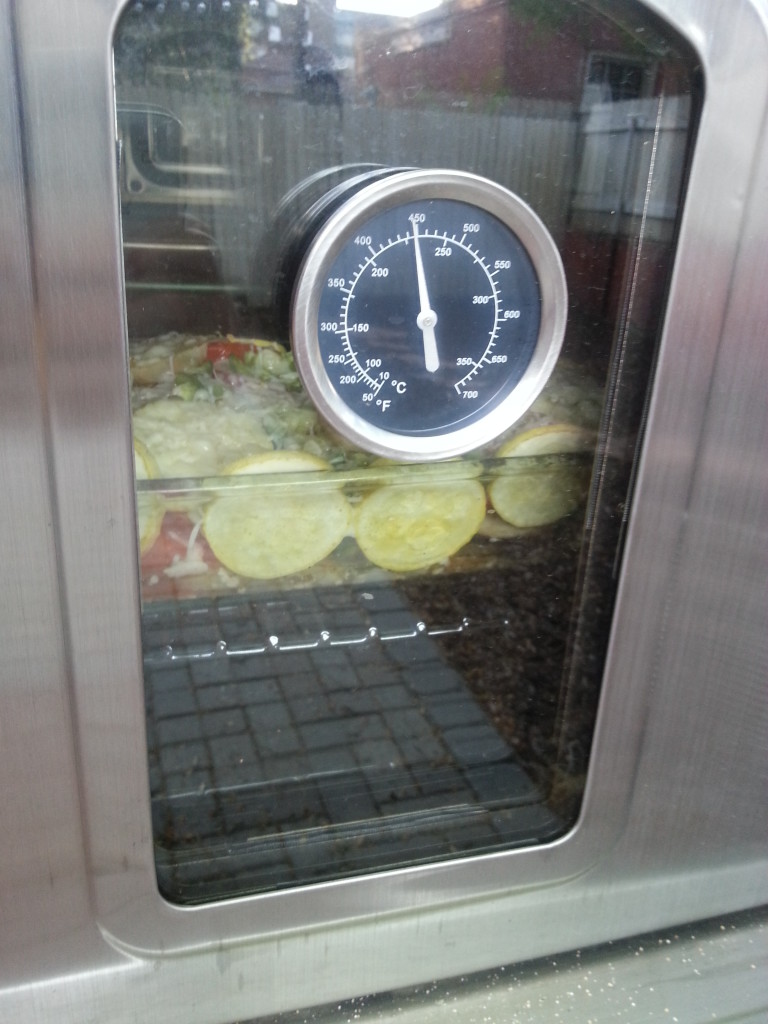 When we first starting explaining to people the Outdoor Oven most people were amazed a product like this existed and their follow-up question was always; how do you control the temperature? For anyone who uses their oven regularly knows that getting an accurate and controlled temperature is absolutely crucial to properly baking your food. On the outside of the oven is a temperature gauge so you can always monitor where you are at with the temperature. The main control is the burner control knob that allows you to control the flame.
Overall, we found the temperature very easy to control. We cooked cupcakes that required a very steady 350 degrees Fahrenheit, and we were able to hit on the nose and maintain through the duration of the baking session. As a tip, we recommend heating up the oven slowly as it is much easier to hit your desired temperature by warming up slowly versus putting the oven on high and heating it up over your desired temperature and trying to bring it back down. The oven can get very hot, very quickly.
Performance:
With an outdoor oven the true test of performance is very easy to figure out, we just had to check how the food tasted. We are happy to say the Pacific Living Outdoor Oven truly delivered in our book. We tried a wide variety of foods in the oven and it consistently produced great tasting food that rivaled that of any regular oven. Obviously the oven is screaming to have people over for a pizza party, especially with the included pizza stone, but don't limit yourself to just pizza. We cooked everything from roasts, veggies, pizza, and even cupcakes. Cupcakes which can finicky to cook turned out great. Be careful using the top rack as the temperature seemed to be hotter up there (remember heat rises) and cooked things a little bit faster.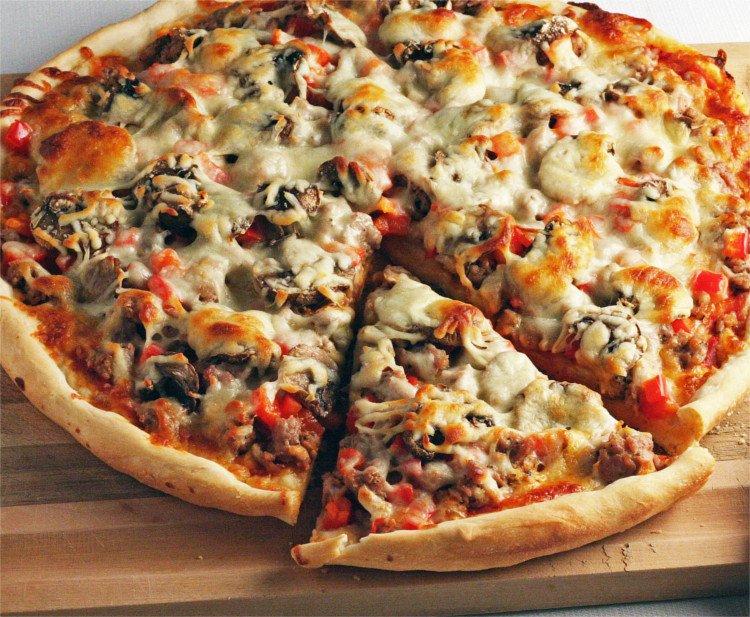 Additional Hands-on Images:
Efficiency:
With the outdoor oven you are fueling with an refillable propane tank (or natural gas conversion kit) that you provide, so efficiency is very important as you do not want to have to continuously change out your tank. We got up about 15 cooking sessions with the outdoor oven before we had to change out the tank. With the design of the oven, which retains heat very well, and the efficiency of the burner the tank does last for a long time. We do recommend getting a propane level monitor as you never want to fire up the oven for a party and then have it fizzle out mid cooking session.
Value:
Priced at $1499 the 430 Stainless Steel Outdoor Oven will definitely cause sticker shock for most people. However, what we learned through our vigorous testing sessions is that this is an extremely well-built oven with a lot of features that makes a tremendous addition to any backyard. It provides a great alternative to your BBQ grill and can even compliment it with the ability to bake all your side dishes so all of your cooking can be done outside. In the hot summer months the last thing you want to do is fire up the oven in the house and make it sweltering in your kitchen, the outdoor oven from Pacific Living allows you to enjoy the outdoors even more.
Pacific Living Outdoor Oven - Backyard Review
The Pacific Living Outdoor Oven is not going to end up in everyone's backyard, but everyone should at least consider it. It is extremely versatile and is gives you a true oven experience. It provides a great addition to your backyard and is very impressive. The oven has a "wow factor" to it and your guests are sure to be impressed. While we certainly understand the financial constraints of families, if you do pull the trigger on this outdoor oven, we highly recommend it. Enjoy!