Shortly after our review of the Dragon Alliance FAME sunglasses hit a couple weeks ago we were inundated with requests to test and review sunglasses from other manufactures such as SPY, Smith and Oakley. Inspired by your requests we put out the word… and as luck would have it our good friends over at Oakley headquarters in southern California were listening intently and had a pair Dispatch II shades waiting for us. Available in 11 stylish frame and lens combinations, the Oakley Dispatch II sunglasses have an aviator-esque quality to them and utilize interchangeable Oakley icon inlays for quick and easy customization on-the-go. At purchase Oakley's Dispatch II come with two sets of icons, while 18 other color options are available ($12 ea.)
For testing and review purposes we opted for the blacked-out polarized version of the Dispatch II, which come packaged with a microclear storage bag and additional red icons. Beware, polarized lenses from Oakley will run up the cost around $50, but if you're a fisherman, boater or are looking for ridiculous clarity and reduced eye strain we highly recommend you pony up the extra cash! If given the choice we always opt for polarized lenses. Not feeling the blacked-out edition? Well, you're in luck! The Dispatch II come in a variety of frame and lens options as can be seen below…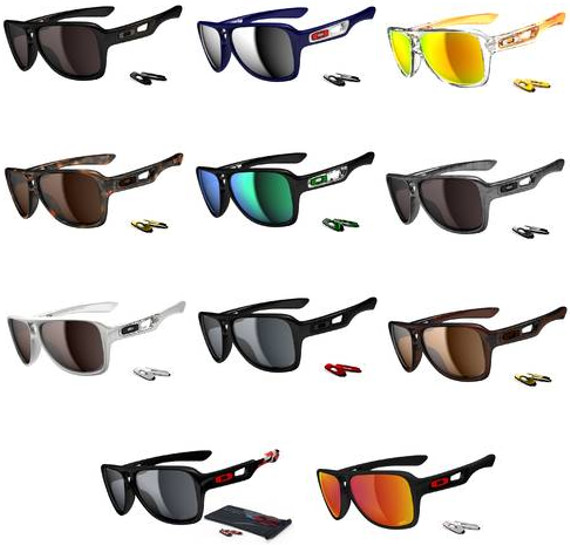 Key Features:
Optimized peripheral vision and side protection of 6 base lens curvature
UV protection of Plutonite lens material that filters out 100% of UVA / UVB / UVC & harmful blue light
Glare reduction and tuned light transmission of Iridium lens coating (optional)
Durability and all-day comfort of lightweight, stress-resistant O Matter frame material
Comfort and performance of Three-Point Fit that holds lenses in precise optical alignment
Metal interchangeable Oakley Icons
Available with Oakley prescription lenses
– The Review –
Comfort: 
(8.5 0ut of 10) Because they're exceptionally lightweight they're also very comfortable. In-fact it's easy to forget you're even wearing them at times. The nose pad, which actually has no padding to speak of is surprisingly comfy and fits on your nose leaving very little room for slippage or movement, making the Dispatch II ideal for anyone who lives an active lifestyle. When wearing the Dispatch II for extended periods of time (4+ hours) we did notice a some subtle discomfort behind the ears. This wasn't the case for everyone in our review crew, but a few of us… with bigger heads did notice pressure points after hours of use.
Design: 
(9 out of 10) We love these frames for their vintage look and not too big – not too small sizing! The ability to swap out the icons is pure genius as well. Every time you interchange icons it's like getting a whole new pair of shades. Thankfully Oakley didn't over complicate things either. To swap icons you don't need tools or an engineering degree, all that's required is a pen, pencil or the nearest pointy object you can find. Once you've secured the icons into their position they lay flush with the frame and rest surprisingly secure. You won't have to worry about the icons falling out, but you may want to keep the spare set in a safe place. They're tiny and can be lost easily!
Optics: 
(9.5 out of 10) Through the polarized lenses of the Dispatch II everything appears more vivid and clear while still providing 100% UV protection. Oakley has made quite a name for itself over the past 35+ years and much of the credit goes to their innovative style and designs, but one factor that remains superior among all of their deigns is the exceptional optics. The Dispatch II are no exception! We've donned a lot of sunglasses on our days, but we all agreed that the polarized lenses from Oakley are very impressive.
Durability: 
(8.5 out of 10) While they certainly aren't bombproof  or made from titanium, we did find the Dispatch II to be quite durable in our testing and review sessions. The plastic frame is flexible and resistant to breaking or shattering. On the other hand we did notice the glossy finish is susceptible to scratching as well as the lenses. To keep them shiny and new we suggest you keep the microclear storage bag near by for cleaning and safe storage.
Value: 
(9 out of 10) To call the Dispatch II affordable would be a stretch, but when you factor in Oakley's one year warranty, their superior optics, simple customization and comfort we think the $110 – $160 retail pricing becomes a little easier to swallow.
The Bottom Line

:
We highly recommend the Oakley Dispatch II sunglasses to anyone who is looking for a comfortable pair of shades that are 100% stylish while providing maximum UV protection and an unheard of level of customization! They have a classic look that make them ideal to wear with a variety of outfits and the interchangeable icons only add to their versatility. 

Buy Now: $110 – $160 or go to: Oakley.com