A couple weeks ago we reached out to our good friends at Dragon Alliance to see what's crackin' at their Carlsbad, California headquarters, and without hesitation we were quickly introduced to their brand spankin' new Palm Springs Pool Collection, which includes redesigned frame options for the Calaca, JAM, Mansfield, Domo, Orbit and FAME Sunglasses. Out of all the new variations we instantly gravitated towards the FAME shades, which are obviously inspired by the retro Palm Springs scene and feature a translucent pool print on the inner arms with a single aqua stripe along the leading edge. Noticing our infatuation for these sunglasses Dragon allowed us to test and review them over the past several days. Our testing locations included the beach, biking, hiking and of course pool-side with an ice cold brew in-hand.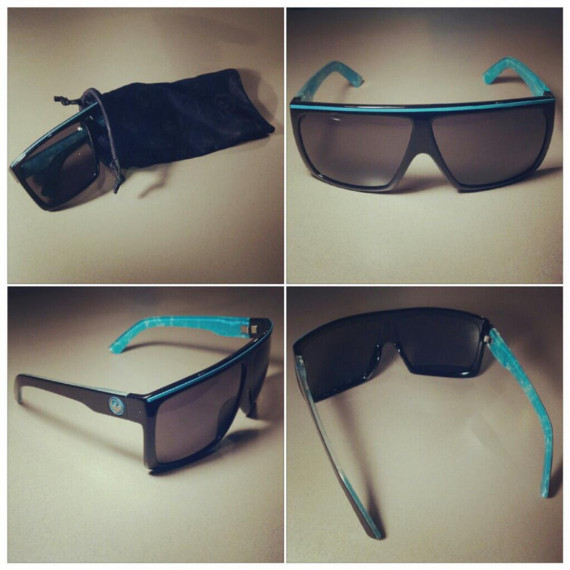 While we favored the new aqua-rific Palm Springs Pool edition, the FAME sunglasses actually come in a variety of lens and frame options, as you can see…

When purchasing a pair of Dragon Alliance sunglasses you'll notice the quality and attention to detail before you even get the glasses out of the box! Each pair of Dragon sunglasses come sealed in a sturdy cardboard box and are secured in a soft cloth pouch designed for lens cleaning and safe storage. It's the little things that make a purchase feel justified and Dragon has got it down. They even include a Dragon Alliance sticker with each purchase!
– The Review –
Comfort:
(9 out of 10) These sunglasses were actually quite comfortable considering there is no padding or cushioning at the ears or nose. All the way around you'll find nothing but plastic, which actually adds to their comfort because it also makes them impressively lightweight. They're sculpted to rest securely on your nose without slipping and fit snugly while still avoiding excessive pressure at the sides of your head. In both cases we're happy to confirm the FAME fit flawlessly! In fact these sunglasses were an absolute dream to wear for extended periods of time. The only instance we noticed discomfort while donning the large fit frames was when wearing a ball cap. Anything other and a flat brimmed hat will push the frames onto your nose creating pressure that becomes quickly and exceedingly annoying.
Design: 
(9.5 out of 10) Looks can sometimes be deceiving, this isn't the case today my friends! The FAME sunglasses look incredible, feel amazing and are crafted from top-of-the-line materials in Italy. Ascetically the mostly black frames are somewhat subdued, but the aqua stripe at the top as well as the pool printed inner arms give them a splash of color that is almost impossible to go unnoticed.
Optics: 
(9 out of 10) The 6 base curve polycarbonate lenses Dragon Alliance has outfitted these shades with are outstanding. UV protection is 100% and everything you see comes through clear and crisp without hampering your vision. One step up would be to make these available in a polarized version. 
Durability: 
(8.5 out of 10) In our opinion these sunglasses were built to last. The strong yet flexible grilamid frame can withstand drops, scraps and flexing quite nicely without compromising the overall integrity. Additionally the 5 barrel stainless steel hinges are as heavy duty as they come! With nothing more than some simple TLC there's no reason these shades shouldn't be a center piece of your collection for many years to come. As with all sunglasses you'll want to take specific care of the lenses. Make sure never to set them face down and whenever possible use the included cloth pouch for storage and cleaning.
Value: 
(9.5 out of 10) Priced just above the $100 barrier, the FAME sunglasses offer exceptional value for the price. If you've checked out brand name optics lately you know pricing has gotten a little out of control. Thankfully the retail pricing of these sunglasses is quite affordable. 
The Bottom Line:
We highly recommend these sunglasses to style and performance conscious men and women who are looking to spiff up their shades collection without breaking the bank. The FAME Sunglasses by Dragon Alliance are optically fantastic, surprisingly durable and comfy to wear all day long! If you're already loving these sunglasses as much as we did you'll want to make sure to check out the embedded video below where you can see the FAME sunglasses and the rest of Dragon Alliance's Palm Springs Pool Collection in action!