Spring has officially sprung, so you know what that means… longer days and more time playing in the sun! With that in mind it's about time to dig out your trusty shades or fork over some cash for this season's newest frames. If you're like us – you know keeping a pair of sunglasses for more than a season can difficult. Whether you lose, scratch or simply get bored of them, sunglasses are a necessity to keep your peepers protected and your style in-check. Recently we teamed up with with our pals at Oakley to test out one of their newest models – the TwoFace.
Designed to be lightweight, durable and stylish, the TwoFace are crafted from Oakley's proprietary "O Matter" (synthetic plastic) with lower rims of constructed from aluminum for a look and feel that is more than unique.
For a more in-dept feel for what we're talking about scroll though the frame features and lens specs below. 
Frame Features:
Precision formed aluminum lower orbital and O Matter upper
Designed and engineered for medium faces
Comfort and performance of Three-Point Fit that holds lenses in precise optical alignment
Durability and all-day comfort of lightweight, stress-resistant O Matter frame material
Metal Icons
Lens Specs:
HD Polarized – Minimized glare via technology that produces the best polarized lenses on the planet (optional)
Glare reduction and tuned light transmission of Iridium lens coating (optional)
Optimized peripheral vision of 6 base lens curvature
Optical precision and impact resistance meet or exceed Z80.3 optical and basic impact standards
UV protection of Plutonite lens material that filters out 100% of UVA/UVB/UVC & harmful blue light up to 400 nm
Available with Oakley prescription lenses: Single Vision and Progressive
TwoFace Sunglasses Review Breakdown
Comfort:
The first thing you'll notice when strapping these sunglasses on is that they're feathery light. The combination O Matter / Aluminum build at first glance appeared to be more gimmick than function, but it only took seconds for us to realize that Oakley really knew what they were doing here.
Built for medium sized faces, the TwoFace are a lower profile pair of sunglasses that aren't too small and aren't too big. They find that happy medium that most people will enjoy.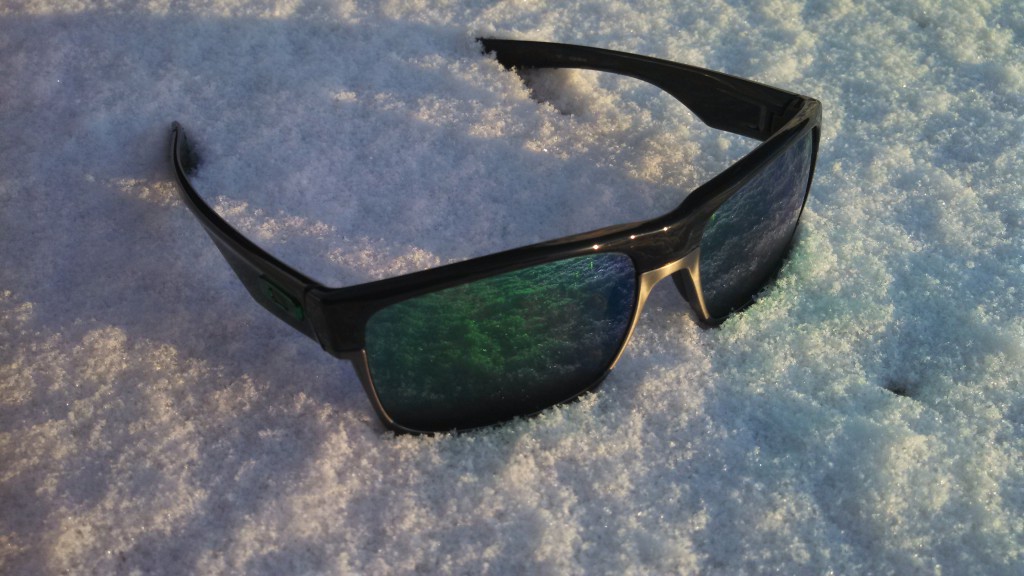 Throughout testing our team raved about the comfort of the TwoFace. The only drawback we could find was the lack of a nose pad. While these sunglasses are among some of the most comfortable we've tested in some time –  the addition of nose padding would be a welcome addition in our our opinion.
Design:
As you can see from a purely visual standpoint these sunglasses are quite stylish, but beyond their good looks the TwoFace are also rather functional. Even without nose or ear padding/grips these shades stay firmly planted to your face. Making them ideal for sports and leisure.
Ascetically, we loved the mid-profile style these sunglasses deliver. If you take a look around to all the top manufactures of sunglasses you'll find a trend over the past few years of big bulky frames overtaking market. Almost like the 80's are making a comeback or something. While admittedly those frame designs can look pretty snazzy in pictures, they're typically far too large for the normal face. The TwoFace just seems to be the ideal size for most faces.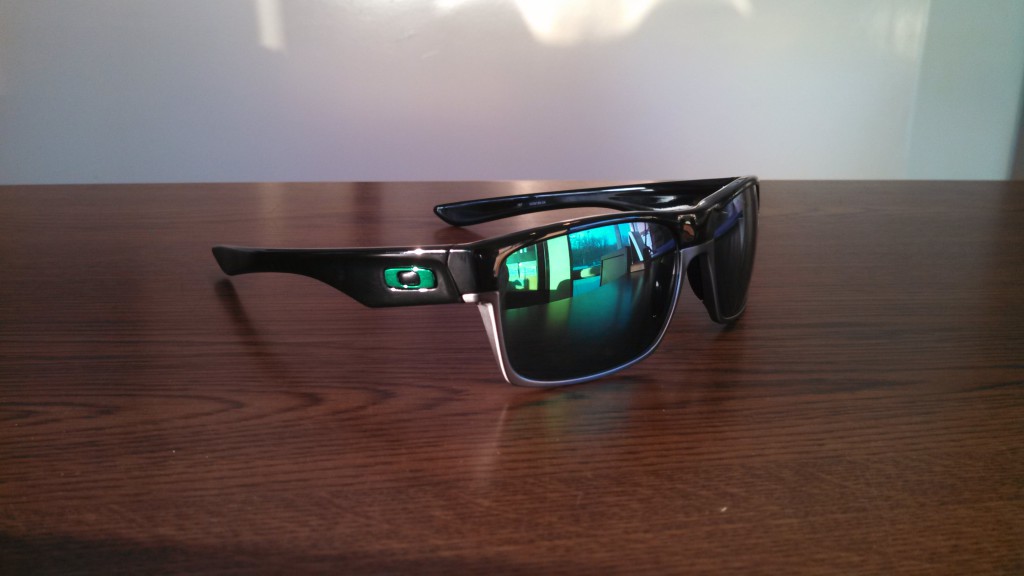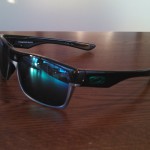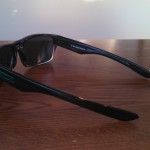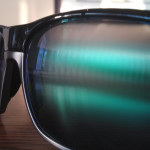 Additionally, we really liked the feel of the aluminum orbital lowers. They're more than just an accent piece – they actually provide an oddly nice cooling effect when you put them on your face. So when you add it all up at the end of the day they feel strong, yet flexible and surprisingly light weight.
Optics:
As long as you can keep them smudge-free Oakely's optics are among the best we've ever tested. The TwoFace comes standard with HD Polarized lenses that neither diffuse or blur your vision. Wearing these sunglasses makes you not want to take them off!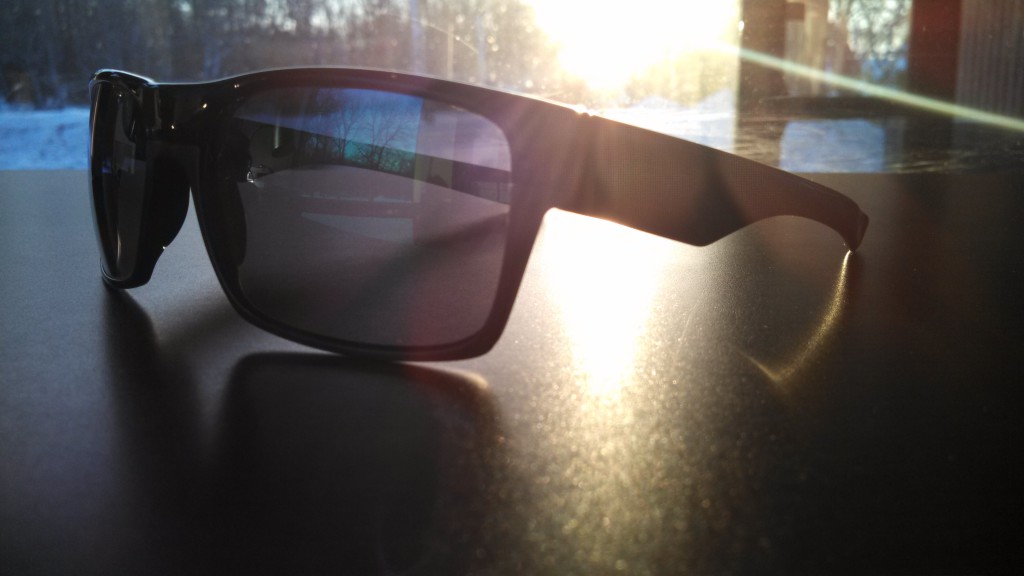 For our testing sessions we were outfitted with a pair that had Jade Iridium lenses, and while you might think that turned our whole world green it simply did not. In fact the outer coating played no effect on our vision. What you see through the lenses is exactly what you'd expect from a pair of polarized black or grey lenses – like someone hit the dimmer switch on the sun!
Durability: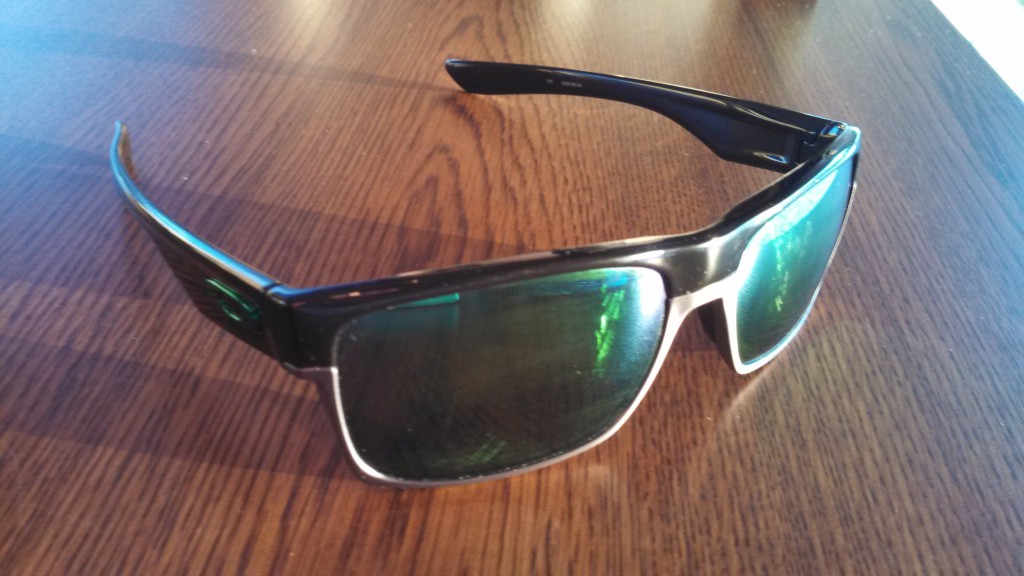 These sunglasses have a very nice build quality. While the limbs are nicely flexible and light weight – the O Matter and Aluminum that surrounds the lenses remains stiff and feels very tough, almost industrial. Throughout the frame we found several screws (5 in all) in places where many other manufactures might have utilized with glue.
In our estimation, after spending more than a month with these shades, there's no reason the TwoFace should last their owner many years of use and abuse.
TIP: to keep your shades in tip-top condition always use the travel pouch Oakley includes with the sunglasses at purchase. It will keep scratches, dings and smudges from cramping your style
Value:
In a market where sunglasses are either expensive or MORE expensive, the TwoFace are actually a pair of sunnies we're happy to say are worth every penny of their sale price. At $140 to $150 you can get a top quality pair of sunglasses that are comfy, durable and best of all actually fit your face.
Oakley TwoFace Sunglasses - Style Review
If you're in the market for a new pair of shades this Spring or Summer and you haven't quite made up your mind, we strongly encourage you to try on a pair of Oakley TwoFace's before you make and rash decisions. We've had the opportunity to test and review a lot of sunglasses in the past few years and these are at the top of the heap in almost every category we test. The optics are great, the styling is truly unique and the build quality is second to none. Add in that missing nose pad and these sunglasses might be our favorite all-time. Now that you have our opinion we recommend you try them on for yourself at a local mall or optics shop.
The Good:
Lightweight and comfortable
Surprisingly durable
The optics are simply fantastic.
The Not so Good:
In a perfect world Oakley would have added a nose pad for added comfort