The North Face brand is named after the cold, exposed, unforgiving side of a mountain. Which the company acknowledges is a bit ironic given it's ocean-side origins about 150 feet above sea level in the North Beach neighborhood of San Francisco.  Launched in the 1960's the company's high-performance climbing and backpacking equipment gained an avid following, and 55 years later the Brand is still known for high quality and aesthetically pleasing gear.
As an avid kiteboarder, snow boarder, and mountain-biker I have tons of outdoor gear. The gear required for kiteboaring alone is legion: summer, fall, and winter wetsuits, booties, kite harness, shorts, sunglasses, athletic undergarments, kite pump and tubes, pump nozzle attachments, bar and lines, water bottle, screw driver, etc. etc. All of this gear has to go somewhere, and it has to be relatively easy to transport because there is still the actual kites and kiteboards to carry. You get the idea; every square inch of my body is needed to transport this gear from my 5th story apartment to a car, and then from the car to the beach.  Snowboarding and mountain-biking aren't much different.
I needed a serious duffel bag.  One that is durable, easily portable, and capable of getting wet.  Enter the North Face Double – Large
Key Features:
95-liter volume provides ideal storage for trips lasting four days or more
New end-cap zippered compartment allows you to separate wet clothes, dirty shoes or extra gear without sacrificing volume
Mesh sleeve pocket in end-cap compartment for additional organization
Detachable, adjustable shoulder straps with ergonomic fit
Main compartment has a zippered mesh pocket
Rugged double stitch construction
Specs:
Sixes: XS, S, M, and Large models available (only the large was reviewed)
Fabric:  1000D phthalate-free TPE fabric laminate, 840D Jr. Ballistic s nylon
Avg. Weight: 4 lbs 0.9 oz (1840 g)
Volume: 5797 in³ (95 liters)
Dimensions:  15.75" x 27.56" x 15.75" (40 cm x 70 cm x 40 cm)
North Face Duffel Review Breakdown
My first impression of the North Face Base Camp Duffel was that this is a large bag that will hold a lot of gear.  My second reflected the company's roots as an outfitter of serious hiking and mountaineering expeditions: this isn't an average day pack.  This bag is tough and durable.  You can pack it tight and throw it around, stuff it in a car or jam it on a plane.  It will be just fine.
Of course, I won't be able to confirm the bags actual durability and deliver a timely review.   The ultimate judgement of a bags construction can only be handed down over years, and after dozens of trips, but there are some excellent clues: The material is water resistant, everything is double stitched, and the nylon is durably constructed.
To test this bag I filled it and carried it.  I filled it with all sorts of stuff.  Kiteboarding gear, snowboard boots, water bottles, a football, a large book, Ipod, thermos, clothes and basically everything I could think of for a weekend of adventure sports.  And then I did stairs.
Storage:
This bag refuses to fill up.  There's always another space to jam something in, and you don't care about jamming it hard because the material is so strong.  In fact, one of the biggest issues with storage is that there's so much of it you have to be careful not to overweight it.   Use common sense when deciding how much weight to pack in – given your weight and the distance you'll have to carry it.  The shoulder straps will tempt you overload it with weight.
The bag will also store nicely itself both when it is full and when it is empty.  It has a very compact, cylindrical shape that flattens to a rectangle. It can be  tightened down with 4 compression straps if you have a smaller load.  It also compresses and can be held together with an extra packing strap (included) for empty storage.
Accessibility:
I wish this bag had more seal-able, external pockets of various sizes.  A small, external, zip pocket for keys, cell-phone, wallet, etc. is almost a must in 2015.  That said, the large D opening allows for excellent visibility into the bag and one has plenty of clearance to grab and remove large items from the duffel's voluminous depths.  The duffel also has an excellent, zipping compartment on the end that is completely separate from the main bladder.  This is perfect for separating wet, dirty clothes and gear, but a few more and smaller pockets would be ideal.  Lastly, the D shape zip opening has a weather-protectant zipper flap.  This will certainly help keep precipitation out, but it makes the zippers a little tougher to navigate – particularly around the curves of the D.  These might loosen up as the bag breaks in.
Comfort & Design:
I'm not used to putting a duffel bag on my back, but I have always wanted to.  We've all struggled with large bags on long walks – trying to force their tiny hand-carry straps around our shoulders.  No More! The shoulder straps on this duffel are fully functional, well sized and they are actually comfortable.  North Face boasts their ergonomic design – and given that this is a duffel and not a backpack I am inclined to agree.
The duffel also has 4 hand straps – one on each side that make hauling and lugging the thing a bit easier.  However, it's possible that some will be annoyed about having to grip the shoulder straps (wider than normal) when carrying at your side as a traditional duffel.  This is a new and somewhat controversial feature on this updated model.   The old model had classic hand carry straps that reportedly got in the way – so they have been removed.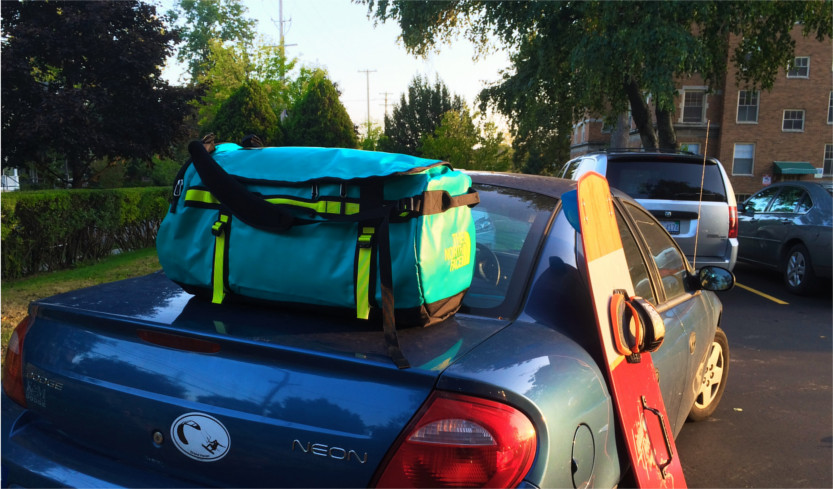 Value:
Ringing up at nearly $150, this duffel is going to be pretty great for outdoor activities – particularly multi-day trips requiring more gear and exposing one to the elements (water, snow, mud, rain, etc.).  It won't be quite as handy for low-gear, day trips because you'll be swimming in room and will want a smaller pack with smaller pockets.
Buy Now: $145 or to learn more, go to: NorthFace.com
North Face Base Camp Duffel - Gear Review
This bag is the perfect outdoor weekender or expedition bag. You'll need something smaller and more accessible for the average day trip.
The Good:
Rugged
Extremely Water Resistant
Lots of storage designed for portability
The Not So Good:
Limited external accessability
Too hefty for a day trek
Lack of small storage pockets