In March of 2016 we enthusiastically reviewed the latest release from Ninja; the Ninja Coffee Bar. At the time we were really impressed with all the nuances, the design, and the versatility that the Ninja Coffee Bar offered. Recently, the folks at Ninja announced their second generation Coffee Bar and our first thought was this seems sudden, do we really need a new one? When you have something as well designed as the first Ninja Coffee Bar, it is hard to follow that up with a better version. Well, rest assured, in a very short amount of time the folks at Ninja remodeled their Coffee Bar and came out with an even better version.  The nice thing about the new Coffee Bar is it gives you improvements that you never even knew you wanted.  They didn't reinvent the wheel, they simply made it better with subtle nuances and touches.  Read on for the full examination of the Ninja Coffee Bar!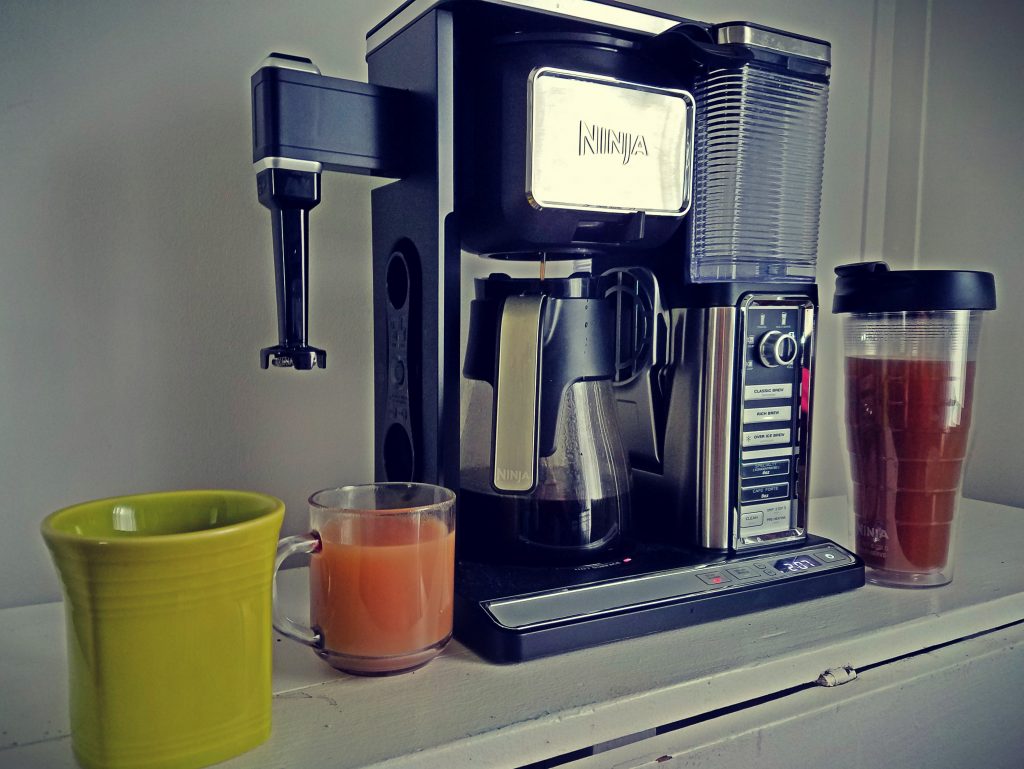 Key Features:
10-Cup (50 oz.) Ninja® Glass or Thermal Carafe
50 oz. Removable Water Reservoir
Ninja Smart™ Scoop
Permanent Filter
4 Single Serve Brew Sizes – Cup, XL Cup, Travel, & XL Multi-Serve
Built-in Hot & Cold Frother
20-Recipe Inspiration Guide
Additional Features Include:
5 Brew Types
Programmable Delay Brew
Drip Stop
Intelligent Clean Cycle Indicator
Ninja Coffee Bar Review Breakdown
Design:
You will instantly notice the design of the second generation Coffee Bar to be sleeker and more streamlined.  One of the biggest changes is the addition of the built-in hot and cold frother on the left side of the machine.   Ninja again equipped the machine with their own Thermal Flavor Extraction technology that is designed to deliver better, richer-tasting coffee with variable richness levels. The Ninja Coffee Bar brewer has Auto-iQ, the One Touch Intelligence technology, which draws just the right amount of water needed from the reservoir, based on the brew size you choose (cup, travel mug, half carafe, or full carafe) and brew type you select.
Another change  from last year's model is a little extra size with the carafe.  This year features a 50 oz carafe versus 43 oz last year.  Last year you often had to make an extra pot if you had some coffee drinkers over so it is definitely nice to be able to have 5 10oz cups available on demand.  The system also features a permanent filter that will provide a more robust flavor over paper filters, but that will produce a natural sediment. You can still use those paper filters in the brew basket if you prefer an easier cleanup.
A nice addition is the integrated scoop and storage unit so you can keep everything on the unit.  Last year's model you had to store the frother and scoop separately, so with the second generation model it is nice to have everything in one spot.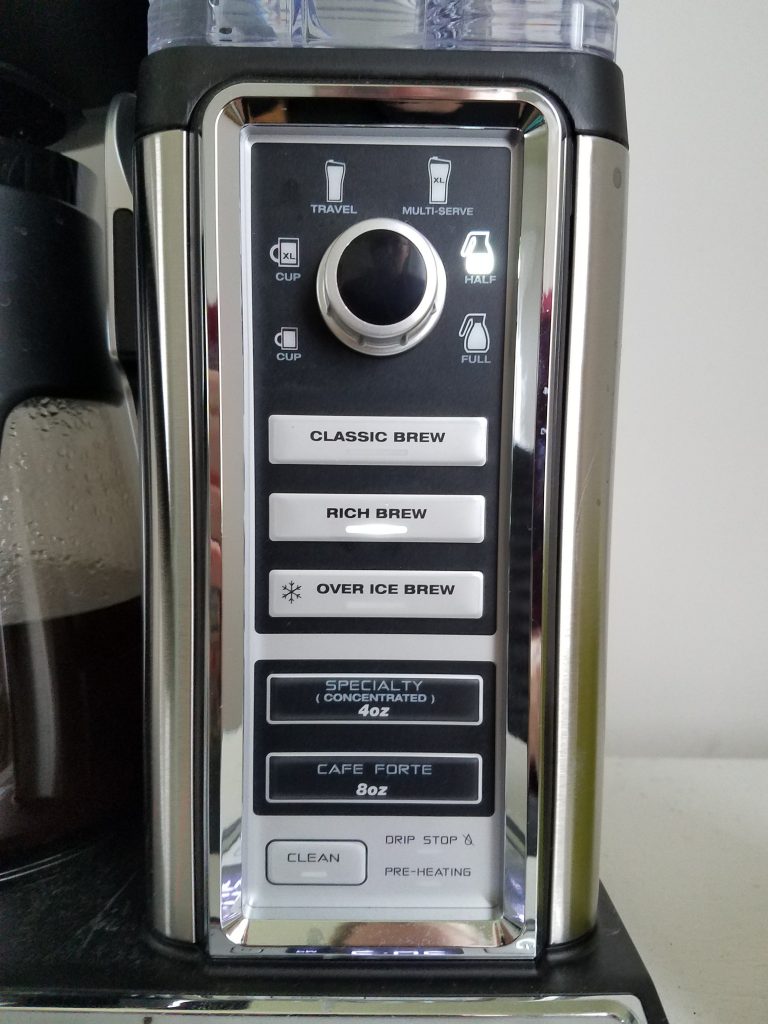 Brew Quality:
With the Ninja Coffee Bar System's variable richness settings, you've got endless options for whatever flavor profile you are looking for. One of the great things about the Ninja Coffee Bar is how adjustable it is for your lifestyle.  A noticeable change in this model is the quality of the flavor extraction.  We did a simple test of using Folgers coffee and trying cups by using each different setting; Classic, rich, over-ice, cafe forte, and specialty.  Each testing produce varying different flavors but using simple Folgers coffee grounds.
The fun really begins when introduce some more complex beans into the machine and play with the different the settings. This will help you to find your perfect cup of coffee.  We recommend going to your local coffee-house and doing some samples on different beans they sell to find something you really enjoy.
Specialty Drink Quality:
If you are a coffee enthusiast and love the process of making your own cup, them The Ninja Coffee bar is going to be your new best friend.  You will enjoy the ability to play barista at home and bring the coffee shop to friends and family.  When it comes to making specialty drinks there other more expensive units on the market but the Ninja will provide a lot of the same flavors and fun for a fraction of the cost.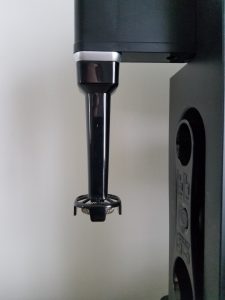 Once again we had a ton of fun playing around with the Ninja recipe book and crafting drinks. The addition of the built-in frother made this process a lot easier and more fun.  Last year could get a bit cumbersome making a drink and this year is more simplified.  Also new this year is the Cafe Forte option.  This option is designed to give you a full-bodied cup of coffee that maximizes Ninja's Thermal Flavor Extraction Technology. This will amplify your coffee's unique nuances down to the last sip.  Last year we didn't know we were missing the Cafe Forte option but now we can't remember life without it.
Value:
Priced at $179.80 we found the second generation Ninja Coffee Bar continues to have tremendous value, just like it's predecessor.   The folks at Ninja really added some fun additions and some nice improvements to make this model. Each enhancement is a subtle change from the previous year, but is greatly appreciated. If you appreciate a well crafted cup of coffee then you need to take a look at the Ninja Coffee Bar system.  This is not your simple brew system and if don't want some fun in your coffee then unfortunately the Ninja Coffee Bar is not for you!
Buy Now: $179.80 or to learn more, go to: NinjaKitchen.com
Ninja Coffee Bar - Appliance Review
Once again the folks have Ninja have delivered a really great product. The Ninja Coffee bar lets you play barista at home and whip of your favorite drinks at a fraction of the cost of your local coffee shop. If you are in the market for a new system, then check out the Ninja Coffee Bar
The Good
Brew quality is tremondous
Tons of different options to find the right blend for you
Easy Setup
The Not-So-Good
Pricier option than regular brew system
Requires a lot of ingredients on hand to make all the specialty drinks