Designed for incredible versatility, the Necky Manitou II is a tandem kayak built to handle it all – from sea kayaking to touring lakes and rivers – with the stability and comfort you'd expect from a recreational kayak. Its unique dual cockpit with one large opening and one smaller opening comfortably seats two adults plus an additional child or pet. While the aft seat can be adjusted for solo paddling.
For a closer – more visual look at the Manitiou II in-action take a second to check out the embedded product video below from our pals a Necky Kayaks!
When researching a kayak for review, I was drawn to the tandem style kayak, mostly because I'm a people person – I like to socialize, and a standard kayak is more of an independent type of thing. With a two-seater, you can bring along your bestie OR (in the case of the Manitou II) you can use it as a single person kayak (the seats adjust to accommodate), and bring your best furry friend along for the ride . . . or just extra beer. An obvious win win!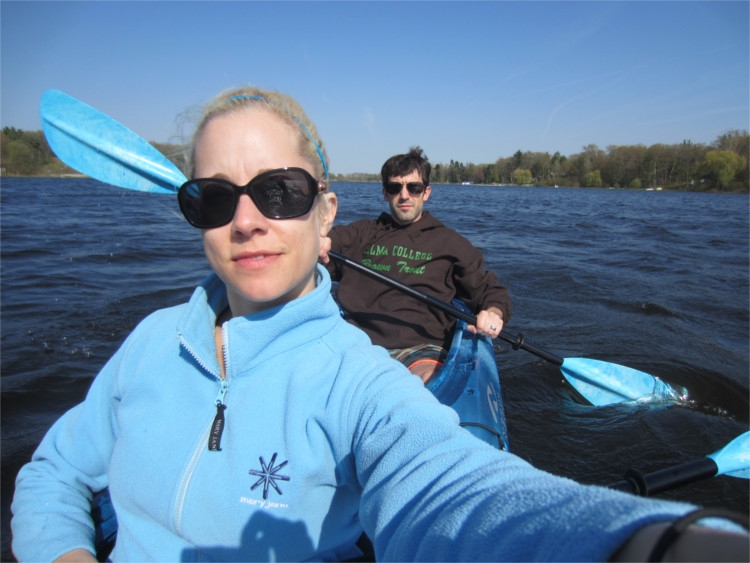 Key Features:
• Active Comfort System (ACS) seats (stern seat adjusts forward for solo paddling)
• Stern Quick Seal hatch with Cross Lock™ buckle system and bulkhead for ample, dry storage
• Unique dual cockpit for solo or tandem paddling
• Kid's (or pet) jump seat
• Support Track foot brace system
• Optional rudder system with foot pedals
Specs:
• MATERIAL: Polyethylene
• LENGTH: 14′ 8″
• WIDTH: 28″
• WEIGHT: 79 lbs
• BOW COCKPIT: 35″ x 17″
• STERN COCKPIT: 48.5″x18″
• STERN HATCH: 16.5″ x 10.5″
• STORAGE CAPACITY: 63.5 L / 3880 cu in (rear hatch only)
• MAX CAPACITY: 425-475 lbs
Necky Manitou II Review Breakdown
Design 
Aesthetically pleasing, comfortable as can be, and outfitted with some impressive storage capacity = fantastic design!! In fact, the active comfort seats in the Manitou II are a bit like sitting in an easy chair. They are super cushy and can be easily adjusted in a number of different ways to fit a variety of body types and heights. Each seat also has adjustable foot braces to help with comfort and stability on the water.
One of the more unique design features is the jump seat, which can be removed and added as needed.  This allows for flexibility in storage and who you bring along for the ride.  Additionally, there is a ginormous waterproof hatch at the stern that is capable of handling an impressive amount of gear while keeping it high and dry even if you happen to capsize.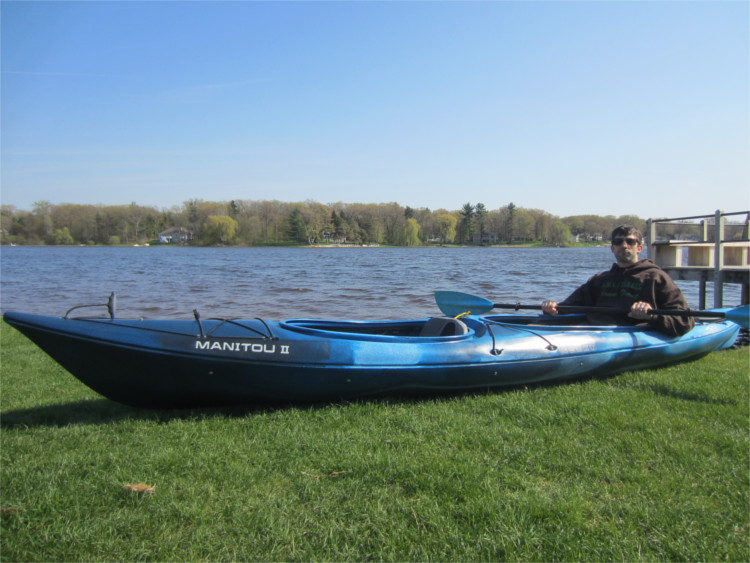 Maneuverability
While Necky specifically designed this kayak to be operated by either one or two paddlers we noticed it was a bit hard to steer solo, in our opinion it really takes a team effort to make effective turns in this nearly 15 ft boat. You also have to work a together to keep it tracking straight – both paddlers should stay synced with their paddles if you want to be efficient.
There is an optional rudder system (which we did not test), and I think this would have made manuring a bit easier. We should note, however, that throughout our testing sessions were battling some pretty strong cross winds and some choppy conditions out on the bayou. Additionally, this is a tandem kayak – it's simply not meant to be as agile as the single seaters.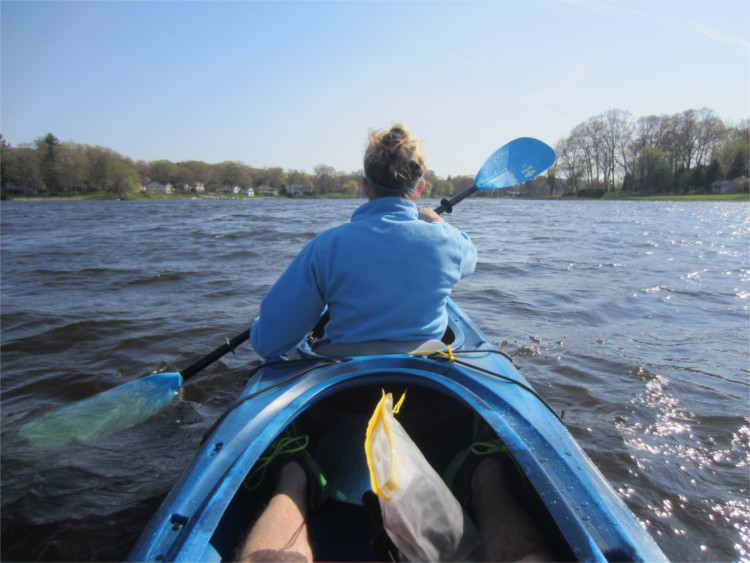 Stability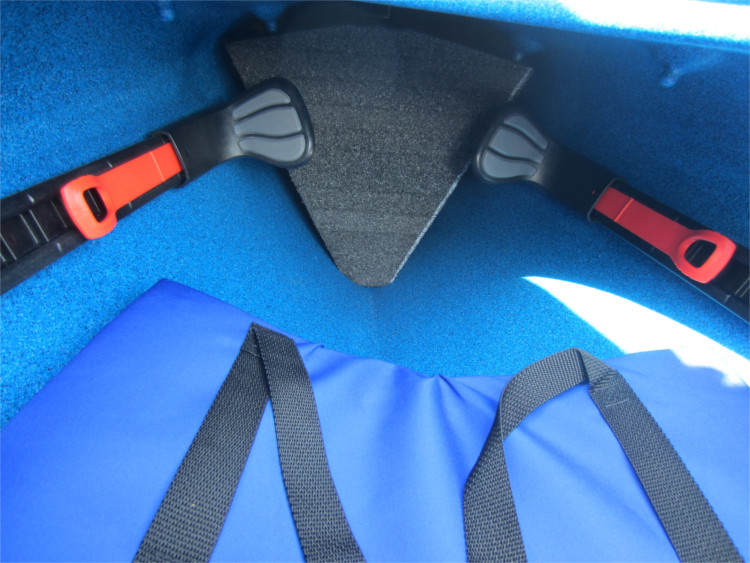 Throughout our testing sessions no one got dumped overboard or took on water, so that's a big plus in our book – AND – we were able load reviewers and gear in and out of the Manitou II from a dock (not always the easiest task!). Even more impressive is that throughout testing with the Manitou II, we did not encounter calm waters, there were pretty high winds, and it was a bit choppy – all the elements seemed to work against us, but the Manitou handled it well.
That being said, while on the water you could definitely feel when the other person was making a move/adjustment, or if their stride was off from yours. However, having paddled my fair share of solo kayaks, I really felt that the stability of this tandem was considerably better! I could make bigger movements and adjustments without feeling like I was about to tip over or capsize.
Storage
Got Beer? Because the Manitou II has got the storage space to keep you hydrated all day long! The stern hatch has a large waterproof cargo area that is completely sealed and with a capacity of 3880 cu. in you can pack enough gear to get you though the weekend. Not to mention, the rear cockpit is extra large and comes with a jump seat insert that you can use for a child or pet. Alternatively, the jump seat is removable, allowing for more storage space for fishing, camping and beach gear.
On the downside, basically all of the storage areas are only accessible by the backseat driver, which can make things a bit inconvenient, especially if you've got a thirsty co-paddler leading the way up front.
Durability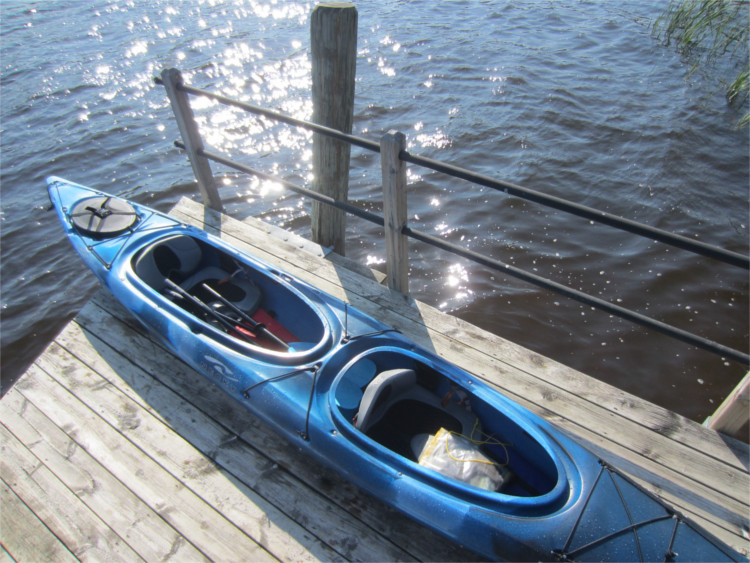 The fact that this kayak is produced by the same company that makes Old Town Canoes, leads me to believe this kayak will take a beating without a problem. I used to sell this brand when I worked for an outdoor store in Minnesota and I had people tell me that they slammed their canoes and kayaks off of rocks and submerged trees without breaking through the hull or sidewalls. Additionally, because of the dense polyethylene build, if there is a dent, it can usually be popped right back out. Overall, the kayak feels very solid and we certainly were not gentle on it – after 2 months of testing no gouges or substantial scrapes to report.
Value
If you are in the market for a kayak that can hold two people, as well as a pet or child, and a heck of a lot of storage the Manitou II is a solid choice. With a suggested retail of $1,199.99, you can't deny that you are getting a bargain – you will make some amazing memories for many years, and when you think of it like that, the price can't be beat.
Necky Manitou II - Kayak Review
As I said in the beginning, the Manitou II for 1.) floats (a must!) and 2.) holds a lot of beer - two solid reasons to check it out yourself. With all the other unique features, and a great price tag, there really isn't an excuse not to buy it! If you are looking for a dependable brand, a less bulky alternative to a canoe, and a way to make lasting memories with your friends, family, pets, or favorite drinking buddies, the Necky Manitou II is an investment you will not regret.
The Good:
Solid and durable construction
Loads of cargo space (and comfy seats!)
Surprisingly stable even in rough conditions
The Not so Good:
While it's setup to be piloted by 1 person, it's not all that maneuverable with one paddler
All storage space is positioned at the stern