If you're looking for a small, compact motorized camera mount that is compatible with your iPhone or GoPro then we might have discovered something that you'll want to add to your camera bag, or a side pocket.  The Galileo by Motrr is a an app-driven, motorized mount that lets you control the orientation of your iPhone or GoPro. You can program it to follow specific motion paths, or control it remotely from most handheld devices from anywhere in the world.  Plus, it works seamlessly with your iPhone and GoPro which makes setup time a breeze.  However, it does not currently work with any android device (sorry peeps – in due time).  Although Motrr has not officially announced when an Android compatible app will be ready, it's on their roadmap.  I will be one of the excited users that awaits the android compatible release.
So what separates this motorized camera mount from all the others that are on the market?  For me, it was the setup time, ease of use, and portability.  I would agree that the abundance of apps available to make the Galileo even more feature-full is a definite selling point as well, however, be prepared to spend some extra cash as 98% of all the apps currently offered through the Motrr interface are not free.
Design: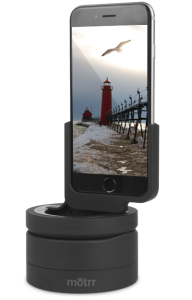 The Galileo is actually a very impressive design.  You get a full 360º horizontal panning rotation and a 210º of vertical tilt rotation.  If you also have a motorized slider, then you can combine the two for some amazing timelapse motion paths. The mounts that come with it are simple to use and have a nice snug fit.  To turn the device on, you simply twist the bottom while you have the Motrr App open on your iPhone.  The App will automatically see the device and prompt you to select "connect".  That's it.  No wires and no calibration necessary.  The only thing that could make this design better, is if the unit was waterproof and could also hold the waterproof casing of the GoPro.
Features and Apps:
Although Motrr did a great job with the design, they fell short on some of the applications integrations.  The free Motrr app is easy to use and gives you some basic features to get you up and spinning.  It was easy to set up the direction and spin time of the device through the "D-PAD" within the Motrr App interface.  When I mounted the GoPro on to the Motrr, I ended up using my Galaxy S3 to stream the feed via the GoPro App, so I could also control the Motrr app which controlled the speed and direction over time with my iphone.  This is nice so long as you have two compatible devices on hand. It would be much better to have the GoPro app integrated into the Motrr App so it could all be controlled from one device interface, but this is not soley Motrr's fault.  GoPro has yet to release a public SDK. So Motrr cannot control GoPro and Galileo at the same time like they can with iOS devices. They are working on adding some features which allow you to control Galileo Bluetooth from a single iOS device and assume manual control of GoPro. However, the Motrr features several apps to use within the Motrr Apps interface so you can control everything from just your iPhone.
App Integration:
One of the things that frustrates me when purchasing any device, is to have to purchase additional "add ons" like apps to be able to fully use every feature.  This is unfortunately one of those devices.  Each app worth using, you will have to purchase for an additional cost (ranging anywhere from $1.99 to $9.99 per app).  I'm not sure why these apps are not included in the total cost or why Motrr would not simply create their own app to gain full functionality of their device.  A neat feature on this device is to be able to give control to another user during a FaceTime or Skype chat.  The other user can control the direction of the motrr allowing them to follow you around as you do other activities for a convenient "hands free" virtual chat.  The app for this feature is free.  It was actually pretty neat giving the control over to my niece and nephew across the state so they could feel like they were in our house looking around and talking with me.
If you are getting this device for the main reason of doing some sweet time-lapse photography, each app that would allow you to do this with your iPhone has to be purchased.  Granted each app is only a few dollars, it is still frustrating forking out more money for a device that should come ready to do what you want to do.  The apps that are featured, do have free versions which I downloaded thinking I could use it, but when I chose the app within the Motrr interface it still prompted me to buy the full version.  There are benefits of buying these apps such as the TimeLapse and IguanaLapse so that you can pre-program the path, capture, edit, and post all from your iPhone.  You'll have a little more control using the IguanaLapse App as it includes options such as variable intervals and GPS triggering.
The Apps that are free worked really well.  Mainly the AtHome Camera and the Golem App.  The Golem App is used in the background so that you can use software such as FaceTime and Skype.  This is the software that gives control to a remote user that can then move the Motrr in any direction they please.  The AtHome Camera is used as a security camera which can also be used by a remote user (you) to control the Motrr and view your home when you are away.
This software also allows you to record, switch between front and back camera on your security monitor (iPhone), and even talk through the phone like a WalkyTalky when holding a button down on your device.  Great for getting your pets attention or a quick response to someone in the room. There are 17 available apps at the moment, but I would rather see more development on the Motrr app to include a more robust native timelapse feature.
Value:
At $149.95, Motrr's Galileo is almost there.  If they offered the apps as part of the total price and came ready to use, then I would say it's a good deal.  On the other hand, if you are wanting a device that can do a little more than just horizontal rotation timelapse, such as remote control video surveillance, then it's a decent buy.
Buy Now: $149.95 or to learn more, go to: Motrr.com
Motrr Galileo - Tech Review
The potential for this device is high.  With a little more software development and device compatibility it will be a serious competitor for motorized camera mounts.
The GOOD
Design is well thought out
Setup time is fast
The NOT so Good
No Android Compatibilty
Additional cost for most Apps
Battery life is not so great