Since it hit the shores of the U.S. in 2011, I have been completely infatuated with Spotify. Saying goodbye to shelling out hard earned money just for a single album, or spending hours burnings CDs (ha!), I thought I was set for life. So when I tuned into the Tidal launch last month, I felt very conflictd. A long time fan of Jay Z (and pretty much everybody else on that stage) I was inclined to hear out the full pitch of everything Tidal has to offer, but also feel I'm "completely happy with my current streaming music service, thanks". To really get to know Tidal I've spent the last month testing, comparing, and reviewing both services to see how they stacked up against each other. Here are my findings:
Music Quality: The Fine Print
The way in which Tidal sets itself a part, is its ability to listen to streaming music at HiFi quality sounds. Although this comes with a $19.99/month price tag vs. Spotify's $9.99/month, I jumped at the chance to enhance my music experience. I was quickly let down on my first listen, discovering by playing of the same song on both Spotify and Tidal that the sound was identical. It wasn't until I received an email a few days later that I realized hifi is only available on certain devices. And I, unlike Jay – Z, don't have access to listening to Frank Sinatra on my Sonos. In fact, the majority of the products on the list are very expensive and not necessarily household names. Most people stream music one of two ways – through headphones or bluetooth stereos, and the big guns – Bose, Beats by Dre, and Jawbone, are all missing here.
Music Videos:
Tidal: 75,000 vs Spotify: 0
Although it looks impressive at a glance, with Tidal's 25 million songs to 75,000 videos, the ratio is not that great. What's really worth your while are the exclusive content videos (Because one would safely assume, if you have a hankering for a certain music video you're most likely to head to YouTube), for example there's a charming behind the scenes video from Nicki Minaj's European tour that has all kinds of sweetness in it, including a young fan that Nicki let's take over the stage. It's these types of videos that I glossed over that I wished I more proactively watched from the beginning of my membership, to determine if they were as fun as the content provided by Nicki, or just filler.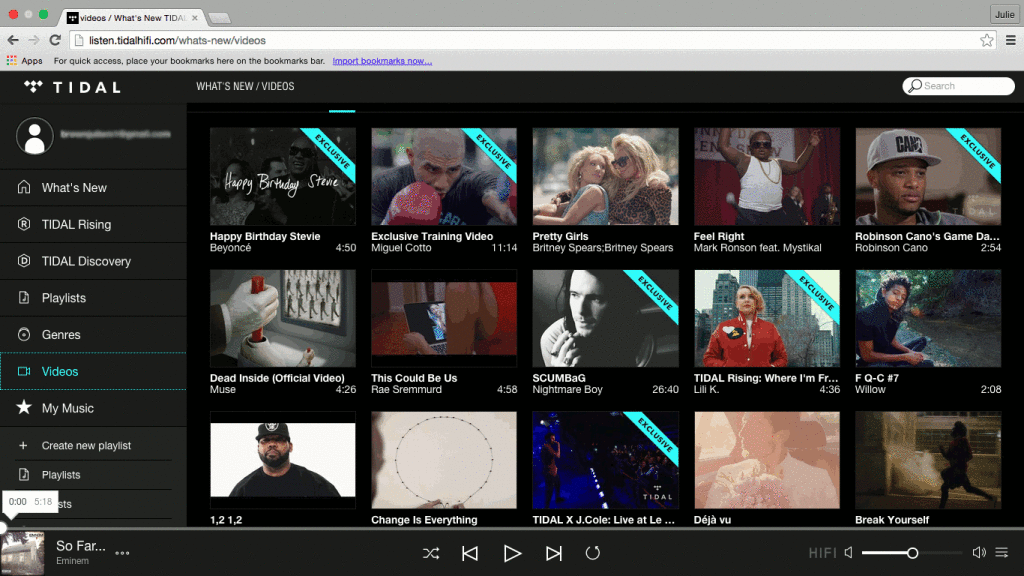 Songs:
Tidal: 25 million vs. Spotify: 30 million songs
The gap in songs were most apparent to me on New Music Tuesday, the day when typically latest singles and albums are released. There tended to be at least 2-3 songs from Spotify's New Music Tuesday playlist that I really like (i.e.: top ten material) that weren't available on Tidal, weeks later, if at all. This coming from a service that is supposed to be all about supporting emerging artists was disappointing.
Paid:
Tidal: 17,000 users Spotify: 15 million users 
Jay-Z made a very good point when responding towards criticism of Tidal, in that the company only has been around for over a month, vs. Spotify's nine years. Unfortunately for people who like to make snap judgments, it's very difficult to measure the long term success of a company in such short amount of time. Perhaps a key determining factor will be the number of people choosing to purchase HiFi Premium $19.99/month package because they have the correct listening devices, or the HiFi sound will become more commonplace in the future.
Playlists:
1.5 BILLION on Spotify vs. Unknown Total Amount (but definitely less) on Tidal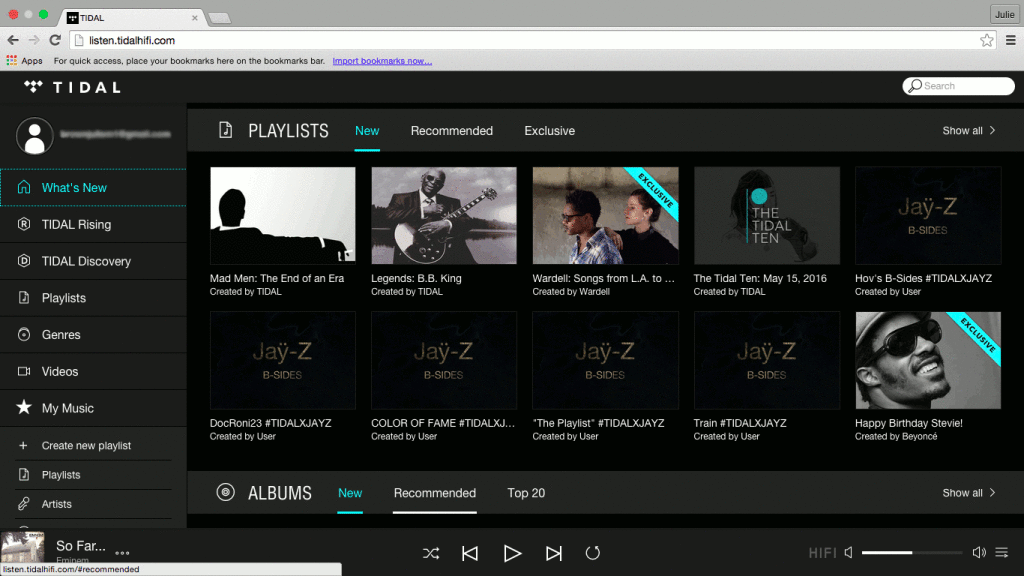 While Tidal can't compete numerically yet with the amount of playlists one has access to on Spotify, I do think there's something to be said about the quality of playlists on Tidal. At times Tidal playlists feel more curated than put together, with compilations like Beyonce's favorite festival songs, and the best of four decades by rock critic Linda Robinson. I found this piece fascinating, learning what songs influence your favorite artists, and sometimes it's just nice and convenient that someone took the time to put together a list of all the songs that Mark Ronson produced. In this regard, although Spotify has Tidal beat numbers wise, I think Tidal has the slight advantage. I've had a hard time with some of Spotify's lists in their genre or moods suggestions – the titles full of promise like Have a Great Day! or The Most Beautiful Songs In The World would fall a little short when it comes to the quality of the songs selected.
New Music:
Tidal: Tidal Rising vs. Spotify: New Music Tuesday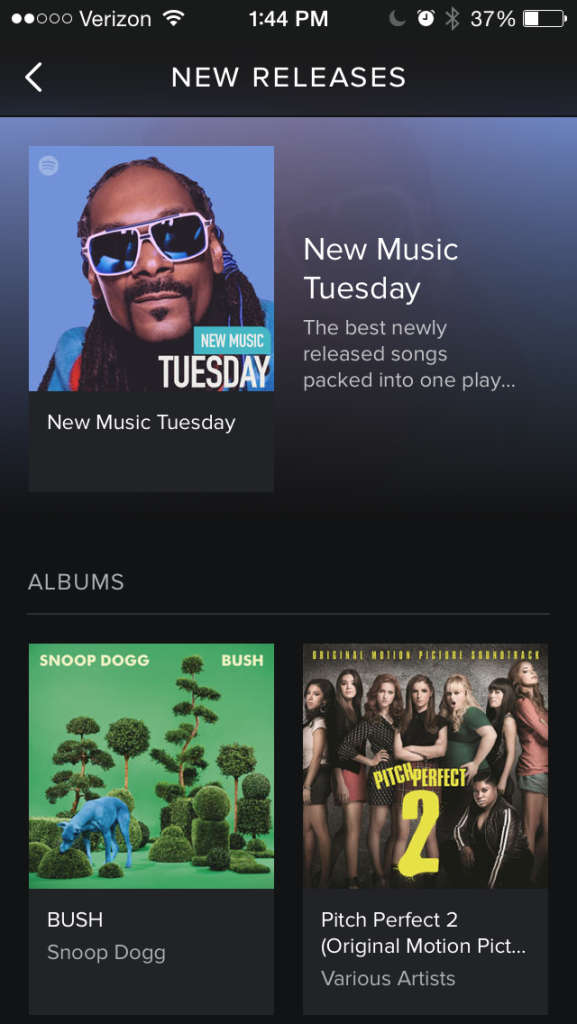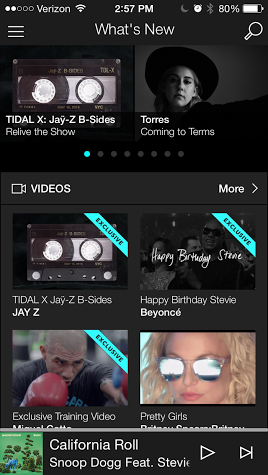 Spotify has the New Music Tuesday playlist, while Tidal has 'The Tidal 10' and Tidal Rising to share new releases. The New Music Tuesday list is a list with about 50 tracks every week, Tidal 10 of new (ish) tunes, while Tidal Rising features new artists in album, track, and video form, focusing more on independent 'unheard ofs' than say new music from Coldplay (that would be considered a Tidal exclusive). To get an idea of what's good from a full perspective, you really need to keep up both. Through no fault of either service, there's just that many new songs out at any given time. If I had to make one criticism about the unveiling of Tidal was that this aspect of promoting new and fresh artists wasn't reiterated more clearly, rather it was simply a panel of some of the richest entertainers in the world, encouraging you to bypass the middle man and give your money directly to them. I understand the full encompassing mission, but the way in which the message was conveyed was slightly off putting. Spotify does a good job of casting a wide net for new music, but can be overwhelming when you don't know where to begin (thus why Fresh New Music was created!)
Taylor Swift: 
Tidal: 5 albums vs. Spotify: 4 songs
Interestingly enough, after declaring the streaming music world an 'experiment' and pulling all her music from Spotify, Swift ok'ed her entire catalog (EXCEPT the hugely popular 1989) on Tidal. The four remaining songs on Spotify are either from the Hunger Game soundtrack, the Hannah Montana movie, or a live 3D experience version of 'Should Have Said No.' This exclusive Tidal availability could be a make or break for her many, many loyal fans.
Apps: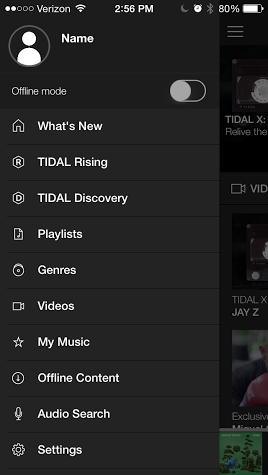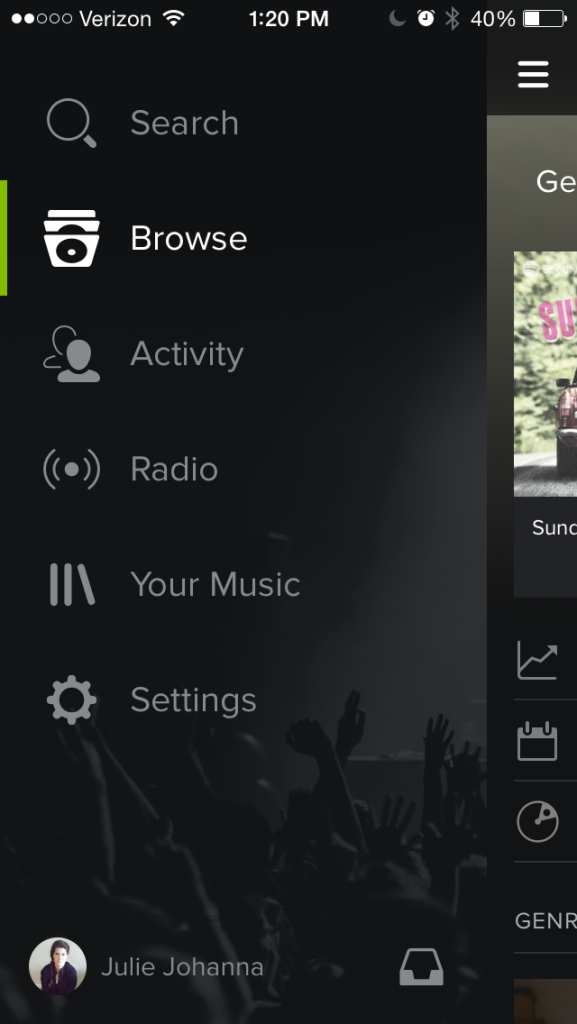 The set up between both companies brand's apps are relatively similar, with a menu column available upon entry to the left. If I had to make the call, Tidal's overall design makes it easier to navigate between your organized music. It also makes it easier to find new music, via the What's New tab on the home screen. From here it breaks itself up into exclusive content, videos, albums, and tracks that have just been released. Both Tidal and Spotify apps are available on the iTune app and Google Play stores.
Recommendations:
Overall I think reviews criticizing Tidal have been unfair, as it delivers a very high quality streaming service, especially if you have the devices that support it's HiFi quality streaming. The only problem is, this high quality service is very similar to the other high quality streaming service, Spotify. If you have never used Spotify or Tidal before I recommend starting Tidal's 30 day free trial, listening to as many musician made playlists and watching as many videos as you can. Take note of how you feel at the end of the month — do you feel like it opened up a whole new world of musical content, or do you feel your money would be better spent on just having unlimited basic music listening services?
If you use Spotify currently, I recommend trying the 30 day free trial. I will say though, it was easy to "forget" about Tidal, and would revert back to using Spotify, as that was my comfort zone. If you do go this route, you're most likely to get the most out of Tidal by quitting Spotify cold turkey for the month, and then assessing how you feel at the end.
Where I Stand:
For me, I'm still on the fence. I have too many playlists in Spotify to say goodbye forever and have a solid allegiance to its New Music Tuesday playlist. Yet I do really enjoy the high quality of Tidal playlists. So I'll be in a (probably really really small) demographic of those who has both services, for now. But be forewarned Mr. Carter, all your fancy friends, and big wigs in Sweden alike: I will sign my allegiances with whoever can woo me over more.