Masterbuilt is a name that cooking enthusiasts are surely to know. In 1973 Dawson McLemore started the company in his backyard where he would bend steel with his bare hands to make fern stands. Dawson and his son John quickly pivoted to making fish cookers and things escalated from there. The company is now one of the most trusted and popular brands for smokers, fryers, cookers and grills. Masterbuilt recently asked us to review their new 30 inch Bluetooth electric smoker. We sent the electric smoker off for some testing and after a lot smoke, food tasting and a couple of extra pounds, we are happy to share our results.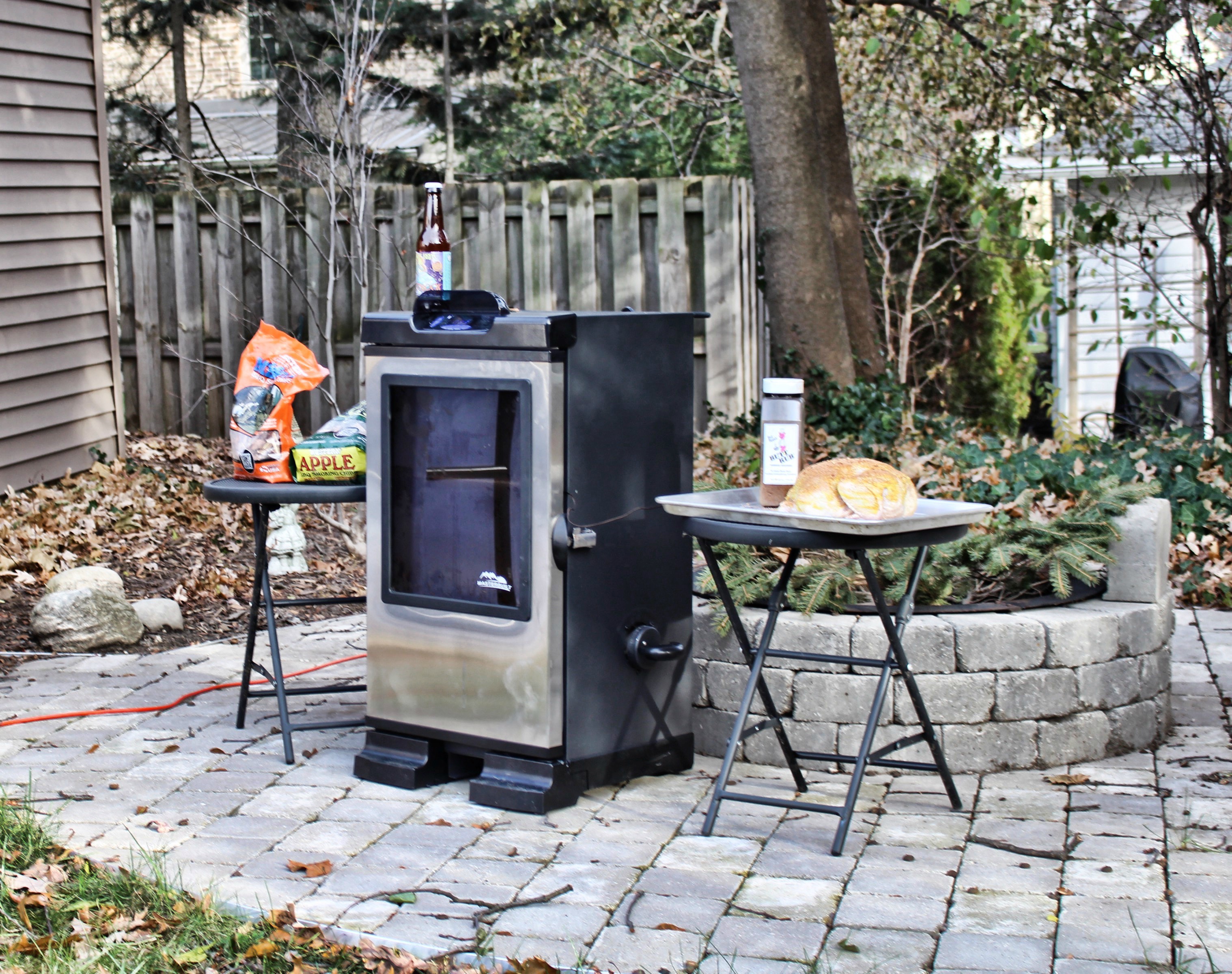 Key Features:
Four chrome-coated smoking racks — smoke up to 80 lbs. of food!
Integrated thermostat temperature control for even, consistent smoking temperatures
Watch food cook with viewing window and internal light
Built-in meat probe thermometer for perfect results every time
Patented side wood chip loading system to add chips without opening the smoker door
Front blue LED digital control panel design allows for more prepping space on top of the smoker
High output LED lights illuminate food in low light when door is open
RF remote controls on/off, temperature, time, light and monitors internal meat temperature
Removable water pan, drip pan, wood chip tray, and front access grease pan for easy cleanup
Drip deflector diverts drippings away from the wood chip tray and moves grease into a centralized location away from the heat source for easier cleanup
Top air damper for smoke control
Rear-mounted handle and wheels for easy mobility
Masterbuilt 30″ Bluetooth Electric Smoker
Setup:
After unboxing there is some light assembly to be done. The most time-consuming process of the smoker is getting thing unpacked. Everything is securely wrapped and zipped tied down. We were slightly annoyed by all the unpacking but then you realize it's because they put so much care in the packaging that they want it protected. Overall, it takes you about 15-25 minutes to get everything unpacked. It will take another 15-20 minutes to get everything assembled and put together correctly. The funny part with the setup is that's the hardest part about using the smoker because it's so easy once you start to smoke. More to come on that!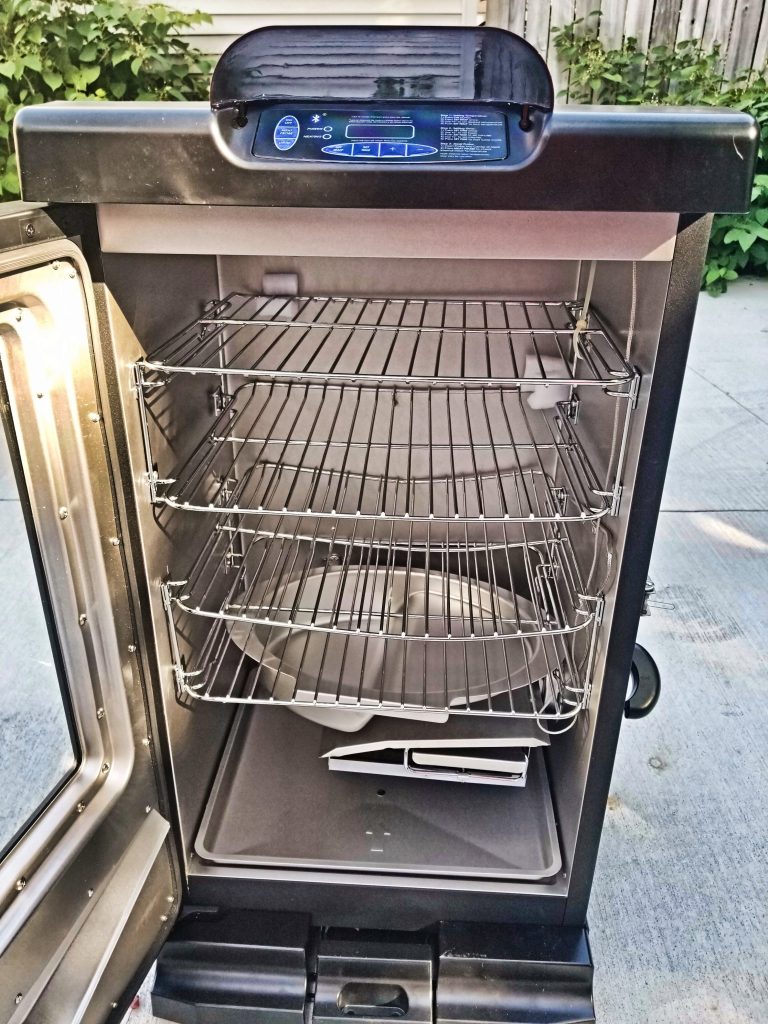 Also, part of the setup is pre-seasoning the smoker. Make sure the water pan is in place with no water in it. Set smoker temperature to 275°F and allow the unit to run for three hours. During the last 45 minutes, add ½ cup of wood chips in the wood chip loader to complete the pre-seasoning process. Power off the smoker and allow it to cool completely. Pre-seasoning your smoker is a must and your meat will thank you later.
Design:
The amount of technology in the Masterbuilt Bluetooth Electric Smoker is impressive. First, the fact that it has Bluetooth is nice feature. By downloading the app (iTunes / Android), you can instantly check out the temperature of the meat probe. You can always check the meat temperature on the unit but it's nice to be in your house and not have to worry about it. The Bluetooth range is not that great, averaging 30 to 40 feet. I found myself not really using the app that much since I'd like to look at the meat through the glass. The smoker features an integrated thermostat temperature control that is designed to produce even consistent smoking temperatures, which is critical to smoking. The LED panel on the front features temperature control, meat probe temperature, clock settings, and features a light so you can see when you are cooking at night.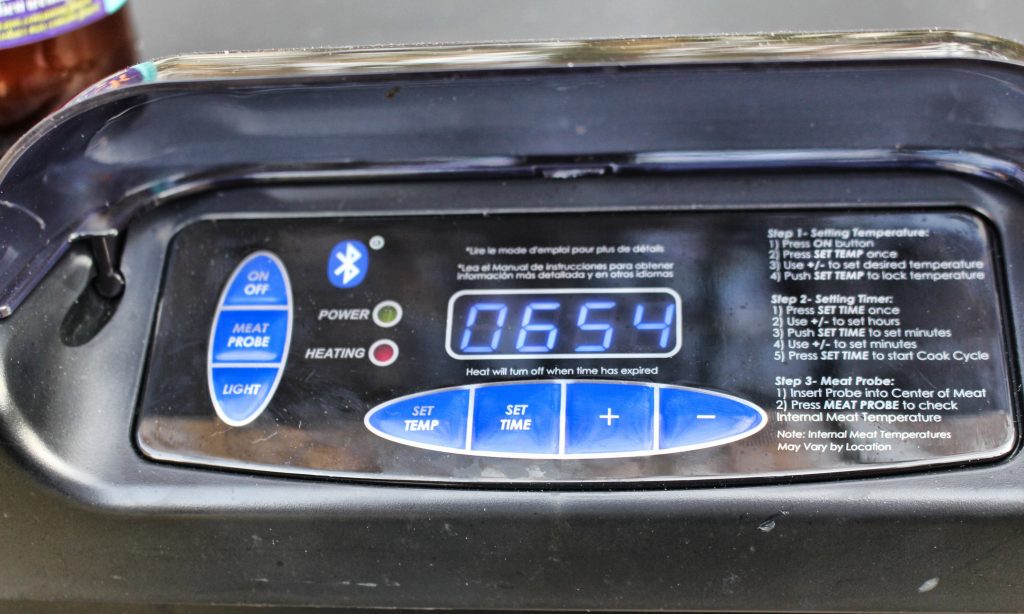 Inside the smoker you have four chrome racks that should allow you to stack around 80 pounds of meat. If you need more space they also make a 40-inch unit that might be a better fit. A great feature we like is the glass viewing so we can check on our meat. It will get dirty easily and you won't be able to see in with chips burning but most of the time you can keep an eye on your food. Despite all the technology in the unit our favorite is the side wood chip loading system to allows you to add chips without opening the smoker door. Keeping that door closed is one of the most critical things you can do for producing great smoked meat. On a 14 hour pork butt roast we opened the door once and that was only to wrap the butt in foil.
Finally, pretty much everything inside the unit is removable from the racks to the water drip pan and grease tray. This makes the smoker very easy to clean and helps make it last longer. Masterbuilt has really taken a lot of the hard work out of owning a smoker. This unit is easy to set up, easy to smoke, and easy to clean.
Performance:
Any time there is a cooking involved you run the risk of human error. You can have the best equipment but you might not have the best chef doing the work. The Masterbuilt Bluetooth Electric Smoker really takes the hard work of smoking. It is actually hard now to screw up the finished product. The biggest thing you will appreciate is the consistent temperature which is critical to have a great end product. With this electric smoker, you can maintain that consistent temperature that allows the meat to get to its cooking temperature in a slow, consistent fashion. This will make the meat tender and juicier. Obviously, there are things you can do to make your product turn out better (BRINE! BRINE! BRINE!) but overall you can season the meat and let Masterbuilt do the rest, and it delivers the goods.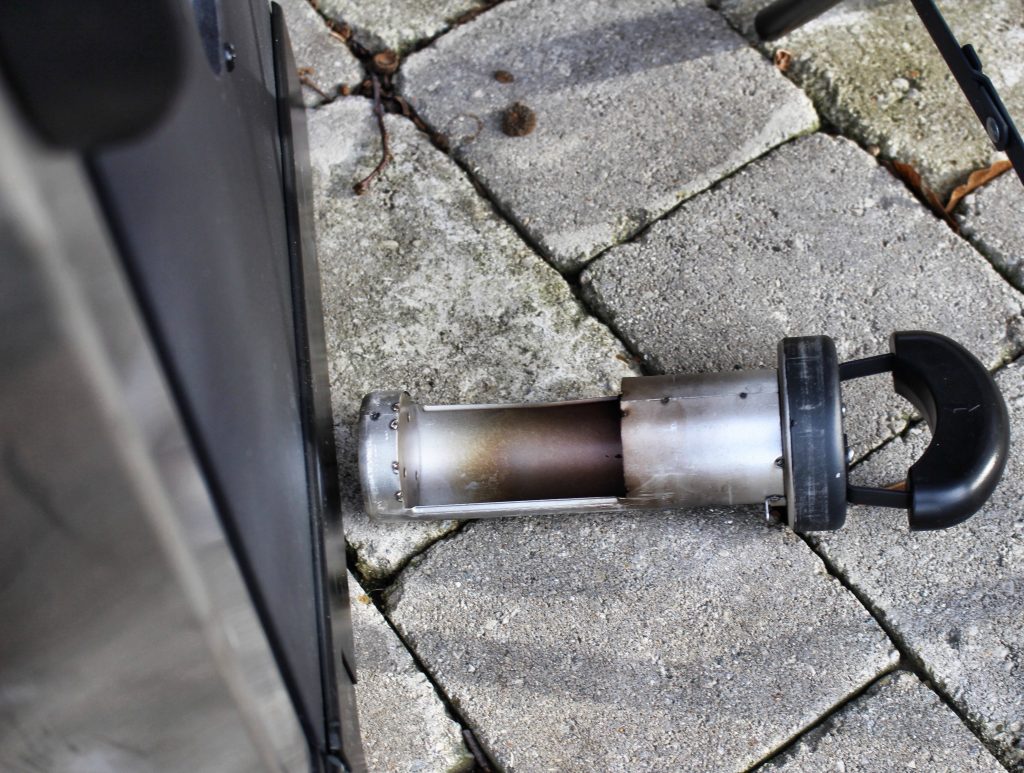 One thing on the temperature control is the smoker doesn't always get up to the temperature you set it at. For example, we wanted 225 degrees and the unit would only get to 219-220. So, if we truly wanted 225, we would have to set the unit to 230-ish. Some of this is dependent on the outside temperature and weather conditions but we thought it was odd it wouldn't climb to the right temperature. It's not a deal breaker and an easy thing to work on but good to know going into your smoke session.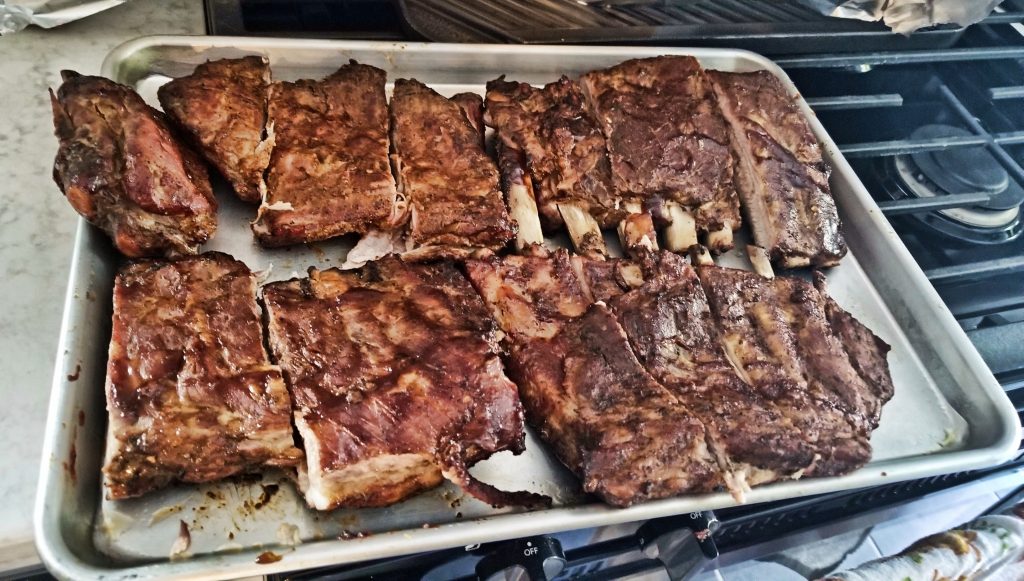 Value:
Currently, the smoker is available on Amazon for $330, which is about $70 off its regular retail price. Either price is worth it in our opinion. With Christmas coming up this a great gift for the cooking enthusiast who wants to step up their game. Smoking can be an intimidating process because it's easy to screw up. Nobody wants to buy that $100 brisket and dry it out because they couldn't keep their temperature consistent. This Masterbuilt Bluetooth Electric Smoker does a lot of the heavy lifting for you and delivers consistent results. If you order now you can get it before Christmas and you make your recipient as happy as they can be. Also, they will probably share some of the meats with you, so everyone is a winner.
Buy Now: $330 or visit Masterbuilt.com for more information.
Masterbuilt 30" Bluetooth Electric Smoker
Masterbuilt's Bluetooth Electric Smoker is a must have for any backyard. If you want to shop for the person who has everything, consider this smoker for them! It's easy to use and produces great results.
The Good:
Easy to use- anyone can do it
Consistent temperature control allows for great end product
Meat probe is incredibly accurate
The Not So Good:
Temp control would go to desired temp- had to set higher
Bluetooth range is limited