'll just put it out there. When thinking about reviewing the Lowepro ProTactic 350 AW for a split second I thought about performing a field test at the shooting range. With the ProTactic 350 AW as the target. While this of course a camera backpack, but it feels like high quality military gear. It's pretty crazy to even consider that and it speaks to the quality of this pack.
The ProTactic 350 AW isn't a traditional roomy backpack, it is a rugged, compact protection pack. It comes equipped with a semi rigid ActivZone harness that helps with ventilation and support as well as modular accessories to transport items outside of the bag itself. Again, this bag is rugged and flexible. Let's take a look at the main elements that make up the bag.
Key Features:
• 4 access points: the molded, turret-loading top, quick-grab from both sides, and full, back entry
• SlipLock™ compatible strap system
• 5 five modular accessories: water bottle pouch, accessory case, tripod cup and two cinch straps – all SlipLock-compatible and included with pack
• ActivZone System™ technology to deliver targeted support at shoulder blades, lumbar and waist for comfort on the move
• CradleFit pocket that suspends and protects devices like laptops and tablets within the pack
• Multiple interior and exterior pockets
• All Weather AW Cover™ that protects pack from the elements
Specs:
• 1-2 Pro DSLRs, one with up to 24-70mm f/2.8 lens attached
• 6 lenses/speedlights
• 13″ laptop
• Tripod
• Accessories
Lowepro ProTactic 350 AW – Review Breakdown
There it is again. I just thought about tossing the ProTactic 350 AW with all cameras & equipment under the wheel of my car just to see if it *could* stand up to the test. Of course it wouldn't, but that is the biggest take away with this backpack – the unparalled durability, strength and quality.
Durability:
I'll say this, Lowepro doesn't do this pack enough justice when it comes to the rigidness and strength of the product. If you knock your hand on the pack, you will much sooner draw blood than you would severely damaging your equipment. This pack is a beast and you could fall over climbing, land backwards on your equipment and not even need to check it. This feels like a portable fortress.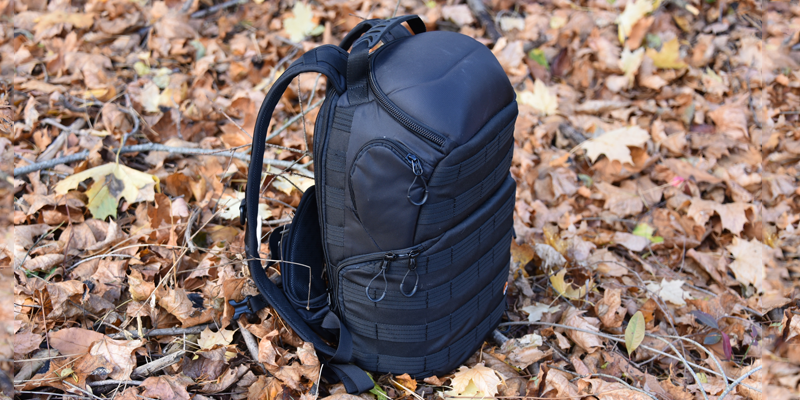 Look:
As a minimalist, I was worried that the straps would be too much on this pack. They aren't — this looks fantastic. I could easily see Tom Cruise falling down from the ceiling with this bag strapped to his back. It has a very simple (yet detailed) tactical look. I couldn't be happier.
Storage:
The configuration option are through the roof, but this is not as roomy as other Lowepro products. It's not supposed to be. This is a sleek perfomance device that has a main compartment (along with a space for small computers & tablets) and exploiter pockets on the sides of the bag. Additional items can be added using a belt system (as well as a tripod mount). There is a small amount of storage locations in the main pocket including a zipper and elastic quick access pocket, but there could be a bit more. You'll need a system in place so that you know which external pocket to look at when trying to locate your gear.
Lowepro claimed that you could fit 2 DSLRs in this bag (one with a 24-70 lens attached.). I went further and was able to put in 2 DSLRs one with a 18-55mm lens attached and one with a 28-300mm lens attached. This was very tight (obviously) but it shows just how much can fit in the pack.
Access:
For a streamlined bag I was pleasantly surprised with the options I had for camera access. You can use both sides (yay!)  or the extra rugged top section. Again, this bag is form fitting — it's a loose fitting item made for strolls in the park. Getting it on and off is a bit of work. Again, this should be expected as loose-fitting casual gear typically is the worst performing in hard, vigorous conditions. So getting on and off once you have it dialed in is not an instant task.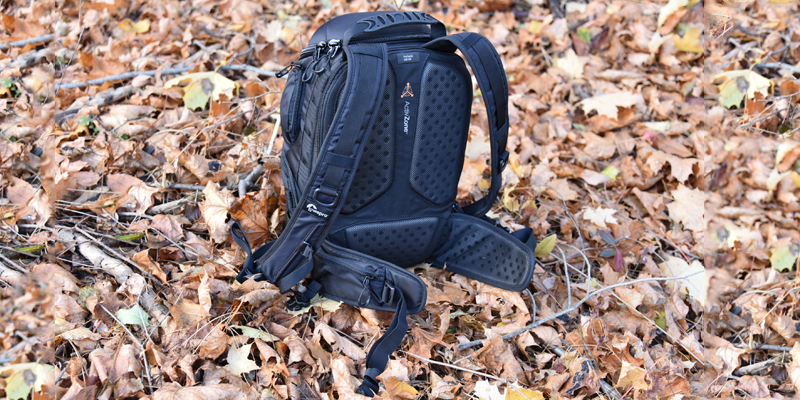 Comfort:
Feeling down? Need a really tight hug? Forget the significant other, the Pro Tactic 350 AW will spoon the heck out of your back, while also keeping it as cool as you possibly can be. This is a sleek pack and when you have it on you feel one with it. The only portions that aren't as nice are the add-ons that can be a bit clunky as they are exterior belt based storage.
Overall, this is a fantastic, superior camera backpack. If you are looking for roominess — this isn't for you. Go try the Transit 350 AW, it is a great bag that is spacious and roomy. If you are looking for performance and durability, this is your backpack. As I am writing this, I am considering getting up on my roof and tossing the bag full of equipment off in discus fashion, just so I can smile as I open it up to see it all enact and unfazed.
Please don't try any of these stunts as they will likely fail, but do expect to see confidence boosts of 10-15% after purchase!
Buy Now: $199.95 or to learn more, go to: Lowepro.com
Lowepro ProTactic 350 AW - Gear Review
The Lowepro ProTactic 350 AW is a fantastic streamlined camera bag that screams quality.
The Good
Built like a tank
Very comfortable, hugs your body
Extra storage outside of the bag
The Bad
Not overly roomy
When on back, slow to get access
Bag doesn't fit a mid-size laptop