Any photographer that likes to travel with gear needs a bag that's large enough, functional, convenient and comfortable.  If you have ever heard the names of any top brands in the photography gear world, then you most likely have heard of Lowepro.  Lowepro began when mountaineer, photographer, filmmaker and incessant product innovator, Greg Lowe developed the internal-frame backpack and the first lightweight and foam-padded nylon cases to protect camera and cinematography equipment from the hazards of climbing.  Greg felt the need to carry his valuable gear to new places, but had to keep the cargo protected.  His idea's and solutions started it all, but the Lowepro brand's story still continues today.
Their line of the Pro Runner II series are great for photographers who travel.  Lowepro recently gave us the opportunity to test out their Pro Runner RL X450 AW II.  This bag will help you get to where you are going with ease so you can continue your work flow while on the road.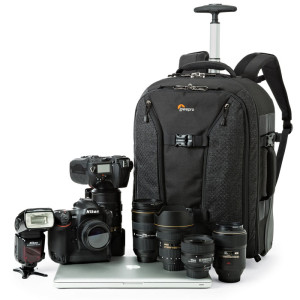 Key Features:
Holds up to 2 DSLRs, one with lens attached (such as Canon 5D Mark III with up to 70-200mm f/2.8 or 30 mm), OR 1 DSLR with lens attached (such as Canon 5D Mark III with up to 70-200mm f/2.8, or 300mm) and 1 Pro DSLR body
5-6 extra lenses (one up to 300mm) and speedlights
Up to a 15" laptop, 10" tablet, plus Wacom type tablet
Large smartphone, pro tripod and accessories
Internal Dimensions: 31 x 16 x 43.3 cm (12.20 x 6.30 x 17.05 in)
External Dimensions: 35 x 22.9 x 52.5 cm (13.78 x 9.02 x 20.67 in)
Weight: 4.36 kg (9.59 lbs)
Pro Runner RL x450 AW II Review Breakdown
Design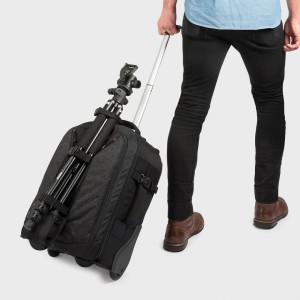 The RL X450 can take you through busy airports or crowded streets.  Roll it behind you for ease, or throw it on your back when you have to climb some stairs.  The backpack shoulder straps get tucked away into a hidden pocket on the back and the waist cinch strap is removable to allow for proper rolling.  I actually just carefully tuck in the straps of the waist cinch  during times when I may need to use it so I don't have to remove it completely.  It's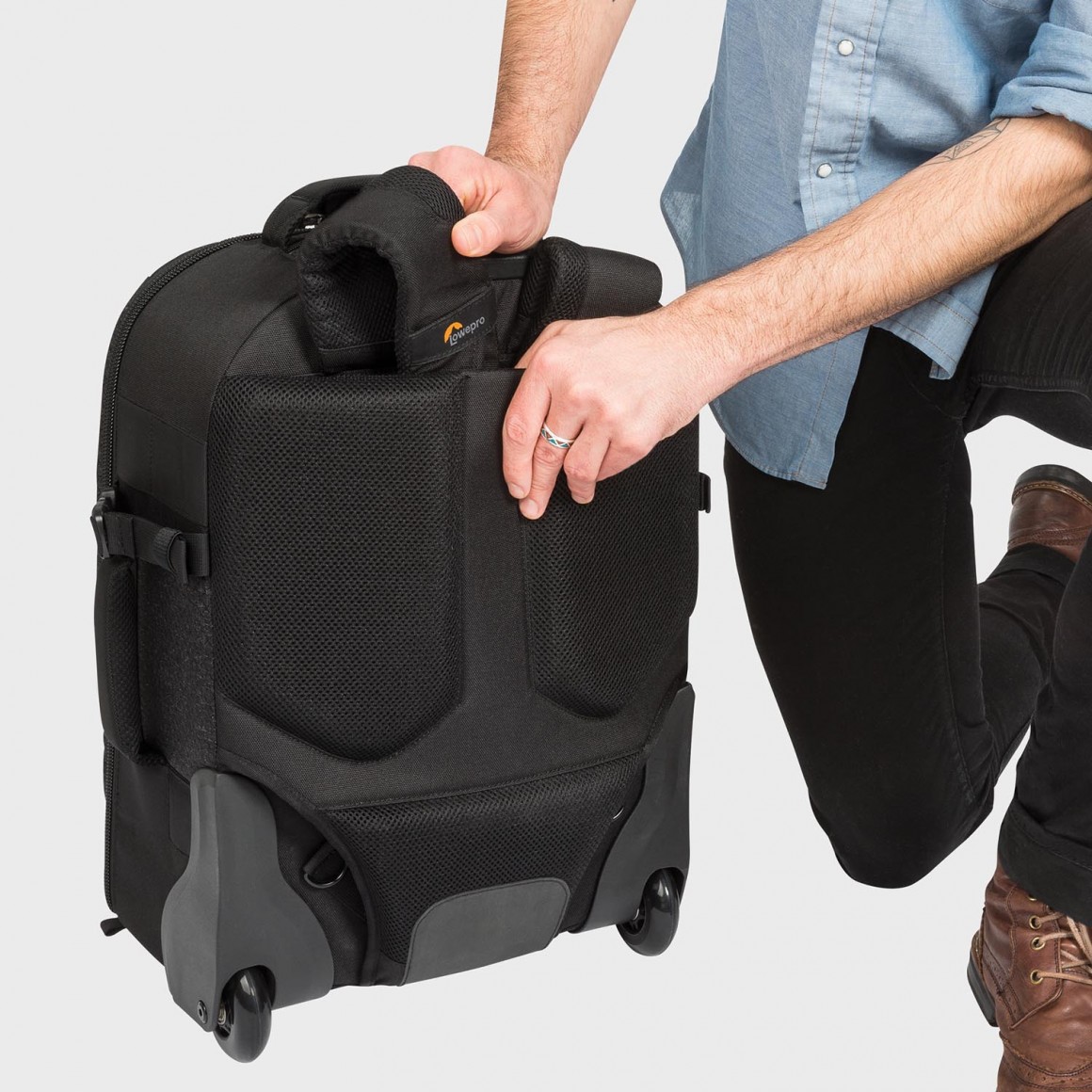 not very easy to take off and put back on especially if you need to quickly go from pulling the bag behind you to carrying it on your back.  The waist strap isn't really that necessary though if you are just carrying the bag for a brief time on your back.  So unless you know for a fact that you will need it, it may be best to remove it so it doesn't get in any way.  If you need to carry a tripod, their is a holder that gets attached onto the front to hold the feet, and then you just tighten the straps around the legs.  The size of this bag was designed so you can use it as a carry on bag for airplane travel.  Of course, you will have to remove the tripod for it to be within the allowed dimensions.
Storage
So you need a pocket for your laptop?  Done.  You'd like to bring along your Wacom tablet for editing? No problem.  You're worried about losing batteries or memory cards?  There's a pocket for that.  You have options for it all; And that's just the little stuff.

Like most camera bags, the RL X450 comes with adjustable padded dividers in the main compartment so you can adjust as needed to fit your choice of gear.  It could hold up to two camera bodies with possibly six lens's.  It will take some tweaking to fit what you want, where you want it.  I fit one DSLR body and four lens's along with two off camera flashes and all my cords, triggers, filters etc.  It even comes with a little storage pouch for your batteries, cords or anything else you want to use it for.  There is a rain cover included in this bag that is tucked away in one of the many 'hidden' compartments.  The top straps that help hold the tripod are also hidden in a little pocket under the top carrying handle.  Sometimes I wonder if I passed over any other secret pockets.
Comfort
No camera bag is more comfortable than when you don't have to carry it on your back or shoulder.  Pulling it along takes all the pressure off your shoulders, neck and back.  On my back, this bag is a bit awkward.  The size and shape don't make it an ideal bag to haul around as a backpack for long periods of time.  The trolly handle pops up easy, and the urethane wheels glide smoothly along.  It rolls quietly on hard surfaces and is easy to maneuver through busy areas.  If I didn't have to, I would never carry this bag on my back.  But lets face it, there will be a time when those backpack straps will come in handy and they will be greatly appreciated.
Value
There's a lot of competition out there with camera bags.  This one holds a large amount of gear for its size and functions smoothly for travel (especially by airplane).  At the price of $400, it's a great investment to protect and carry your gear.
Buy Now: $400 or to learn more: Lowepro.com
Lowepro Pro Runner RL x450 AW II - Gear Review
Made for photographers who need to move quickly and easily through busy locations, and who like to keep their gear at hand when traveling.
The Good
So many pockets! Holds a good amount of gear.
Smooth rolling wheels and easy pop up trolley handle.
Tuck away backpack straps.
The Not so Good
Uncomfortable when carrying on your back.
Waist cinch was hard to remove and put back on.