Outdoor photography is a favorite for us, and MindShift Gear has the camera bag that will take us more places.  The company is founded by the creators of Think Tank Photo, which is a group of very committed professional photographers and product designers who have a passion for being outdoors. While Think Tank Photo is well-known for their high quality, versatile and durable photography gear, they don't really make gear suitable for outdoor photographers. That's where MindShift comes in. They are solely focused on developing gear that can handle almost any outdoor adventure you go on; there motto–"Engage with Nature".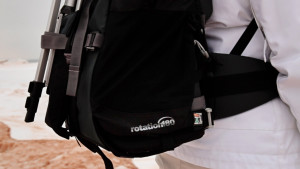 We were excited when we were given an opportunity to review the new Mindshift rotation 180° Professional Deluxe Backpack (r180° Pro) to see if it could stand up to all the hype. Let us start by saying this camera backpack is like flying in a first class luxury suite (we can only imagine), but in backpack form. It gives you all the space you need and the convenience that makes it a top of the line bag. There is no other backpack that can even compare.
The main purpose of this bag is not only to hold loads of gear, but the ability to access it without having to take the whole thing off. We wanted to put it to the test in our harsh winter weather, when we usually find it the hardest to maneuver and access our camera and equipment. We loaded the backpack up and hit the trails for a day long hike.
Key Features:
Rotating belt pack
Removable sling for easy tripod attachment
Waterproof rain cover (still allowing rotation of belt pack)
Hydration reservoir pocket
Fully adjustable shoulder straps
Rail on waist belt for attaching modular components
Back panel allows convenient access to upper compartment
Internal aluminum frame
Memory Foam back panel with air mesh channel
Adjustable ice axe/ski carry loops
Front pleated stash pocket
Safety whistle built into the sternum strap buckle
Additional Features (Deluxe Version):
Detachable tripod suspension kit
Removable top pocket
Padded photo insert for top compartment
Extra attachment straps
rotation 180° Pro Review Breakdown
Design:
MindShift Gear put a lot of thought into this backpack. It is so innovatively designed. The rotation belt is just plain ingenious. One of the worst things to have to do when out on hikes for photography, is to waste precious time by taking your pack off just get to your gear (and trying to find a dry area to put it down on). The rotation belt is easily accessible when the backpack is on your back, so you don't have to miss that perfect moment shot.The upper compartment can be used to carry food, extra clothes or necessities when you don't have the photo insert in place. The insert is a great addition for days you need to bring a crazy amount of gear, but we wouldn't recommend it for those overnighters. Only because there is minimal storage space for your extra essentials with it in. The rotation belt can also be used alone as just a waist pack for those short outings. The adjustable sternum and waist straps keep the backpack tightly secured to your body with minimal movement and can be adjusted to fit multiple torso lengths. This backpack has an amazingly good balance of weight using the built-in ergonomic adjustments, making it easy to wear for long periods of time.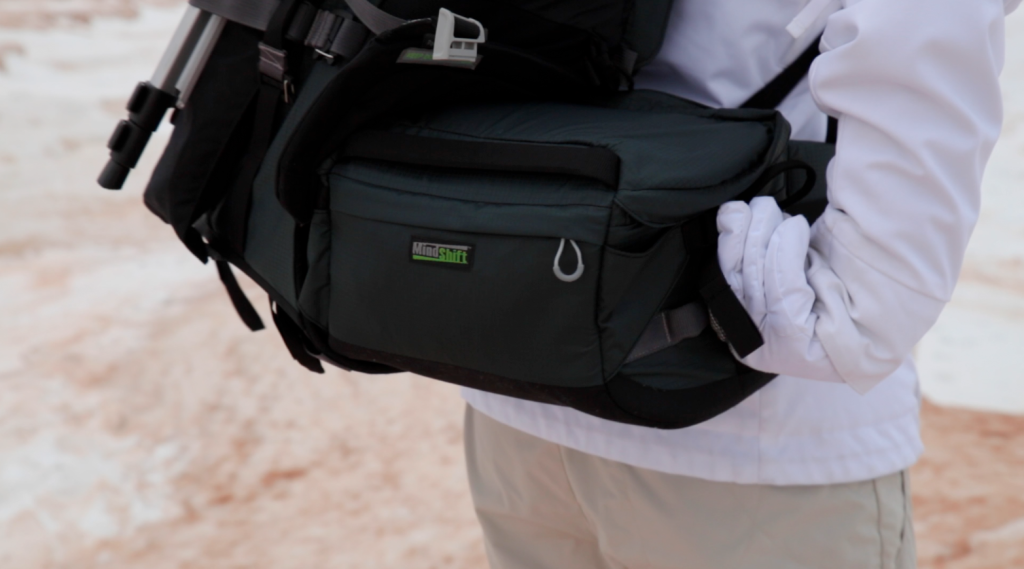 Durability:
While it might not be "military approved", that we know of, the rotation 180° Professional backpack is made from a highly durable material and rugged zippers. It comes with a rain guard for both the main backpack and the belt pack. Additionally, some of the side pockets and zippers are made with a weather-sealed coating. We are pretty confident that this backpack will be able handle all of the extreme elements and situations you through at it.
Comfort:
The back of the pack is made of a thick comfortable foam that has airflow technology running vertically in the middle of it. This feature helps reduce sweating. The straps are all made with comfort in mind being wide and made of a thick durable foam as well. As mentioned in the design category, weight balance makes movement with the pack on feel smooth and easy. With all the adjustability features, this backpack will most likely be a comfortable fit for everybody.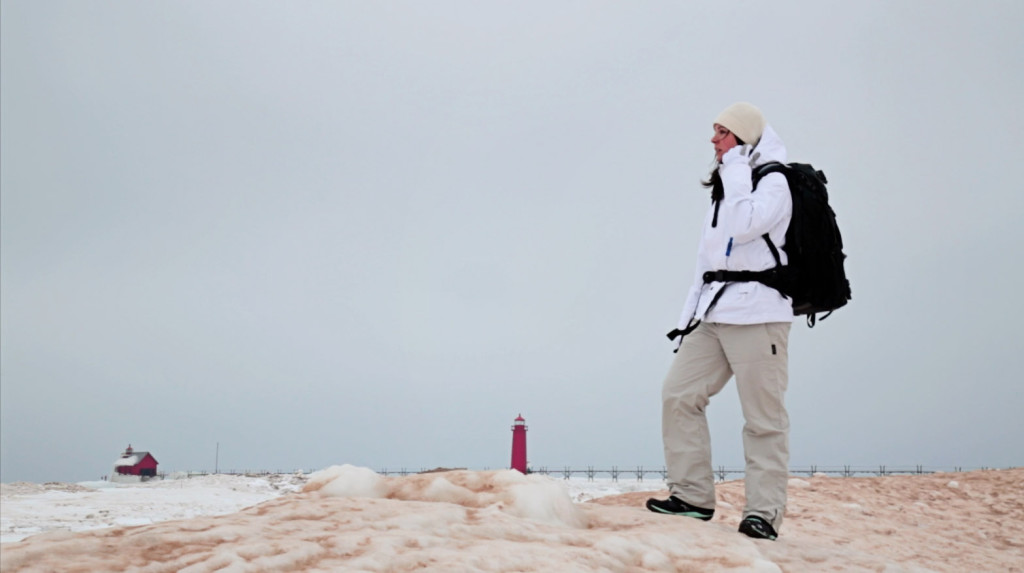 Storage: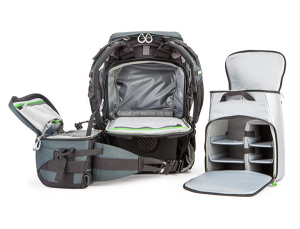 The lower rotation pack can hold a camera body, and a few lenses – depending on the sizes. If you have the Photo Insert, you can pack a large lens, another camera body, and a couple other lenses or speedlights. The insert, however, takes up the space you would use to store other personal items like clothes and food.  Both the Photo Insert and the rotation pack have moveable/removable dividers that you can adjust to fit your needs. There are multiple pockets located all over the backpack to hold things like your phone, extra batteries, SD/Flash cards, cords,personal items etc. If you needed even more space, you can opt to get one of MindShift Gear's additional belt pouches that easily attach to the side of the rotating belt pack.
Value:
At $500 for the rotation 180° Professional Deluxe ($390 for the basic edition), you might be thinking twice. Take it from us though, it is worth every penny. You will not find a backpack like it that can do what this one can.  A big investment, but well worth it if you like to get outside with your gear in tow.
Buy Now: $500 or, to learn more, go to: MindShiftGear.com
MindShift rotation 180° Professional Backpack
The MindShift r180° Pro is designed for the outdoor photographer who can't have any time wasted fumbling with their pack. The rotation belt pack makes it easy to access your most important gear without having to take your whole pack off. If you are looking for a camera bag to take on those ventures that lead you far away from home, then we highly recommend checking out MindShift Gear's line of bags. We don't leave home without one.
The Good:
Holds more than enough gear
Durable and Comfortable for long treks
Convenience of the rotation pack
The Not So Good:
MindShift Gear's website doesn't fully explain all the great little features this bag has