Lugging around photography gear can be a total drag. Without a proper photo bag lenses can be jostled around and damaged and organization won't exist. Many traditional photo bags were anything but stylish, resembling more of a lunch pal than a fashion statement. Lowepro is a company that started with the camera bag in the form of the backpack in 1967 and have been a boon for photographers everywhere since inception.
Recently we were able to get our hands on the Lowepro Transit Backpack 350 and run it through the ringer.  Here's what we found:
Design:
Upon opening the backpack, we were quickly taken to just how nice the pack looked. We had a simple stone gray unit that looked like a high quality everyday backpack, you'd never know this was a photo bag from the outside. The only giveaway is the straps that secure the tripods, but even so, this is an amazing looking bag.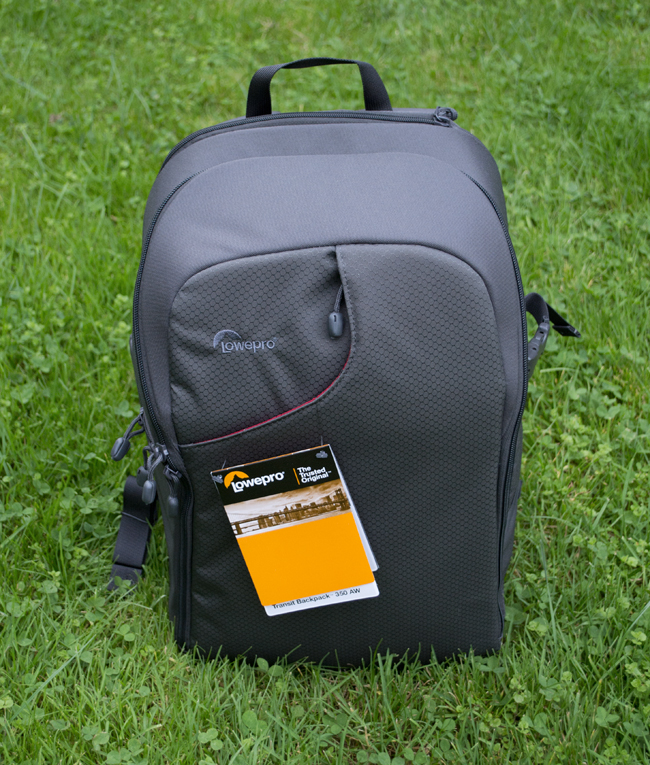 Storage & Accessibility:
The bag essentially has 1 main section broken up into two compartments, a laptop slot, a small pocket on the front and a tripod pouch on the side. A handy side pocket is located on the right side of the bag (on your left side when wearing it) that allows you to pull out your camera quickly without disrupting anything else in the bag. With a quick drop of a shoulder you can sling the bag down, pull your camera and shoot away. This feature makes the bag worth it's wait in gold as you'll shave precious seconds off your shooting time.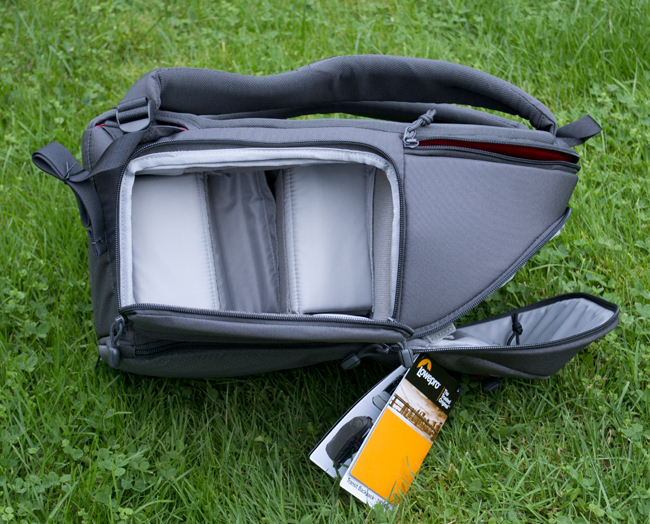 The bottom of the main storage is very large with great, flexible, organization. Velcro-ed partitions allow you to customize  the bag to your exact preferences. Two zippers allow for you to quickly access just the top compartment when you are looking to grab a smaller accessory. If you don't want two sections, the divider can be removed to accommodate larger items. Due to this non-permanent nature the top partition is lacking storage with two small mesh dividers and one pocket on the outside liner. This is a bit of a drawback for amateur photographers like myself that could use the organized storage and will never have a lens large enough to take up the entire bag.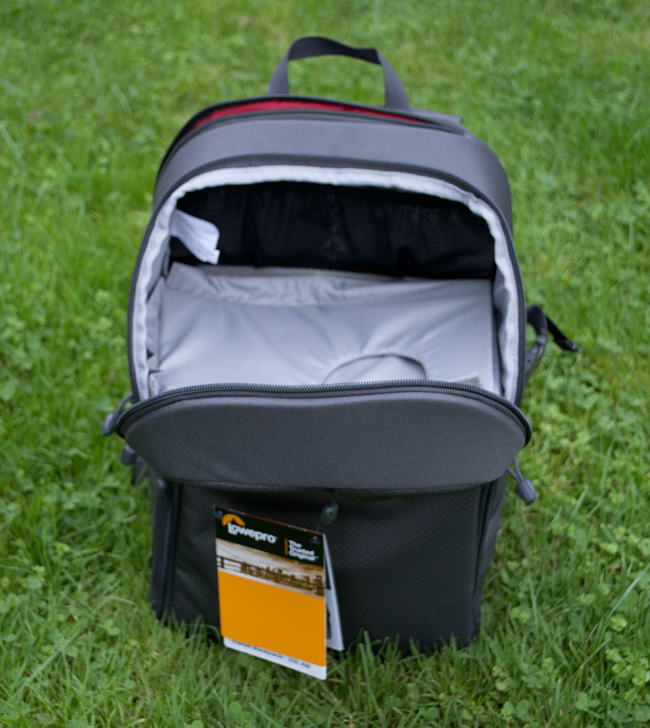 The bag opens fully (shown below with top of bag on the left) so you can access multiple items easily when needed. The organization is set up very nicely, and allows for a heck of a lot of gear to be added to the bag.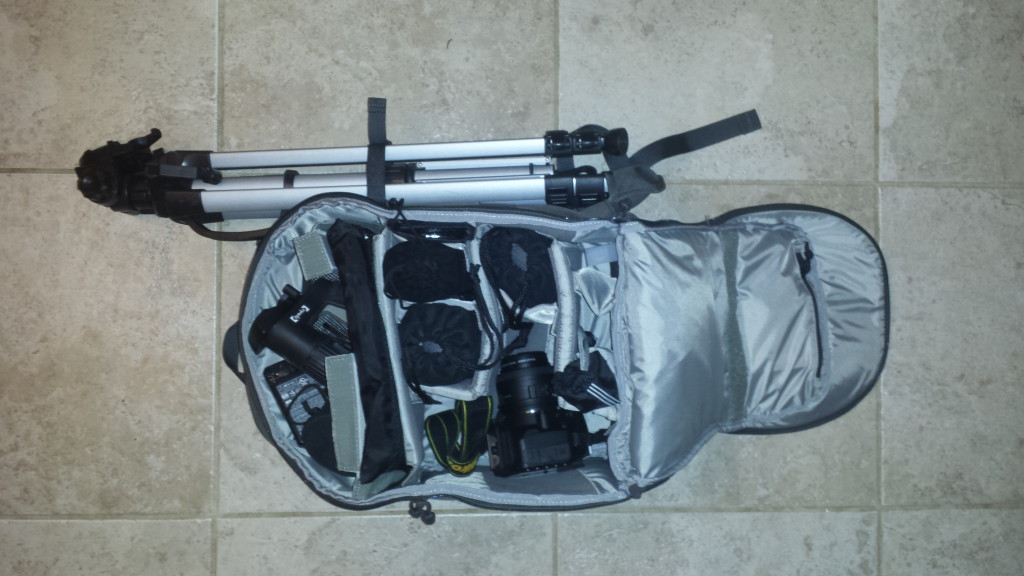 The tripod holder is a key component as well that allows users to tote along a full sized tripod with relative ease. There is a small pocket for the feet at the bottom of the holder and a strap to secure at the top. An additional strap would make this more secure and a nice addition.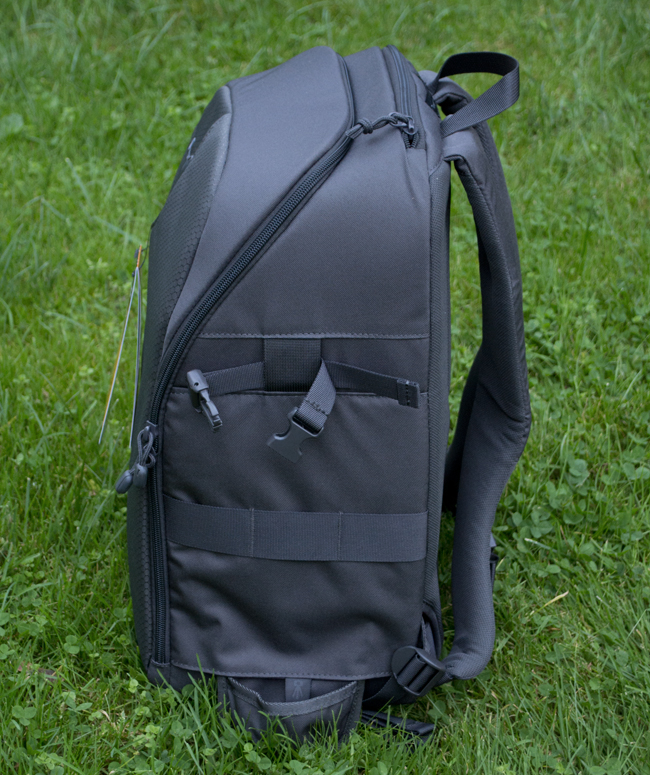 Comfort:
The Transit 350 AW has a padded back that shields your back from your load and features thick padding on the shoulder straps. A stability strap is also included to keep the bag from shifting around on your back. Simply put, his is the most comfortable backpack I've ever owned.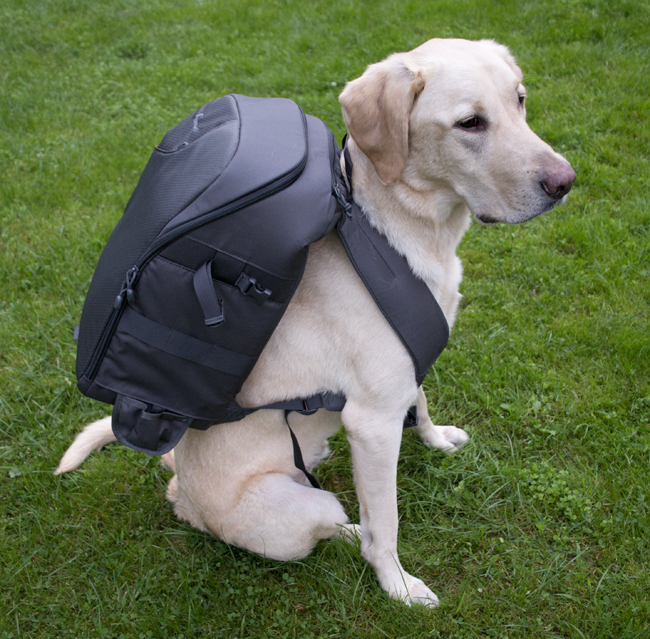 Lowepro Transit Backpack 350 AW: Gear Review
Overall this bag is a beast. It looks fantastic, can hold a boatload of equipment, and most importantly, elements like side access make your life easier. This bag is strongly recommended and sells on the Lowepro website for about $120, but can be found around the $100 mark on Amazon and other retailers.
Large Accessory Storage
7.5