As battery technology continues to progress, more power is fit into smaller packages. This means the days of the loud, heavy and smelly gas yard equipment is becoming less of a price to pay for well-kept landscaping.
The new 60V Li-ion battery power from LawnMaster has made its way into the 60V Max Axial Leaf Blower as its latest battery powered leaf blower to keep your house looking fresh.
Key Features
Power Indicator on Battery
440 CFM
110 MPH
70 Min Full Recharge Time
Variable Speed Motor
Cruise Control
Maintenance Free
High-Velocity Nozzle Tip w/ Scraper
8 lbs.
4 Year Limited Warranty on Blower
2 Year Limited Warranty on Battery
LawnMaster 60V Max Axial Blower Review Breakdown
Design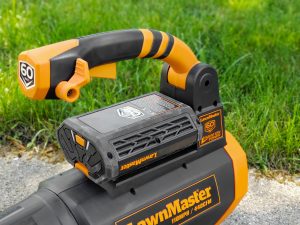 First the basics; this is a battery powered leaf blower. That means no gas to mix or spill and no fumes to stink up your clothes. Just charge up the included battery on the included charging station and go.
The build design of the LawnMaster 60V Blower is quite good. The battery interfaces of the blower and charger have a good solid 'click' when inserted into place and an easy to use release lever to get the battery back out.
It has a very sturdy feel in hand and has nice touches highlighting the orange color like some rubberized areas where bumps and scrapes are likely to occur. The same rubberizing gives the handle a firm and steady grip.
As a handheld model, I was also impressed by the balance of the unit. The heaviest part is the battery which is placed at the back but the handle is in just the right spot so that the blower maintains a nice balance to keep the nozzle pointed at the ground with very little effort.
Also worth pointing out that the term "heaviest" is used lightly here. The whole unit only weighs 8 lbs. so if you are looking for a lightweight model, it doesn't get much lighter than that. The lightness is noticeable compared to gas models that can be 10-12 lbs. or backpack models that can push 25 lbs.!

Power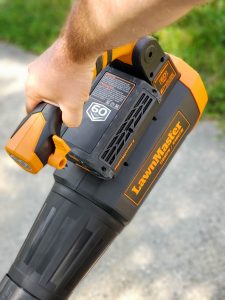 Well in short, we were 'blown away' by the punch this little unit packs. (Had to squeeze a dad joke in there.) At full power, the LawnMaster 60V Blower will put out 440 CFM at 110 MPH which is right in line with its gas competitors.
One of my favorite features is the variable speed motor with cruise control. That means that the motor doesn't just have power settings like high/low but will speed up and down infinitely tunable with the throttle trigger. Even better is the cruise control lever on the control handle that will let you lock the throttle anywhere so the blower just has to rest in your hand as it does all the work.
The variable power range is fantastic. At a low setting, you can gently move some dust off the garage floor without sending it airborne into your own face and at high power, I was able to move chunks of grass and dirt from a fresh edging job on the sidewalk.
Now, this is a handheld blower so in deep grass it does the job but you'll probably want a tool with a little more oomph. The LawnMaster 60V Blower was built to tackle those jobs that have a solid surface underneath. That means its best suited for blowing off the garage floor, sidewalk, patio, driveway or gutters.  Another good use for the dialed power is drying off your vehicle after a fresh wash to avoid those nasty water spots.
Battery
The 60-volt Lithium-Ion battery is a well-designed beast. With a 2.0Ah capacity, the LawnMaster 60V Blower advertises up to 20-minute runtime, but you'll have to take that with a grain of salt. Runtime is going to depend entirely on how much power you are demanding from it.  At 100% power, I only got about a 5-minute runtime but with more responsible use of the throttle, I was definitely able to stretch that out closer to 20 minutes.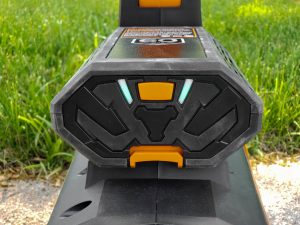 If your plan is to blow off an entire yard or a large area, you'll probably want a few batteries as spares, or go for a gas model. But for doing some touchup work around the house the battery life is just the right size.
Quick Tip: if you do run at 100% power, the battery will heat up a bit and won't start recharging until it cools off, so budget time and go easy on that throttle if you've got a big job.
Right on each battery is a series of 2 LEDs that will show you charge level. This was great to make sure I was starting the job with a fully topped off battery.
When it comes time to recharge, a fully drained battery will be fully charged in 70 minutes but I found that after getting used to the power settings, I was only using about half the battery to get my sidewalk clear after mowing so recharge time was around a half hour
Noise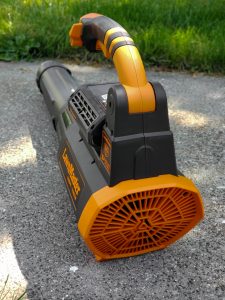 The greatest part about a battery powered leaf blower like the LawnMaster 60V Blower is the noise it makes, or more accurate, the lack of noise it makes. No earplugs will be needed while running this blower.
The loudest part is the air moving out of the high-velocity nozzle. The very quiet motor will not disrupt your neighbors or even you while it's running.  From a few lawns away, there is no detectable sound. Especially if you are only running in the mid-throttle range. At full throttle, you can hear a bit of an electric motor sound but even then its quieter than a gas blower at idle.
Value
The LawnMaster 60V Blower is a great value option if you are looking for an electric powered leaf blower. The pricing puts it just above some of the low-end gas-powered models, but below most of the other battery power options with the same power.
With high-end features at a middle of the road price, the value is right in that sweet spot where you'll have a tool that you can expect to last without spending a fortune.
Buy Now: ($145) Amazon or Home Depot
LawnMaster 60V Blower - Tool Review
If you are looking for a compact, lightweight leaf blower for those touch up jobs where you don't need a big gas powered hurricane, the Lawnmaster 60V Max Axial blower is the perfect tool for the job.
The Good
Lightweight
Quiet But Powerful
No Gas!
Not So Good
Charge Time
Limited By Battery