Cub Cadet an industry leader in outdoor power equipment. Best known for their lawn and utility vehicles, Cub Cadet American Made quality extends to their hand tool line too. The Power Lok, Core powered, lawn tools are a complete set of hand held equipment to get your yard in shape. Recently they let us clean up our neighborhoods with this set and here is what we discovered…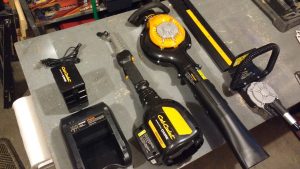 The set is sold individually and is made up of:
Core Power-Lok Drive Unit ccu410
Power Cell cf6500 (battery)
Power Cell Rapid Charger crc80000
Core Power-Lok Blower Attachment ccb410
Core Power-Lok Hedger Attachment cch410
Also available, but not included in this review is the Core Power-Lok Trimmer Attachment cct410 to complete the set.
Cub Cadet Core Power-Lok Review Breakdown
Setup and Ease of Use:
Other than charging the battery, the tools are ready to use straight out of the box. The Rapid Charger takes about 1 hour to completely charge the lithium ion battery. Drive unit is fairly simple, there aren't a lot of moving parts, just the trigger and the power setting 'econo' or 'boost'. Each attachment slides into the end of the drive unit. A simple quick lock flipped down and you're off and running. Pulling them apart gets a little trickier. The blower disengaged easily, but the hedger was a lot harder to separate. There isn't a great place to grab on to the attachment piece to pull it out, and you're dealing with 13-17 lbs of equipment depending on the attachment, so there is a lot of stress on the joint.
That joint is strong, but we fear it is vulnerable. There are 9 pins that connect in the joint, and it's a prime spot to jam dirt and leaves. There are rubber caps to place on the ends of the attachments when not in use.
Drive Unit: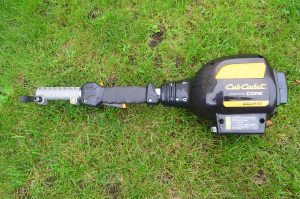 The Drive unit is the battery holder and the rear handle.  This is the first piece you must buy, everything else connects to it. It includes the Rapid Charger and the power cell. Fully charged with the battery installed, the drive unit weights in at 9lbs. That's heavy.
For comparison, let's talk about the string trimmer we didn't review. Just about every one has a string trimmer already at home.  I've got a small string trimmer that is powered by the same battery as my drill, it weighs in at less than 7lbs. I've had a small homelite gas trimmer before, it weighed in about 9.5lbs. Now compare that to JUST the drive unit. Before we've put any attachments on the drive unit, we are already at 9lbs. The string trimmer attachment, again we want to say we didn't review, is 8lbs on its own. That would bring the total to 17 lbs for the battery, drive unit and string trimmer. That's heavy. It's well built, it's solid, but it is heavy. It's not a direct comparison for power or ability, but it should give you an idea of just how heavy this thing is.
Blower: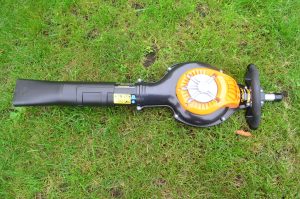 The motor for the fan is built into the attachment, and it balances out o.k. at first but the handle is in the wrong place and isn't large enough to hold the tool at the right angle to the ground. Cub Cadet suggest a 45 degree or less angle to the ground for blowing leaves and other debris.  That just isn't possible with the way that front handle is configured, or you end up stooping funny and putting a strain on your back. The blower unit weighs 4lbs on it's own, so 13lbs  with the drive unit and the power cell installed. You can operate it with just the back handle of course but then why have the front handle? As for usability, concrete is your friend, your lawn is your enemy. Cleaning up grass clippings it sure beats getting out a broom, but for leaves, it didn't do as good a job as a rake and it wasn't very fast on the lawn either. They say to wear eye and ear protection, but I didn't find it to be that loud.
Hedger: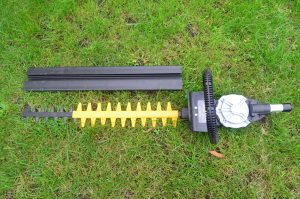 The Hedge Trimmer attachment weighs in at 6 lbs on it's own, a combined weight of 15 lbs with the drive unit and power cell. This was a lot harder to disconnect than the blower attachment was. As for power, on the econo setting, it worked great trimming up the outside of the lilac bushes, on the 'Boost' setting, it cut through small branches great up to at least a half inch, although I doubt that's the recommended max. We were not able to bind it up on healthy bushes. Again they recommend using ear and eye protection, on both power settings it's loud enough that you'll want to make sure you follow that advice.
The length of he blade is 22″ which is HUGE and absolutely great. Approaching a hedge from both sides gives you 44″ of hedge you could trim. The long blade makes it easy to keep, or make, flat surfaces when trimming. So, great power, great reach, what's the down side? Assembled with the drive unit, the entire length of the trimmer is about 60″ (38″ for the trimmer, 26″ for the drive unit and power cell, minus an inch or two where they join). That's 5 feet long.  This is both good and bad. The good is that when we trimmed hedges above our heads, it was balanced well between the two hand holds. The bad is there is still 3 feet sticking off the hedge, and if you are close to a building, you might not have the room. One situation involved bushes near a barn and there wasn't enough room to be perpendicular with the trimmer. There is no close quarters maneuvering with the length. This rules out the use of the hedger in a zombie apocalypse.
Battery Power: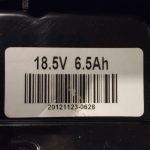 How many volts is the battery? The manual and website both say 20 volts, the battery is labeled 18.5 volts, 6.5 Ah. Either way, it charges and works with the drive unit. The Drive unit is basically the power box and the rear handle, there is a quick release on the front where the different attachments are loaded and secured. As for power, I never had it run out while using it, but my lawn isn't the largest on the block either. I'm not too worried about power using just the Blower and Hedger. Maybe with the trimmer (string trimmer for weeds) you'd run into more of a power issue, but 6.5 Ah is a lot of power.
Value:
This is several tools in one. Base cost is $149 for the drive unit, battery and charger, then either $79 or $89 for the string trimmer, $79 or $89 for the blower, and either $89 or $119 for the hedger. The drive unit is a value because it also includes a new battery which is $119 on it's own, and the charger which would set you back another $89. So if you were going to buy more than one battery, you might as well look at another drive unit, but if you do that, you're looking at $149 + $79 minimum for a yard tool. At $228 is that tool worth it?


This is meant to be bought as a set, and as a combined set, at the lowest prices show, the total is $396 for three complete tools, or $132 on average per usable tool. Because they break down, they'll store in less space than conventional tools, but you'll be limited to only one battery to share between them at that price. Even with it recharging fully in an hour, you might not get all your yard work done in a day depending on the amount of work you do. It's well built, American made, should last you a long time, and comes with a 5 year warranty on each piece to back it up.
Cub Cadet Core Power-Lok - Lawn Tool Review
Bottom line: If you need all of these pieces of equipment, you'll need to balance the value of buying individual tools with extra batteries and chargers, and this set that is complete for less money. The big disadvantages to these sets are weight and length. The big advantages are quality of build and warranty.
The Good:
Breaks down for storage
American made, industrial feel
Simple design
The Not So Good:
Really Heavy
Really Long
Blower not very powerfull for 110mph.