The average American consumes 46 slices of pizza per year, easily making pizza one of the top food choices in the country. The folks at KettlePizza are trying to increase that number as they now offer a way to make gourmet pizzas in the comfort of your backyard. Their new KettlePizza Oven allows you to turn your gas or charcoal grill into an outdoor pizza oven. KettlePizza Ovens are stainless-steel inserts that fit into your grill to create a cooking chamber that delivers fully cooked wood-fired pizza's in a matter of minutes. No longer do you need to go that trendy pizza joint to get your fresh pizza, you can now do it in your yard. Recently, KettlePizza hooked us up with their Pro 22 kit for the charcoal grill and throughout the last few months we threw quite a few pizza parties to fine tune the process. How did our pizza's turn out? Here's what we discovered…
KettlePizza Charcoal Oven – Pro 22 Kit Key Features:
Insert fits 22.5" charcoal grills only
Aluminum cooking pan
Tombstone (larger and thicker)
Pro grate
Aluminum peel
KettlePizza Oven Review Breakdown
Design:
The KettlePizza is designed to fit on top of your existing kettle grill and the Pro 22 kit includes everything you need to start making wood-fired pizzas at home.  In the kit, you will receive a pro grate and tombstone, aluminum peel, and aluminum cooking pan. This allows you the option of cooking on a pan or stone. We tested both ways and we will give you the breakdown on both methods down below. The insert is built to accommodate only to accommodate 22.5″ grills. They make other kits that are adjustable to fit an 18.5″ or 22.5″ depending on your grill.
KettlePizza also offer gas grill inserts if you do not have a kettle style grill. The ProGrate is used instead of the grate that comes with your grill. It allows faster refueling and has an elevated firebox for higher dome temperatures. The tombstone is 15.7 x 14.5 inches with a rounded edge and is made from hearty, even-cooking cordierite. Since the tombstone is thicker, it retains more heat and makes pizza placement and removal easier. This combination should allow for quicker bakes, and side-access openings for easier refueling.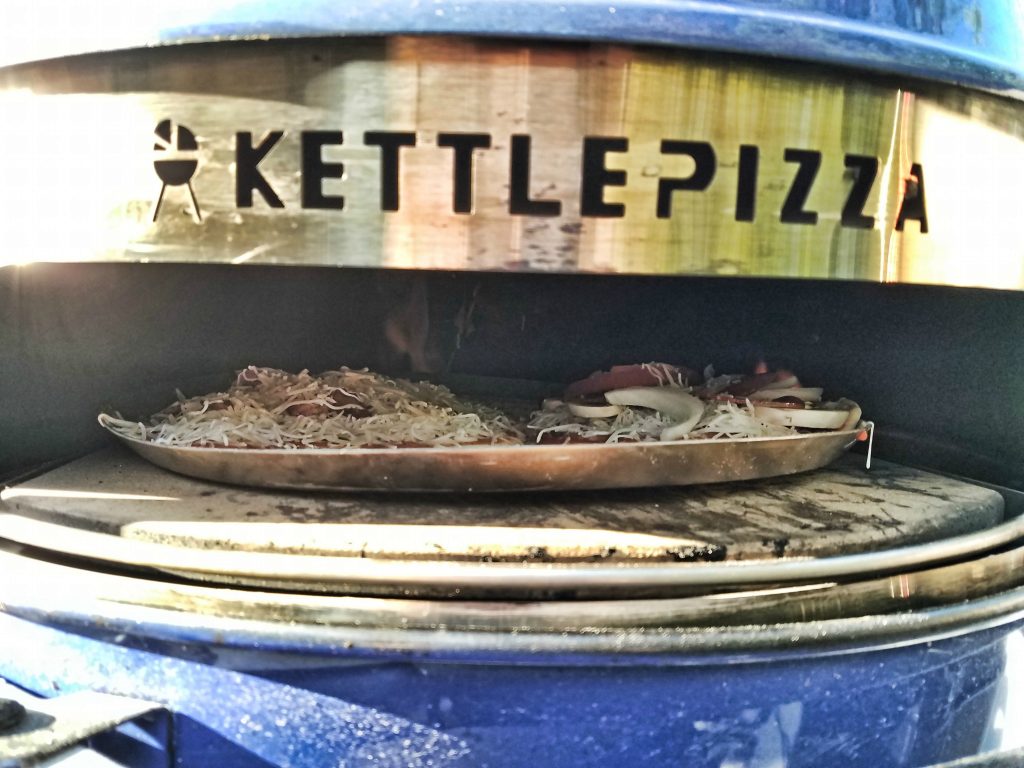 Setup:
The Pro 22 model has a couple of simple steps for setup. First, the aluminum ring needs to be formed and locked in using a couple of wing nuts. Since there is only size to lock-in, the assembly of this take a minute or two. Second, the ProGrate and fire-box needs to be put together. Most of the hard work is already done you just need to assemble the pieces together, like a puzzle. Be careful with the ProGrate as it is heavy and if you drop it you could crack it or snap pieces off.
Once you have those pieces ready to go you can remove the grate from your grill and get your charcoal going. We recommend using a chimney for your charcoal as it will be easy to flip and form a u-shape around the back of the grill. After the charcoal is ready, assemble some wood blocks on top of the charcoal and then put the ProGrate on. Add a few chips to the fire-box in the back and place your top on KettlePizza Unit. You will notice that the grill will get extremely hot. Once you are above 500 degrees you can start cooking your pizzas. Do give the stone a few minutes to get nice and hot so your crust cooks through thoroughly.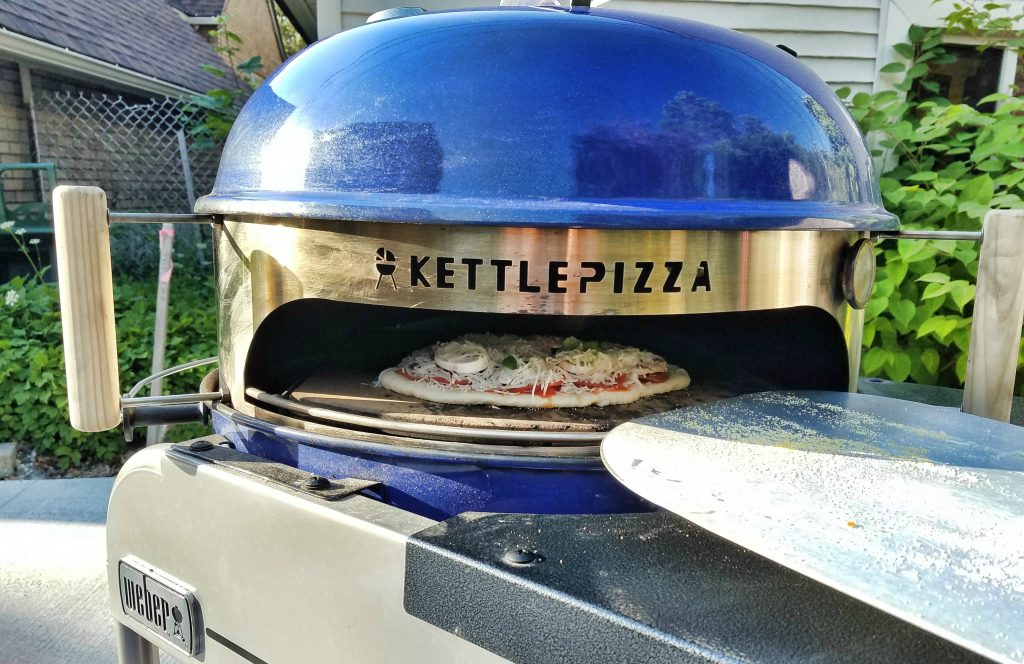 Results:
Perfecto! The KettlePizza Oven performs better than advertised. We do recommend experimenting to fine tune your process. You need to understand what level heat you need to be at, how thick you should make your crust and how long to leave it in there. Basically, you will learn how to perfect your process and become the next great pizza chef. The biggest area you want to monitor is your temperature. Ideally you want to be in the 600-700-degree range.
Depending on your crust you can cook pizzas in 3-5 minutes at these temps. The pizza oven does not maintain that temp for long periods of time, you have to must re-fuel the wood on top of the charcoal and your fire-box. It will take you a few times to figure out what works and what doesn't but once you do you will have a blast. Whether you are impressing friends, having fun with the family, or just wanting to try something new, the KettlePizza is always a good time.
The Pro Kit gives you both a pan and the pizza stone for cooking your pizza. The pan is the easier of the two as if you are rolling out dough you do not have to worry about sliding it off the pizza peel. However, getting your crust perfect seemed to be easier on the pizza stone as it retains heat and provides more better cooking throughout.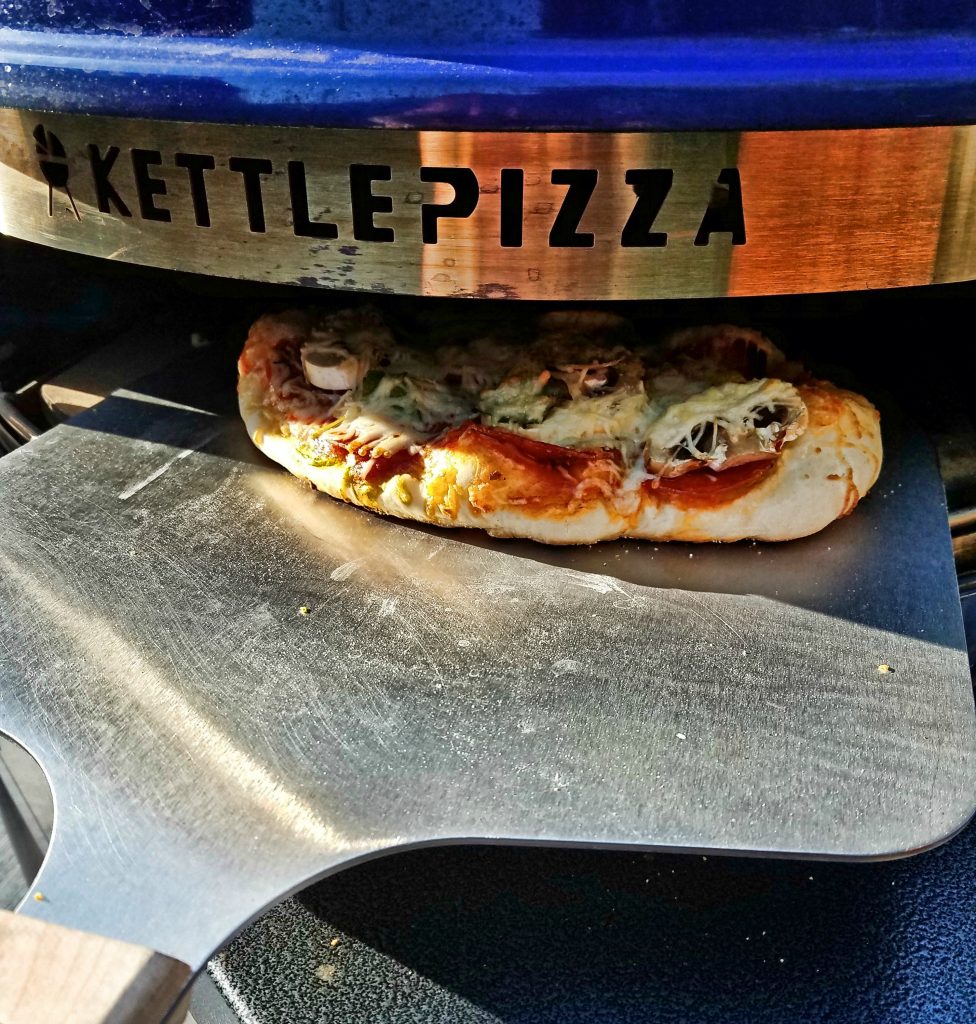 Value:
We tested the KettlePizza Pro 22 which retails for $299.95. They offer other models ranging from the $139.95 up to $429.95. Depending on what type of accessories you need they have something every price bracket. Also, no matter what version you get you are getting tremendous value. True wood-fired pizza ovens can cost upwards of $1000. You can try to build your own version using fire brick but even that will cost you more plus the amount of time to build it out.
Overall, the KettlePizza is easy to use and it is fun for the whole family. One of the best parts about the KettlePizza is how it uses your existing grill. Space in a premium in backyards and garages and we love how the pizza oven makes our grill more valuable and usable. With summer arriving, take your backyard BBQ to the next level and invest in the KettlePizza Own.
Buy Now: $139.95 – $429.95 or to learn more, head over to: KettlePizza.com
KettlePizza Oven - Grill Review
The KettlePizza Oven is something that everyone should have in their backyards. It is easy to setup and use and you will quickly become a gourmet pizza master. The KettlePizza is fun for entertaining and brings a new twist to your backyard.
The Good:
Easy setup
Lots of different price options to get you started
Makes delicous pizza
The Not So Good;
Will take you tme to figure out temperature and how to cook
Due to smoke the stainless steel gets discolored after first use