Keen has been long known for their sandals and hiking boots with their iconic black rubber toe. Create, Play, Care. That is part of Keen's Hybridlife mantra balancing our busy lives between work, play, and giving back. Keen strives to develop footwear, bags, and socks that enable you to play anyplace without a ceiling. With such a wide variety of products in those categories Keen can accomplish that and then some. Keen is entering the light trail / day hiking market with their new Versatrail hiking shoe. They've asked us at Busted Wallet to give 'em a try. The variety of hiking shoes these days is amazing so finding the right footwear can at times feel like finding that glass slipper for the ball. Well, we've logged some miles now on the Versatrail in various environments ranging from boardwalks, paved walking trails, dirt trails, and sand trails.  Here's what we think of Keen's new offering.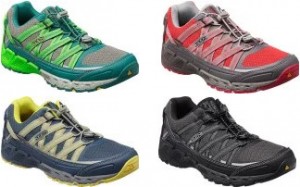 Keen Versatrail Key Features:
Metatomical Footbed Design
Non-Marking Rubber Outsole
Cleansport NXT for Natural Odor Control
Light weight breathable mesh and synthetic upper
Light weight Ariaprene Tongue Construction
8mm Heel to Toe Drop
Keen Versatrail Review Breakdown
Design:
Upon opening the box the Keen Versatrail is an attractive shoe that looks a lot like a trail running shoe although it is missing it's iconic black rubber toe which is fine with us. Keen insists this shoe is not a trail running show but rather a hiking shoe. At 11.6 ounces these would for sure be on the lighter side of a hiking / trail shoe. Keen offers the Versatrail in four colors combinations ranging from flashy to more subdued to fit whatever personality you may have. The Versatrail is billed as a warm weather shoe made for hiking, fast trails, or city environments and we agree that is an accurate description for this shoe. The breathable Ariaprene upper certainly fits the bill for warm weather hiking very nicely. Our first hike in these was in 85 degree weather and my feet never felt hot. I ordered a size 10 shoe and the sizing fit me very well so I would say these are sized well.
The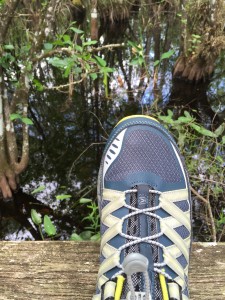 Cleansport NXT technology for natural odor control is an obvious plus for any shoe. We haven't worn these enough yet for them to really get to the smelly stage of a shoes life cycle yet as we've only been wearing them a couple weeks now so we can't really comment on that as of yet. The secure fit lace capture system at first felt a little geriatric and slip on shoe-ish but we quickly got used to it and really liked it. We wore these shoes through a couple airports and an unmentioned benefit to the Versatrail is you can quickly remove and put your shoes on going through security, boo yah! The Versatrail also comes with a regular pair of shoe laces if you prefer a more traditional shoe setup.
Comfort:
The 8mm Heel to toe drop paired with the Metatomical footbed design is something I wasn't used to in a shoe. You can certainly feel the heel to toe drop with a lot of c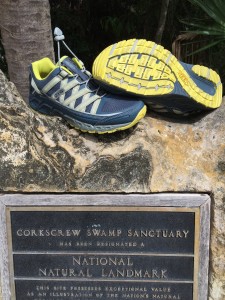 omfy cushion in the heel and noticeably less in the ball of the foot. I would say out of the box these shoes for me weren't great. I could feel an almost painful pressure point on the outside edge of both feet near my toes as I tend to pronate. I've never felt anything like it in another shoe. I've walked / hiked in these roughly 12-15 miles since trying them on and they hadn't gotten any better. Only after a third week of wearing did these shoes feel like they broke in and got noticeably more comfortable but still not great. It could just be the shape of my foot or how I walk doesn't agree with this shoe, I'm not sure. I have read other reviews of this shoe ranging from greatest shoe ever to uncomfortable so I would strongly recommend trying these on before committing to a purchase. I'm not sure how long the insoles will last as they are pretty thin, especially in the area of my discomfort.  We took the Versatrail out on a beautiful hike through the Cypress Tree Forests of Southern Florida on a boardwalk trail as well as back home in Michigan for multiple hikes / walks through a mix of concrete paths and sand. I would say this shoe would be great for warm weather light day hikes or wearing around town doing lots of walking if it fits your foot well. 
Value:
You can pick yourself up a pair of Keen Versatrail shoes for $120.00. In terms of value I would say these are a little pricey but not terrible for this type of shoe. The Versatrail would be great for light trail / day hiking or walking around the city IF they are comfortable on your feet, which they very well may be. They just didn't agree with my foot but give them a try for yourself. They may be the perfect shoe for you!
Buy Now: $120 or to learn more, go to: KeenFootwear.com
Keen Versatrail Shoes - Gear Review
A light hiking trail shoe made for day hikes or walking the town.
The Good:
Secure fit lace capture system
Breathable in warm weather
Fun color choices
The Not so Good:
Comfort
Long Break-in Period