Designed to get the party jumpin' with more than just audio, the JBL Pulse is one of newest bluetooth speakers on the market. Not only does this speaker pump out the jams, but it also illuminates the party with over 60 LED lights and five pre-programmed graphic effects tuned to interact with the music. So while everyone else is jamming out on those speaker boxes that resemble bricks rather than an actual piece of technology – the folks JBL are offering up a portable party system unlike anything else currently available.
Combining room-filling sound with an eye-catching, programmable LED light show – the JBL Pulse delivers music that can actually be seen. And if seeing is believing we knew we'd have to test and review this little guy ourselves… so that's exactly what we've been doing over the past month. With support from our friends at JBL we've had the privilege of testing out their new wireless speaker at the office, beach, pool and camping in the great outdoor. It's a rough job, but someone's got to do it! Right???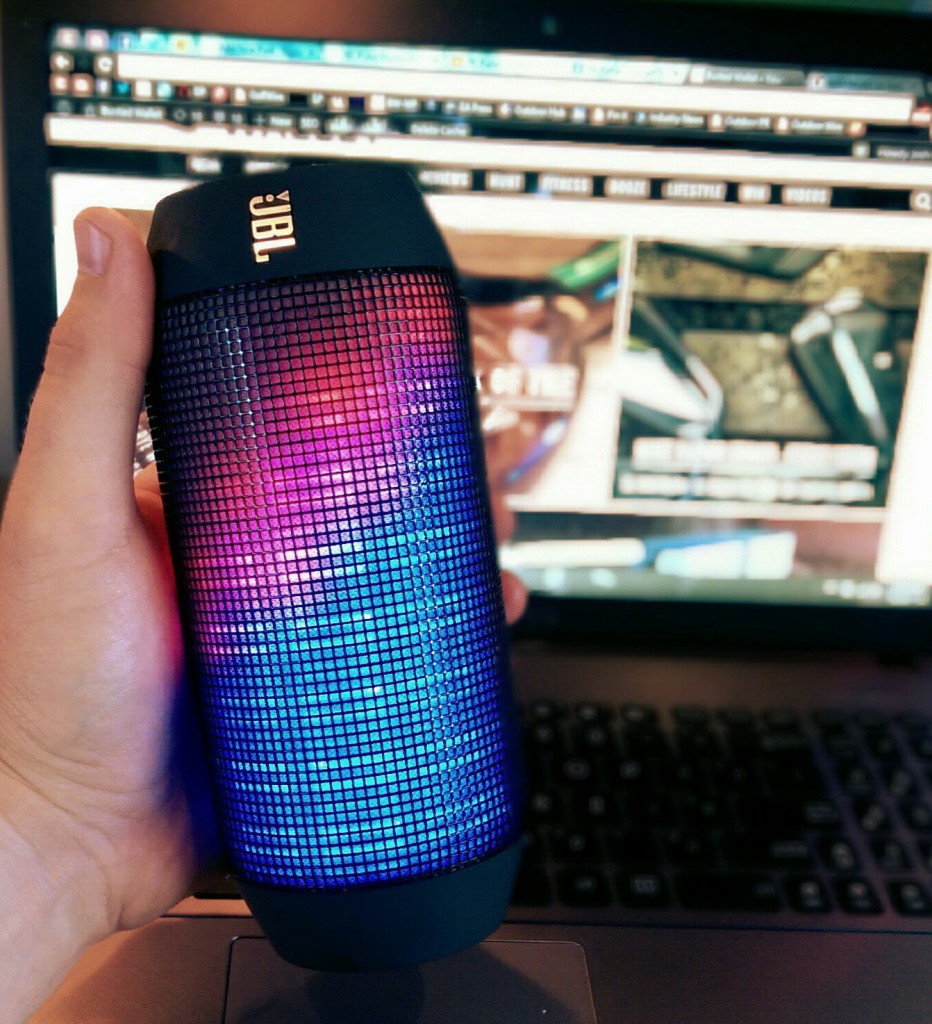 Capable of transforming wherever you are into a party, the JBL Pulse features high-fidelity, room-filling sound pulsed to a series of pre-programmed light themes controlling brightness and color plus wireless Bluetooth for ease of connection to a wide range of smart devices.
"JBL Pulse will change the way you enjoy music, you'll be amazed how much more immersive the listening experience can be, with a lightshow perfectly synched in brightness and color with the music." –Michael Mauser, President of HARMAN Lifestyle.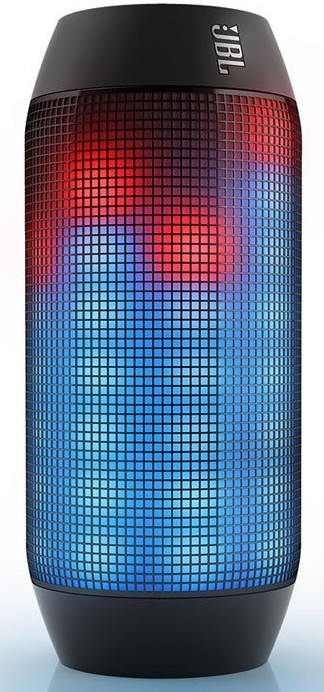 Key Features:
Programmable LED lights that pulse to your music wherever and whenever you want
Unrivaled JBL sound with two high-performance 40 mm drivers and a custom-tuned bass port for clear, room-filling, high-fidelity sound
Wireless Bluetooth stereo streaming with NFC for instantaneous hassle-free setup
Pre-programmed and custom-programmed light themes control brightness and color, pulsed to your music
Rechargeable Lithium-ion battery for hours of wireless fun
The JBL app offers a simplified set-up, easy connection to your mobile music devices, and complete control
Battery level indicator lights
Tech Specs:
Power Output: 2 x 6W
Power supply: DV 5V2.3A
LED Lights: 64 (with 5 pre-programmed light patterns)
10 hour run time (no lights)
5 hour run time (w/ lights)
Weight 1.1 lbs
Included at Purchase:
JBL Pulse portable stereo speaker with LED lighting
1 x USB adapter
1 x USB cable
Quick-start guide Safety sheet
JBL Pulse Review Breakdown
Design:
Not much larger than your average tall-boy beer, the JBL Pulse is an incredibly portable speaker system that's easy to carry or stow in your pack. We found its minimal size and weight to be perfect for travel. Whether it be to the beach, cross country or party hopping all night – this speaker travels nicely!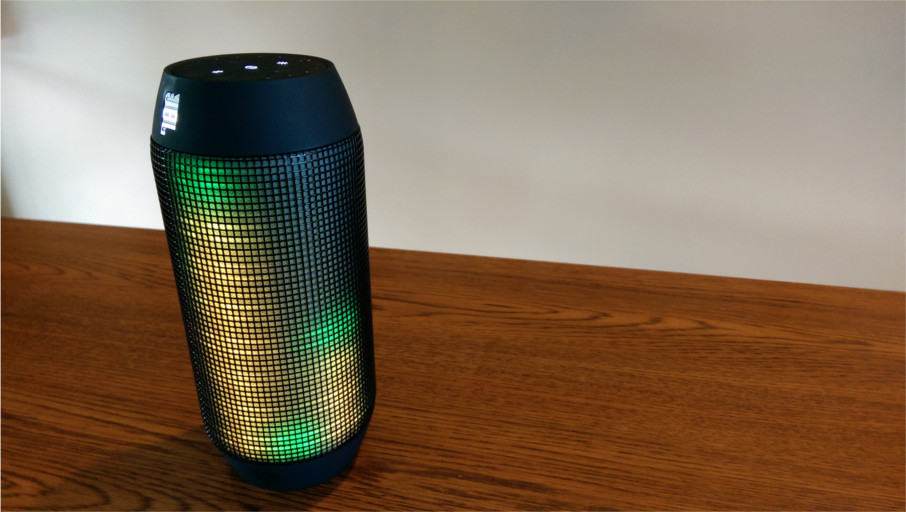 Beyond it's go-anywhere dimensions, this speaker freakin' lights up! With 64 LEDs integrated throughout and 5 pre-programmed lighting patterns, the JBL Pulse illuminates with the touch of a button and has the ability interact with your music – setting it apart from all other bluetooth speakers (currently) on the market.
Additionally, you can download JBL's Music App (Android / Apple) which allows you to interact with your Pulse on your phone and even choose from additional lighting programs. We didn't find the app to be overwhelmingly useful, but it is fun to play with and gives you the ability to change lighting effects from up to 33 feet away.
Hands-on Images:
Controls:
With integrated controls for power, volume, bluetooth paring, LED intensity (brightness), lighting patterns and 8 color options – the Pulse has everything we could ask for… minus the option to skip tracks, which is a little bit of a let down, but in the grand scheme isn't a deal breaker.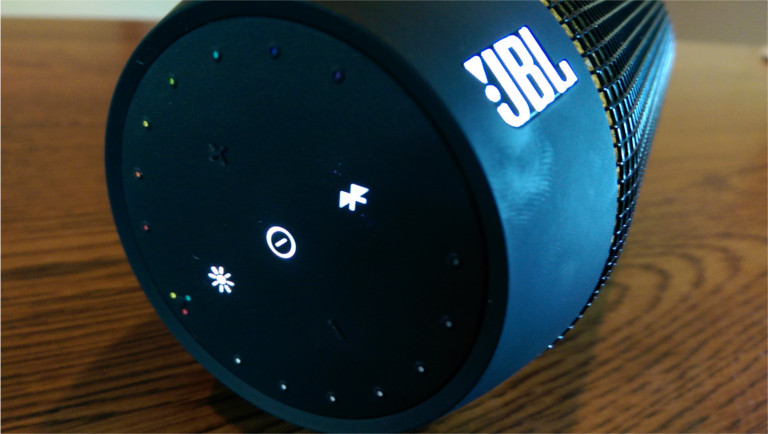 Paring:
Connecting your smartphone or other bluetooth enabled device with this speaker is truly easy. After powering up the Pulse, simply press the bluetooth button. It will make a few audible beeping noises – this means the speaker is ready to pair with your audio device. If you're using a smartphone (like us) you can go to settings > bluetooth > scan for device. Once the JBL Pulse is recognized by your phone you can click on it, then the Pulse will make a quick series of beeps to let you know the bluetooth connection has been established. Now all there's left to do is start playing some music!
After establishing the initial bluetooth connection with the JBL Pulse, in the future your phone and the Pulse will recognize each other and connect automatically shortly after powering up the Pulse (as long as bluetooth is enabled on your phone).
Acoustics:
While the JBL Pulse capable of going LOUD for its size (86dB) – the audio quality isn't anything to write home about in our opinion. The highs are quite acceptable delivering excellent clarity, but the mids (instrumentals) and lows (bass) leave a little something to be desired.
At the end of the day, if you're looking for a highly portable speaker system no matter who makes it, there's going to be a compromise for acoustics. There's no way around it. That being said, after testing more than 20 other portable speakers comparable to the Pulse over the past few years we found this speaker to be near the top of the list when it comes to overall range and clarity.
Build Quality:
Holding the Pulse in your hand you can feel that it is a very solid device. The mesh grill that covers the LED lights and speakers is strong and doesn't flex. The areas outside the grill are rubberized giving it some protection against drops, scratches and scuffs. Overall we found the Pulse to be very well made and quite durable even though it's not marketed as a rugged speaker, like so many we've tested in recent months.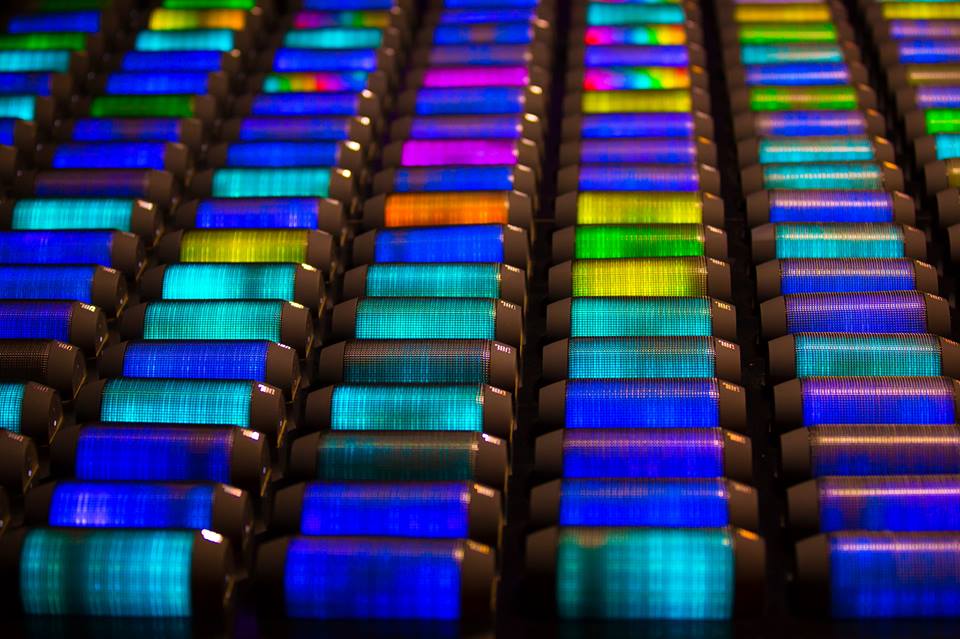 Value:
Sold online for $199.99 most everywhere this bluetooth speaker in our opinion is well worth the investment. For nearly two hundred big ones you get a quality built device that can pump some serious sound and is the instant life of any party you bring it to. After testing this speaker for nearly a month friends, family and total strangers have approached us asking "what is that" and "where can I buy it!" If that's not a ringing endorsement of the JBL Pulse's wow-factor i'm not sure what is.
JBL Pulse Bluetooth Speaker - Tech Review
If you're in search of the next best bluetooth speaker to impress your friends and get the party started, look no further than the JBL Pulse. It's part speaker, part visual equalizer and 100% awesome! While the audio quality is lacking in the range department when compared to larger stereo systems, the Pulse is a more than capable speaker for both indoor and outdoor venues. And when you're seeking a more subdued music listening experience the Pulse can go dark at the touch of a button eliminating the flashy LEDs when desired. Overall, we really fell in love with this little device. If you're scouring the web looking for the prefect portable wireless speaker - do yourself a favor and consider the JBL Pulse - it's simply fantastic!
The Good:
Amazing LED Lighting
Highly Portable
Killer Build Quality
The Not so Good:
Acoustically Underwhelming
No Skip Track Controls
LEDs Drain The Battery Quicker