With more and more cell phones dropping the headphone port, the market for wireless headphones is heating up. If you've tried Bluetooth headphones in the past and have come away disappointed, it's time to take another look. Advances in Bluetooth technology as well as battery tech have corrected the biggest issues of old, namely size, sound quality, and battery life. Or, if you're skeptical of spending close to $200 on something like the Apple AirPods because they might fall out and get lost, read on because the JayBird Run True Wireless Sport Headphone might be the answer for you. Don't dismiss them if you're not a runner, they bring a lot to the table for anyone needing or wanting wireless freedom.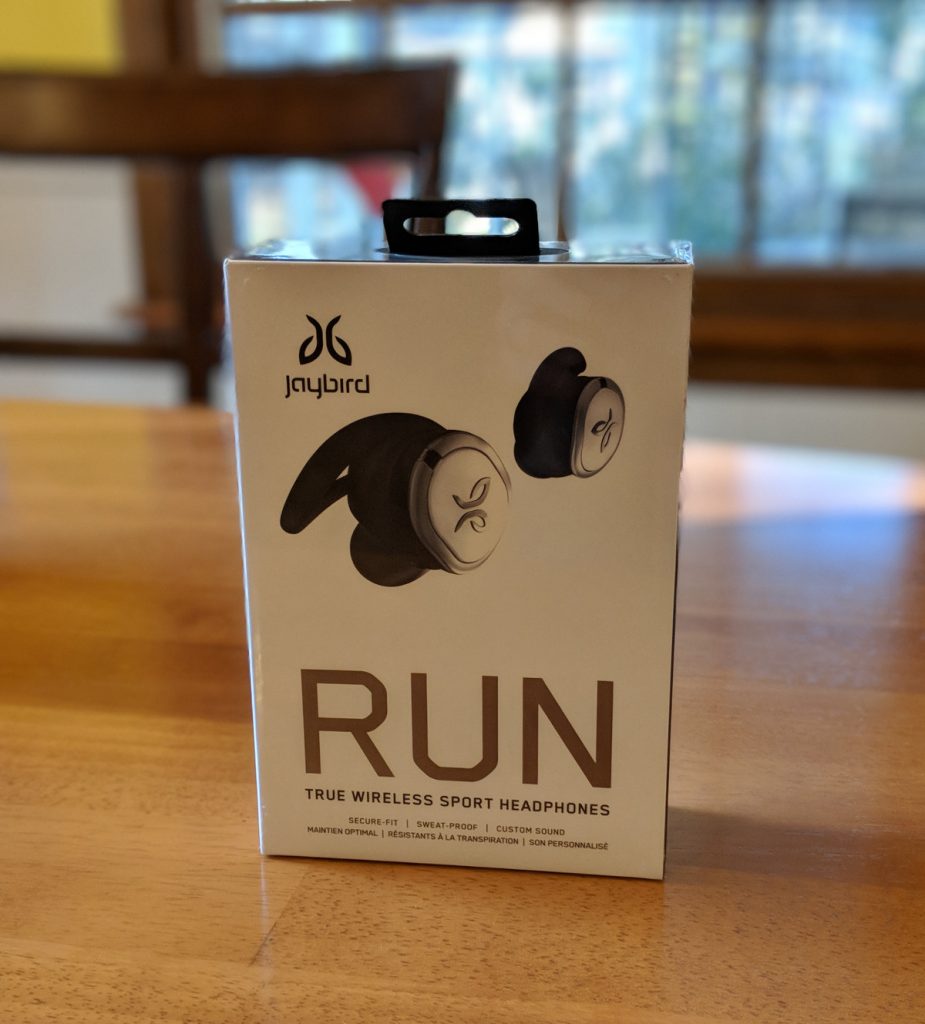 Tech Specs:
Bluetooth 4.1 for Music + Calls

Integrated button controls

4 hour play time + 8 hour charge case
Fast charge – 5 minute charge = 1 hour play time
Secure + Comfort-Fit with interchangeable tips and fins
Sweat-proof and water resistant
JayBird  Run True Wireless Headphones Review Breakdown
Fit and Comfort:
For me, the most important factor for true wireless earbuds is that they stay put and don't fall out. Sure you want them to sound good and have a lasting battery, but the best headphones on the planet are worthless if you lose them. The JayBird Run in ear headphones are designed for runners (duh). Runners make for a difficult subject to target when designing wireless earbuds since they're bouncing all over the place for hours at a time. Add to that the fact that they're usually sweating like crazy and you have a hostile environment for headphones.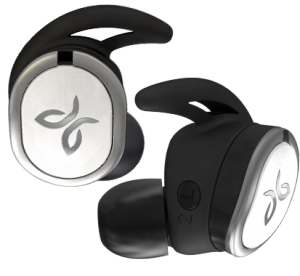 To solve these problems, JayBird has created an interchangeable tip + fin system and has applied a double hydrophobic nano coating to make them sweat proof. The tip + fin system is impressive. In the box are 4 different sets of tips and fins to fit a variety of ear sizes. The tips are the small cones on the end of the headphone that press into your ear canal. The fins are a specially designed, flexible outer wing which wedges itself into the fold at the top of your middle ear. With the proper tip/fin combo the earbuds will rest firmly but comfortably in your ears.
The pre-installed tips and fins ended up being the right fit for me making the process very easy. I assume they install the most common sizes at assembly. If that's not the case for you, you'll have a bit of fussing around to deal with. It's not difficult to swap the tips and fins out luckily and you should be able to try out each combo within 10 minutes or so.
Once you've decided on the right combo, putting the buds in is quick and easy. You press the tip into your ear and rotate the earbud back and forth slightly to nest the fin into position so that it's pushing outward onto the ridge of your middle ear. Let me tell you, once they're in they are IN. Running is just the beginning for these things, there is no way they are coming out unless you want them to. I tried shaking my head as hard as I could until I though my neck might break and they didn't even wiggle. You could probably get into a boxing match wearing them and still make it out in tact. They're also crazy comfortable. After the initial transition of inserting them, mostly due to the sound isolation, you forget they are in at all. I've worn them for 3 – 4 hours stretches with no discomfort whatsoever. Pretty amazing.
Sound Quality:
Wireless earbuds have a lot working against them in the sound quality department. They have to operate over Bluetooth which degrades quality (although not nearly as much as it used to). They have to be small and light which makes the components also small and light, not a good thing for audio – all while incorporating a battery as well.
The JayBird Run headphones mitigate these problems by designing the earbuds with passive noise cancelling and pairing it with a mobile app that lets you customize the sound to your tastes. The passive noise cancelling works well. If anything, it might be a little too much for some, but it makes the sound clearer without having to crank up the volume which would cause ear fatigue.
Out of the box, the sound configuration is pretty terrible. If you open them up and use them to listen to music straight away, you'll likely be disappointed in your purchase. The first thing you'll want to do is download the JayBird MySound app. It does other things, but the most important is the ability to change the EQ of the earbuds. If you put the headphones on and pair them to your phone, you can open the app and adjust the sound while you listen to music until you find a configuration you like. To make this easy, the app has presets for different sound profiles and also has a community of shared profiles you can browse and try to find what's best for you. I found one in the community section called "Audiophile 4k" which I used as a starting point and then tweaked slightly to my liking. The improvement is night and day.
Sound quality can only go so far though. For the sake of battery life, they also need to use a Bluetooth sub codec that is easily processed, otherwise it will consume too much power and drop the run-time for the sake of better sound. To that end, JayBird chose the SBC codec which provides reasonable sound quality while remaining computationally simple to decode. This is not audiophile grade quality we're talking about, but utility is just as important in this case.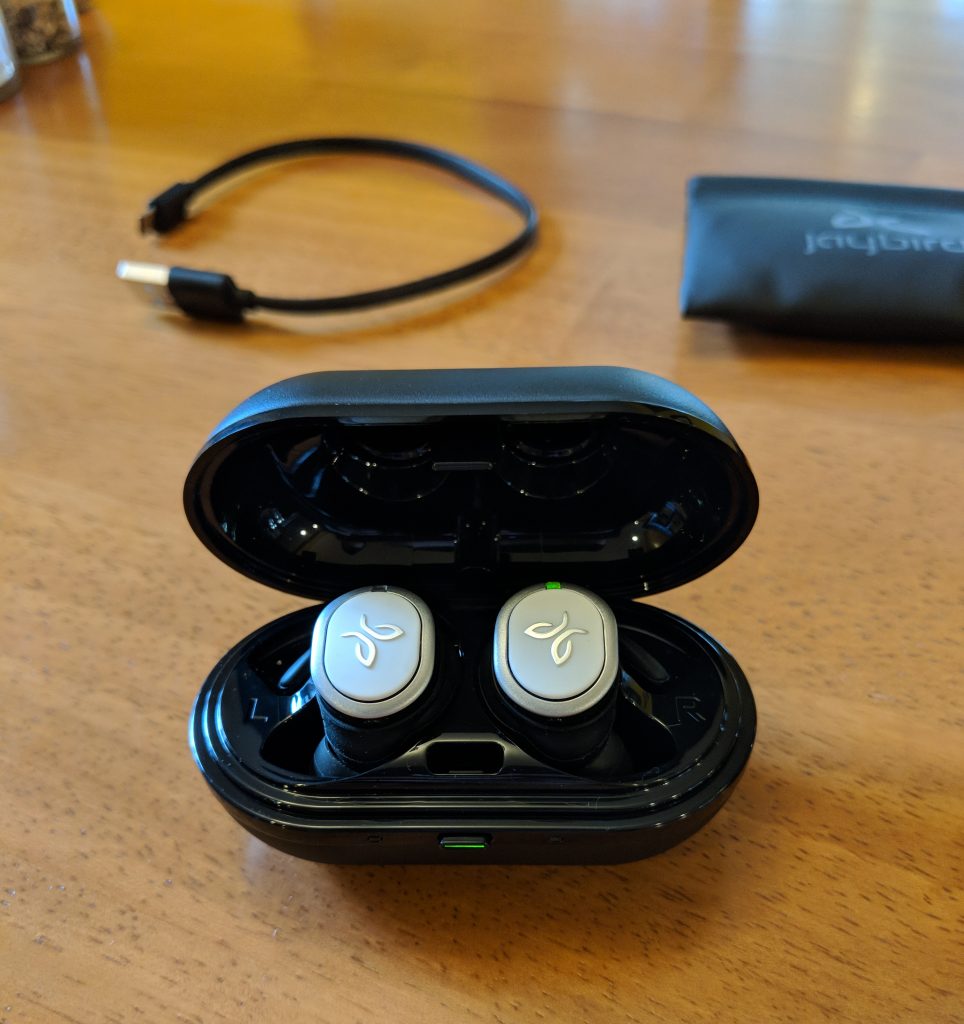 Battery Life:
It wasn't long ago that a battery this small would get you less than an hour's use. Thanks to some of the previously mentioned compromises in sound quality along with advancement in battery and Bluetooth technology, you can get an amazing 4+ hours of use on a single charge. This compares favorably with other wireless headphones out there. You also get an additional 2 full charges out of the included carrying case which has it's own rechargeable battery. This gets you a total of 12+ hours away from a charging cable which is pretty nice.
The charging case has a neat trick for times when you forgot to top off the headphones but want to go for a run. The first 5 minutes on the charger provide a rapid charge which gives you an hour of play time in just 5 minutes of charging. That should help avoid the frustration of dead headphones when you need them. A full charge however takes 2 hours.
In mixed use listening to music, taking phone calls, and interacting with Google Assistant, I found the advertised battery life to be accurate if not conservative. I was able to pass the 4 hour mark with about 20% to spare. One strange thing is that the left and right earbuds tend to discharge the battery at a different rate. The right earbud which seems to have more responsibilities was consistently several percent lower than the left. Since your phone can display the battery level per earbud (with the app) you might notice that and it might drive you crazy…unless you're a normal non-lunatic unlike myself.
Technology: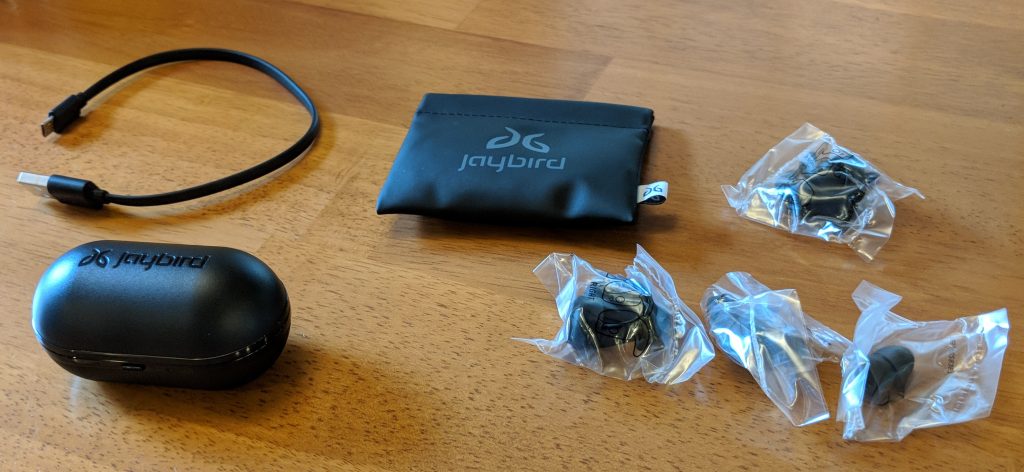 Packed within the earbuds are even more features than just music playback. For starters, the headphones have a built in microphone which allows you to take phone calls directly from your ear piece without needing to pull out your phone. Integrated into the side of both headphones is a single button that covers the entire outside of the bud. It's a little tricky to press correctly, but pressing the right earbud button once will answer a phone call when it's ringing. Audio comes out of just the right ear piece but call sound quality is pretty good. The microphone is also decent and the party on the other line didn't report any sound issues. Music will automatically pause when you answer a call, and when the call ends it will resume for you. If you're not in the mood to take a call you can press the right button twice which will dismiss it.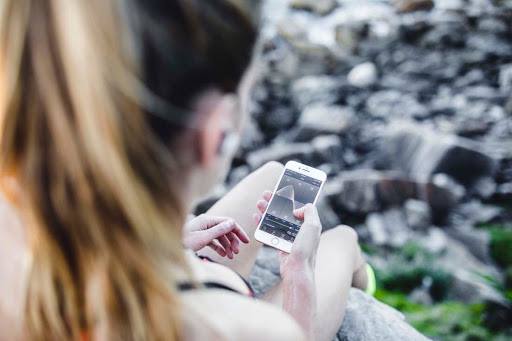 You can control your music through the outer button on the right earbud as well. Pressing once will pause or resume the music. Pressing twice will skip the current track which is super handy. The left earbud button is dedicated to controlling your phone's assistant – Siri on iOS or Google Assistant on Android. In theory this sounds amazing. You'd be able to check your calendar, ask for directions, have your messages read to you, or anything else the assistant is capable of all without having to use your phone or type anything. Sadly, on Android at least, there is a critical flaw in the implementation. Pressing the left button does activate the assistant which is great, however the microphone in the earbuds does not pass your voice command to your phone. This means that you need to use your phone's microphone to make your voice request. If you're running and your phone is tucked away somewhere, that's not going to work. The result is that the assistant feature is useless since you need to have your phone in front of your face to use it anyway. This is disappointing as there was a lot of potential for a great value add. Using the JayBird MySound app you can change the button actions to turn the left button into a volume down instead of the assistant, and the right into a volume up.
One other pain point I've come across is with the charging pod. It's a nice case for the ear buds and is super handy that it recharges the buds while storing them, 2 full times, for a total of 12+ hours of playback. The trouble is getting them to sit correctly so they actually charge. Particularly with the left bud in my instance, it takes several tries to wiggle it in just right so that the green light starts flashing to indicate it's charging. The right bud tends to go in easier and starts charging right away.
A final bit of neat tech is a "find my buds" feature built into the JayBird MySound app. If you ever lose a bud you can activate the function on your phone and it will attempt to locate the previously paired bud for you, provided there is battery remaining in the bud. This could be a lifesaver, not just out in the world (since they stay put so well) but in your couch cushions. Your earbud's last known location will appear on a map and provide you directs back to them. Pretty nice.
Value:
Great fit and comfort, commendable battery life, and 8/10 sound quality combine to make these earbuds a great utility for anyone missing a headphone port on their phone or active music lovers who can't be tied down by wires. The added technical bonuses provided are nice but aren't enough to sway a verdict in the positive if you're on the fence between other options. The assistant integration is a great idea but is poorly executed. All together though, I'm really enjoying the JayBird Run wireless headphones and find myself using them frequently. If you're worried about wireless headphone falling out of your ears after spending so much money on them, these might offer you the peace of mind you need to take the plunge vs something like the Apple AirPods.
Buy Now: $179 or to learn more, go to: JayBird.com 
JayBird Run Wireless Headphones - Tech Review
The positives outweigh the negatives by far. These are the best true wireless headphones I've tested to date.
The Good:
Good battery life
Outrageous comfort
Secure fit
The Not So Good:
Poor phone assistant Integration
EQ needs manual adjustment
Finicky charging dock