Life before homeownership was so much simpler. Keeping a one bedroom apartment a tidy, respectful adult residence was a piece of cake. When we decided to take the plunge and purchase our first home, we had no idea just how much more work it would be. Not only is all of the routine maintenance on you, you have to keep it clean. Well, you don't HAVE to but let's not be animals here. However, you know what you don't want to do after a long day at work? Clean your house. At all. Not even a little bit. Also after a long week at work, you want to reward yourself with something fun away from the house – not cleaning your house.
Here's where the iRobot crew comes in. They have developed some incredible devices to help with those basic household chores you need to do once in a while but absolutely despise. I'm talking vacuuming, floor scrubbing, mopping, pool cleaning, and gutter cleaning. I mean, I am stressed out from just typing that sentence. So much work!
Recenlty the iRobot folks sent us one of the newest versions of their flagship brand – the Roomba 880 – so we could give it a try around the house to see if it really did make life just a little bit easier. Here's what we found out…
What's in the box:
iRobot Roomba 880
iRobot XLife Extended Life Battery
2 Vitural Wall Lighthouses w/Batteries
Integrated Home Base
Remote Control w/Batteries
Extra HEPA Filter
1-Year Manufacturer's Limited Warranty on Robot, 6-Month Manufacturer's Limited Warranty on Battery
Key Features & Specifications:
AeroForce Performance Cleaning System
iAdapt Responsive Navigation Technology
Tangle-Free AeroForce Extractors
High-Efficiency Vacuum
Self Docking & Recharging
Cleans on Schedule
Dimensions – 13.9 inches in diameter & 3.6 inches in height
Weight: 8.4lbs
iRobot Roomba 880 Review Breakdown
Design: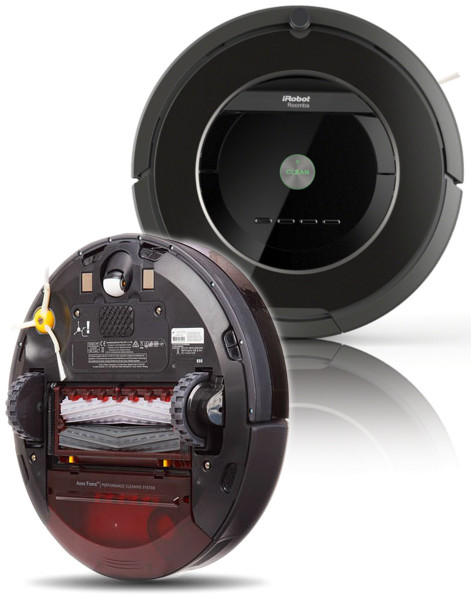 Pulling the iRobot Roomba 880 out of the box, it was bigger and heavier than I thought it would be. Still, it's smaller and takes up less space than a traditional vacuum. It's round shape allows for it to spin 360 degrees and easily maneuver around furniture and corners. The control panel on the top of the Roomba is easy enough to understand. If you can't figure out that the giant silver "Clean" button is the power button from the get-go, you're probably not ready for this vacuum. Below the "Clean" button is the "Dock", "Clock", "Schedule", and "Spot" buttons. The Dock button is to send Roomba back to it's docking station. The Clock button is to set its internal clock and to set the hour when creating a cleaning schedule. The Schedule button is to set what days and what time you want Roomba to clean. It also acts as the minute button. The Spot button is used to change the cleaning mode from all over cleaning to just a concentrated area of dirt. There are also indicators that light up to give you a heads up on how Roomba's doing including a battery light, an anti-tangle light, a Dirt Detect light, a troubleshooting light, and full dirt bin light. The Dirt Detect light turns on when Roomba has come across a concentration of debri and deviates from its traditional cleaning path to take care of business. The troubleshooting light will go on when Roomba is in distress such as sucking up something it can't process such as a power cord. Rounding off the top of the vacuum is the handle so you can easily pick up and carry it around the house.
Flipping it over, the first thing that I noticed is that there's no brush. Instead is a set of rubber, textured rollers. These are the tangle-free AeroForce Extractors which were developed to grab and break down dirt from any floor type. They are promised to eliminate the hassle (and grossness) of dealing with hair tangles like you do with a regular brush vacuum system. Paired with the AeroForce Extractors is a side spinning brush to help grab dirt away from the walls and under furniture. The high-capacity sealed bin easily pops in and out of the side of the Roomba. The door is simple to open over the trash can without having to get yourself and the floor dirty in the process.  Roomba has number of cliff sensors on its underside to avoid falling down stairs or over ledges. Genius!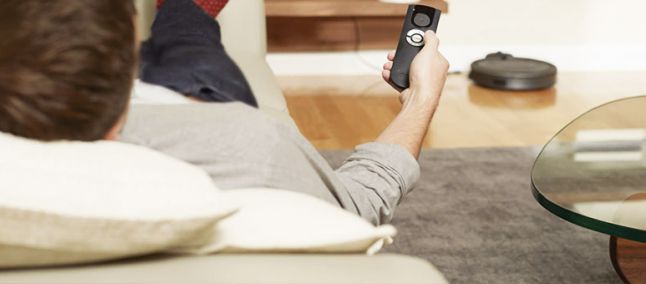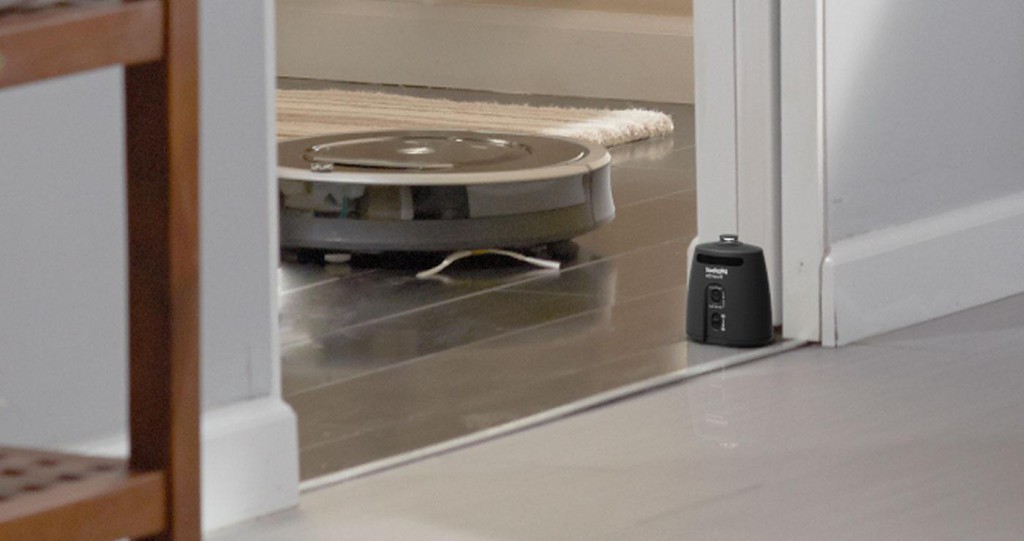 The iRobot Roomba 880 also comes with a remote and two Virtual Wall Lighthouses. You can use the remote to control Roomba by allowing you to turn it on and off, manually direct to where you want it to go, to spot clean, and to tell it to return to its docking station. The Lighthouses have two available modes: Lighthouse and Virtual Wall. In Lighthouse mode, it helps direct Roomba between multiple rooms for full house cleaning and guides it back to the docking station when it's time to recharge. In this mode, it's best to place the Lighthouse a doorway or opening between two rooms. In Virtual Wall mode, it's exactly that – an invisible wall. You use this to keep Roomba away from rooms and areas you don't want it to go. You can set the Virtual Wall to extend up to 8 feet in length. At first you may not see the need for the Virtual Wall. But after you and Roomba get to know each other a little better, believe me you will find uses for them. Turns out I am in need of more than just two.
Ease of Use:
Thanks to the included Quick Start Guide, I had the Roomba 880 doing it's thing within 15 minutes of taking everything out of the box. Maybe even quicker. I found a suitable spot in our living room for the docking station that was out of the way but accessible for Roomba to return to. I placed the batteries in the Virtual Wall Lighthouses, adjusted their coverage settings and placed them at the top of our stairs so Roomba wouldn't go crashing down to it's death. Note: This was before I learned of the amazing Cliff Sensors
All there was left to do was push the silver 'Clean' button on top of Roomba and she was cruising around our living room like she had already lived here – weaving under the coffee table and chairs, cleaning around the edge of the walls, and making it easily into the other room. Setting the time and creating a cleaning schedule was as simple as setting an alarm clock. When we wanted her to go back to the docking station, all we had to do was push the 'Clean' button to make her stop and then push the 'Dock' button. Right away Roomba made a 180 degree turn and started slowly making its way to the docking station. Piece of cake.
Performance:
Here's the important part – does the iRobot Roomba 880 clean as good or better than the vacuum you already have. It IS a vacuum after all.
Getting Around: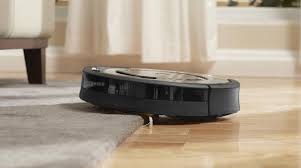 Our house is a traditional ranch style home with a mix of floor surfaces including hardwood, carpet and laminate. I was very interested to see how Roomba would navigate between the rooms in our house and over each different surface. The Roomba 880 has a set of beefy wheels and the power to move easily between surfaces. The iAdapt Responsive Navigation Technology did not disappoint. It guides Roomba perfectly along walls, around furniture, and in a back-and-forth cleaning pattern. At first it's movements look kind of random but it's not. The Lighthouses help guide it from room to room as well as direct it to stay in one room and finish the job before moving into the next room. In Virtual Wall mode, the Lighthouses stop Roomba in its tracks and it spins around to move in the other direction.
Battery Life:
The Roomba 880 has an okay battery life. On average, it lasted about an hour to an hour and 15 minutes on a full charge. Depending on the size of your home, this may or may not be enough time to thoroughly clean all rooms. This is where the Lighthouses and scheduling comes in. When the battery gets low, Roomba starts to make its way back to the docking station to recharge. It takes a few hours to get a full charge again. A few times Roomba accidentally closed itself in the bathroom and was unable to get back to the docking station to charge. When it does this and goes completely dead, check its internal clock and make sure it didn't reset it in the process. Not doing this led to Roomba starting its scheduled daily noon cleaning…when it was actually 3am. Waking up to something rolling around your home in the middle of the night is jarring.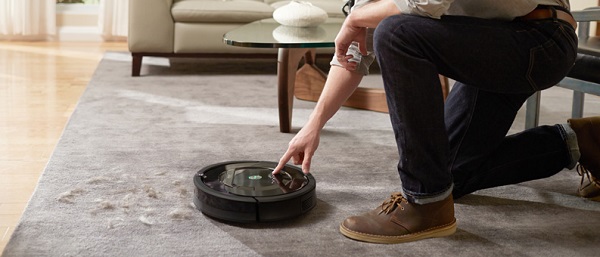 Scheduling:
This is by far my favorite feature of the Roomba 880. You are able to schedule Roomba to clean up to once per day, every day of the week without even thinking about it. Do you have the time to vacuum your house every day for an hour? Because I don't. You can set it to clean any day and time combination you way. But why wouldn't you have it clean every day while you're at work?
Cleaning Power:
The iRobot Roomba 880 is a small but mighty cleaning machine. Every time I open the dirt bin to empty it, I am amazed at how much is in there. The AeroForce Performance Cleaning System has incredible power and sucks up the finest dust and dirt. Paired with the AeroForce Performance Cleaning System is the Dirt Detect. Using the Dirt Detect, Roomba uses optical and acoustic sensors to find dirt and perform concentrated cleaning. So it's not just blindly wandering around your house hoping to go over some dirt – there's actually some science behind it.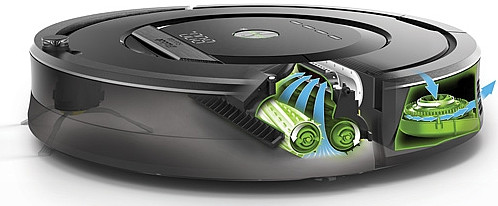 The best demonstration of the Roomba 880's power I witnessed was recently when we were running out of the house to catch a movie on time. Roomba had already been cleaning when it accidentally bumped into our stick style vacuum that was leaning against the wall. The stick vacuum crashed to the ground and the dirt bin busted open dumping all its dust and dirt all over the floor. Instead of getting out the broom, I picked up the stick vacuum and put it in the closet. I decided that this would be the ultimate challenge for the Roomba – cleaning up another vacuum's mess. We left for the movie leaving Roomba to do the dirty work. When we returned home, I forgot about the challenge until later in the evening. I forgot because it was like it never happened! The area that was a dusty, dirty, hair, gross mess when we left for the movie was now perfectly clean. High five to Roomba!
Durability:
In the beginning I wondered how well the Roomba 880 would hold up compared to our traditional vacuum. Being a woman, I am usually a vacuum's nemesis thanks to my constant shedding hair (so much hair!) and leaving the likes of hair ties and bobby pins all over the place waiting to get sucked up. I also wondered how it would take bumping into walls and furniture every day. Well I am happy to report, despite all of this, the Roomba 880 is still in excellent condition. It may be a little dusty on the bottom but that's to be expected with any vacuum. Since we usually have Roomba run when we're not home, sometimes it can get into places that that weren't ready to be vacuumed. Such as the bathroom when I accidentally dropped the straightener cord onto the floor when I unplugged it. Roomba rolled right in and chomped it up. Lucky for me, when Roomba senses trouble it will shut off so it doesn't do further damage. When I returned home and found the wreckage, I thought for sure both Roomba and my straightener were goners. Nope! The cord released gently thanks to the Tangle-Free AeroForce Extractors and both items were unscathed. I honestly have about 30 stories like this since Roomba came to live with us but none have ended in tragedy. If it were any other vacuum, it would be another story.
Value:
Retailing at $699.99, the price tag for the iRobot Roomba 880 a little daunting. However, this isn't your average everyday vacuum. It's a robot. It's the kind of technology that our parents and grandparents only thought would only ever exist in the world of The Jetsons and Back To The Future. Think about how much you would spend on a cleaning service to vacuum your house every day. To me, the real value is not having to vacuum my house ever again. Freedom!
If you need a way offset the expense of the Roomba 880, you could get yourself a chill cat and a shark costume for that sweet new cat, and you could make a boat load of cash on YouTube.
Buy Now: $699.99 or to learn more, go to: iRobot.com
iRobot Roomba 880 - Tech Review
The iRobot Roomba 880 is a geniously designed, powerful cleaning machine. It does the job you don't want to do, when you want it to do it.
The Good
Cleaning Power
Scheduling
Virtual Wall Lighthouses
Not So Good
Price Tag
While it's more quiet than most vacuums, its still noisy
Battery Life - Only About An Hour