The year has turned a very important corner. The air is becoming more brisk, the leaves are turning, and daylight is dwindling a little faster with each passing day. It's Autumn out there, and that means the beginning of the Holiday Season. For a lot of people, this is a time to take it slow while things ramp up towards Christmas. Commonly considered the crem dela crem in terms of celebration, Christmas does have its merits, but it is confined to the bounds of tradition. Halloween, on the other hand, has a murky history. This is a holiday that is constantly evolving with the culture, and the fun is only limited to our warped imaginations. So instead of slowing things down, lets take October to a different kind of level, let our freak flags fly, and join the campaign to make October 31st the ultimate night for a party!
If you're planning a Halloween party this year, here's seven categories to consider to make sure everything goes off without a hitch.
Plan and Budget
When planning your Halloween gathering, a lot of things have to be considered in the early stages. How will your guests be fed? What kind of alcoholic (and non-alcoholic) arrangements need to be made? Will your event adhere to some sort of theme (Zombies, Vampires, Harry Potter, Etc…), or will you just maintain a basic Halloween atmosphere? What kind of entertainment are you capable of providing? To ensure the event is properly executed, answering some of these basic questions in the beginning will be key in showing your friends a great time.

Halloween is a holiday that comes with a plethora of options for decoration, entertainment, and food choices. One would be amazed how quickly the spending can get out of control when planning an event such as this. Be sure to have a good idea about your budget when you begin your planning, or your pocket book will be feeling the pain on November 1st and Christmas shopping obligations are not far down the road. You can avoid incurring big initial costs by bypassing any formal invitations and just throwing out a basic Event Post on Facebook. Give your guests a good idea what they can expect, and how they can participate by bringing food, drinks, or other party favors. As you read on, you'll discover there is a lot that goes into showing your guests the best time possible on Halloween. There is nothing wrong with getting a few helping hands on board early on to help you pull it off. Consider your closest and most trusted friends talents and don't hesitate to ask them if they would like to contribute.
Decoration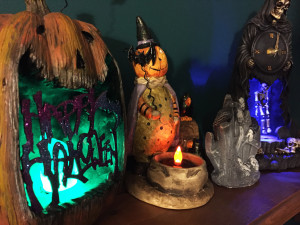 It's time to stretch out your creative muscles, evaluate the layout of the house (or whatever venue you have), and decorate. On Halloween, less is definitely not more, and decorations are best in massive quantity. Depending on your budget, decorations are available in a variety of places. For the heavy-hitters out there, Halloween specialty stores pop up all over the place during the season, and offer anything from animatronics down to basic party favors. Less expensive decorations are available at local supermarkets, drug stores, and department stores. If you're looking for something specific, a quick search online will usually take care of it as long as you allow time for deliveries. For the creative types with some extra time to set up, Pinterest is a great resource for ideas. You'd also be amazed how many great finds are available at the local thrift store.
The best kind of Halloween decoration is a well placed one. While decorating, make sure you take the time to put a few items in places that will surprise, or even strike some fear into anyone who stumbles upon them. Make use of motion sensored decorations in stairwells and around corners. Perhaps a severed arm gets placed in the beer cooler. Keep it creative, and your guests will be sure to enjoy the surprises that are in store.
Many decorations require batteries, and you will run out fast if you're not prepared. Check the local dollar store for discount batteries in bulk supply. Battery quality is no issue since you only need to power things up for one night, so stock up! Just make sure to remove the batteries from all of your decorations and store them properly for next year's party. There's nothing worse than loose battery acid when you go to re-decorate 11 months later.
Costumes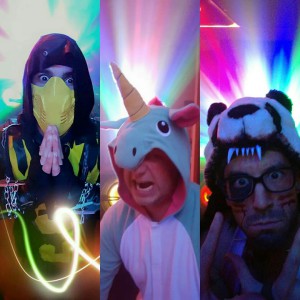 When it comes to costumed events, be prepared for the full spectrum of attitudes on the subject. Some people can't wait to get into character and show their stuff off. Others, you will find, aren't so keen on the idea because it's just not their thing or a huge hassle. And then there's always that one guy who shows adamant opposition to the notion he would be caught dead gallivanting around in some stupid outfit all night. In my experience though, once everyone is gathered together and looking ridiculous as a group, any inhibitions about dressing up goes out the window.
This is Halloween folks, and proper attire is the lifeblood to the ultimate party experience. I make sure to get the word out immediately that costumes are expected and required. If you're worried about how to deal with that one person who's not into the "costume thing", there is a simple solution. Be sure you make it clear that you have costumes on standby, and they are available for those who show up unprepared… And one more thing. What you have to offer is far more embarrassing than whatever it is they would come up with on their own. This may seem like a harsh strategy, but it works, and it's surprising how many of those nay-sayers turn out to find quite a bit more enjoyment in costuming up than they anticipated.
Entertainment
Just wearing costumes in decorative surroundings is not nearly enough to keep a party alive for the duration. Halloween is the perfect time to find creative ways to utilize the technology available all around us. If the gear we recommend here is unavailable in your own home, there's a good chance a friend might have what you need, so be ready to ask a few favors.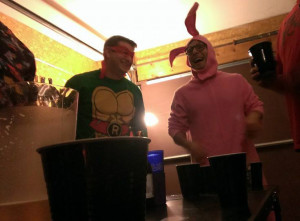 If you have multiple forms of entertainment in mind for your party, be sure to think through how you can spread them out in the space you have. People at a party like to dance, so take the largest space you have and prepare some music. With modern technology at your disposal, there are a lot of options out there for music, ranging from the old school CD, iTunes, or Spotify. This is a good opportunity to ask your most music savy friend to make a playlist that is appropriate for the situation, and set it up with the best sound system available to you. To add atmosphere to the the dance room, black lights, fog machines, and laser projectors are relatively inexpensive these days if you can fit it into your budget. I also like to run a movie projector on a large white wall in the dance area and play horror films in black and white, adding a little to the holiday atmosphere.
Some people aren't as much into dancing, and would rather be playing some drinking games instead. Set up a few beer pong tables and a keg in the part of your home least vulnerable to spilled drink, and in most cases that would be the garage. Remember, this is the end of October, and as the night wears on, a non-heated garage will cool down fast. It is advisable to have a few space heaters not only on standby, but running before the party gets going so you can ensure the comfort of you guests.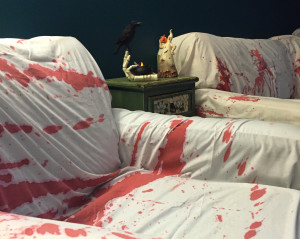 With all of this commotion, people will be eager to kick back in a communal area over food and drink. This is a good way to make use of the main living space, and a good opportunity to use some of your less elaborate decorations, creating a more settling ambiance. It is advisable to set a mood of calm and comfort in this space, so people have a chance to chat and perhaps recharge in between games and dancing. Forget about any open flames that could cause a fire hazard and load up on battery powered tea lights. They're extremely inexpensive and great for dialing down the mood. Also, be sure to protect the furniture. At any Halloween party there are bound to be treats and drinks everywhere loaded with food colorings and other staining agents. It's a smart move to go down to the local thrift store a few weeks ahead of time and load up on bed sheets, hang them on the clothesline and throw a bunch of red paint at them. This makes an appropriately gory, low-cost furniture covering that adds to the Halloween atmosphere of your party.
Food and Drink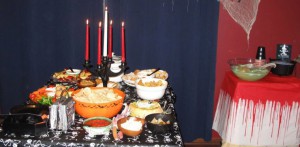 As with any party, people will need to be fed and watered. Taking on this task on your own will consume time and money very quickly, so the best practice is to make this the time you get your guests to participate. People love elaborate and intricate treats on this particular holiday, so giving your guests the option to bring a side dish or desert is the smart move. It gives everyone an opportunity to bring their own creativity to the table, and the surprising additions to the spread is a great way to add to the atmosphere of the party. I always provide a main dish though…something easily prepared that can stew in a crockpot without taking up too much attention. Something like a white chicken chilli or sloppy joe is the best way to go in my experience.
And what Halloween Party amongst good friends is complete without some sort of speciality concoction? In years past, we've attempted a few creepy Halloween themed punch recipes, but there have been just about as many fails as wins since we've been doing this. This Halloween though, We're stepping it up a notch and decided we will be building a Harry Potter themed Butterbeer Bar that can go alongside the rest of the refreshments. After a bit of experimentation, we've discovered a recipe that your guests will be sure to enjoy:
1 oz Aged Rum
1 oz Buttershots
1/2 teaspoon McCormick Butter Flavor
12 oz Creme Soda
Whip Cream (or Ice Cream) as a topping
Any end table or portable bar should do it, and a decorative Harry Potter table cloth should be available at the local arts and crafts store! If you think your guests would enjoy participating in the magic, you can pre-mix some of the above ingredients and label them in separate bottles with fun names like Dragon Snot or Ear Wax of Unicorn, and provide the recipe right there at the bar for the guests to mix.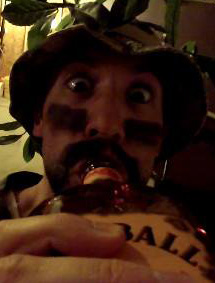 Interested in trying something else? Here are a few more entertaining and elaborate ways of serving up some delicious drink:
Secure a GoPro Camera (set to time lapse) to a pre-mixed bottle of aged rum 

and your favorite mixer…something you're confident your guests will be

 

willing to drink straight. The after photos make a terrific party favor for your guests the next day.
Have a Shotski on standby. For those unfamiliar with the Shotski, it's a downhill or cross country ski with shotglasses secured to the top in a line. If you don't have a shotski available, you can always make a Slap Shot. It's the same thing, just with a hockey stick!
Rummy worms is always a hit and its a simple recipe. Just half fill a sealable dish with gummy worms, adding a little bit of aged rum a few times a day for the 4 days leading up to the party. Mix it up every so often and keep it refrigerated. These things pack a punch when prepared properly (fair warning).
Keep it Safe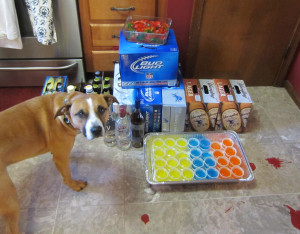 All of the wild creatures tend to come out on Halloween, and be prepared to have a few of them show up at your party. Let your guests know beforehand what sleeping arrangements are available. Make sure you have designated drivers and the numbers for taxi companies available for the folks who don't intend to stay. Also, think ahead to protect your property and the well being of your guests. Use electric heating and lighting devices with proper surge protection chords as much as possible, as open flames and gas powered devices can cause some severe health and/or injury hazards. If you have the intention of taking all of the advice we've provided here, it's good practice to do a dry run with everything running before your guests arrive. There will be a ton of electricity running through your home to fuel the experience, and your circuit breaker may not be up to the challenge. Be prepared to make a few tweaks to your setup to ensure everything runs smoothly and without fail.
Make it Yours!
Most importantly, and above all, consider all of the suggestions here as guidelines instead of rules. Cater the event to the standards of your own personality and what you feel will give your guests the best experience possible. This is your chance to push your creativity as far as you feel comfortable, maybe even further, and perhaps bring out some of your inner weird. Halloween, by it's very nature, is the great non-traditional holiday with the most expansive varieties of ways to celebrate. Every year I throw a party, and every year I challenge myself to bring a little something new to the table, and keep my guests excited for whatever experience I have in store for next year. Have fun, and Happy Halloween!