These days, we demand a lot out of our vehicles.  Especially our trucks and SUVs. They are big investments so we want them to meet every need we might throw at them.  If you are an active person like I am, that usually means your adventures will sooner or later take your truck somewhere off-road, in the rain and most definitely in the snow.  You'll also want to haul lots of gear and then enjoy a nice relaxing ride home. Is that too much to ask, really?  For a tire to deliver…everything?  Realistically, probably, yes it is too much to ask.  But the folks at Hankook seem to think otherwise and bring to us, the Hankook Dynapro AT-m.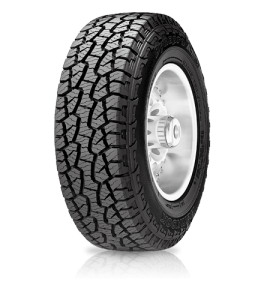 Key Features
Wraparound Tread
Block patterned after tiger's teeth
Deep Two Step Sipes
Tiered Side Groove
Stone Ejectors in Center & Shoulder
Patent Pending Scallop Grooves
Angled Side Groove
Zigzag Block Edge
8% Wider Tread
Rim Flange Protector
Load Range "E" 10-Ply Available
For Aggressive All-Terrain
DYNAPRO AT-M Tire Review Breakdown
Looks / Design:
A great looking aggressive sidewall pattern combines with embossed graphics that give this tire a mean look.  The aggressive tread pattern was actually patterned after tiger's teeth.  So if you have ever wondered what a collection of black tiger's teeth would look like driving your truck, this is the tire you have been waiting for.
The DynaPro also has a widened footprint that is about 8% wider than a tire of similar size.  When you step back, it really gives the appearance of it being a much larger tire than it actually is.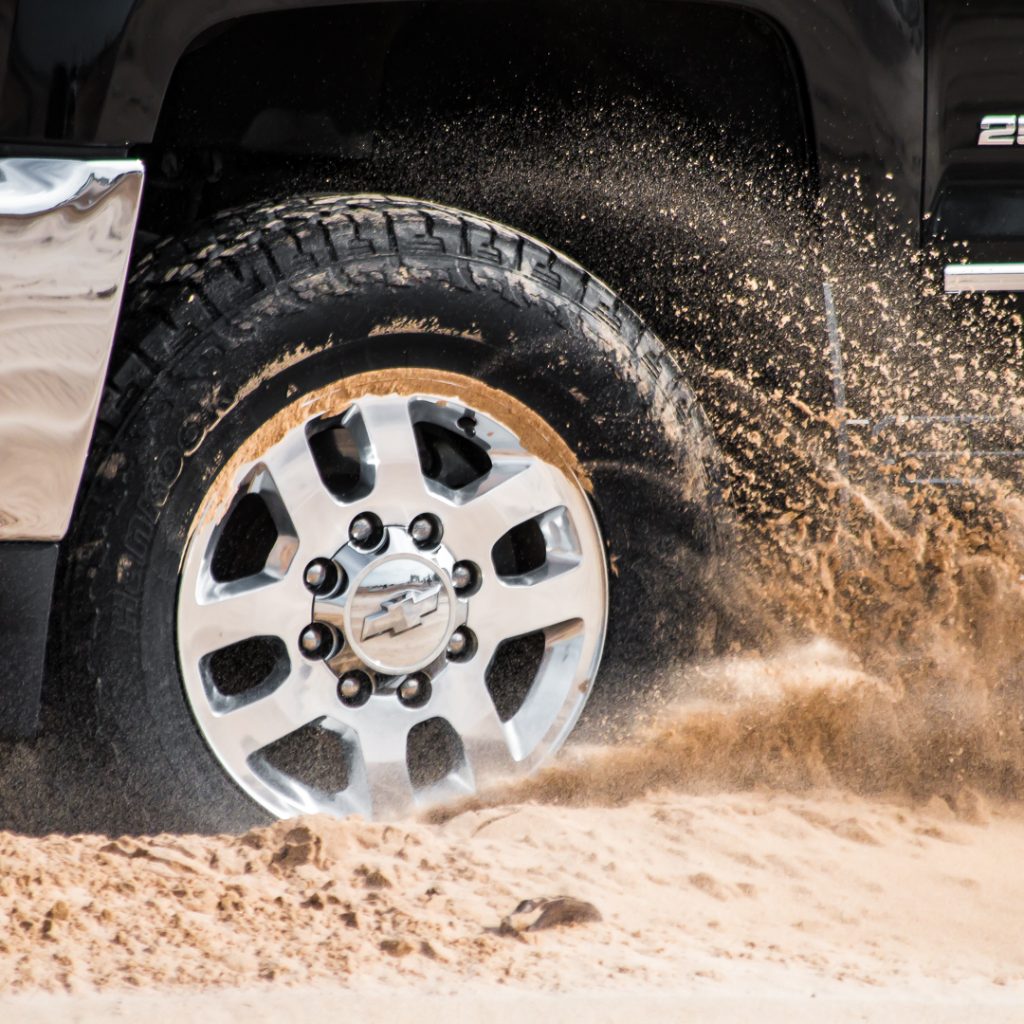 Handling:
I mounted the Hankook DynaPro AT-m tires onto a 3/4 ton pickup truck which meant I needed the Load Range "E" version of the tire. First off, I was excited to find that it was available in a 10-Ply "E" rated version and that I would not be losing any hauling capacity.
With this heavy duty version of the tire, I knew that the ride may be a bit more rugged than would be experienced on a typical SUV tire, but still found the ride quite smooth. It did tend to bring out the truck like qualities on my pickup at highway speeds a little more than I had hoped, but it took a pretty sensitive seat to feel the difference.
To round out the testing, I hooked up a 6,500 pound trailer and loaded up the tailgate with coolers and gear for a nice long road trip.  The ride while towing remained nice and smooth with no issues to report. As with most 3/4 ton pickups, the ride had actually improved once a good heavy load was applied.

Cornering was also confident thanks to a tiered side groove that helps keep the moving angle of tread blocks small as the tire stretches and  grips in the corners.  With the trailer hooked up, we even noticed that sway due to passing vehicles had reduced.  I would take an educated guess that the tiered side groove also helped the tire resist those awkward side forces you can feel while towing a good load.
Traction: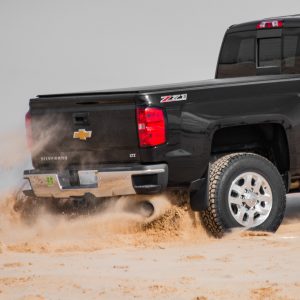 Lets start off with the fun traction – off-road.  I took my truck to the Silver Lake Sand Dunes in Michigan for the most fun off-road test.  We let air out of the tires for maximum traction and had a blast all day.  Mind you this was on a Chevy 2500 with a Duramax diesel engine, so it's not a light truck by any means.  We never got stuck even on some loose sand climbs and it crawled its way through mud with great confidence thanks to the patent pending scallop groves between tread blocks that increase the biting power off-road.
On Road, we noticed excellent wet traction.  In a diesel pickup truck, wet traction is actually very important due to the amount of power that can be channeled into a very light rear end. A normal stop light can quickly turn into a drag racing burnout pad if you don't mind your gas pedal.  We had no issues with burning out and at each wet light, we left the line in confidence.
I attribute the excellent traction to all the technology built into the tire.  In addition to the tiger teeth pattern, deep two step sipes really increase wet and icy traction and are further helped by a zigzag block edge.
Road Noise:
I was expecting the luggy, aggressive DynaPro to hum along the highway with at least a little hint of the big growling tires they look so much like.  To my absolute surprise after getting on the highway the first time, there was no noticeable increase in noise over my previous (very expensive) highway tuned all-terrain tires.
After driving for a little bit and trying very hard to listen for the monster truck hum, I could say there is a very, very slight increase in noise over my other tires that I considered to be extremely quiet, but nothing major.  Road noise of the tires was well drowned out by the wind and engine noise of the truck.
In short, I would consider the noise of the DynaPro to be not noticeable. Passengers in the truck from before and after the tire swap surprisingly all agreed there was no gain in highway noise and presence of the tires in the cab was not noticed.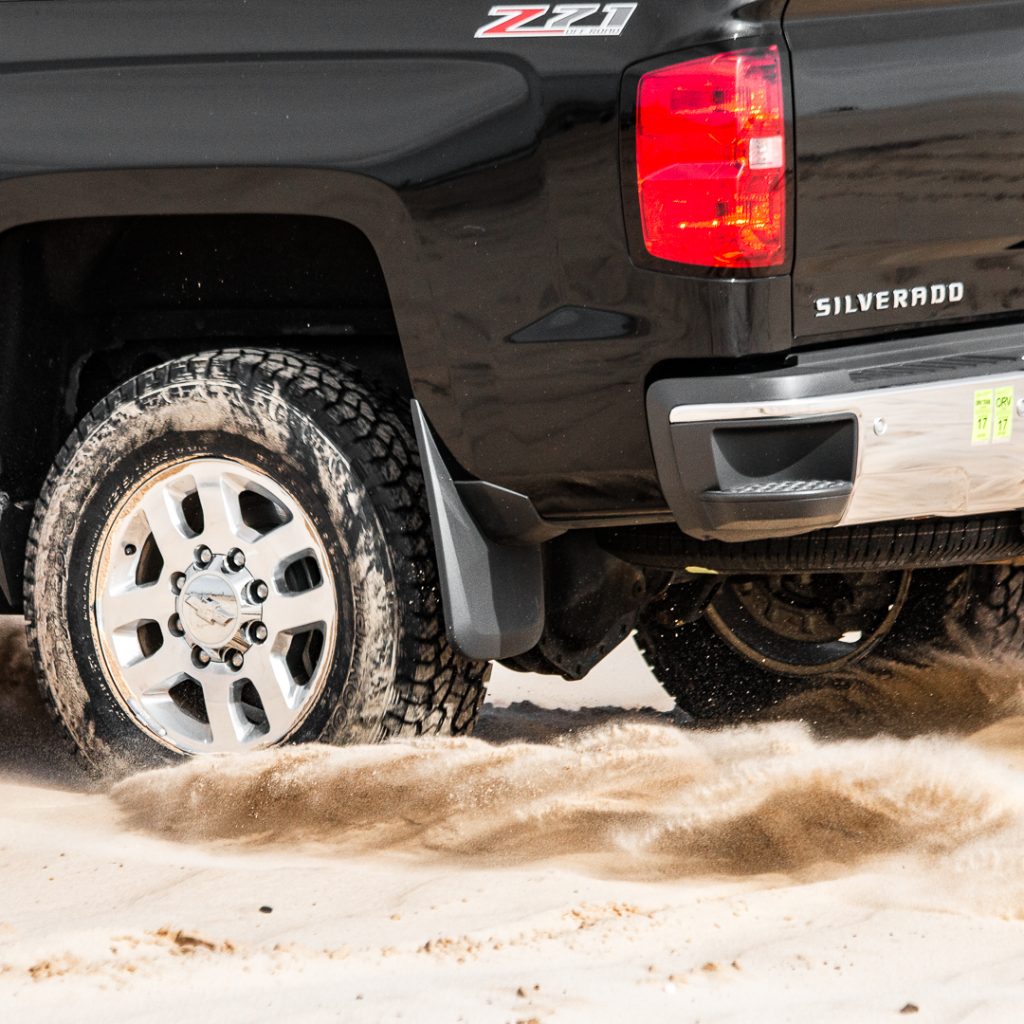 Durability:
We have done a few long road trips with our tires, a few off-road trips, some towing and so far all looks well.  The DynaPro's have a UTQG tread wear rating of 560 which is really quite high, especially for an all-terrain tire.  The tires are said to go 50k miles and with the little bit we've put on them so far, that seems quite reasonable.
During the low air pressure off-road run, the jointless bead wire worked hard to prevent bead separation and gave us confidence that the tires were designed to run in low pressure situations.
The aggressive appearance of the tread isn't just for looks, either.  That wraparound tread acts as extra protection against sidewall cuts as well.  Deep two step sipes not only increase wet and ice traction, but they also help to extend tread life.

Another interesting feature that is an extension of the tiered groove pattern is that it will eject stones from the center and shoulder grooves.  This helps prevent tire damage from embedded objects.  It does seem to work, but I did notice that at slower speeds the stones will get picked up and then as you drive faster, get shot out of the tires.  Make sure you have a good inner fender wall to help protect your vehicle from the ballistic rock projectiles and you'll especially want to be careful if your tires extend past your fenders!
You'll also be pleased to have a rim flange protector built in to help prevent damage to your wheels when you bump that curb.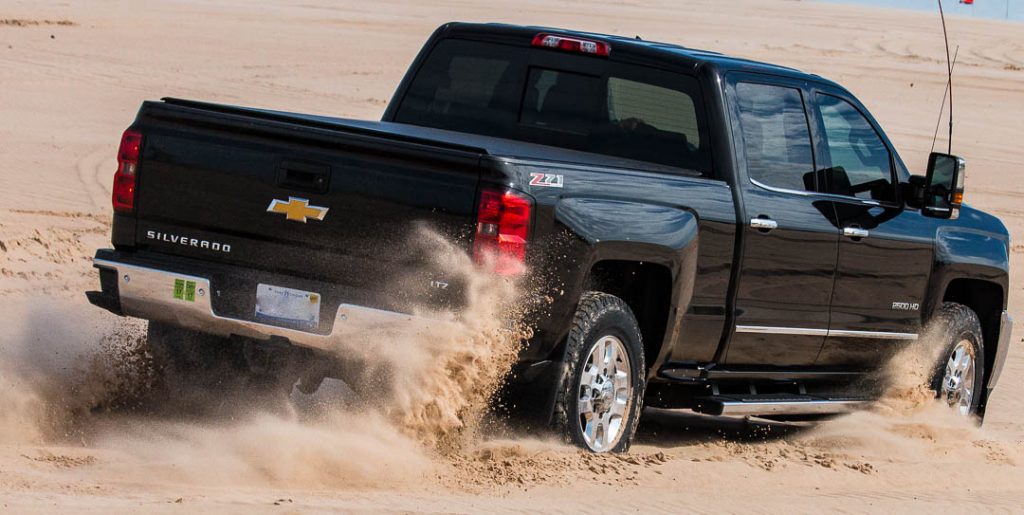 Value:
At around the $150-$175 per tire mark, these tires fall into the low-to-mid range price point.  With the ability to confidently do it all on-road, off-road, daily driving and even towing, I would say this tire is a true gem.  You may find other tires that excel in different areas, but you'll be hard pressed to find such a great balance of features and price.
Hankook Dynapro AT-m - Tire Review
If you are looking for a great looking tire that is well balanced in capability, ridability and price the Hankook Dynapro AT-m should be very high on your list.
The Good
Low Road Noise
Great Looks
Excellent Traction
The Not So Good
Slightly "Trucky" Ride
Can Shoot Rocks