Greenhook Ginsmiths American Dry Gin - Drink of the Week
Steve DeAngelo is man who has always enjoyed a good tasting gin and when he started looking at liquor store shelfs for new and creative gins, all he could find was copious amounts of flavored vodka.  Simply put, he felt gin was being neglected. Instead of sitting around drinking uninspired liquors, Steve decided to do something about it.  He believed it was time to bring back purity and flavor to the gin market, but also wanted to produce something innovative and creative. Steve set up Greenhook Ginsmiths in the Greenpoint neighborhood which is situated in Brooklyn, New York.
Greenhook Ginsmiths touts an innovative distillation process that is designed to harmonize tradition and modern production techniques. With a unique method that diminishes the atmospheric pressure in the still, Greenhook Ginsmiths reduces the temperature of the distillation environment to nearly 40 degrees below the normal alcohol distillation temperature to approximately 132 degrees.  This method is designed to produce a more aromatic and pristine spirit. At Greenhook Ginsmiths the makers are capturing the spirit of the botanicals in their raw state, and retain two of their key floral botanicals perfectly (chamomile and elderflower) to create their flagship taste.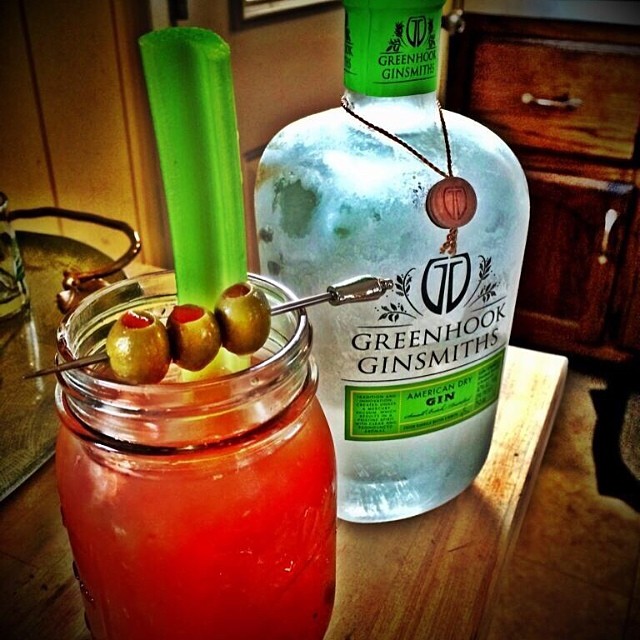 "At Greenhook Ginsmiths we will be utilizing a custom-made 300 liter copper Alembic Still, specifically engineered to work under a Mercury Vacuum to reduce atmospheric pressure in the still, allowing us to distill our gins at lower temperatures that traditional distillation.  This idiosyncratic engineering marvel reduces the temperature of the distillate resulting in a magically purer and a more aromatic spirit."  – Steve DeAngelo
Greenhook recently sent over some of the American Gin Dry Gin for us to sample and as you know we're always up for a good tasting session.  They also surprised us by including some of their Beach Plum Gin liqueur that is deserving of its own drink of the week! Be on that look out in the near feature for that review, but first let's get to the Greenhook Ginsmith's American Dry Gin!
Greenhook American Dry Gin Review Breakdown
Proof: 84 (47% ABV)
Age: Un-aged
Appearance: 100% Clear
Nose: Juniper, floral, cinnamon
Flavors: elderflower, coriander, citrus
Price: $35.00 USD (750ml.)
Coming in at a very highly rated 8.8, Greenhook Ginsmiths American Gin is definitely becoming a staple on our shelves. Upon first sniff the Greenhook American Dry Gin is very inviting with warm notes of juniper, cinnamon and chamomile. The scent is very similar to most classic gins but when you take a sip, this is where the uniqueness of Greenhook distillation process really comes alive.  You will be delighted with the elderflower which balances nicely with chamomile, cinnamon and a subtle tasting of juniper that finishes nice and smooth. We also detected some hints of coriander, citrus and a welcomed tasting of ginger.  The American Dry Gin definitely packs a punch by coming it at 94 proof.  Overall, this gin is great on the rocks or pairs nicely in a classic martini. This gin belongs in the contemporary arena but we are happy to see people like Steve DeAngelo willing to try new and innovative distilling process.  Our palettes thank you! As always, enjoy responsibly.
MIX IT UP… "Manhatten Ave Transfer"
Ingredients: 1.5 oz. Greenhook Ginsmiths American Dry gin, 3/4 oz. Sweet Vermouth, 3/4 cynar, oil of lemon, lime, orange.
Directions: Add all ingredients to a mixing glass, then add large ice cubes. Stir until cold, strain into a coupe glass. Wipe rip with lemon, lime or orange. Squeeze oil over top of the drink, discard.