No matter what time of year it is, what season is setting the tone for the day, when the Outdoors call, you have to answer. Having the right gear is essential, and starting from the ground up with a solid foundation is a must. Whether you're hitting the trails to find the perfect spot to snap the great viral nature picture, or exploring new terrain on the quest to push your limits, keeping your feet happy, safe, and dry is an element that can't be overlooked. Garmont's new Trail Pro II Mid GTX puts everything you need to hit the trails in one expertly crafted package.
The roots of Garmont's passion for providing top-tier footwear for the adventurer dates back to 1964 with an eye on conquering mountains, rugged terrain, and producing boots that would stand up to whatever the wearer could put them through, or put under them. Over the past several weeks we've been testing them on the rugged trails of Washington State. How did the hold up? Here's what we discovered…
Key Features:
Bi-density expanded EVA midsole for greater comfort.
TPU heel support for stability
Hypergrip® outsole
Anatomically Directed Design, VIBRAM®, GORE-TEX®
Assymetrical Cuff
Anatomical Tongue
Precision Lacing and natural flex
Differential Ankle Pads
Lace-to-toe closure
Engineered 3D mesh and microfiber
Breathable PU footbed
Garmont 9.81 Trail Pro II Mid GTX Breakdown
Construction:
Hiking through the lush landscape of the Pacific Northwest there's never any telling what you'll stumble across, which is why the Gramont's Hypergrip outsole and mingled in GORE-TEX make each step sure and sound. Created with hikers of all experience levels in mind, the 9.81 Trail Pro II Mid GTX showcased support, flexibility, and comfort as the trail climbed, dipped, and produced varying levels of Oregon mud around every bend. Whether I was quick-stepping down a decline or misjudging how far I could jump and ending up with a foot in a small seasonal stream, the water-resistance and Lace-to-toe closure proved a necessity.
Support: 
Navigating through several recently fallen trees, and a few slippery rocks, the support of the Differential Ankle Pads and TPU heel support for stability made it feel as if the shoes was one solid element with the foot, rather than fighting it to slip away. Enabling the foot to move freely with each bit of altered footing, the support on the boots made the hike easier than expected with a pair of new footwear. After taking them off, there was no irritation and most importantly, the usual soreness of breaking in new sole-mates was thankfully absent.
Fit:
Jumping off from the characteristics of support, the fit showed nothing less than an expert's touch. While this might seems like a nice exaggeration, Garmont has been in the business of footing the needs for adventurers since 1964, so their over half-a-century of knowledge and know-how is evident in their design. One of the main aspects that truly made itself known throughout my adventures hiking was the Precision Lacing and natural flex. Once I got the tightness of the laces where I wanted them, they never slipped or dug in as my foot flexed to adjust the terrain.
Performance:
Now while we all might not be ultra-marathon runners, planning our K2 accent, or training for the Iron Man that doesn't mean we can't use top-quality gear that these elite athletes use to test their limits. The 9.81 Trail Pro II Mid GTX is the perfect boot for those looking to perform well in all climates, terrains, and elements. Without breaking the bank, Garmont is able to deliver a hiking boot that allows everyone to take on the trails and conquer them with support, traction, and comfort.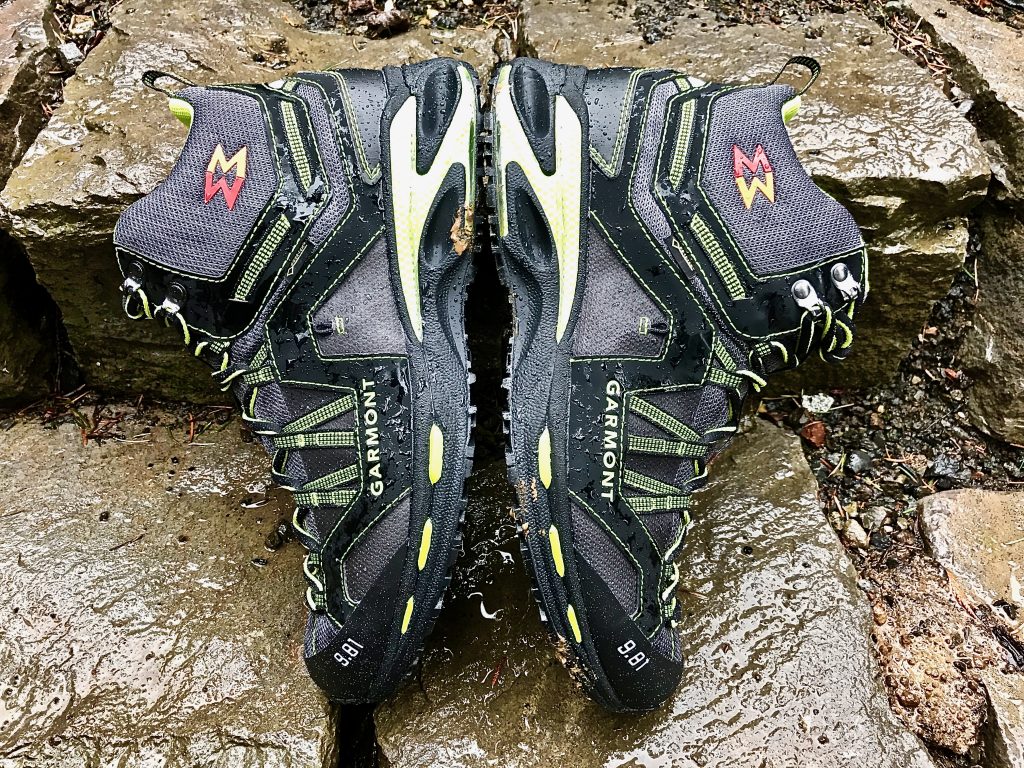 Style:
The neon-green accented against the dark charcoal backdrop of the shoe acts as a sort of safety reflector without calling too much attention to the boot. While being focused mainly on performance, the style and design blend the classic rugged look with a modern sense. I wouldn't recommend wearing these with a tux to the opera, but after putting the boot through some rugged and picturesque tests, I wouldn't want to be out on the trails without them.
Value:
If you're going to equip yourself right for an outdoor adventure, then you can't skimp on your feet. The 9.81 Trail Pro II Mid GTX will set you back about $190, but they will last. There is nothing worse than talking yourself into something that's not exactly what you want or need because of the price, and then having to replace them with another pair after just a few outing. Garmont builds their boots to last and put up with whatever you can throw at them.
Buy Now: $190 or to learn more, go to: GarmontNorthAmerica.com
Garmont Trail Pro II Mid GTX - Gear Review
Exactly what you need in support, function, and performance.
The Good:
Support
Traction
Construction