Aarlier this year, Frigidaire announced their revolutionary new oven range that features Air Fry technology. The Frigidaire Gallery 30′ Gas Range with Air Fry is the first one on the market with Air Fry technology. The oven is designed to deliver all of the flavor and none of the guilt by allowing people to make healthier, crispy and delicious meals for the entire family using the hottest trend in cooking, while eliminating the need for an expensive, bulky counter top appliance.
According to a recent study, nearly 83 percent of consumers stated Air Fry was a critical or important factor in their purchase decisions. Noticing this trend, Frigidaire decided to be the first to bring this technology inside a traditional oven. When we first saw a promotion for the oven, we saw a graphic of someone pulling out some beautiful crispy wings from the oven and we knew we had to get our hands on this oven. How did our wings and other items turn out? Read on for the full review breakdown!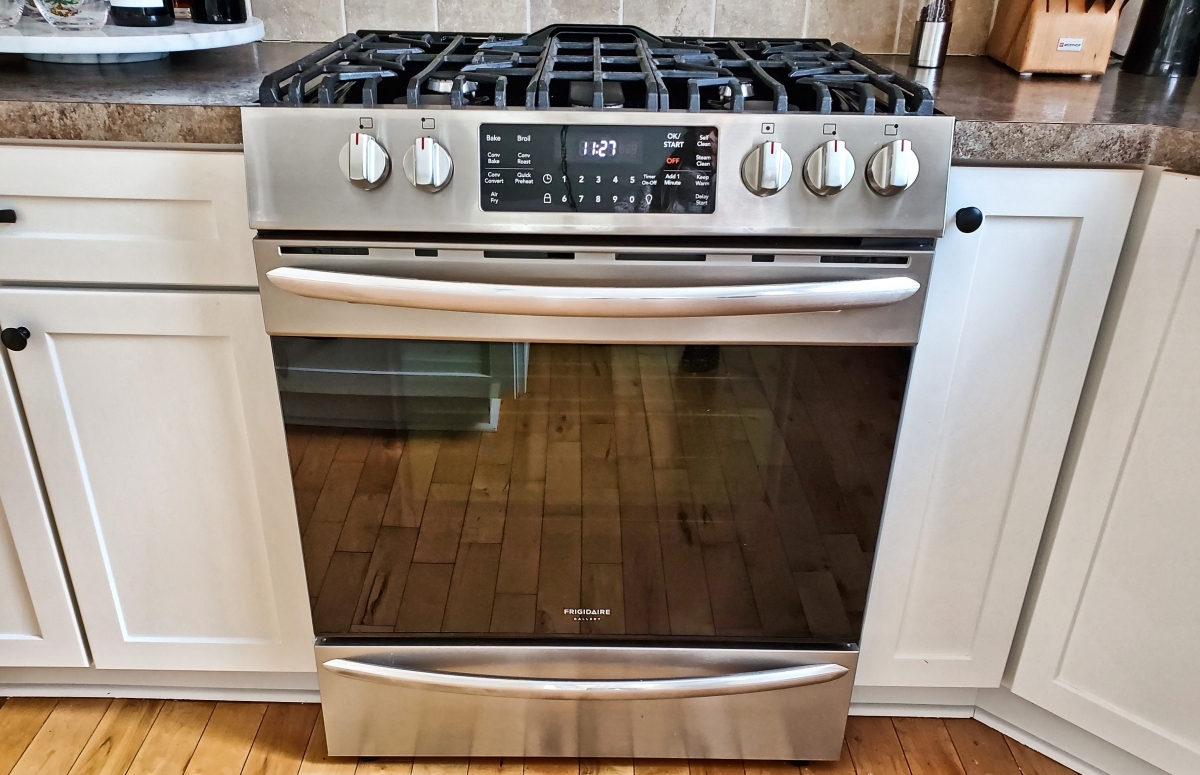 Key Features:
Flexible five burner cook top
True Convection- faster, more even baking results
Quick Boil Burner
Fast steam cleaning option
Air Fry technology built-in
Griddle pan included
Frigidaire Gallery 30′ Gas Range with Air Fry Review Breakdown
Design:
Obviously the first thing to discuss is the built-in Air Fry technology. For those of you without an air fryer in your life, they are similar to regular counter top convection oven. It's a small electric appliance with a heating element and a fan that blows air around in a cooking chamber. However, in an air fryer, the air is swirled very quickly in a circular fashion.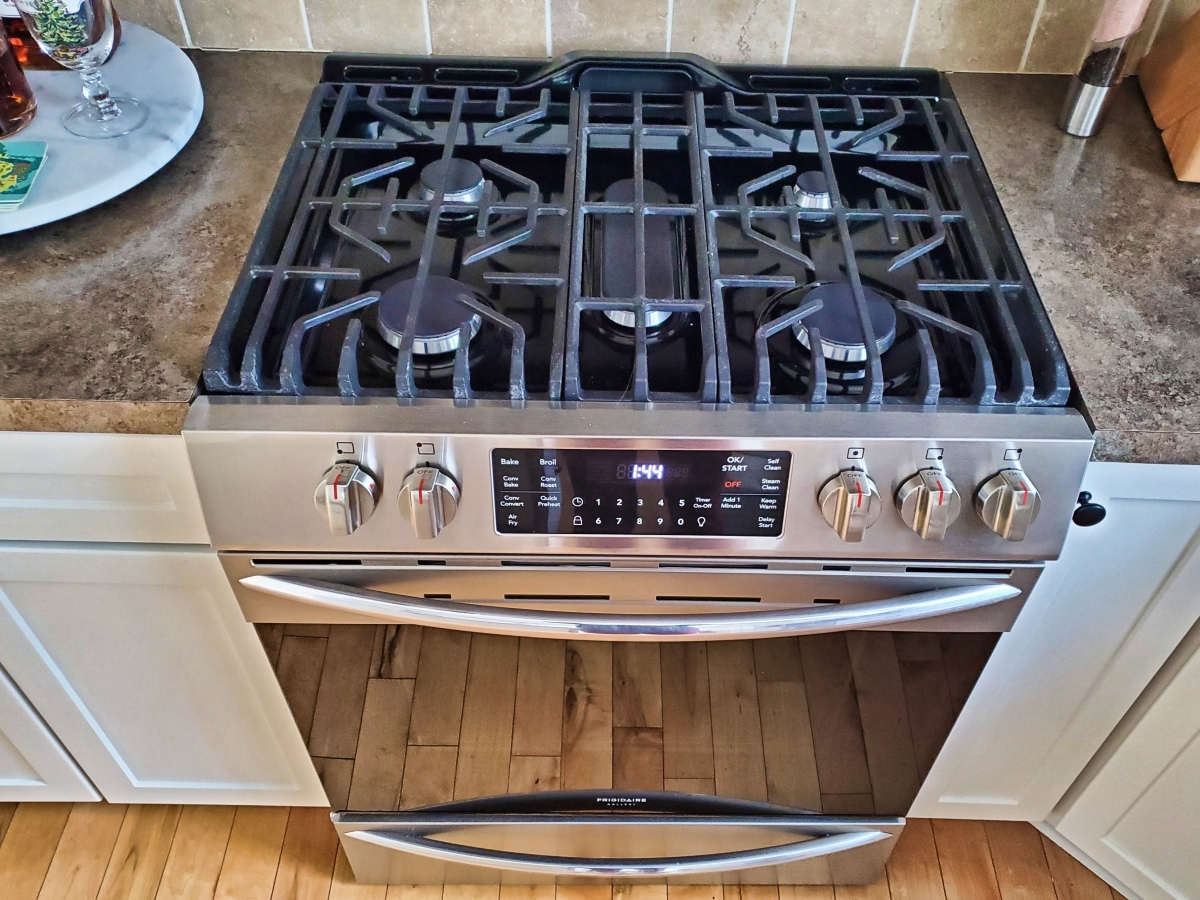 It does a better job of reaching all of the surfaces of the food and creating a crisp crust. Plus, the food itself sits in a perforated basket which increases its contact with the hot moving air. This is very similar to how it works inside the Frigidaire. The air fryer mode heats up the air inside the oven to a higher temperature than what you'd use with convection. It then gradually cools down as the fan circulates air around the cavity rapidly hitting all parts of your food. This will allow everything to get nice and crispy without submerging the food in a tub of oil.
In addition to the air fry mode, the oven also features a flexible fiver burner cook top. The Cook top features an 18,000-BTU power burner for faster boiling, a 5,000-BTU simmer burner for delicate foods and sauces and a 10,000-BTU oval burner, which Frigidaire throws in a griddle that is perfect for this spot. The oven also features true convection that features a powerful convection fan and a third heating element that evenly circulates hot air throughout the oven give you an even baking session. Finally, the oven comes in smudge-proof stainless steel and black stainless finishes that keeps it looking pretty and new after a lot of usage.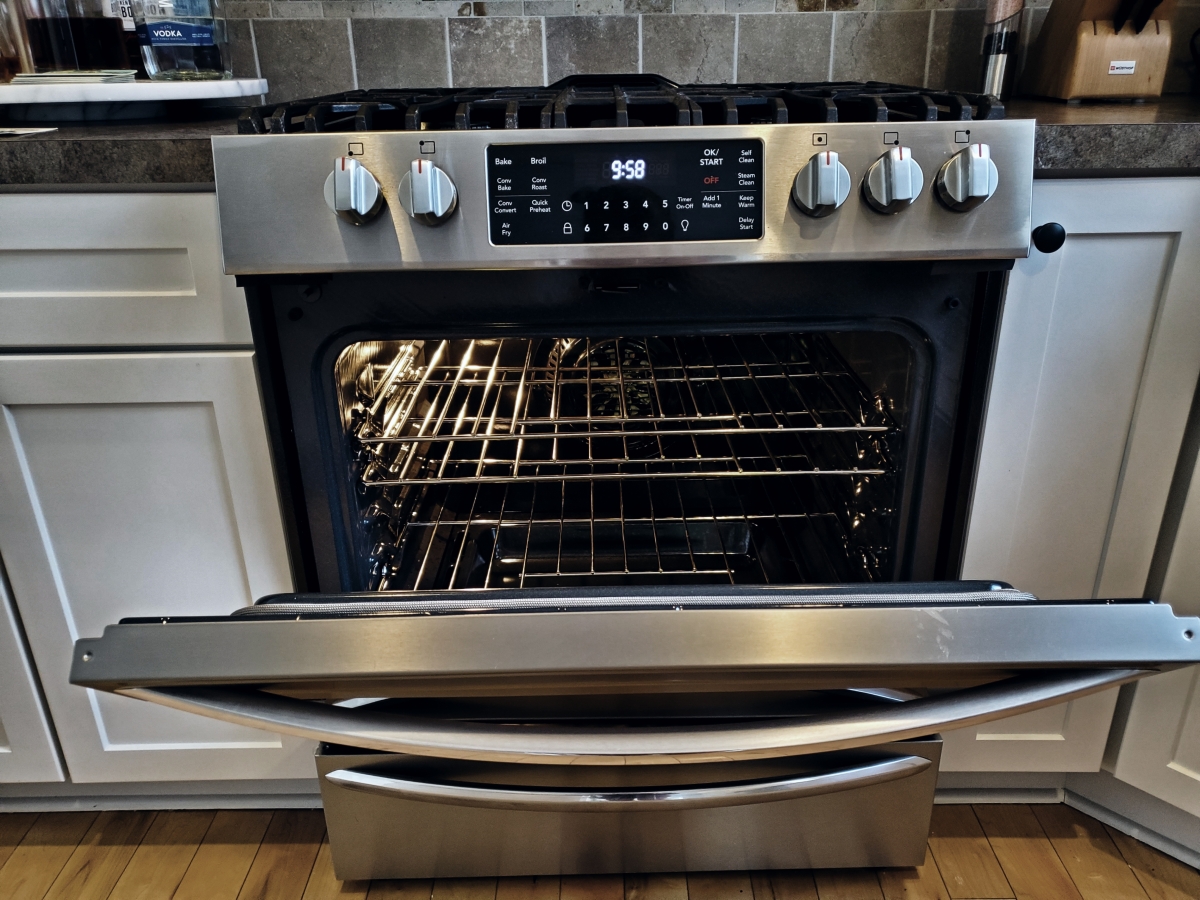 Performance:
While the air fryer was great and we will get to that in a second, what really stood out to us was the burners. The 18,000 BTU front burner is amazing for getting the water to a boil in a hurry. If you are always on the go and don't have time to slave over dinner, this burner gets you up and running in no time. We put on a teapot the other day and we were at boil in just under 3 minutes. The other burners work great as well. The 5,000 BUT simmer burner is great when you need to be a little bit more delicate or you want to hold a low temp.
The oval burner in the middle of the oven is really great to use with the griddle pan. At 10,000 BTU's it works well for searing at a high temp or cooking a steak directly on the griddle. Overall, the burner performance was top notch.
If you a regular user of an air fryer we think you will really enjoy the performance of the oven. The first thing we cooked in it was of course chicken wings and we were not disappointed. The wings came out crispy and moist with an excellent crunch. We used just a little bit of oil so it allows you to enjoy the wings guilt-free. We also tried zucchini fries and various other vegetables and loved the results. The only negative is the time it took to air fry. Directions said about 25-30 minutes for wings, but it took more like 40-45 to get the proper crisp. Overall, the air fryer is a great feature and if it is a staple in your cooking life, you need to consider the Frigidaire range.
The final piece of the performance section is the baking portion. The true convection turned in amazing results. By adding the third heating element it allowed for an even baking result that turned out some great cookies and pies. In addition to sweets, the oven produced some great baked ziti and chicken dishes. The oven does a good job of holding temperature and circulating air so that you cook times stay consistent with instructions. We never over cooked or burnt anything along the testing process.
Value:
The MSRP price is $2,149 but right now Home Depot has a nice special at $1,197.90 and we love that value. The air fry technology will draw you in but the oven features a gorgeous design that will look amazing in your kitchen. The style and sleekness got a lot of compliments from guests. They were wowed even more when we cooked for them. On college football Saturday's you can wow them with your chicken wings or feature a gourmet meal. This oven simply performs at every stage from the burners to air fryer to baking. The only problem we have now is when they launched the Gallery range with air fry, they also launched the new gallery four door refrigerator and gallery dishwasher which we now of course want to complete the set. Pray for our busted wallets!
Buy Now: $1,197.90 or visit Frigidaire.com for more information!
Frigidaire Gallery 30' Gas Range with Air Fry
Frigidaire Gallery 30' Gas Range with Air Fry will be a great addition to your kitchen. The range is a well-rounded cooking machine that performs well in stovetop, baking and air frying. If you love to air fry but also are in the market for a stove, then you should look heavily at the new Frigidaire.
The Good
Excellent performance
Nice value for all the features
Stylish and sleek design make your kitchen look great
Not So Good
Air fry takes a little longer than advertised