When you get to the golf course and assemble your groupings, among the idle chit-chat, you'll check out their gear. You'll look at their clubs, their driver, their putter, their bag, what they brought in their cooler, how they are dressed, but I mean seriously, how often do you really look at a player's shoes?
FootJoy, once a line of shoes by Field and Flint worn by Walter Hagen in 1927 is now the leading golf shoe on the PGA tour and has been for more than 60 years. Any company can strike it lucky and be a fad for a few years, but the consistency shown by FootJoy is no fluke. FootJoy golf shoes are specifically designed to deliver exceptional traction, mobility and comfort. This fall, FootJoy sent over a pair of Pro/SL golf shoes for Busted Wallet to run around in and here's how they laced up…
What's in the box:
Left Shoe
Right Shoe
Laces
Key Features of the Pro/SL line:
Waterproof, 2 year warranty
Perimeter weighted outsole for stability and comfort.
Laser Plus Fit for a a rounded toe and narrow heel.
Performance Leather developed by Pitttards of England.
Versatile Traction 3 piece outsole , combining 2 blends of foam for a balance of cushioning and stability giving the wearer on course performance with wear-to-the-course ability.
FootJoy Pro/SL Golf Shoe Review Breakdown
Design:
These shoes look modern-classic and sharp. They aren't for the red-carpet, but they aren't for squares either. They look sporty, like you're ready for a run or ready to relax. Available in Black, White, or Blue and White. Style-wise, you won't be lacking in the footwear department. I wear an 11.5 to 12 in most good shoes and went with a 12 medium width which worked out just perfect. They come in half sizes from 7-12, and full sizes 13-15. Depending on what's in stock at the time, they also have medium and wide widths.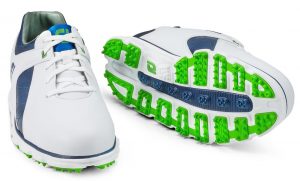 The Pro/SL has plenty of toe room in the rounded toe, while the narrow heel held my foot in place without blisters. Think of the difference between a set of running shoes and shiny leather dress shoes and how the heal looks. In running shoes it is wider with padding, in dress shoes it is narrow and tight fitting. These are more like the dress shoes but with some padding for comfort. They mold to your feet to hold steady and help transfer power with minimal slippage.
Comfort:
How do you judge comfort? Likely not the same way we do.
I took these shoes out for a quick test run on a 9 holes, then the very next week end played 162 holes of golf in one day. Let that sink in. 162 holes of golf in the same pair of NEW shoes.  That's 9 full rounds of 18 for those trying to do the math in their heads. One, sixty, two. It was for a charity event where I was sponsored with pledges per hole played. The more I played the more they received. That's a lot of in and out of the cart and running between shots. it's also about 28 miles in the golf cart. I wore the shoes from the minute I parked my van until just before I drove home for the night. I've worn them since a few times on the range. What can I tell you about comfort? I forgot I was wearing them. That's how comfortable they are. I don't want shoes I think about, I want shoes I didn't have to think about. The waterproofing was great as there was still a lot of moisture on the course for the first hour of the day and it did rain for a few holes, but my feet stayed dry (although i need to do better about keeping my right foot in the cart between shots).  Before golf shoes came in my life I'd wear my New Balance running shoes if it was dry out, or my Teva's if it was wet because I can't stand wet socks in shoes. There was only a few times where I thought about wearing the FootJoy Pro/SL shoes at all in fact…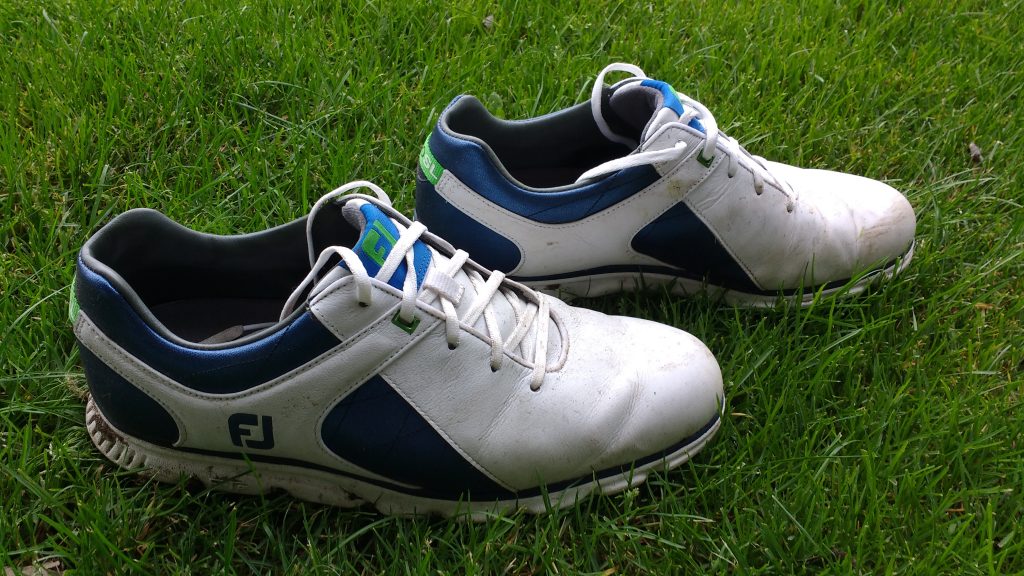 Traction:
Yeah, this is where I thought about my shoes a few times during the 162 holes of golf in one day. First, power off the tee. Second, NOT getting my socks and feet wet in the wet grass. Third, a strong, grounded stance on shots from the fairway. Fourth, and this is key, sliding into my driver across the golf cart and nearly falling in a pile of clubs and balls. Yeah, not my best moment. FootJoy has found a great balance between traction and not having metal spikes. But you have to remember that the bottoms 'not spikes' are hard plastic. They're made to grip soft ground like grass, sand and dirt. Not slippery concrete, or as I found, the wet floor of a golf cart when you jump back in on the fly to get to your next shot. They say 'wear to the course comfort'. I'm not sure I'd wear these in the car on the way to a round of golf as the driver. Not from a stand point of comfort, but from one of safety.
Before golf shoes I wore well fitting running shoes, or sandals.  The difference in slippage is very noticeable. When you aren't focusing on slipping, or falling, you can put some more power into your swing. The Zepp 2's analysis of my swing tells me my golf head speed isn't what it should be, and I need to work on power. Now that I'm not worried about over rotating and slipping, I can swing quite a bit harder.
Durability:
The Pro/SL shoes by FootJoy are made of a combination of synthetic materials and natural leather, while only having a 30 day comfort warranty, they do also come with a 90 day quality warranty and even more important, a 2 year waterproof warranty. They've proved their durability on the PGA tour and they're backing it up with warranties that say they believe these shoes will be with you on the course for quite a while. After 9 rounds of 18 holes, the worst I could say is that the bottoms were matted up with grass, BUT STILL provided traction. They're a little dirty on top but a baby wipe brought them back around. We used and abused these shoes and they show almost no wear.
Value:
Some may balk at the price, but as the saying goes, spend your money on anything that comes between you and the ground: your mattress and your shoes. I buy good shoes for running, for camping, for formal events and for going to work. Why not for golf? And if I'm going to spend money on golf shoes, I'm going to be looking to the FootJoy line of shoes for a comfortable shoe that lasts for years to come.
Buy Now: $149.99 or find out more at: FootJoy.com
FootJoy Pro/SL Golf Shoes - Range Review
As a hobbyist golfer, they are an inexpensive investment that will pay me back for years to come. If you are new to the game and worry about being 'good enough' to benefit from specific golfing shoes, I'll tell you I wish I had bought a pair years ago, they've given me confidence in my stance that is now transferring to my my swing strength. Totally worth it.
The Good
Comfort
Traction
Waterproof
The Not So Good
Slippery on hard surfaces, not common on a golf corse