Road shoes, mountain bike shoes, gravel shoes…how about commuter shoes? In a crowded market of cycling shoes, DZR's unique offering of slick everyday-wear shoes stand out. 
Combining style cues from casual shoes with technology from cycling shoes, DZR's product line is the perfect SPD compatible option for bike commuters, casual riders, or cyclists who don't consider themselves cyclists. 
I've had the pleasure of riding the DZR Coves for several weeks now covering a mixture of pavement, gravel, and dirt. These shoes have seen it all and lived to ride another day. With the comfort of a skateboarding shoe, the walkability of a stiff sneaker, and the power delivery of a dedicated cycling shoe, I find myself reaching for these shoes for more than casual rides.  
Let's get into the full DZR Cove review!
DZR Cove Key Features:
Removable Sole Cover for SPD cleats

Vegan Upper for all the animal lovers

Variable Flex Shank for bike power and walking comfort

Elastic Lace Catch to keep laces out of chain-rings

Reflective Rear Badge for low light riding
DZR Cove Bike Shoe Review Breakdown
Design:
The DZR Cove wouldn't look out of place in an office setting, as long as your office doesn't require khakis and a button-down (bleh). With a familiar skate shoe look, two sets of laces to tweak the look, and muted colors to complete the look, these shoes will work with most everyday wardrobes.  
I opted for the "Midnight" colorway, which features a nice mix of black and white: dark grey uppers, black accents, and white soles. These were a natural addition to my collection and complimented a lot of my existing commuter/casual riding gear. 
DZR added a few thoughtful touches including an elastic lace catch loop to keep your chain-ring lace-free, a reflective logo on the back for low light riding, and extra scuff protection across the toes.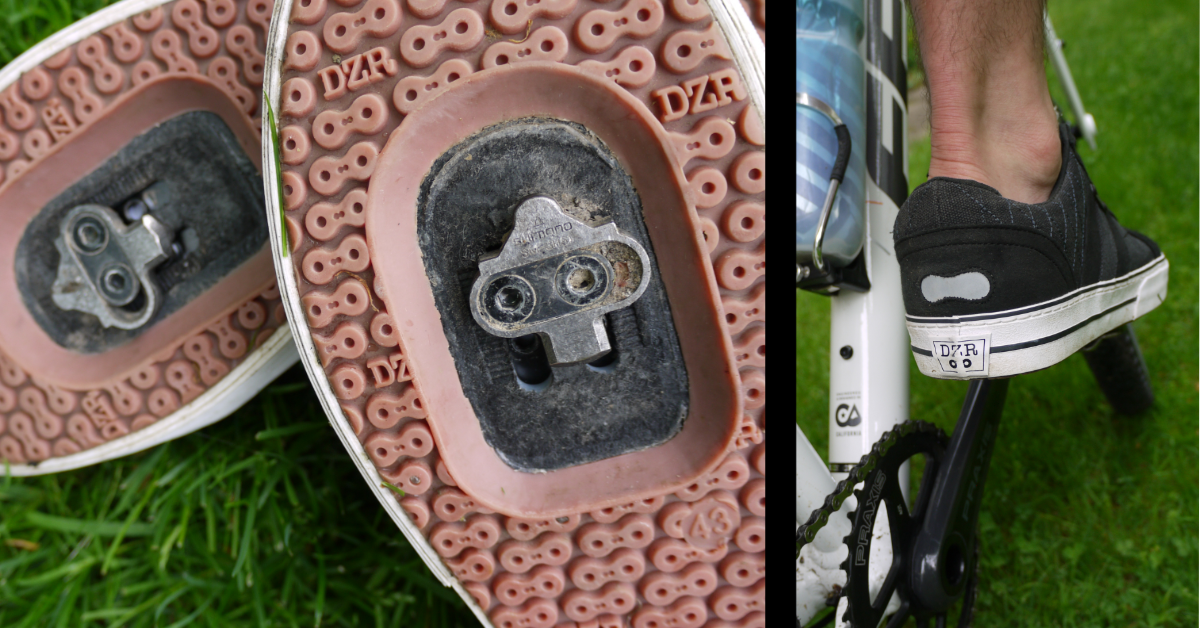 The real hidden treat is the removable bit in the sole that exposes mount points for your 2-bolt cleats of choice. Adjustment is standard as any cleat-ready shoe, and setup was a breeze. 
You can certainly test them out for flat pedals, but they really shine when matched up with a good set of clipless pedals.
Performance:
DZR's very own Variable Flex Shank technology is what allows you to put down the power. By strategically placing patches of stiffness, these shoes don't have a noticeable sacrifice in power delivery despite their comfort level. 
The biggest performance issue, if you even want to call it that, is the riders ability to pull up on the pedals. I find if the laces are on the loose side – mine tend to be since I like to slip on everyday shoes – that there is a split second delay on pulling up as the foot shifts. Again, this is only an issue if you run these a bit loose.     
Comfort: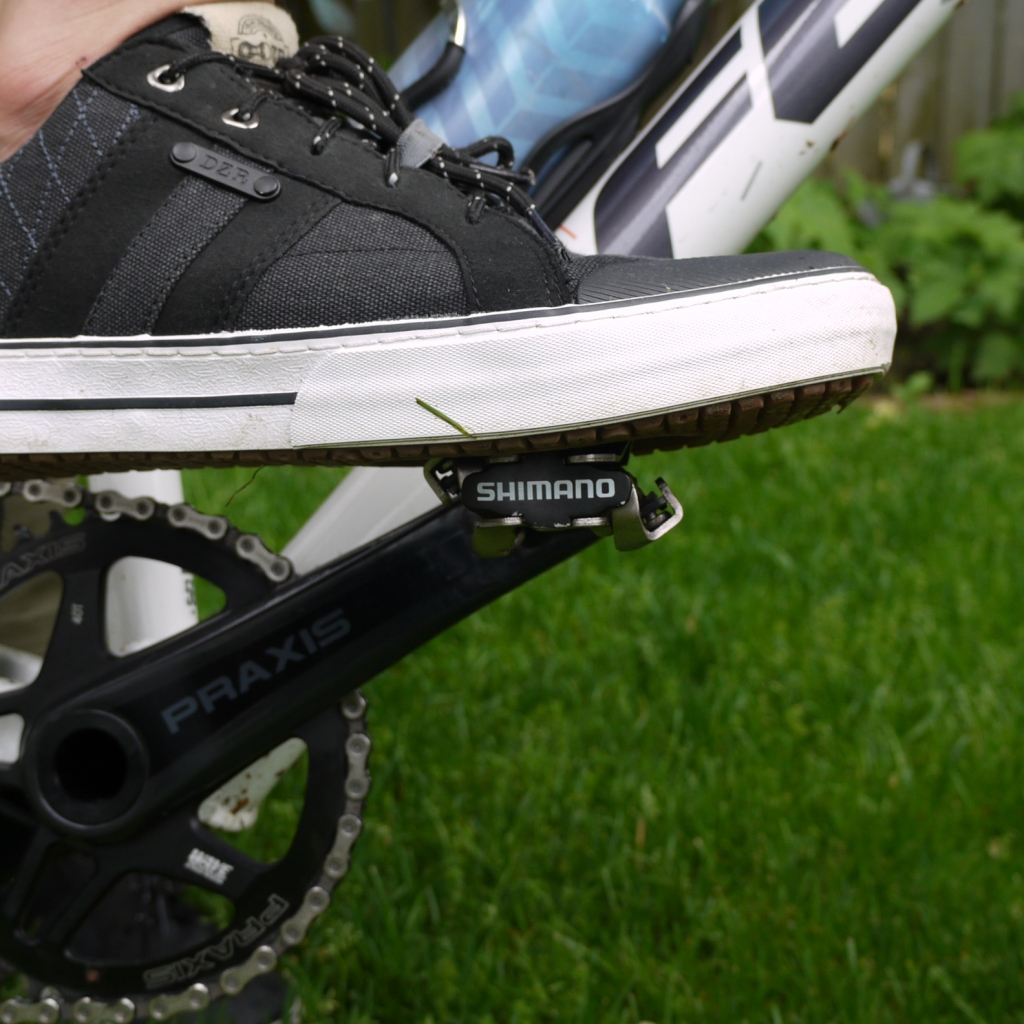 DZR's Cove certainly checks this box. They have a wider toe-box, plenty of padding to go around, and nice adjustability in how you lace them. That is all without mentioning the fact that these shoes bend when you walk in them. Novel, right?
On the bike, they feel stiff and confident, but not overly tight. The wider fit leaves a little wiggle room, at least for me, and plenty of breathability not typically seen in (some of the) synthetics of traditional cycling shoes.   
Regarding walkability off the bike, these shoes are definitely heavy and much stiffer than your average sneaker. While I certainly wouldn't recommend taking your evening walk in them (not that you would), a quick spin into the grocery store or several laps around the office won't leave you raring to rip 'em off.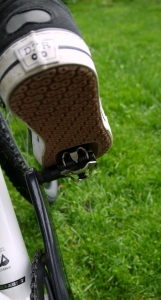 Durability: 
There is definitely a high level of craftsmanship in these shoes. There's no extra glue around the sole or extra threads sticking out near seams, and the materials feel premium. 
However, I did, unfortunately, manage to rip the upper towards the back heel cup. One thing I look for in a good everyday shoe is easy slide-on-ability. In my efforts to tweak the lacing for quick slip-on, I tore a line right down the canvas-like material. 
That said, if I just took them on and off like a normal human, this wouldn't have been an issue. While the upper might be a bit more fragile than I expected, I've found the soles to be super rugged. In a shoe that is made for cycling, that's what really counts. 
Long story short, just untie them, and they'll last you a good while.
Value: 
For $99, you get a multi-use shoe that'll allow you to slip under the radar without sacrificing power delivery. A win-win in my book. That's not only a great price for a cycling shoe but a great price for any quality shoe. While there does seem to be a little fragility in some of the materials, if you lace 'em up properly, that $99 should turn into 99+ rides. I'd sure pay a buck a ride to have these in my gear locker.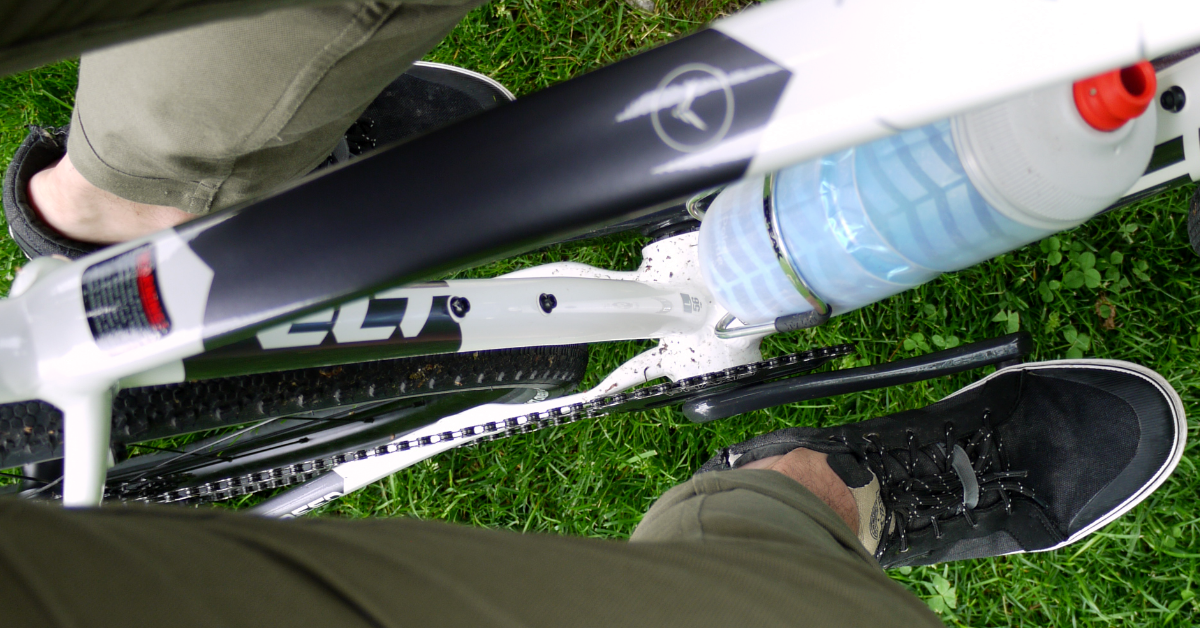 Buy now $99, or browse all DZR shoes
DZR Cove Commuter Bike Shoes - Gear Review
With a clean look suitable for casual offices, a comfortable fit, composed power delivery, and a hidden SPD-cleat bolt-on point, they're a great do anything and ride anywhere shoe.
THE GOOD:
SPD-Cleat Compatible
Go anywhere street style
THE NOT SO GOOD:
Upper material is a bit too fragile
No waterproofing