George Dickel Barrel Select - Drink of the Week
When you pick up a bottle of George Dickel Whisky you should have a keen eye as you need to notice that the "e" is missing in whiskey.  Most whiskey aficionados associate the spelling of whisky with Scotch whisky and Scotch-inspired liquors, and whiskey denotes the Irish and American liquors.  In 1867 George Dickel set up his distillery in Cascade Hollow, outside of Nashville, Tennessee, and he felt like he had crafted a high-quality whisky that was as good as Scotch whisky and felt his products deserved to share the same connotation.
By 1904, the distillery was under the leadership of George's wife, Augusta Dickel, the distillery had become the largest in Tennessee. Although Prohibition became federal law in 1919, it was enacted in Tennessee nine years prior. The distillery was closed, and the George Dickel Tennessee Whisky would go dormant for over four decades. However in 1958, Master Distiller Ralph Dupps rebuilt the distillery. Dupps was able to obtain the original manuscripts in which George Dickel had detailed his unique recipe and process. Dickel discovered  that whisky made in the winter was smoother than whisky made in the summer. To maintain that smoothness and be able to distill year-round, Dickel whisky is chilled before charcoal-mellowing. This extra step filters out oils and acids, and to they are the only current Tennessee distiller to distill this way.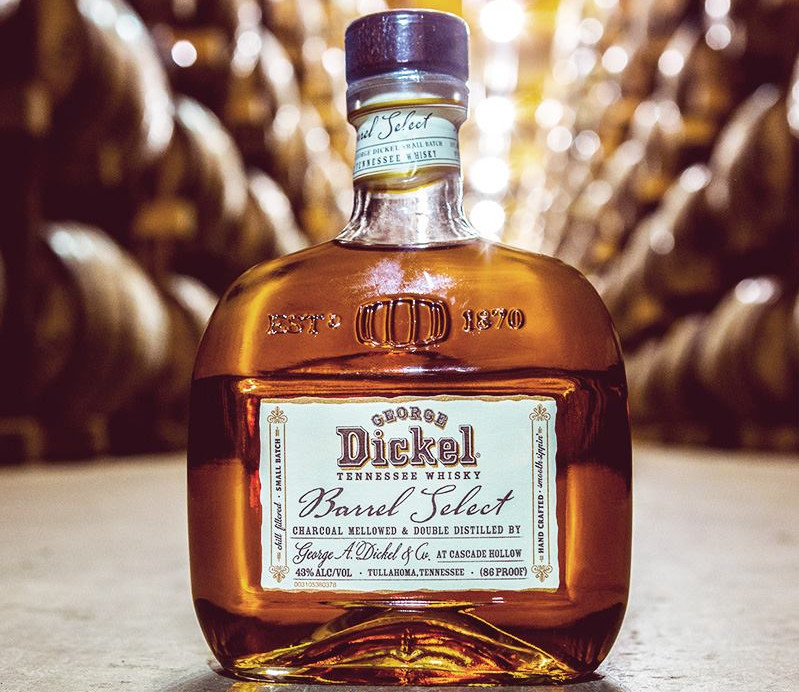 Currently under the leadership of Distiller Allisa Henley, the Distillery produces 5 different types of whisky and they recently sent us over their George Dickel Barrel Select Whisky for our tasting panel to wet their beaks with.  How did the Barrel Select grade out? Read on for the full breakdown!
George Dickel Barrel Select Review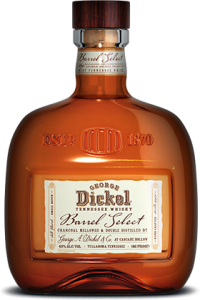 Proof: 86 (43% ABV)
Age: 10-12 years
Appearance: Amber
Nose: Corn, vanilla, spice, charcoal
Flavors: Vanilla, butterscotch, oak, allspice
Price:  $49.00 USD (750ml.)
Very rarely do we ever start a liquor review talking about the finish of a drink but in this case it sets the tone for the review.  After the first sips our first thoughts were about how incredibly smooth the whisky finished.  We were expecting some sort of bite or burst at the end but the finish was just so mellow and smooth.  Back to your first sniff you will get some really nice vanilla and spice with a little charcoal scent.  You will definitely get a whiff of the corn smell as this whisky is made of 84% corn so it has a presence.  The initial taste will give some notes of vanilla, creamy butterscotch, a little oak and some nice spice.  The whisky has an abundance of flavor and some nice spice but the smoothness of that finish makes you definitely want more.
The unique distilling process definitely shines through on this whisky.  The charcoal mellowing, a process in which whisky is slowly seeped through vats packed with charcoal. The whisky is aged for about 10-12 years and they only use 10 hand-selected barrels for the aging process.  If you are in the market for incredibly smooth and mellow whisky with a great flavor profile then look no further than the George Dickel Barrel Select Whisky, you will not be disappointed!
MIX IT UP WITH… "Neat or on the Rocks"
We went straight to the George Dickel recipe webpage for ideas and while they have drink recipes for all of their other whiskys, they only suggest drinking the Barrel Select neat or on the rocks.  After our tasting session, we are in no position to disagree with the experts.  Enjoy!